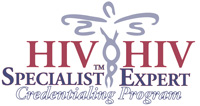 The application period for the professional credentialing program of the American Academy of HIV Medicine is now open and runs through June 30, 2009. Applicants can apply via the secure online application form by clicking here, or can download a paper version of the application by clicking here. The 2009 credentialing exam period will be August 14 - September 30, 2009.
AAHIVM is the only U.S. medical organization credentialing physicians (MDs and DOs), nurse practitioners, physician assistants and pharmacists as as HIV SpecialistsTM or HIV Experts. Providers who complete the program receive an "AAHIVS" or an "AAHIVE" designation by meeting experience and education requirements, and successfully completing a rigorous, psychometrically sound exam on HIV-specialized medical care. The AAHIVM credentialing exams are overseen by Castle Worldwide, one of the nation's leading testing companies.
To enable providers treating smaller numbers patients to become credentialed, AAHIVM offers a "Clinical Consult" program, which pairs providers with fewer than 20 active HIV patients with credentialed HIV SpecialistTM Academy members. The provider "pairs" may consult as often as needed, or at a minimum of quarterly, offering the lower volume provider a direct consultative relationship for discussion of HIV treatment issues, or challenging patient cases.
The Academy is also continuing its pilot credentialing initiative for pharmacists. Started in 2008, the program was launched in response to the large number of inquiries from pharmacists having day-to-day HIV treatment involvement, and seeking validation for their expertise in this sub-specialty. The pilot program enables approved pharmacist applicants who successfully complete the current HIV credentialing exam to receive an "AAHIVE" designation (HIV Expert). Plans are now underway to develop a permanent, formal pharmacist-specific credentialing program for 2010.
The American Academy of HIV Medicine's requirements for successful completion of its credentialing program come from the three industry-standard criteria for knowledge measurement; Experience, Education, and External Validation, which must be demonstrated and documented every 2 years to establish and/or maintain the designation.
Experience:

Maintain a current MD, DO, PA, NP or pharmacist license (RPh or Pharm D)
Provide direct, ongoing care for at least 20 HIV+ patients over the past 24 months OR Participate in NEW "Clinical Consult" program with AAHIVM-credentialed HIV SpecialistTM member. (New in 2008, not available for pharmacist pilot program)

Education

Complete a minimum of 30 credits of HIV-related continuing education within the 24 months preceding the date of application.

External Validation

Successfully complete the rigorous, psychometrically sound AAHIVM credentialing exam.
For more information about AAHIVM's 2009 professional credentialing program, email credentialing@aahivm.org, visit www.aahivm.org, or click here.