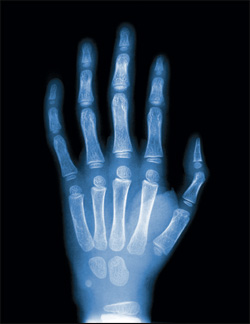 Everyone's heard about elderly people falling and breaking their hips, but for a while, there were stories about much younger HIV-positive people with brittle, breaking bones. Some were even having hip replacements (see
"I couldn't cross at the light"
). What was going on?
As suspected, the life-saving HIV medications that were still relatively new at that time played a role -- but they were only partially to blame, it turned out.
Providing an overview on the matter at this year's CROI was Todd T. Brown, M.D., Ph.D., of Johns Hopkins University. Yes, HIV medications may negatively affect bone health, but there is also the effect of HIV itself, as well as the usual suspects like cigarettes and alcohol. (See the half-hour presentation at retroconference.org, Wednesday sessions, "Long-term Non-AIDS Complications," 4-6 p.m.)
In 2006, Brown and colleagues published a report in the medical journal AIDS showing that a large number of people with HIV (15%) had osteoporosis. Osteoporosis is a loss of bone tissue that makes fractures more likely. They found that compared to HIV-negative control groups, people with HIV were three-and-a-half times more likely to have osteoporosis. They gathered those numbers after analyzing 11 HIV studies that included data on bone mineral density (BMD).
But if HIV and the medications used to treat it combine with traditional risk factors to make for brittle bones, the Titans clash over what to do about it. As with many conditions, you can decide to be aggressive with screening and treatment, or not.
Many Roles
Several studies have clarified the role of HIV medications. (See sidebar.)
Many other things, however, affect people with HIV and the chance to keep their bones intact. First there's HIV itself. Later on, the role of HIV came to light. The virus has proteins that, in a variety of ways, weaken bone mass.
Then there's the immune system. "Many cross-sectional studies have shown an association between low CD4 cell counts and lower bone mineral density," Brown said, adding that this information is still being investigated "to figure out what exactly is going on."
Other personal attributes are "very important to pathogenesis [the cause of disease]," said Brown. "We know that there are a variety of traditional osteoporosis risk factors that may be higher in prevalence in our HIV patient population," Brown said. He listed the following:
low body weight
smoking
alcohol use
opiate use
hypogonadism (impaired sexual hormones)
low vitamin D levels
physical inactivity
hepatitis C co-infection
The use of steroids, often prescribed in the treatment of disease, can also negatively affect bones. Brown suggested that patients with reduced bone mineral density be checked for the following secondary causes of BMD, as a "minimal work-up":
vitamin D deficiency (25 OH vitamin D)
hyperparathyroidism (PTH, Ca++)
subclinical hyperthyroidism (TSH)
hypogonadism (males -- testosterone, females -- menstrual history)
phosphate wasting (serum phosphate)
idiopathic hypercalciuria (24-hour urinary calcium)
celiac sprue (tissue transglutaminase)
multiple myeloma (serum protein electrophoresis)
mastocytosis (serum tryptase)
Cushing's syndrome (24-hour urinary free cortisol)
To help prevent bone loss, patients have several options. First are calcium and vitamin D supplements. Then there's weight-bearing exercise; smoking cessation and alcohol reduction; and treatment of secondary causes of reduced BMD.
Brown noted that the level of vitamin D deficiency in the general U.S. population is "exceedingly high" and suggested supplementation of 1,000 to 1,200 IU vitamin D for everyone, no matter their level of bone mineral density. During the question-and-answer section, however, he admitted that's a standard recommendation that he, like many providers in the audience, thinks is too low. He said he usually recommends 50,000 IU of herbal calciferol twice a week for eight to 12 weeks in patients with low levels of vitamin D.
There are also the common sense measures doctors tell their patients who are at risk for falling or breaking a bone. This includes the many people with HIV suffering from the nerve damage of peripheral neuropathy, making them unsteady on their feet. Take care of loose rugs and clutter on the floor. Keep wires behind furniture. Add night lights to help you watch your step. Avoid slippery or uneven surfaces. Beware of drinking excess alcohol. Wear sturdy shoes.
Also at higher risk are those people with HIV who have lipoatrophy, or fat loss and thinning. Hips with less fat cushioning them are at greater risk of breaking in a fall.
Cognitive or visual impairment, sedative use, and muscle weakness resulting from hypogonadism are also osteoporosis risk factors.
Boys with HIV seem to be another group at risk. At the lipodystrophy conference in London in November, the Pediatric ACTG (AIDS Clinical Trials Group) reported that of children with HIV, boys failed to reach peak bone mineral mass, while girls didn't. This puts those boys at greater risk of fracture.
Brown said the development of bone mineral mass peaks around age 30 and goes downhill from there. For anyone to be osteoporatic at 65, Brown said, means that they lost bone mineral density quickly after 30, or they failed to reach peak bone mineral density in the first place, or a combination of the two. "[This report] suggests that, at least in males, there's failure to reach bone mineral mass and there are obvious ramifications later on in life."
Broken?
"We talk about BMD in HIV, but what we really want to know is about fractures," Brown said. "This data is beginning to emerge. The risk of fracture is higher in HIV patients, particularly as age advances. So, we know that osteoporosis is common. We know that there's an increased risk of fracture in HIV-infected patients. We also know that the etiology is multifactorial. So the issue that comes up is what to do about it, how to screen for it, and how to treat it."
Brown concluded that although osteporosis is common in HIV, he doesn't recommend universal screening, but that aggressive screening and treatment in people over the age of 50 would be good.
Daniel S. Berger, M.D., of Northstar Medical Clinic in Chicago, said, "I take issue with screening [only] for people over 50. [There should be a] bone DEXA [scan] for everyone diagnosed with HIV." Brown said he agrees with a universal DEXA in "a world of endless resources." He called the relative risk of fracture high, but the actual risk very low, and he would rather put a patient on biphosphonate therapy for osteoporosis when the patient is 55 and best able to benefit from treatment. Otherwise, patients with low bone mineral density who are in their 30s or 40s should start taking calcium supplements, cut down on their drinking, stop smoking, and take other steps to improve their bone status.
In response to another question from the audience, he said he thinks HIV-positive women on Depoprovera should definitely take calcium and vitamin D.
Even though the virus and its medications may be attacking your bones, Brown said you may not want to rush to take bone meds. He said there is a theoretical concern with bisphosphonates, which make up first-line treatment of osteoporosis. "[There is a] question on whether this very potent effect on bone turnover is actually a good thing. We require bone turnover to repair micro-fractures that occur all the time with regular wear and tear." It's unknown what effect this would have on younger patients taking the medications for a longer period of time. Currently, he said, doctors recommend a holiday from the treatment every five or 10 years. These medications include Actonel (risedronate), Fosamax (alendronate), ibandronate, and zolendronic acid.
Body of Bone Evidence
After the era of HAART (highly active antiretroviral therapy) began with the HIV medications called protease inhibitors in late 1995 and early 1996 (and soon with other powerful medications called non-nucleoside analogues), deaths due to AIDS dropped greatly, but side effects began to take a toll. Among the problems seen were bone fractures in people with HIV who weren't yet 50.
Todd T. Brown, M.D., Ph.D., of Johns Hopkins University, took his audience at this year's CROI back to the 7th conference, in 2000, with the presentation of two studies that were the first in the post-HAART era to look at bone mineral density (BMD) in people with HIV. Adequate BMD is needed for bones to resist fracture. It's also known to reduce with age and menopause.
Both studies showed a high prevalence of reduced bone mineral density in people with HIV, which was associated with the use of protease inhibitors.
Later, there were four different studies comparing PIs to non-PIs (the non-nucleosides). "What we can say is that, at least for some PIs, there appears to be an added risk of reduced bone mineral density. It's unclear exactly which PIs are indicated," Brown said.
Later, in 2006, Brown and his colleagues published a meta-analysis in the journal AIDS, that looked at 11 HIV studies which included BMD data. They found that people with HIV were three-and-a-half times more likely to be at risk of osteoporosis compared to HIV-negative groups. Then there were concerns about bone problems with Viread (generic name tenofovir, a nucleotide analogue HIV drug that's also found in Truvada and Atripla). Study 903, comparing Viread to Zerit (both taken with Epivir and Sustiva) found decreased spine BMD with both treatment regimens, but a significantly higher reduction in bone mineral mass with the Viread group of the study.
There was also a statistically significant difference in bone health between Truvada and Epzicom in a report from the STEAL study at this year's CROI. (STEAL stands for Simplification with fixed dose Tenofovir/Emtricitabine or Abacavir/Lamivudine.)
"This is clearly an effect of tenofovir on bone mineral mass, but the etiology [cause] is unclear," said Brown.
The large, international SMART study, comparing positive people who were on therapy with those who weren't, found that the people maintained on HIV medication had a greater reduction in bone mineral mass than the people taken off their HIV meds. These results were from a four-year observational period, reported in the fall of last year.
"The picture is quite different in the drug conservation group, those who stop antiretroviral therapy," said Brown. "What you see in the hip is a preservation of bone mineral density, but what you see in the spine is an increase in bone mineral density in the [same] period ... again arguing for the fact that there is something about antiretroviral therapy that is detrimental in its effect on bone."
Brown then listed six studies of antiretroviral therapy (ART) initiation that included BMD data. "What has been remarkable in the studies that have looked at antiretroviral initiation is the consistency of a drop in BMD over 48 to 96 weeks," Brown said. "It's really unclear whether or not there is clinical significance, and none of these trials have shown an increase in factures. What we can say is that the 2.5 to 3% decrease you see with antiretroviral therapy initiation is similar to what you might see with two years of menopause.
"Still," said Brown, "with the exception of the viral suppression group in the SMART study, most other longitudinal studies that have looked at bone mineral density have shown either stability or an actual increase in bone mineral density over time. There is something about antiviral [HIV] therapy that is detrimental to bone mineral density." Brown continued, "The good news is that [this is] over 48 to 96 weeks [approximately one to two years], then it levels out." -- Enid Vázquez
"I Couldn't Cross at the Light"
Five years ago, at age 47, while living in Chicago, Doug Ferguson noticed he was developing a fast growing pain in his left knee. The man who played tennis several times a week, worked out at the gym regularly, and darted through airport concourses each week for business suddenly found himself hobbling in pain with a noticeable limp.
"The pain got so severe that I could only move at a snail's pace," said Ferguson. "Stairs and street intersections became my enemies. If I didn't start to cross the street right when the light turned green, I'd get stuck in the middle of the street when the light turned red. Cars would be honking at me, but I could barely move."
Early diagnosis was a torn meniscus of the left knee. After arthroscopic surgery, Ferguson did physical therapy, but the situation only got worse. It was the physical therapist who figured out the real problem. She could see that the problem with walking was not in his knees, but in his hips.
X-rays had not revealed the actual problem, but now an MRI did. Ferguson was diagnosed with Stage 3 osteonecrosis (also called avascular necrosis or AVN) in his left hip and Stage 1 in his right. Osteonecrosis is a fairly rare disease where blood flow is restricted inside the bones (especially the long bones, like the femur), resulting in brittleness, fractures, and bone decomposition. The exact cause is unknown, but experts have pointed to alcoholism, steroid use, and sickle-cell anemia as contributors and, since the late 1990s, HIV has also been included on the list of possible causes.
Fearful that the left hip could collapse, Ferguson opted, within a week, to have surgery on both hips. Because his T-cells were low, doctors wanted to avoid hip replacement and the high risk of infection. A new procedure called core decompression was recommended. The surgery involves drilling into the thigh through the femur and "coring out" the inner bone wall to allow for development of new blood vessels and rebuilding of healthy tissue.
Ferguson found a friend who had had the same procedure and who warned him not to walk or put any pressure on the legs for eight weeks after surgery. The friend had, unfortunately, rushed his recovery period and ended up with a leg fracture, requiring repeat surgery. For Ferguson, however, the procedure was a success and, within a year, he was competing on the tennis court and tearing through airports again.
Jokingly, Ferguson refers to being part of an elite "Senior Class of HIV" with 20-plus years of being "poz." Within this class of long-term survivors, he's found others who've experienced AVN and other knee, hip, and bone problems.
Related medical studies are few and inconclusive, but Ferguson (along with many HIV specialists) thinks long-term use of HIV drugs may be a key contributor to AVN, versus the HIV disease itself.
"No one knows if the AVN can return," says Ferguson. "I certainly hope not, but I do suspect that the 'senior varsity class' of HIV survivors will be prone to a different set of illnesses that are possibly compounded by extensive med therapy over the long haul. Given the fact that I've been on meds for so long and I'm still strong and healthy, I will deal with whatever comes my way." -- Enid Vázquez
Got a comment on this article? Write to us at publications@tpan.com.