An Interview With Suzanne Whitmore, Dr.Ph.
There's nothing like hearing the results of studies directly from those who actually conducted the research. In this interview, you'll meet one of these impressive HIV researchers and read her explanation of a study she presented at CROI 2009.
My name is Suzanne Whitmore. I'm an epidemiologist at the U.S. Centers for Disease Control and Prevention [CDC]. My abstract here at CROI is titled the "Estimated Number of Births to HIV-Positive Women in the United States, 2006."1 This abstract is a summary of a manuscript that is currently in clearance.
We used a number of statistical methods to calculate the number of total births [of HIV-exposed infants] in the United States. In the United States we do not have universal exposure reporting, and therefore we need to use a number of statistical methods to derive the current calculation. The last calculation was done in 2002, by Dr. [Patricia] Fleming. It was presented at the International AIDS Conference. We used a very similar methodology to derive the number.
Advertisement

Suzanne Whitmore, Dr.Ph.
We used a Poisson method to derive the number of HIV (not AIDS) cases and the number of AIDS cases from all 51 areas that we have information for. The HIV (not AIDS) data is from 33 states with confidential name-based reporting as of June 2007. We used other methods to derive the undiagnosed proportion, which has been previously documented by Irene Hall and Michael Campsmith.
2,3
We used a combination of diagnosed information and undiagnosed information to get the calculation of [HIV prevalence among] women living in the United States in 2006.
Then we used information from the Adult Spectrum of Disease study, stratified by a number of factors, such as race/ethnicity, age and clinical status (i.e., clinical AIDS, immunologic AIDS and HIV (not AIDS)), to derive fertility information. We then calculated the fertility rate and multiplied it by the number of women living with the disease by the different strata. At the end, we summed those different numbers to get the total number of births in the United States for 2006.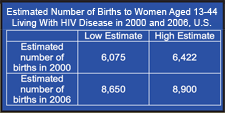 Suzanne Whitmore et al. CROI 2009; abstract 924. Reprinted with permission. Download the full poster.
At this time, there were approximately 8,650 to 8,900 HIV-exposed births in the United States in 2006. Using similar estimates -- though not exactly the same estimates -- as Fleming, that's approximately a 30% increase since 2000. Basically, the number of women who are living with HIV has increased and the number of births has increased in the United States over the past six years.
The take-home message is that, obviously, prevention and services need to be targeted at this growing number of [HIV-infected] women who are giving birth, and that we need better information on the group of women we're looking at. At this point, we have no universal HIV exposure reporting; this is the only estimate out there that we can use to get at that number. Universal exposure reporting is recommended by CSTE [the U.S. Council on State and Territorial Epidemiologists], CDC and the American Academy of Pediatrics. Also, since there's a greater number of HIV-infected women now delivering, appropriate services -- and more services -- need to be targeted to that group of women.
Isn't there a policy in every state to ask a pregnant woman to get an HIV test, and to talk to HIV-infected pregnant women about C-sections and HIV treatment?
That's a very good point. We do not currently have universal HIV testing for women. It's not mandated by the U.S. government; it is a state-by-state law. Some states do have recommendations -- some states actually have universal newborn screening, such as New York and New Jersey, and they do test all newborns for HIV. However, at this point many states have opt-in treatment policies. Not only are we recommending opt-out treatment, but also universal testing for all women during their pregnancy.
Do only New York and New Jersey have laws to test every infant born in the state for HIV?
I believe Illinois has that as well. There are only three states in the United States that currently test all infants. There are approximately 34 states that do HIV exposure reporting [of any kind]; not even all the states do exposure reporting. Not only that: Many of the states also don't systematically collect that information, so there's really no way of getting at a number without using these statistical methods.
Isn't HIV testing recommended for pregnant women across the United States?
Yes. The CDC recommends that all women be tested during their pregnancy, and that those at high risk get tested in the third trimester of pregnancy as well. However, at this time, despite the recommendations, many states do not have policies in place that would mandate -- or, I would even say, recommend -- this type of testing.
Do you hope that this study will lead to some policy changes, or to an enforcement of the recommendations?
I hope that people are aware that, as the [HIV] numbers increase among those giving birth, obviously it's not about the number being infected. It's about the number of women who are being HIV infected and who need to be targeted for this -- for testing and appropriate ARV [antiretroviral] treatment during pregnancy -- so that we can decrease the number of transmissions [to infants].
Do you have a breakdown by race?
We do; it's not in the poster. I don't have it offhand. But we do have breakdowns by race, and that will be in the manuscript that's coming out.
Where is it going to be published?
At this point it's in clearance, so we don't have a specific time or journal at this point.
This study is a good sign, in a sense, of the health of HIV-positive women: that the number of them giving birth is so large.
They're living healthier lives. The recent prevalence estimates show that there are more people living with HIV [in the U.S.] as treatment options become more affordable and more available to them. It's natural to realize that there are more women out there who are living longer, better lives, and who have reproductive technologies available to them. But largely, there is still an issue of finances: Many of these women who are giving birth are those who have had many missed opportunities, who should be targeted for many of these testing interventions and ARV treatment.
Were these women diagnosed during pregnancy?
There's a number that have been diagnosed during pregnancy, but there's also a number who have been diagnosed prior to pregnancy. Some have not been diagnosed until either late or after pregnancy, so we're looking at HIV-exposed infants. Many of them, hopefully, are tested during pregnancy, but that is not always the case.
Would you say that many of the people in this population are poor women?
I would say that there are definitely racial disparities among the groups. We do not have income information, but we can say that there are definitely higher risk factors for women who are African American or Hispanic. The actual numbers in the manuscript show that they are the ones at high risk.
Thank you very much.
This transcript has been lightly edited for clarity.
References
Whitmore S, Zhang X, Taylor A. Estimated number of births to HIV+ women in the US, 2006. In: Program and abstracts of the 16th Conference on Retroviruses and Opportunistic Infections; February 8-11, 2009; Montréal, Canada. Abstract 924.
View poster: Download PDF
Hall HI, Song R, Rhodes P, et al, for the HIV Incidence Surveillance Group. Estimation of HIV incidence in the United States. JAMA. August 6, 2008;300(5):520-529.
Campsmith ML, Rhodes P, Hall HI, Green T. HIV prevalence estimates -- United States, 2006. Morb Mortal Wkly Rep. October 3, 2008;57(39):1073-1076.