In 1996, combination HIV therapy gave us the ability to suppress HIV and allow the immune system to rebuild itself. After years of struggling with treatments that were only partially effective, we finally had the technology to dramatically alter the course of HIV disease. This created a new reality: living with HIV.
The treatments were complex back then: many pills taken two or three times a day, some with food, some without, many with serious side effects. We learned what providers who worked with persons with chronic illnesses already knew. Taking medicines every day and sticking to a regimen for life is not easy: It's not easy for the young or for the old or middle-aged; not for the rich or the poor; not for white, black, or brown; not for people with HIV, diabetes, or hypertension. Adherence is an issue for all people. It is a human problem.
In 2009, almost three decades into the epidemic, we have more and better treatments, and six different classes of medications. We can tailor regimens to the needs of each individual. We have simple, once-a-day regimens with fewer pills, and the side effects can often be controlled.
Advertisement
But adherence is not just a question of taking medications every day. It is a process that occurs over time. It is the process of integrating medical treatments into the structure of one's life. It means living a healthy life, every day, no matter what.
Everyone's life situation has an impact on how that person adapts to illness and on the ability to adhere. Women with young children, for example, often forgo their own treatment because they are so busy taking care of their children that they forget to take care of themselves. Older people who live alone often have difficulty taking medicines because of confusion stemming from the large number of different pills they may have to take. Adolescents often displace their anger towards illness. The pills become the enemy and the adolescent exercises control by refusing treatment.
Can young people infected with HIV take medicines consistently? What are the challenges they face? How can we help them overcome these challenges and learn to live well despite having HIV?
Understanding Adolescence
Adolescence, the period between the end of childhood and the beginning of adulthood, is characterized by movement and growth, conflict and rapid change. Physical growth happens quickly, and it takes the developing brain time to catch up. There is a disconnect between body and mind.
This disconnect makes it difficult for adolescents to manage illness. The way the illness looks is often more disturbing to an adolescent than the illness itself. These youth often don't have the words to explain symptoms or the skills to take actions. They think concretely, in the moment. They lack the ego strength to feel empowered to exert positive control over their lives.
Although they strive to be independent, often kicking and screaming about their choices and their right to make them, they rely on adults to help them negotiate illness and the health care world. They need adults who will hang in there with them, no matter how hard they push them away.
To understand some of the challenges adolescents with HIV experience better, let us examine three stories, composites of the many young people who have come through my program.
Rosie: The Importance of Family
Rosie was born with HIV, but had never been told. When she was 12, her mother asked me, "What should I do? How do I tell her? Will she hate me?" When she brought Rosie in, she said, "Tell her -- you have to tell her now."
Core Components of Successful Adherence
Acknowledgement of illness
Belief in the benefits of treatment
Sense of self-worth
The power to make choices
A sense of future
Daily routines
Support from others
The skills and resources to take medicines:

Stable housing, food, and other basic necessities
Access to medical care
Health insurance
Knowing how to use the pharmacy
Knowing how to read the labels
Knowing what to do in emergencies and how to handle side effects
Obstacles to Adherence
Poor adjustment to illness
Belief that medicines don't work
Fear of side effects
Depression
Mental illness
Substance use
Social isolation
Lack of resources and skills necessary for taking medicines

Lack of food, housing, and other basic necessities
No access to medical care
No health insurance
Difficulty reading and understanding direction
Rosie was extremely relieved when I did. She had been aware that there was a family secret for as long as she could remember. She had been taking medications since she was a baby and had seen the Combivir ads on the bus shelters. "Did they think I was stupid?" she asked quietly. "I never brought it up because I didn't want to hurt my mother's feelings." Now she had a name for what was wrong with her. The reason for taking the medications was out. She could talk about the secret.
Rosie lived with her grandmother, her mother, and her stepsister. Though her parents were not together, her father was always involved and she spent most weekends with him. Rosie had never been ill or hospitalized. The only symptoms she had were a small buffalo hump and a thick neck, side effects of Zerit. We stopped the Zerit and switched Rosie to Atripla. She keeps her hair long, and at least the problem hasn't gotten worse.
Her mother was on methadone and never took HIV meds. Rosie watched her become ill over the next two years. Her mother died when Rosie was 14.
We expected Rosie to act out and stop taking her medications. That is how so many children infected at birth behave. She had suffered the trauma of the death of her mother. Her body was somewhat deformed and she knew the medicines caused this. We were prepared.
But Rosie did not stop her meds. Yes, she expressed anger toward the changes in her body. "Sometimes, it just makes me soooo mad." But when we discussed the desire to stop, she said, "Are you crazy? I don't want to die like ..."
In our team meetings we asked, "What makes Rosie different?" Joey lived with an addicted mother who never took meds. Lonnie's mother took meds, but there were six children in the house and Lonnie's problems were often lost in the din. Shauna was raised by her grandmother, and we used to hear her grandmother screaming in the background, "If you don't take your medicines, you're going to end up like your mother, dead." None of these young people were able to take medications and all of them have died.
Rosie's family is different. Even at her lowest points, Rosie's mother brought her in for medical care. Her grandmother took care of both of them. No one ever yelled at Rosie about the medicines. They saw the medicines as a gift from God. The household in which Rosie grew up before the death of her mother was organized and structured. The transition to her father's home was smooth. Rosie was given a choice between staying with her grandmother or with her father, and she chose her father. Everyone expects Rosie to go to school, have friends, do the things teenagers are expected to do, to participate in life. And Rosie knows, from the experience of her mother, what it means not to take her medications.
Having supportive adults in the lives of young people -- having structured, organized, normalized routines and expectations -- are the building blocks of adherence.
Antonio: Acknowledging Illness
Antonio tested positive for HIV when he was fifteen years old. He had been in a relationship with an older man and heard through the grapevine that the man was HIV positive. He tested at a community-based program but quickly disappeared.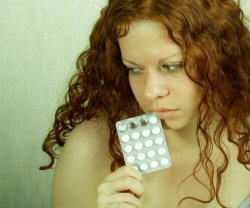 Luckily, Antonio joined a peer education program when he was 17. He was an excellent educator, always on time, grasped the material well, had positive relationships with his peers, and was committed to educating youth about the risks of unprotected sex and HIV.
Toward the end of the program, Antonio disclosed his secret to the social worker in charge of the group. She brought him to our medical program and remained available for support.
The shame Antonio experienced -- his isolation, his fear -- are indescribable. He grew up in a Puerto Rican family, one of ten children. Although he was always aware of his sexual identity, his father tried to beat it out of him. He felt ugly and deformed. Children teased him because of his dark skin. He had no sense of belonging, of being valued simply for being who he was.
He experienced HIV as a punishment for being gay: "I knew better. I got what I deserved." His identity as a young gay Latino, already fragile, was shattered by the diagnosis of HIV. He built a persona around himself, acting the illusion of a perfect self.
He had kept the secret for two years before we met him. The process of engaging him in care took another two years. He lived transiently and was often hard to find. He wouldn't come in for routine visits without extensive outreach by our staff. Even when he had a cough and a fever of 102, it took two weeks to get him to come in for treatment. He disclosed to no one and could not say out loud, "I have HIV."
But viruses don't care about readiness. HIV marches to its own beat. Antonio's CD4 count dropped from the low 400s to less than 200 by the time he turned 19. Although we explained the reasons for starting medicine, and Antonio understood what we were telling him, he wouldn't even take Bactrim to prevent PCP (pneumonia).
Accurate information is an essential tool for making reasonable choices. But education does not always change behavior, so much of which is governed not by reason but by emotion and unconscious drive. If education did change behavior, everyone would wear condoms. No one would ever fall in love. And certainly no one would ever smoke a cigarette.
When Antonio turned 20, his CD4 count fell to 45. We referred him to the dentist for a purple lesion behind his back teeth and, sure enough, Antonio had Kaposi's Sarcoma. At that point, the disease became real. It's easy to deny HIV, even AIDS, but cancer? No way. Antonio recognized the real threat of suffering and death. He was able to acknowledge the dreaded AIDS. HIV meds suddenly represented life, hope and a future. "What are you waiting for?" he asked himself, and he has not missed a dose since.
The ability to see and plan for the future, the ability to understand consequences, the courage and the will to live are markers of the maturity of young adulthood. Antonio caught on to it just in time. He was ready to move forward, committed to building a life. "Medicines," he says, "are like brushing my teeth. I don't even think about it any more."
Anya: The Mental Health Connection
Anya comes from a war-torn African country, and does not know what happened to her mother or father. She came to the U.S. at age 14 and lived in a refugee camp until a relative was located. Her aunt took her in, but when Anya tested positive for HIV her aunt placed her in the custody of the NYC Administration for Children's Services. Anya believes she contracted HIV through a blood transfusion.
Anya started HIV meds back when the standard of care was to treat early, no matter what the CD4 count. She was very quiet. Her English was limited and she made little eye contact. She took her medications without question for three years and maintained an undetectable viral load for that time.
But problems began to unfold when she turned 18 and was removed from her foster mother. Her aunt decided to take her back, but the relationship was short-lived. Anya's housing status became very unstable. She moved from place to place and stopped taking her meds. She complained of a variety of aches and pains. She also said that her caregivers were withholding food -- accusations that were unfounded. Her CD4 counts remained in the 300s, and she was planning on resuming meds once her housing situation stabilized.
Anya had her first breakdown when she was nineteen. She began hearing voices that told her to jump in front of an oncoming train. She was very withdrawn and tearful. She was admitted to the hospital with a diagnosis of major depression with psychotic features.
Getting Anya to accept her mental illness was the next great hurdle. She did well when she took her antidepressants and antipsychotics. But as soon as she felt better, she stopped them. "If I feel well, why do I have to take them?"
How do you explain mental illness as a lifelong problem that won't go away without treatment? How do you explain that the brain is like a muscle that has wounds and scars from all the traumas of life, causing symptoms like voices that aren't there and overwhelming feelings of despair. As Anya grappled with this, her CD4 count began to drop and she developed HIV-related arthritis. She wanted to take HIV meds, since it was easier to understand and accept HIV than mental illness. But every time she started gaining control over the virus, the voices came back, telling her to kill herself.
Anya has been hospitalized four times over the past three years. She is now 22. During her last hospitalization she was able to express the rage that has been building up inside for her entire life. She is mature enough to recognize that the antipsychotic medicines control the symptoms of her mental illness just as the HIV medications control the arthritis, fatigue, and illness caused by the virus.
She has been living in supportive housing for the past two years and is trying to find something more permanent. She recognizes that she needs support in handling the complexity of both illnesses. She hopes to find work that will allow her to be productive and more self-sufficient. With advocacy by the many social workers who have been involved in her care, she is in the process of becoming an U.S. citizen. She wants to be able to vote in the next election.
Conclusion
These three studies demonstrate the array of problems that young people with HIV face. Rosie had to deal with the illness in the context of the death of her mother and had to make a transition from one house to another. Antonio experienced physical abuse, rejection by his family, and homelessness prior to his diagnosis of HIV. Anya experienced the traumas of war, loss, displacement, and possibly rape.
HIV infection is just one item in the long list of challenges these young people face. Our program strives to treat HIV in the context of each youth's life. We are privileged to have a multidisciplinary team consisting of physicians, a nurse practitioner, social workers, a psychiatrist, a nutritionist, and an HIV counselor. We rely on each other to work with our clients on the many problems they experience.
We build on the strengths of our clients and develop positive, professional, and supportive relationships with them. Each client who comes into our program is valued and special. We believe that the relationships we build with our clients, based on trust, value, respect, and honesty, lay the foundation for their ability to adapt to living with HIV, to integrate the diagnosis into their lives, and to adhere successfully to HIV therapy.
Alice Myerson is the Clinical Coordinator of the Adolescent AIDS Program at Montefiore Hospital in the Bronx.
Want to read more articles in the Winter 2008/2009 issue of Achieve? Click here.