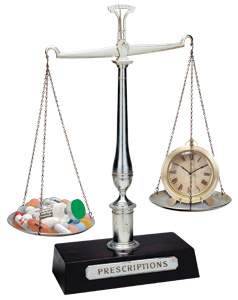 It's been coming for years -- a move to start HIV therapy earlier and earlier. Now, at this year's ICAAC (Interscience Conference on Antimicrobial Agents and Chemotherapy, held by the American Society for Microbiology), a report from a large study found a 74% higher risk of death in a group of patients delaying therapy.
The report raised a lot of implications -- including the need for testing to learn that you're HIV-positive in the first place, and the potential to lower transmission if more people start therapy.
Advertisement
NA-ACCORD
Mari M. Kitahata, M.D., of the University of Washington in Seattle, presented the results of the North American AIDS Cohort Collaboration on Research and Design (NA-ACCORD) in a latebreaker session at the October conference, held in Washington, D.C.
"Our study indicates that initiating therapy rather than deferring HAART [highly active antiretroviral therapy] with a CD4 count between 350 and 500 is associated with improved survival," Kitahata said in a press conference following her presentation. She said the study was conducted because U.S. guidelines recommend treatment for otherwise healthy people who have less than 350 CD4 cells, but that the best time to start HIV therapy is unknown.
NA-ACCORD examined all HIV cohorts conducted in the U.S. and Canada, bringing together the large numbers of patients needed for scientific power.
The researchers looked for individuals who were positive but did not have AIDS, had never taken HIV therapy, and had a CD4 count between 350 and 500. They looked at a 10-year time span, from 1996 to 2006.
Of the 5,926 individuals in this category, a third (32% or 1,921 individuals) began HAART. Using person-years of follow-up analysis, the study found a relative hazard (RH) of 1.74 of death in the 68% of people (4,005 individuals) who delayed therapy until their CD4s dropped below 350.
"It is a substantial and significant increase in the relative risk [relative to delay] of death," Kitahata said. "It says that for those who don't initiate therapy at the higher CD4 cell level, they have a 74% increased risk of dying."
Kitahata pointed out that the observational cohorts allowed for an examination of patients similar to those in the real world, rather than those seen in clinical studies, who generally receive care under superior conditions.
Moreover, research to date has looked at the question of when to start therapy by comparing people from different CD4 count levels or viral loads. Said Kitahata, "This is the largest study to date examining this question comparing head-to-head the same CD4 cell count level. And these data strongly support the use of antiretroviral treatment for patients of a CD4 count of 500 and below regardless of the presence of symptoms."
Speaking at the press conference along with Kitahata was HIV specialist Daniel Kuritzkes, M.D., of the Brigham and Women's Hospital and Harvard Medical School, who presented drug resistance data at this year's ICAAC. "I think these are really very important data," Kuritzkes said. "There have been a variety of cohort studies that have shown differences in the time to AIDS and the time todeath in patients who initiated therapy below 200 CD4 and then 200 to 350 CD4, which is where our current guidelines come from. But many of these cohorts, while they suggested transient favor in the role of initiating therapy for patients at earlier stages haven't had enough people -- they lacked the power to really be able to find meaningful differences in the entire CD4 stratum. I think the importance of this study is that by aggregating all these North American cohort studies together, they really got enough patients to have the power to see this important difference."
Kitahata added that many studies only include patients who have already started HAART. "So they're not able to compare head-to-head patients who've initiated and not initiated therapy, which our study does."
NA-ACCORD worked through the International Epidemiology Databases to Evaluate AIDS (IeDEA), a global network of clinics funded in part by the National Institute of Allergy and Infectious Diseases (NIAID), part of the U.S. National Institutes of Health (NIH).
Testing, Testing ... Dying, Dying?
Kuritzkes said he believes the study is "a strong push" for U.S. recommendations to change, but couldn't say if the guidelines panel would act on the basis of one study, however strong that study might be.
He also talked about the problem of initiating therapy when so many HIV-positive people don't know that they're living with the virus.
"The average CD4 count of people who are beginning on treatment," said Kuritzkes, "similar to the people who are showing up for care, is in the mid-200s. At our center, a quarter of the people who find out they have HIV do so because they got hospitalized from illness."
He mentioned findings from the CDC (U.S. Centers for Disease Control and Prevention) which estimate that up to a third of people with HIV in this country do not know that they're positive. "That's because, [again,] people are still being tested far too late," Kuritzkes said.
"The point Dan made about who's taken into care is a critical one here, because in our clinic also we are seeing people presenting much later than we would like, and often pneumocystis is their first point of care as an opportunistic infection [advanced disease]," Kitahata said.
At one point, Kuritzkes returned to the question of waiting. "In the previous cohort studies, you'd be comparing survival in people who started antiretroviral therapy at CD4s 350 to 500 to people who had started therapy below 350. But the only people who can start therapy below 350 are the ones who survived to start therapy below 350. And so you're missing all the people who died along the way."
He added that critics point out how well people do on HIV therapy even when they wait until they have a low CD4 count, saying that while that "generally tends to be true," it still does not consider the people who have already died during the wait.
New and Improved
The writing has been on the wall for earlier treatment in part because HIV therapy is getting easier and easier to take.
"The older treatments, which were more toxic and less well-tolerated, often [led to treatment delay]," said Kitahata. "With the people included in this study, we found a significant survival with newer regimens taken these days that are easier to take, more tolerable, with less frequent doses."
"What we're seeing," said Kuritzkes, "is that the better regimens, because they're simpler to take and have fewer side effects, are also important to overall adherence."
More Meds = Less Transmission
In response to a question about the public health impact of more people starting on therapy, and its relation to a decrease in HIV transmission, Kuritzkes said there are theoretical arguments about this relationship from study in couples where one person has HIV and the other doesn't.
"A lower viral load in the infected partner [has been associated with] a lower risk of transmission. ... So I think there could well be a public health benefit. In fact, the different models argue for different impacts," said Kuritzkes. "Some models suggest that most transmission occurs among newly infected people who have a high viral load and people at late stage disease who again have a higher viral load. ... It's a reasonable hypothesis that treating more people would reduce the community burden of viremia and reduce, therefore, the overall risk of transmission."
Editor's note: Listen to a taped recording of the press conference at TheBody.com.