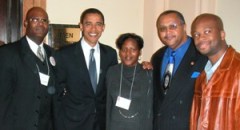 The AIDS Foundation of Chicago (AFC) congratulates President-Elect Barack Obama of Illinois on his historic election as the 44th President of the United States.
"The board and staff of the AIDS Foundation of Chicago are proud to see a longtime friend and supporter ascend to the highest office in the land," said AFC President/CEO Mark Ishaug. "We stand ready to assist President Obama in pursuing his comprehensive, results-oriented agenda on HIV/AIDS, which includes national healthcare reform and creation of a National AIDS Strategy."
Longtime AFC supporters Barack and Michelle Obama joined AFC's "Red Ribbon Society" of major donors in 2007. In 2005, AFC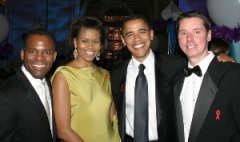 honored Senator Obama and Michelle at AFC's 20th anniversary gala and that same year Michelle joined PBS senior correspondent Gwen Ifill for a community forum that AFC co-sponsored with the Chicago Foundation for Women.
Advertisement
As a lawmaker, Sen. Obama has worked closely with AFC to champion sound HIV policy and law for more than a decade.
Illinois State Senate
As a state senator, Obama supported legislation to redouble HIV prevention efforts in communities of color, develop STD/HIV education for Illinoisans over age 50, and pilot new HIV care and prevention models. In 2002, he worked to restore $2 million eliminated from the HIV prevention budget by then-Governor George Ryan's line-item veto; legislation to override the governor's veto failed by just seven votes.
In 2003, Obama voted with the majority to allow adults to purchase up to 20 syringes at a pharmacy without a prescription. Persuaded by the overwhelming body of evidence supporting sterile syringe access as effective HIV prevention, Illinois Governor Rod Blagojevich signed the landmark bill into law later that year.
Sen. Obama led two additional bills in 2003 to expand access to voluntary HIV testing. He sponsored legislation, which subsequently became law, to make voluntary HIV counseling and testing services routine for pregnant women and newborns. His other bill, mandating a state-sponsored campaign to promote HIV testing acceptance, passed the legislature but was amendatorily vetoed by the governor.
U.S. Senate
As Illinois' junior U.S. senator, Obama introduced legislation to increase U.S. government coordination and investment in research toward the development of microbicides, anti-HIV topical products to help women and men prevent sexual transmission of HIV. The Microbicide Development Act, led in the U.S. House by Illinois Congresswoman Jan Schakowsky, is needed to give individuals who cannot insist that their partners use condoms a way to protect themselves from HIV.
While still pending in Congress, the Microbicide Development Act inspired Sen. Obama to negotiate microbicide-related provisions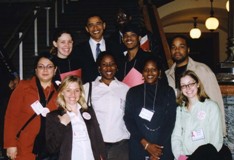 into global AIDS legislation introduced by Senators Joe Biden (D-DE) and Richard Lugar (R-IN). Obama urged colleagues to support language in the bill repealing the discriminatory entry ban against HIV-positive foreign nationals and called on Majority Leader Henry Reid to bring the bill to the Senate floor when its full passage seemed in jeopardy. Congress subsequently passed the bill, which became law in July 2008.
As a member of the Senate Health, Education, Labor, and Pensions Committee, Obama played an active role in shepherding reauthorization of the Ryan White CARE Act in 2006. His office championed provisions to safeguard Ryan White funding for Illinois and other states without longstanding name-based HIV reporting. He also helped ensure community planning, which relies on input from service consumers, remains a requirement for Ryan White-funded eligible metropolitan areas.
In the public sphere, the senator and his wife, Michelle, helped dispel HIV-related stigma in 2006 by visiting HIV-positive people in South Africa and publicly accepting HIV testing in Kenya. That same year, Sen. Obama joined Sen. Sam Brownback (R-KS) at a conservative Evangelical church in Southern California for a public forum on global HIV/AIDS.
Candidate Obama
As a candidate for public office, Obama has consistently responded to AFC regarding his HIV/AIDS-related positions.
As part of his 2002 Illinois Senate re-election bid, he was among more than two-dozen candidates out of 126 survey respondents to answer 100 percent in agreement with AFC's positions.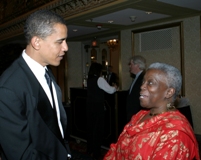 In 2004, Obama was the only candidate vying in the Illinois general election for the open U.S. Senate seat to complete AFC's candidate survey and respond to AFC's request for a written statement about his HIV/AIDS-related policy positions. Earlier that year, Obama was one of eight primary election candidates for U.S. Senate to answer AFC's primary candidates' survey.
In 2007, Obama was among the first candidates to complete AFC's questionnaire to all primary presidential candidates. His responses, including support for the National AIDS Strategy, were compiled on AIDSVote.org, a project launched in collaboration with the Campaign to End AIDS, Housing Works, the AIDS Action Council, and Gay Men's Health Crisis.
The Obama Administration
As his aides plan the presidential transition, AFC urges President-Elect Obama to move quickly and within his first 100 days in office to appoint a panel of community, academic, and government HIV/AIDS experts -- inclusive of people living with HIV/AIDS -- to spearhead development of a National AIDS Strategy. In addition, the president should reinvigorate a White House-level AIDS office (like the Office of National AIDS Policy) to provide staffing to the panel and establish the AIDS office director as the individual holding authority for oversight and coordination of all government and federally funded non-governmental organizations required to implement the strategy. Learn more about transition recommendations to support development of a National AIDS Strategy by clicking here.
Agreeing to necessary AIDS-related funding increases for the fiscal year that began October 1, 2008 and proposing responsive fiscal 2010 federal HIV/AIDS investments must be a high priority for the new administration. The new president should use his executive powers to remedy more than a dozen regulatory barriers to HIV prevention, care, and research activities and promote human rights for people living with HIV/AIDS by effectively ending state-sanctioned discrimination against HIV-positive individuals. For goals where congressional actions are needed, including efforts to lift the federal funding ban against needle exchange and enact the Early Treatment for HIV Act, President Obama should use his bully pulpit to encourage swift action.
AFC calls on the new administration to appoint qualified individuals who are openly HIV-positive in order for the unique and important perspectives of people living with HIV to inform the development of federal policy.
Finally, a cornerstone priority of the Obama campaign -- achieving national healthcare reform -- should begin immediately in close consultation with congressional leaders and advocates for the uninsured, including HIV/AIDS organizations.
"Despite the many challenges facing the nation, President-Elect Obama must capitalize on the support of the American people and make good on his promise to deliver change that improves the health and wellbeing of all people in the U.S., including those living with and at risk for HIV/AIDS," said AFC Vice President David Ernesto Munar who also serves as Chairman of the National Association of People with AIDS. "President Obama has the knowledge and commitment to transform and substantially advance the fight against HIV/AIDS, here and abroad. With an estimated 33 million people living with HIV/AIDS, including more than 1 million Americans, we expect nothing less."
Obama and AFC timeline
Mark Ishaug's Windy City Times Op-Ed (Jan. 9, 2008)