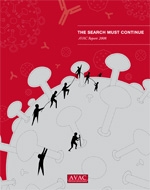 The 2008 AVAC Report -- The Search Must Continue -- provides a comprehensive review of recent developments in AIDS vaccine research. Itexplores the issues that have been raised in the wake of the failure of Merck's vaccine candidate and provides context for the events and major changes of the last year in HIV prevention research.
In the report, AVAC argues that continuing to move forward with AIDS vaccine research and testing is imperative and lays out recommendations for the AIDS vaccine and HIV prevention field. It also looks at the comparative advantages of major players, including the U.S. National Institutes of Health and the International AIDS Vaccine Initiative, and analyzes the current environment for decision-making about future clinical trials.
In The Search Must Continue, AVAC makes several key recommendations for moving the AIDS vaccine and HIV prevention research fields forward, based on a comprehensive review of recent events in the field and future plans of the major players in AIDS vaccine and HIV prevention research as well as conversations with researchers, funders, policy makers and community representatives. These recommendations include:
Ensure that the scientific data from the STEP trial are fully assessed and used to inform the design of improved immunization strategies.

Articulate the human discovery trials agenda and balance vaccine discovery and development.

Structure the vaccine field so that there are career paths for young investigators.

Prepare for results of the Thai prime-boost vaccine efficacy trial.

Systematically improve community engagement strategies, especially as decisions are made around the design of the PAVE 100 vaccine trial.

Clearly communicate and manage expectations of prevention research trials and results.

Increase support for pre-exposure prophylaxis (PrEP) research as well as community stewardship of this promising area of research.

Engage in meaningful dialogue around the scaling-up of male circumcision programs that adequately address HIV testing and gender-specific issues in program rollout.

Expand community engagement with and critique of the microbicides science agenda.

Reconsider how clinical trials infrastructure is sustained and clinical research agendas are developed -- in discussion led by developing country voices.
For a printed copy of the 2008 AVAC Report please email your request to publications@avac.org.
Click here to download the full PDF.
(Please note: Your name and comment will be public, and may even show up in
Internet search results. Be careful when providing personal information! Before
adding your comment, please
read TheBody.com's Comment Policy
.)