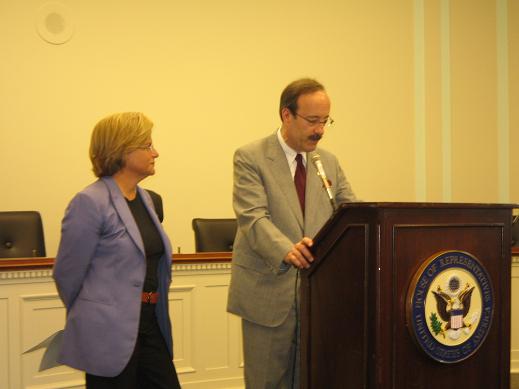 ETHA co-sponsors Ros-Lehtinen
and Engel
If it passes, it will set the stage for the largest expansion of HIV care and treatment in U.S. history. That's how big it is.
It's the Early Treatment for HIV Act (ETHA), and Thursday it was formally introduced in the House of Representatives by House Speaker Nancy Pelosi (D-CA), Representative Eliot Engel (D-Bronx), Representative Ileana Ros-Lehtinen (R-FL), and 26 Republican lead co-sponsors.
Advertisement
AIDS advocates from across the country joined Engel and Ros-Lehtinen at their bill-introduction press conference in the Rayburn House Office Building on Capitol Hill.
"It's really counterproductive to our efforts to contain the AIDS virus when we have tens of thousands of individuals who can be helped to manage their HIV infection, but are not sick enough to qualify for Medicaid coverage," Ros-Lehtinen said.
Engel noted that ETHA could save thousands of lives. "This bill will reverse a cruel irony and a waste of resources in the Medicaid system which mandates that most individuals must become disabled by AIDS before they can receive treatment that could prevent their HIV status from progressing to AIDS in the first place," Engel said. "It's sound public policy at its best."
The assembled masses were uniformly thrilled at the real possibility of passing ETHA soon.
"ETHA corrects the current flaw in the Medicaid system and makes sure that people can get the care they need before becoming sick," said Ryan Clary, Associate Director of Health Care Advocacy of Project INFORM. "We urge Congress to move quickly and pass this lifesaving bill."
"Especially as we ramp up testing initiatives, we need to ensure people have access to care if they don't have private insurance or other means," said Laura Hansen, Director of Government Relations of National Alliance of State & Territorial AIDS Directors.
ETHA Means a Shot at HIV Care for Everyone
ETHA would give states the option to extend Medicaid coverage to low-income people with an HIV diagnosis who have not yet become disabled by AIDS.
If passed, ETHA could get HIV care to hundreds of thousands of Americans and cut the U.S. AIDS death rate by two-thirds, and it's a real possibility for passage in the current Congress.
The Senate version of the bill (S.860) was introduced earlier this Summer by Senators Gordon Smith (R-OR) and Hillary Clinton (D-NY).
ETHA addresses a cruel flaw in the current Medicaid system, which requires an individual to be disabled by an AIDS diagnosis before they can receive access to the care and treatment that could have prevented their HIV disease from progressing to AIDS.
The legislation would provide low-income people with early access to HIV care and treatment, thus helping to reduce the death rate for people with HIV on Medicaid and help relieve the financial burden on other programs, including Ryan White and the AIDS Drug Assistance Program.
For more information on ETHA check out www.campaigntoendaids.org/etha.