Table of Contents
---
I'd like to welcome everyone to The Body PRO's coverage of the 4th International AIDS Society Conference on HIV Pathogenesis, Treatment and Prevention, known as IAS 2007, which took place in Sydney, Australia. This is Bonnie Goldman, Editorial Director of The Body PRO, and I'm here with Dr. Joel Gallant, Professor of Medicine and Epidemiology, Division of Infectious Diseases, Johns Hopkins University School of Medicine in Baltimore. Welcome, Dr. Gallant.
First-Line Therapy: CASCADE, HOPS and SMART Explore "When to Start" Question
Well, the third and final day of IAS 2007 has come and gone, and it's been chock full of interesting presentations. Dr. Gallant, what did you take away from this last day of the conference, in terms of first-line therapy?
Well, there's been a lot of interesting information about the use of novel drugs for first-line therapy. But I think one of the most important subjects that's been discussed here, both in terms of presentations, and also just in terms of debate, has been the question of when to start therapy. For a number of conferences now, there have been more and more data, especially coming from observational cohort studies, suggesting that we really should be treating people earlier than we are now. And there were several studies corroborating that idea at this conference.
For example, there was a large study from the CASCADE cohort, representing almost 10,000 patients with about eight years of follow-up.1 Looking at deaths, and the relationship between CD4 count and deaths, they found they had almost 600 deaths in that cohort. They found that over half of them were due to non-AIDS-related causes, or at least what we typically think of as being non-AIDS-related causes. And they found that CD4 count was strongly related to mortality. That includes the current CD4, the nadir CD4, and the time spent at a CD4 count below 350. These were, not surprisingly, associated with AIDS-related deaths. But more interestingly, they were also associated with some of the non-AIDS-related deaths, specifically, severe infection, liver disease and malignancy.
This is consistent with data we've seen from other cohorts, including HOPS2 and SMART3 and D:A:D,4 showing that people can have so-called "non-HIV-related complications" that are CD4 dependent and arguing that, in fact, they are HIV-related complications that we may want to be preventing with antiretroviral therapy.
There was also an interesting analysis from the SMART trial, which I'm sure everyone is familiar with. It's worth noting, though, that in SMART, there was a subset of patients who enrolled who were not on antiretroviral therapy, either because they were naive to therapy or had stopped it at some time before enrollment.
5
If you looked at the patients who weren't on therapy in the beginning, they found that there was about a five-fold increased risk of a variety of both opportunistic diseases and some serious non-AIDS events with early therapy versus deferred therapy.
The HOPS study cohort: There were several presentations from HOPS, one showing that people who started with higher CD4 counts were less likely to develop significant resistance mutations,6 and another showing that people who started with higher CD4 counts were less likely to develop complications from nucleoside analog therapy.7
Then, finally, we heard data in a symposium about the fact that, in SMART, the D-dimer levels were higher in people not on therapy, went down in people who started therapy, went back up in people who interrupted therapy, and were ultimately associated with a risk for cardiovascular disease and bad outcomes.8 And of course, D-dimer levels are often used to make the diagnosis of pulmonary embolism, and may help us to explain why we're seeing increased cardiovascular disease in people not on therapy.
So there was a lot of interest in this, and some debate about whether we need to have a randomized, controlled clinical trial to decide when to start therapy, or whether we have enough convincing data from these observational cohorts, with all their weaknesses, to begin arguing for earlier intervention.
What's the magic number? I know it used to be 200. Is 350 the new 200?
Well, 200 is definitely out. I think, although it's not reflected yet in the guidelines, certainly 350 is a number that makes sense. The real question is where in the range above 350. So, for example, 350 to 500, in what part of that range would you start therapy?
My own feeling is that the more relevant question is: When would you not treat a patient? I think that's more interesting than when do you treat a patient. You could make an argument for the treatment of almost anyone, but I think the notable exceptions are people who are not likely to be adherent or people who may be long-term nonprogressors, who seem to be handling HIV well on their own with low viral loads and normal CD4 counts.
Drugs in Development for Treatment-Naive Patients
Were there any new drugs that were focused on treatment-naive patients that you noticed?
Yes, there were. We saw one study, the MERIT study, looking at maraviroc [the brand name is expected to be Selzentry], the new CCR5 inhibitor.
9
It was studied in treatment-naive patients in comparison with efavirenz [brand name: Sustiva, Stocrin; also known as EFV], both in combination with zidovudine/lamivudine [brand name: Combivir; also known as AZT/3TC]. These, of course, were in patients who screened as being R5-tropic, by the Trofile assay. This was a double-blind, placebo-controlled study. And what they found was that, interestingly, there were about the same amount of discontinuations in both arms, but people who discontinued maraviroc were likely to discontinue due to a lack of efficacy, whereas those who discontinued efavirenz were likely to discontinue due to neuropsychiatric toxicity.
If you looked at their primary endpoint of a viral load less than 400, the results were quite similar -- about 70 to 73% undetectable. But the less-than-50 analysis was 65% undetectable in the maraviroc arm, 69% in the efavirenz arm. That did not meet the criteria for non-inferiority. In other words, it was not non-inferior, and was probably due to some of these differences in terms of virologic failure.
CD4 count responses were significantly better in the maraviroc arm, which is maybe not surprising. Of concern was that, in the subset of patients with viral loads above 100,000, there was a significant difference favoring efavirenz. So these results certainly don't encourage us to use maraviroc right away as a first-line agent; though at least it's encouraging to note that the results were reasonably good. But it's not going to challenge efavirenz anytime soon.
We also had 48-week data on raltegravir [also known as MK-0518; the brand name is expected to be Isentress], the new integrase inhibitor.
10
We had heard the 24-week data presented earlier. Martin Markowitz presented data from the Protocol 004 study, comparing, again, raltegravir with efavirenz, plus two nukes, and in this case, found that the results were essentially the same at 48 weeks, though it's noteworthy that viral load suppression occurred more rapidly with raltegravir in all doses than it did with efavirenz. But at the end of 48 weeks, results were pretty much the same as those after 24 weeks.
Of course, there were more CNS [central nervous system] side effects with efavirenz, and greater triglyceride elevations with efavirenz. But otherwise, the adverse event profiles were pretty similar across all the groups. So the results here were quite promising.
Another Look at TITAN and DUET: How Will They Change Clinical Practice?
Regarding the treatment of multidrug-resistant HIV-infected people, were there any studies that caught your attention?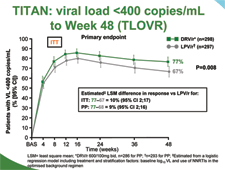 Click to enlarge
Slide by Jose Valdez-Madruga, M.D.; reprinted with permission. Click here to download the complete slide presentation.
Yes. We heard the results of the TITAN study.
11
This was a study comparing darunavir [brand name: Prezista; also known as TMC114] with lopinavir/ritonavir [brand name: Kaletra; also known as LPV/r] in treatment-experienced patients who had never been on lopinavir/ritonavir before. What they found was that, by the primary endpoint, which was a viral load less than 400 using a TLOVR [time to loss of virologic response] analysis, 77% of patients on darunavir had undetectable viral loads, compared to 67% on lopinavir/ritonavir, a clear difference favoring darunavir.
Now, one of the problems with the study design was that they had enrolled people who were naive to lopinavir/ritonavir, but could have been resistant to lopinavir/ritonavir. So it didn't really mimic what we would do in clinical practice, where we would normally not give somebody lopinavir/ritonavir if they were resistant to it. But they did account for that, and even after taking out the patients who were resistant to lopinavir/ritonavir, there still was significant benefit favoring darunavir. So, encouraging results for that drug. It was noteworthy that diarrhea appeared to be a little more common with lopinavir/ritonavir and rash a little more common with darunavir.
Any other studies? Today, there were some interesting studies.
Yes. The DUET studies have been long awaited.
12,13
These are studies in highly treatment-experienced patients, looking at darunavir plus or minus etravirine [also known as TMC125], the new non-nucleoside reverse transcriptase inhibitor [NNRTI]. So half the patients got both drugs, and the other half got darunavir [without etravirine] -- and of course, there was an optimized background regimen. The results clearly show that etravirine has added benefit, especially in people who did not have a very strong optimized background regimen. So, if you had minimal active drugs in the background regimen, then being on darunavir and etravirine together was significantly better than being on darunavir alone.
Now, if your background regimen was good, and you had a lot of active drugs, then you didn't see so much of a benefit with the addition of etravirine. We have also seen some resistance data with etravirine really showing that there is no single mutation that hurts this drug. K103N seems to have negligible impact. The more important mutations are at codons 181 or 190, but with those mutations alone you really don't see much of a loss of etravirine activity. It's only when they are present in the company of several other NNRTI mutations that you begin to see a loss of activity, which is good news, since hopefully most patients with NNRTI resistance have relatively few mutations and should respond to this drug.
Do you think this study will change practice?
Well, etravirine is now available on expanded access, and we hope that it will be approved this year. Certainly this study, I think, is by far the most important of the two -- there are actually two studies that are fairly similar. I think these are the most important studies that we have for deciding how to use etravirine, and I think they are very encouraging studies. There had been a little bit of a buzz about etravirine, that 181 was a bad mutation. If you had that pathway, you weren't going to do well. These studies really suggest that that's not the case, unless it's present with a lot of mutations. So it looks very well tolerated. It doesn't have much in the way of CNS side effects. I think it will be good news for people who have already failed efavirenz or nevirapine [brand name: Viramune; also known as NVP] with relatively few NNRTI mutations.
The Bottom Line on Darunavir, Etravirine, Raltegravir, Maraviroc
Overall, what do you think was the most critical study at IAS 2007 that will impact practice? Do you think it was this study, or was it another study?
I think the DUET study and the raltegravir study are certainly very important, both because of the fact that these drugs are imminent and already available through expanded access programs. The DUET study results perhaps are a little more important, just because we didn't know what to expect. This is kind of the first time we're hearing them. And there had been, as I say, a little bit of a concern about cross-resistance that would affect etravirine. And I think the DUET results help us to be a little more comfortable that it's not going to be a big problem.
The raltegravir results: We had already seen the 24-week data. The 48-week data simply confirmed the durability of the drug. And of course, the more important raltegravir results were the ones presented at CROI [Conference on Retroviruses and Opportunistic Infections] -- the BENCHMRK results with treatment-experienced patients, because those are the patients this drug is going to initially be used to treat.14,15 I don't think it's initially going to start out as a strong first-line contender, although with time it's possible that that could change.
Can you talk about the issues with maraviroc regarding testing for tropism and the cost of the tests?
Yes. It's true that maraviroc comes with some baggage. We saw several presentations at this meeting looking at the tropism issue. It's very clear, especially in treatment-experienced patients who already have maybe a 50% chance of having dual/mixed or X4-tropic virus, that you can miss that with a standard tropism assay 5 to 10% of the time. So if you do the test -- of course, you have got to figure out a way to pay for the test, which is going to be fairly expensive -- then you already can exclude about half the patients who are treatment experienced from being able to use the drug. Then, of the other half, there is going to be a proportion who are going to have falsely reassuring tropism assays. The risk there, of course, is that you could be using maraviroc in a regimen where it really wasn't effective against all the patient's viral population, and then you could have breakthrough with resulting resistance to the other drugs in the regimen. So of all the new drugs, this one has the most complexity, in terms of figuring out how to use it.
But I think we saw, especially from the MOTIVATE trials presented at CROI, that in the right patient population, well selected with a good background regimen, this can be a very, very useful drug.
16,17
And all of these studies in treatment-experienced patients -- the raltegravir studies, the TITAN study with darunavir, the DUET studies -- all of them really clearly indicate how critical it is to have a strong background regimen. If you have two fully active drugs -- maybe three is better, but with two clearly you get very good results from these drugs. But the critical thing is that when you talk about two active drugs, we're not talking about recycled nucleosides that look like they might have activity on a genotype. We're talking about truly active drugs: for example, darunavir with a phenotypic fold change less than 10, or raltegravir in somebody who has never used an integrase inhibitor, or maraviroc in somebody with R5-tropic virus, or enfuvirtide [brand name: Fuzeon; also known as T-20] in an enfuvirtide-naive patient. Those are the kinds of drugs we're talking about when we're putting together a good regimen. If you have two or more of those, you have a very high likelihood of success.
HLA Testing for Abacavir Hypersensitivity
I want to change subjects now and discuss hypersensitivity reaction to abacavir [brand name: Ziagen; also known as ABC] and the new test for it. Can you talk a little bit about that test, and what it means for practice?
Yes. Some interesting data was presented on the HLA-B*5701 assay, which, for some time now, has been shown to predict the likelihood of abacavir hypersensitivity reactions, at least in whites. If you're positive for this, you essentially should be considered allergic to abacavir and should never take it. It's that predictive. The question has always been: What if you're negative? Can the physician completely be reassured that the patient won't develop hypersensitivity reaction? So we saw data from Simon Mallal in Perth, who has really been the guy who has really pushed this research along, and has done the most important work on it.
18
He did a large study, the PREDICT-1 study, using 265 sites in Australia and Europe. What they did was randomize patients who were going to receive abacavir anyway, to undergo either HLA-B*5701 testing or just the standard of care, which is counseling about the reaction. Those who tested positive for the HLA-B*5701 were excluded. Those who tested negative continued.
What they found was that HLA testing reduced significantly the incidence of hypersensitivity. If you looked at clinically suspected hypersensitivity, it was about 8% in those who did not get testing and about 3% in those who did. But if you looked at immunologically confirmed testing, which meant that the patients had a skin test, an abacavir skin test using skin patches, the researchers found that essentially there was no hypersensitivity in patients who tested negative, whereas about 3% of those with standard care had hypersensitivity reactions. Then the SHAPE study showed very similar results.
19
So I think we can be fairly confident that this test is a very useful test, at least in white patients. We're going to hear more about it in other racial groups. But I certainly think that it's something that we should be doing before we prescribe abacavir, that we should be avoiding abacavir altogether in people who test positive. And we probably should still talk to patients about hypersensitivity who test negative, but I think we can feel more and more confident that those people are probably not going to be developing the reaction. The good news is that it also probably decreases the risk of false diagnosis. Because that's a big problem. People get fevers and symptoms, and we may prematurely stop abacavir. If we know that somebody's negative for B*5701, we're probably going to be a little less likely to jump the gun and stop the drug, instead we may push on a little bit and avoid these sort of false diagnoses.
Do you think this kind of genetic testing will be used extensively in the future, and we'll be customizing therapy to optimize it for our patients?
Well, it would be nice to think so. Unfortunately, there's no test quite as good as this one. There is no other example yet of a test that's as good as this test, in terms of predicting a reaction. People have been looking at a test for nevirapine hypersensitivity and other drugs, but none of them yet have stood out as being this simple and predictive.
So right now, this is the one we have got, and it's clinically available. You can order it through standard labs. But I'm not aware of any other tests that we should be doing at this point, in terms of genomic screening.
Switch Studies (SWEET and BICOMBO) Explore Metabolic Issues
Thank you. One last thing I wanted to cover was switching treatment. Were there any new data presented regarding switching?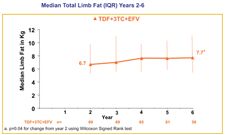 Click to enlarge
Image by Jose Valdez-Madruga, M.D., et al; reprinted with permission. Click here to download the complete poster.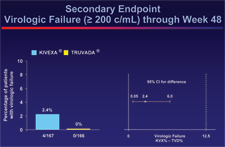 Click to enlarge
Slide by Jose M. Gatell, M.D., Ph.D., et al.; reprinted with permission. Click here to download the complete slide presentation.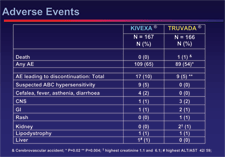 Click to enlarge
Slide by Jose M. Gatell, M.D., Ph.D., et al.; reprinted with permission. Click here to download the complete slide presentation.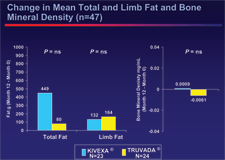 Click to enlarge
Slide by Jose M. Gatell, M.D., Ph.D., et al.; reprinted with permission. Click here to download the complete slide presentation.
Click to enlarge
Slide by Jose M. Gatell, M.D., Ph.D., et al.; reprinted with permission. Click here to download the complete slide presentation.
Yes, there were several studies. There was one called the SWEET study, where they took people who were on zidovudine/lamivudine and efavirenz, and randomized them to either stay on that or switch to tenofovir/emtricitabine [brand name: Truvada; also known as TDF/FTC] and efavirenz.
20
The results weren't particularly surprising. As you'd expect, they maintained their viral suppression. But people who switched to tenofovir/emtricitabine had increases in their hemoglobin and decreases in lipids, so, not surprising, as well as improvements in limb fat.
That's also consistent with the final three-year data at this meeting from the Gilead 934 study: again, showing that, in comparison with zidovudine/lamivudine, tenofovir/emtricitabine was more effective virologically, but also associated with less lipoatrophy.21 There's a steady decline in limb fat in people on zidovudine/lamivudine over three years, whereas there's a steady increase in people on tenofovir/emtricitabine -- also supported by the six-year data now from the Gilead 903E study, which was a rollover for people who had been in 903 for three years, either randomized to stavudine [brand name: Zerit; also known as d4T] and lamivudine [brand name: Epivir; also known as 3TC] or tenofovir [brand name: Viread; also known as TDF] and lamivudine.22 Those on the stavudine switched over to tenofovir. So there has been six-year data now, again showing increases in limb fat and stable renal function.
But that brings us to probably the most important of the switch studies, the BICOMBO study, which was a large study in Spain where patients who were on a nucleoside-based regimen were randomized to switch to either abacavir/lamivudine [brand name: Epzicom, Kivexa; also known as ABC/3TC] or tenofovir/emtricitabine.23 Although it's not the kind of trial that's ongoing now, where people actually start on those drugs, it's the first good comparison we have of those two nucleoside backbones. What they found was that, overall, tenofovir/emtricitabine had better results in terms of treatment failure, and that was primarily the result of a greater dropout due to abacavir hypersensitivity reaction in the abacavir/lamivudine arm. And of course, they did not use the HLA-B*5701 screening test.
If you looked strictly at virologic failure -- so you're not looking at those people who stopped for toxicity reasons -- then the results were more similar: 2.4% with abacavir/lamivudine and 0% with tenofovir/emtricitabine had virologic failure. So they could say that at least from that standpoint, abacavir/lamivudine was non-inferior to tenofovir/emtricitabine.
Of course, toxicity is an issue. Needless to say, there were more discontinuations due to abacavir hypersensitivity with abacavir/lamivudine. There were very few renal problems in this study in either group, and no significant differences between the arms. In fact, renal function remains stable in both arms, by standard GFR [glomerular filtration rate] measurements.
They also looked at limb fat by DEXA [dual energy X-ray absortiometry]. Both groups had significant increases in limb fat, as you would expect in people on these drugs, that don't appear to cause mitochondrial toxicity. No real changes in bone density.
As far as cholesterol and lipids, tenofovir/emtricitabine appeared to have the edge in terms of triglycerides, total cholesterol, and LDL [low-density lipoprotein] cholesterol, whereas abacavir resulted in improvement in HDL [high-density lipoprotein] cholesterol. There was really no significant liver toxicity.
So I guess the bottom line here is that both looked good. There was not the clear benefit in terms of renal issues seen with abacavir/lamivudine that some might have suspected there would be. And probably, had they been doing the HLA-B*5701 screening, the overall results might have been more similar than they were. The real advantage, in terms of tenofovir/emtricitabine, was largely due to the dropout due to hypersensitivity.
Okay. Well, thank you. It continues to be an exciting time in HIV research, with lots of new therapies progressing in development. So thank you so much, Dr. Gallant, for your comprehensive report on IAS 2007.
Thank you, Bonnie. It's been a pleasure.
Footnotes