Table of Contents
---
I'd like to welcome everyone to the second installment of The Body PRO's coverage of the 4th International AIDS Society Conference on HIV Pathogenesis, Treatment and Prevention (IAS 2007). This is Bonnie Goldman, Editorial Director of The Body PRO. I'm here with Dr. Daniel Berger, Medical Director of NorthStar Healthcare in Chicago and Clinical Assistant Professor of Medicine at the University of Illinois at Chicago. I should note that Dr. Berger is one of the authors on the TITAN1 study and has been an investigator on some of the studies he is about to discuss, including the DUET2,3 and the SHAPE4 studies. Welcome, Dr. Berger!
Thank you, Bonnie. I'm very happy to be here.
Dr. Berger, today was another busy day with many simultaneous important presentations. What stood out today?
TITAN Results (Darunavir vs. Lopinavir)
One of the more anticipated and talked about studies during this meeting was the TITAN study. The TITAN study was actually the very first randomized, controlled trial comparing the most recently approved protease inhibitor -- boosted darunavir [brand name: Prezista; also known as TMC114] -- to lopinavir/ritonavir [brand name: Kaletra; also known as LPV/r or boosted lopinavir].
As you all know, boosted lopinavir has already been well established for use in the early or not heavily treatment-experienced population and has been considered the gold standard in the industry. Darunavir, on the other hand, has changed our thinking about what we can do to treat even heavily antiretroviral-experienced patients.
As you may recall, the POWER
5,6
studies showed us that darunavir use in a triple-class resistant or very treatment-experienced patient population can allow us to achieve undetectability in substantial numbers of patients when there is at least one additional active antiviral drug in the regimen. This was felt to be unprecedented, compared to, say, what was seen in the RESIST
7
or the TORO
8
studies.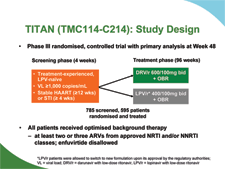 Click to enlarge
Slide by Jose Valdez-Madruga, M.D.; reprinted with permission. Click here to download the complete slide presentation.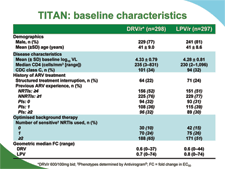 Click to enlarge
Slide by Jose Valdez-Madruga, M.D.; reprinted with permission. Click here to download the complete slide presentation.
So, getting back to TITAN, in this study, patients were randomly assigned to boosted darunavir or lopinavir plus a physician-directed optimized background regimen. The study population did
not
consist of the typical patients with advanced disease who are usually seen in conventional salvage trials. Instead, treatment experience was defined as having at least 12 weeks of HAART [highly active antiretroviral therapy] experience. Patients who had previously used or were using lopinavir, darunavir, tipranavir [brand name: Aptivus; also known as TPV] or enfuvirtide [brand name: Fuzeon; also known as T-20] were excluded. Enfuvirtide was not allowed to be part of the optimized background regimen.
Approximately 300 patients were randomized to each arm of the study; 18% of the participants were black and 21% were female, so the trial contained a very good, heterogeneous representation. At 48 weeks, results showed that 60% of patients in the boosted lopinavir arm achieved a plasma RNA value below 50 copies/mL, while in the darunavir arm, significantly more patients (71%) achieved a viral load below 50 copies/mL. This was highly statistically significant.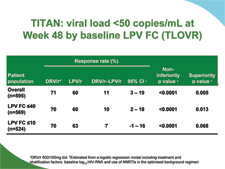 Click to enlarge
Slide by Jose Valdez-Madruga, M.D.; reprinted with permission. Click here to download the complete slide presentation.
Actually, a significant difference in viral load reduction between the study arms was seen at 24 weeks, and this difference increased by week 48. Significantly more patients achieved viral load reductions in the darunavir arm than in the boosted lopinavir arm, and log reductions in RNA were significantly greater with darunavir than boosted lopinavir -- a 1.95 log versus 1.72 log drop, respectively. Similarly, CD4+ cell count gains were observed in both groups: there was a gain of 81 cells/mm3 in the boosted lopinavir arm and 88 cells/mm3 in the darunavir arm.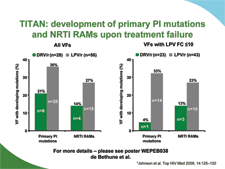 Click to enlarge
Slide by Jose Valdez-Madruga, M.D.; reprinted with permission. Click here to download the complete slide presentation.
Various subanalyses also favored the darunavir arm. More patients in the darunavir arm than the boosted lopinavir arm who had a baseline viral load greater than 100,000 copies/mL achieved viral suppression (74% versus 63%, respectively). Also, HIV drug resistance was studied among those patients who experienced viral breakthrough during the study. A greater failure rate was seen in the boosted lopinavir arm compared to the darunavir arm.
In addition, a loss of susceptibility to protease inhibitors [PIs] and/or nucleoside reverse transcriptase inhibitors [NRTIs] occurred in more patients on boosted lopinavir than darunavir. More patients on boosted lopinavir (24%) lost susceptibility to lopinavir, compared with only 11% in the darunavir arm who lost susceptibility to darunavir. Also, more patients on boosted lopinavir lost susceptibility to the NRTIs in their optimized background regimen than did patients on darunavir. An overall lower emergence of NRTI resistance was seen upon treatment failure with darunavir than with lopinavir.
Click to enlarge
Slide by Jose Valdez-Madruga, M.D.; reprinted with permission. Click here to download the complete slide presentation.
Interestingly, where patients on the boosted lopinavir arm had a baseline lopinavir-fold change less than or equal to 10, more patients on darunavir than on boosted lopinavir achieved an HIV RNA value below 50 copies/mL (70% versus 63%, respectively). Since this was a subanalysis, it was not really powered to show differences in these smaller subsets.
Alright, you've heard all the numbers. So now, how does this shake out?
Because the TITAN study was published so recently -- in the July 7 issue of The Lancet9 -- there was much buzz and discussion in the hallways between the conference rooms. The discussion centered mostly around the questions of 1) whether darunavir will replace other options for use in the early treatment-experienced population, and 2) what some of the subanalysis results really mean.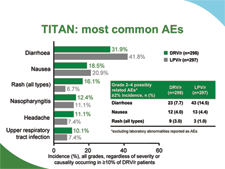 Click to enlarge
Slide by Jose Valdez-Madruga, M.D.; reprinted with permission. Click here to download the complete slide presentation.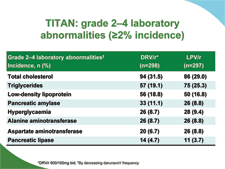 Click to enlarge
Slide by Jose Valdez-Madruga, M.D.; reprinted with permission. Click here to download the complete slide presentation.
Clearly, TITAN demonstrated that there are some important differences between the two agents. Clinicians may find it hard to ignore the surprising results and factor in the fact that the number of boosted lopinavir patients having grade 2 to 4 events of diarrhea was
twice
that of the darunavir patients. Although the newer formulation of boosted lopinavir has improved diarrhea for some patients, there is still a significant number of individuals who experience diarrhea with the new boosted lopinavir tablets and that's why many clinicians do not dose lopinavir once daily.
For many clinicians, this study will help with decision making for patients who have failed their first regimen. When weighing whether to put these patients on boosted lopinavir versus darunavir, I know I'll be thinking about the significantly greater number of patients who failed treatment with boosted lopinavir during the study, and that many of those patients lost more susceptibility to other PIs and to NRTIs while on boosted lopinavir.
MK-0518 (Raltegravir) in Treatment-Naive Patients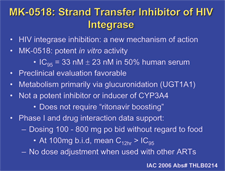 Click to enlarge
Slide by Martin Markowitz, M.D.; reprinted with permission. Click here to download the complete slide presentation.
One of the most exciting new classes of drugs in development, Bonnie, that was presented during the conference, is the integrase inhibitors. During the session today, there was a smaller study of the new integrase inhibitor MK-0518 -- also known now as raltegravir [the brand name is expected to be Isentress] -- in treatment-naive patients, which was presented by Martin Markowitz.
10
MK-0518 is a strand transfer inhibitor that is metabolized by glucuronidation. Since it is not metabolized via the CYP3A4 pathway that other agents utilize, it does not require ritonavir [brand name: Norvir; also known as RTV] boosting. It is currently dosed twice daily. During this study, patients in the four MK-0518 study arms were initially dosed MK-0518 at 100, 200, 400 or 600 mg twice daily, and were compared to a study arm in which patients received efavirenz [brand name: Sustiva, Stocrin; also known as EFV]. Each study arm included tenofovir [brand name: Viread; also known as TDF] plus lamivudine [brand name: Epivir; also known as 3TC] as the background therapy.
Almost 200 patients were treated and, although this was a treatment-naive population, approximately one third had a diagnosis of AIDS at baseline. At week 48, the results showed that all treatment arms achieved optimal viral suppression to below 50 copies/mL at almost 90%.
Interestingly, looking at viral load decline, patients on MK-0518 achieved optimal viral suppression faster -- within eight weeks -- compared to those on efavirenz. With efavirenz, it actually took 24 weeks for the same number of patients to achieve undetectability.
An additional presentation during the same session, presented by John Murray, discussed the achievement of undetectability with MK-0518, compared to with efavirenz, at various time points.11 At all time points on day 15, day 29 and day 57, treatment with MK-0518 showed a greater likelihood of achieving optimal viral suppression and appears to alter the curves of both first and second phase viral decay. In Markowitz's presentation, however, by week 24, all patient groups achieved optimal viral suppression and this was sustained out to 48 weeks. All groups had similar CD4+ cell count gains of approximately 144 to 221 cells/mm3.
The emergence of resistance was only seen in a few patients during the study. Five patients from the MK-0518 treatment groups developed virologic failure; two of the five developed resistance mutations to integrase, as well as M184V, and one had K65R. The patient in the efavirenz arm with treatment failure developed K65R and the non-nucleoside reverse transcriptase inhibitor [NNRTI]-associated mutation G190E.
Regarding side effects, overall the treatment with MK-0518 was well tolerated. There was no dose response relationship to the various MK-0518 arms. Interestingly, the lipid panels showed little effect on lipids for the MK-0518 treatment groups versus some increases in mean cholesterol and triglycerides for the efavirenz treatment arm.
This study involved a small cohort, but a very large phase 3 study is currently being conducted in treatment-naive patients being administered MK-0518. I think that this integrase inhibitor may become a serious consideration for use as first-line therapy. This particular regimen has the advantages of being potent, while establishing a very high barrier for resistance, and of not requiring ritonavir boosting. It also is an NNRTI- and PI-sparing regimen, thus saving these other drug classes for a second-line regimen, potentially.
As the various new agents continue to be studied for differing patient populations, it is not just our armamentarium and landscape for treatment that will be vastly improved, but also the sequencing of different HIV treatments that will no doubt change.
An additional interesting report was presented today by Edwin DeJesus in a poster presentation.
12
In his small study, he reported on the very first instances of patients who were treated with the integrase inhibitor GS 9137, also now known as elvitegravir, and then were switched after treatment failure to MK-0518. During the study, the patients were switched initially in their integrase inhibitors, and after seven days they had their optimized background regimen re-optimized. The results unfortunately showed that there was cross-resistance that occurred between GS 9137 and MK-0518. The data from this two-patient study was rather small, but I think this is a really important indicator of what we're going to be seeing in the future; in that, unfortunately, it doesn't look like individuals can be sequenced from one integrase inhibitor to the other.
TMC278 (Rilpivirine) Efficacy, Toxicity and Pharmacokinetics
Other studies at this conference highlighted a new second generation NNRTI: TMC278, also now known as rilpivirine. At the last CROI [the 14th Conference on Retroviruses and Opportunistic Infections], 48-week data was presented from the phase 2 study of TMC278, which was combined with either tenofovir/emtricitabine [brand name: Truvada; also known as TDF/FTC] or zidovudine/lamivudine [brand name: Combivir; also known as AZT/3TC], and showed that TMC278 had comparable efficacy to efavirenz.13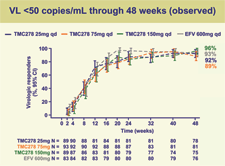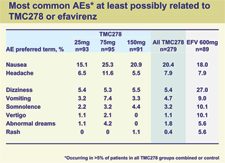 Click to enlarge
Slides by Anton L. Pozniak, M.D., F.R.C.P.; reprinted with permission. Click here to download the complete slide presentation.
Also, during this previous presentation, both CNS [central nervous system] effects and rash, usually not uncommon with efavirenz treatment, were more scarce in the TMC278-treated patients.
Anton Pozniak presented a poster here at the conference that details the fewer CNS side effects associated with TMC278 use.14
The effects of TMC278 use on metabolic parameters, such as lipids and glucose, were focused on at this conference by Kiat Ruxrungtham.15
Overall, significantly fewer elevations in triglycerides, total cholesterol and LDL [low-density lipoprotein] cholesterol were observed with TMC278 compared with efavirenz.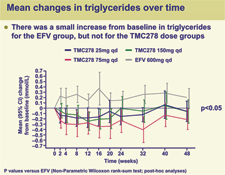 Click to enlarge
Slide by Kiat Ruxrungtham, M.D., et al; reprinted with permission. Click here to download the complete slide presentation.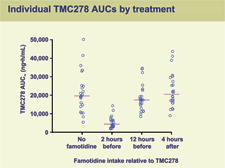 Click to enlarge


Image by

Rolf van Heeswijk, Pharm.D., Ph.D., et al; reprinted with permission. Click here to download the complete poster.
In regards to the pharmacokinetics of TMC278, an important poster was presented by van Heeswijk.
16
It was shown that there is an important drug interaction between TMC278 and H2 antagonists. It's not uncommon in clinical practice that patients with HIV infection, or on multiple medications, need to sometimes take H2 antagonists. And, as many of you may remember, there is a strong drug interaction between atazanavir [brand name: Reyataz; also known as ATV] and H2 antagonists that has lead to the recommendation that the two drugs not be used together. In this poster presentation, when TMC278 was administered two hours after the H2 antagonist famotidine [brand name: Pepcid], TMC278's C-Max and AUC [area-under-the-curve] were reduced by 85%. However, when TMC278 was administered either four hours or 12 hours after famotidine, these TMC278 levels were not affected. Thus, this suggests that for patients who are prescribed TMC278 and an H2 antagonist, the drugs should not be dosed together and they should be taken at least four hours apart.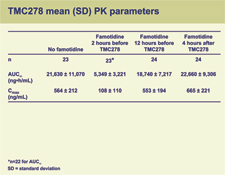 Click to enlarge
Image by Rolf van Heeswijk, Pharm.D., Ph.D., et al; reprinted with permission. Click here to download the complete poster.
All and all, TMC278 appears to be a potent NNRTI, and a small dose of 75 mg once daily TMC278 is being studied going forward. Part of the conference buzz around this drug has to do with the possibility that this agent may be able to be combined as part of single-dose formulations or other once-daily combinations. One-pill, single-dose HAART regimens are sexy for patients and easier and more practical, so I hope to see this idea moving forward.
CCR5 Antagonists: INCB009471 and Vicriviroc
CCR5 entry inhibitors are another new class of antiretroviral agents and we really expected one of them, maraviroc [the brand name is expected to be Selzentry], to have been available on pharmacy shelves by now. But almost from the beginning, development of this class has had its ups and downs. Initially, aplaviroc (which was also known as 140 or GSK873140) was discontinued due to unexpected hepatotoxicity and concerns about this potentially being a class effect; and thus, the future of the other CCR5 inhibitors were put into question.17
An FDA [U.S. Food and Drug Administration] committee recently voted unanimously that they thought maraviroc should be approved, which historically is nothing more than a formality for approval. Everyone had expected for maraviroc to be approved . But on June 20, the FDA requested further clarification regarding the drug.18 So we really don't know now when maraviroc will make it to market.
In another CCR5 antagonist study presented at the conference, by Cal Cohen, the CCR5 inhibitor INCB009471 was administered for 14 days versus placebo in HIV-infected patients with R5-tropic virus in a small phase 1 trial.
19
At day 14, patients on INCB009471 showed a rapid HIV RNA decline. A near 1.8-log drop was observed at day 16. Viral loads continued to be suppressed at day 20 to 1.7 logs, which was six days after the last dosing of this agent. Also, interestingly, even two weeks following the last dose, a 0.8-log drop was still observed.
Initially we were very concerned about the future of this class of drugs, but it looks like there are a number of new agents that are still in development and even newer ones that are being proposed.
Vicriviroc [also known as SCH 417690, SCH-D and VCV] also had its hurdles when increased reports of malignancy were seen in those taking it in the phase 2 study ACTG 5211.
20
Another vicriviroc study in antiretroviral-naive patients failed because the specific combination of vicriviroc plus zidovudine/lamivudine that was being studied was associated with a low barrier of resistance.
21
However, the malignancy issue was eventually felt to be a red herring, while the failure issues were dealt with by readjusting the dosage of vicriviroc and by readjusting the antiretroviral combinations vicriviroc is given together with.
Today at the conference, Roy Gulick reported on the 48-week safety and efficacy data for vicriviroc.22 Initially, patients on ritonavir-based regimens with R5-tropic virus were randomized to one of three different vicriviroc doses, with about 30 patients in each group. But the 5 mg dose was discontinued early on in the study, following a data safety monitoring board recommendation. Also, un-blinding occurred early, following the observation of five malignancies. At 48 weeks, both the 10 mg and the 15 mg doses were shown to sustain viral suppression, with HIV RNA decreases of 1.9 and 1.4 logs, respectively. CD4+ cell counts increased to around 100 cells/mm3 in both groups (actually 96 and 130 cells/mm3, respectively). Four patients in the 10 mg group and three patients in the 15 mg group had a co-receptor change from R5-tropic virus to dual/mixed or X4-tropic virus.
Vicriviroc is proceeding into phase 3 study with either the 10 or 15 mg dose and will be boosted by ritonavir, while maraviroc is still left hanging for now, but is currently available via expanded access to patients who require another agent. Many clinicians are still debating how to sequence this class of drug. Using the drug too late in the course of the disease may eliminate its potential if the patient has developed dual/mixed-tropic virus, which has been shown to occur in greater numbers among later stage patients compared to earlier stage patients.
In fact, a poster presented by Matthew Goetz confirmed earlier reports of dual or mixed R5/X4-tropic virus being associated with faster disease progression.23 Thus the big question is whether these agents will become used in earlier advanced patients, different from the way maraviroc was used during the recently presented phase 3 trials.
SMART Substudy on Hepatitis Coinfection
Wasn't there also an interesting SMART study subanalysis today?
Yes, the SMART study has been very much talked about over the past year. As most of you will recall, the SMART study was a big randomized prospective trial of more than 5,000 patients that began in 2002.
24
Conducted by CPCRA [the Community Programs for Clinical Research on AIDS], it compared patients with CD4+ cell counts greater than 350 cells/mm
3
who were placed on either continuous HAART or episodic treatment. Study patients on the episodic treatment arm had their treatment discontinued when their CD4+ cell count rose to 350 or greater and reinstituted when their CD4+ count fell below 250.
The study was conducted out of the motivation to examine whether treatment interruptions could reduce the long-term toxicities associated with HAART.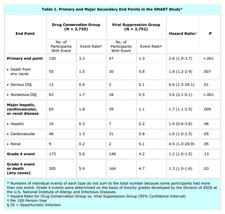 Click to enlarge
Adapted from Wafaa El-Sadr, M.D., M.P.H., et al. N Engl J Med. 2006;355(22):2283-2296.
But, although this patient population was fairly healthy at baseline, with a median CD4+ cell count approaching 600 cells/mm
3
and with over 70% of the patients having had a viral load less than 400 copies/mL, the study was halted prematurely by an independent data safety monitoring board. The study was stopped due to the unexpected observation that the episodic treatment arm (also known as the drug conservation strategy arm) was associated with an increased risk of death and a greater prevalence of opportunistic infections and cardiovascular, hepatic and renal problems than the continuous treatment arm (also known as the virologic suppression strategy arm).
Despite SMART being halted, we still have a lot of data to tease out from this study. At this conference, several SMART substudies were presented. One such substudy evaluated the opportunistic complications and mortality issues in patients with hepatitis C and/or hepatitis B coinfection.25 Another presentation discussed the higher rates of required reinitiation of treatment among hepatitis B coinfected patients.26
But let's get back to the SMART substudy, presented by Ellen Tedaldi, that looked at coinfected patients with hepatitis C or hepatitis B or both and the impact coinfection had on the outcome of disease progression or mortality seen.
25
Of the coinfected patients, the median CD4+ cell count at baseline was in the upper 500s and more than 60% of the patients had a viral load below 400 copies/mL at baseline. During the study, patients coinfected with hepatitis B and/or hepatitis C numbered 17%; almost half of all deaths related to non-opportunistic diseases occurred in this population. In other words, the coinfected patients had a higher risk of death related to non-opportunistic diseases than did the hepatitis-uninfected patients. Additionally, the risk of death related to both opportunistic disease and non-opportunistic disease were higher in the episodic treatment group.
Thus, treatment interruptions, with its risks for increased HIV viremia and immunosuppression, are much more dangerous to the coinfected population. We discussed yesterday how the coinfected population appears to be growing, thus clinicians should continue to keep up on the changing dynamics of our HIV-infected patients, as well as on the new and surprising clinical trial results that continue to emerge.
Thank you, Dr. Berger, for another comprehensive review!
Footnotes