Table of Contents
---

I'd like to welcome everyone to The Body PRO's coverage of the 4th International AIDS Society Conference on HIV Pathogenesis, Treatment and Prevention, known as IAS 2007, which is now taking place in Sydney, Australia. This is Bonnie Goldman, Editorial Director of The Body PRO. I'm here with Dr. Daniel Berger, Medical Director of NorthStar Healthcare in Chicago and Clinical Assistant Professor of Medicine at the University of Illinois at Chicago. Welcome, Dr. Berger!
Thanks, Bonnie. It's great to be here.
HIV and Aging
Well, the first day of IAS 2007 presentations has come and gone. It's been chock-full of interesting presentations, from aging and HIV to hepatitis C coinfection. Dr. Berger, what did you take away from this first day of the conference?
Before every conference, physicians have expectations regarding some of the clinical controversies and questions that we know we'll be hearing about during the meeting.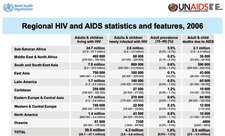 Click to enlarge
Image by UNAIDS/World Health Organization; reprinted with permission.
The morning started with the traditional plenary session. The first presentation, given by Debrework Zewdie, Director of the World Bank's global HIV program, was appropriately centered around the dramatic problems and challenges of the developing world.
1
During the first few minutes, the audience was taken by a litany of dire statistics. There was one rather horrific statistic stated: "Seventy percent of [HIV-infected] people in South Africa and Ethiopia will die of AIDS before ever receiving treatment." Some solutions were proposed, including setting up multiple infrastructures for clinical trials within these impoverished communities, thus providing an organizational approach for standardizing care in these countries. My focus here is on clinical research, so I'll not further discuss this rather overwhelming issue.
In an ironic juxtaposition, another talk in the same plenary focused on an issue that is only occurring in the developed world and that is the growing population of HIV-infected people who are aging. Brian Gazzard of Chelsea and Westminster Hospital gave an overview on the subject and looked at the question of whether HIV-infected patients will live a normal life span.
2
It was a real wake-up call, for instance, to hear that one third of HIV-positive patients in the United Kingdom are older than age 55.
Gazzard showed that with each year on HAART [highly active antiretroviral therapy], the life span of someone with HIV continues to improve. However, despite treatment, life spans do not reach that of what is being observed for uninfected people. Some of the diseases of aging, such as dementia, atherosclerosis, loss of bone mineral density, hepatic and renal disease and cancer, are seen at increased incidence in chronic HIV infection. However, HAART tends to control end organ disease, as demonstrated surprisingly by the SMART study in 2006.
3
In the SMART study, patients who were on continuous therapy versus episodic treatment interruptions had
less
cardiovascular, renal and hepatic complications. This revealed that it is HIV that is the culprit for these complications and
not
, as suspected previously, antiretroviral agents, thus making treatment interruptions not a recommended intervention because of the greater risks associated with it.
In regards to the prevention of cardiovascular disease and cancer, clinicians have a role. With up to 40 to 50% of HIV-infected patients believed to be still smoking, we should be talking to our patients about smoking cessation, as much as we discuss other HIV-related subjects. The D:A:D study, published recently in the New England Journal of Medicine, showed smoking to be the major factor for increased cardiovascular disease in our patients.4
Increased Rates of Cancer in HIV-Infected Patients
In regards to aging and malignancies, a loss of immune surveillance has led to an increase in non-AIDS-related cancers. Several abstracts today showed changes in the types and rates of various malignancies during the late-HAART era. Prior to protease inhibitors and optimized treatment, non-Hodgkin's lymphoma and primary CNS [central nervous system] lymphoma, as well as Kaposi's sarcoma, were seen in the clinic often.
Several fairly large studies at the conference examined the change and range of new cancers that are being observed at increased rates. This shift in trend, as described by Andrew Grulich
5
today, and mentioned by Gazzard, noted that these malignancies often originate from infectious pathogens.
For example, increases in anal and genital cancers are related to human papillomavirus; hepatocellular cancer is related to chronic hepatitis; Epstein-Barr virus infection gives rise to Hodgkin's disease and Helicobacter pylori to stomach cancer. In Grulich's abstract, HIV-infected patients were compared to transplant patients and Grulich found that the above malignancies are generally more common now in our HIV-infected patients than in transplant recipients -- both populations being immune deficient.5
In another poster today, this one by Nancy Crum-Cianflone, it was noted that these new malignancies are occurring in patients on optimally suppressive regimens and with higher CD4 counts averaging 443 CD4+ cells.6
So it's logical to ask: Do you think that these cancers are becoming more common simply because HIV-infected patients are living longer?
Probably not, since there is evidence that the incidence of certain malignancies is more common in HIV-infected patients when compared to the HIV-uninfected general population. In another poster, Priti Patel from the U.S. Centers for Disease Control and Prevention showed these comparisons and noted that seven non-AIDS cancers were elevated and anal cancers in particular are increasing at a greater rate in HIV-infected people.7
I think the take-home has to be that, because these non-AIDS-related malignancies are increasing at a greater rate in HIV-infected patients, we need to find a better screening method. For example, we can do more frequent anal exams on our patients with HIV so we can be proactive if we catch it early. And, as mentioned, we could focus more on smoking cessation.
Sexual Transmission of Hepatitis C
There was so much today about hepatitis coinfection. Can you discuss some of the bigger issues?
One of the biggest stories to come out of the conference today concerns the HIV and hepatitis coinfected population. Today, there was an entire oral session plus a poster session devoted to the subject.
As clinicians, we have been seeing more of our HIV-infected patients become hep C coinfected. Once thought to be rare, there is now strong evidence that hepatitis C is transmitted sexually, at least in men who have sex with men or MSM as we call it. We first heard about this in a study from the Swiss cohort presented in 2005.8 This study showed a dramatic incidence in hep C coinfection -- 1,500 new hep C seroconversions occurred during the study. These seroconversions occurred in HIV-infected MSMs who were initially hep C negative without reported injection drug use.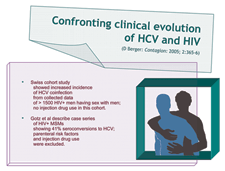 Click to enlarge
Slide by Daniel Berger, M.D.; reprinted with permission. Excerpted from a presentation on the complications of crystal methamphetamine use. Click here to download the presentation.
Another article, in
AIDS
by Gotz,
9
appeared during the same time. Forty-one percent of HIV-positive MSM in this cohort seroconverted to hep C virus status where parenteral risk factors and injection drug use were excluded. And in a poster presentation today, Julie Fox reported that a group of patients that was identified to be in acute primary HIV infection diagnosed as hep C positive at the same time.
10
While hep C continues to be on the rise, doctors managing the treatment of patients with both infections [HIV and hepatitis C] are confronted with lots of questions and challenges. Patients with either hep C or hep B coinfection have a higher risk of progression to end-stage liver disease, as well as decreased tolerability to antiretrovirals. It is still undecided when is the best time to initiate treatment for hepatitis C for particular patients and/or which therapy should be initiated first -- HIV meds or hep C meds. Also, another open question is which is the more liver-friendly HAART regimen for these patients.
As I mentioned previously, the growing prevalence rates of hep C in the MSM population are due to many factors, including complacency because of the successes of HAART and less regard for safe sex practices. But in addition, we can't forget the epidemic of crystal methamphetamine use, largely in the MSM community. Crystal use has become a path for rapid destruction in the MSM community. It is used during circuit parties that take place around the world in the MSM community, as well as during Internet "hook ups." As a result of all of these factors, there has also been an upsurge in not only hep C and HIV, but other STDs [sexually transmitted diseases] including syphilis, which has very much been in the news lately. If more is not done to stop crystal methamphetamine use, the epidemic will only worsen.
Is it more unprotected sex that is causing the increased rate of hepatitis C transmission? Or are there particular alterations in sexual behavior?
One German poster presented today by A. J. Schmidt reports on behavioral changes within the MSM community and the contribution of substance abuse on aggressive sexual practices that have become more common.11 These include what the investigators called "gang banging" or group sex, as well as barebacking or unprotected anal intercourse. Also described was bleeding anal injuries from various ways of sexual intercourse, such as fisting and foreign object insertions. Clearly, because of the risks associated with more aggressive sexual practices, hepatitis C can be more easily transmitted.
What I think is important for us to take home about this is that, because we know that hepatitis C among our HIV-infected patients is increasing, physicians involved in the care of the HIV-infected MSM population need to be vigilant for abnormal liver enzyme levels. Don't always presume that the somewhat elevated liver enzymes in your patient are due to antiretrovirals. Regular HCV [hepatitis C] and HBV [hepatitis B] screening should be performed, and incorporated with routine testing for STDs to help reduce inadequate and late detection. Physicians should also educate patients about the risks.
Hepatitis C Treatment
So, with hepatitis B and C on the rise, what does this mean in terms of treatment? I know there is a dire need for new hepatitis C treatments.
Current standard treatment for hepatitis C involves the combination of pegylated interferon [brand name: Pegasys (also known as peginterferon alfa-2a), PEG-Intron (also known as peginterferon alfa-2b); IFN is the abbreviation for interferon] plus ribavirin [brand name: Copegus, Rebetol; also known as RBV]. However, treatment is not well tolerated and is fraught with multiple side effects and often unsuccessful. During an oral session, Marion Peters provided a glimpse of various new HCV inhibitors attacking different targets within the HCV life cycle.12 Among these were protease inhibitors that show promise with good potency. She provided an interim analysis of a study with an HCV protease inhibitor called telaprevir [also known as VX-950], which is combined as triple therapy with pegylated interferon alpha plus ribavirin.
The triple therapy markedly improved response rates at 12 weeks, and nearly 80% of patients achieved undetectable hep C RNA with triple therapy compared with dual therapy of interferon and ribavirin alone. Peters stated that since interferon appears to be synergistic with most anti-hep C compounds in the pipeline and that since interferon sensitivity is increased by these other agents, ribavirin and interferon will remain the mainstay of treatment combined with these newer agents.
As mentioned, at present, the treatment of hepatitis C in the coinfected population is often unsuccessful, especially with genotype 1a or 1b. So we're often confronted with not knowing what to do with the non-responders of anti-hep C therapy.
One matched, controlled study presented today by Anna De Bona of San Raffaele Hospital in Milan showed that peginterferon plus ribavirin slowed down the rate of cirrhosis progression in HIV/HCV coinfected patients who were non-responders in comparison to untreated patients.13 This was not new news, but is part of the mounting evidence of what we can do with our non-responder patients until newer therapies make their way down the pipeline.
Treating the HIV/Hepatitis B-Coinfected Patient
Today we saw quite a few studies mentioning hepatitis B coinfection, which affects approximately 10% of HIV-infected patients. Can you discuss some of the more interesting studies?
With only a limited choice of treatment for hep B, issues surrounding resistance to hepatitis B [treatment] are important. Hep B [treatment] resistance is more serious than [resistance to treatment for] HIV since there is only one [hep B] viral target, the viral polymerase. Additionally, cross resistance to certain available anti-hep B agents is not uncommon. During an oral presentation, Stephen Locarnini stated that lamivudine [brand name: Epivir; also known as 3TC] and adefovir [brand name: Hepsera] appear to be most susceptible to resistance development when used as monotherapy.
14
Despite this, it is sad that anti-HBV clinical trials continue to be designed as monotherapy. On the other hand, entecavir [brand name: Baraclude] appears to have the highest barrier for resistance. Also, administering two agents, such as tenofovir [brand name: Viread; also known as TDF] with emtricitabine [brand name: Emtriva; also known as FTC], is more effective at achieving durable suppression of hep B DNA.
During an animated presentation, Vincent Soriano reiterated this and described the combination of tenofovir and emtricitabine as "magic" for hepatitis B.
15
Soriano also discussed a recent famous report of three HIV-infected patients not on antiretroviral therapy being treated for hepatitis B with entecavir monotherapy.
16
These individuals demonstrated a one-log reduction in HIV RNA with entecavir therapy. In one subject, the M184V mutation was isolated. Although Soriano seemed doubtful about this becoming a common problem, he stated that entecavir should not be used as monotherapy in the HIV coinfected patients that are not on antiretroviral therapy. In terms of treating their hepatitis B/HIV coinfected patients, most HIV clinicians already understand the dangers of monotherapy, having experienced treatment failures prior to HAART.
One of the important take-home messages here was that chronic hepatitis B progresses faster in HIV-infected patients. Treatment of hep B should be considered as a priority in HIV-infected patients. All hepatitis B/HIV coinfected patients should be tested for viral genotype and quantitative HBV DNA, and testing for liver fibrosis should also be performed.
Natural Conception (and Pre-Exposure Prophylaxis) for Serodiscordant Couples
On a completely different subject, as you know, many discordant heterosexual couples yearn to have their own children. A study presented today looked at natural conception for these couples. Can you tell us about this study?
Currently, artificial techniques involving sperm washing, intrauterine insemination and/or in vitro fertilization devices are not easily available. There are few clinics in the U.S. that will help these couples, even though sperm washing has been around for a while and sperm is easily shipped -- the transport of which has already been perfected with bulls and bull sperm is widely available for [cattle] breeding.
Pietro Vernazza took a look at discordant couples who wanted to conceive naturally and have a child safely.
17
In his small study, each member of the couple was counseled regarding the risks of HIV transmission with unprotected sex. The HIV-positive men were all on optimized treatment for at least three months prior to study and frequent measurements of urine luteinizing hormone (LH) from the female participants were done. When LH levels peaked, pre-exposure prophylaxis (known as PrEP) was administered as tenofovir to the 22 HIV-negative women twice (both 36 and 12 hours) prior to a timed intercourse.
In the study, more than 70% of the women became pregnant within three episodes of unprotected intercourse. Pregnancy rates in this study were significantly higher with natural intercourse than after artificial insemination. No women during the study seroconverted to HIV. This study is very interesting because it looked at this problem from a very practical standpoint.
My concern with this study is that, when the other member is optimally suppressed, the rates of transmission are probably fairly low anyhow, so a study of only 22 individuals would not have enough power to evaluate whether this intervention was effective. An additional concern is that our current understanding of PrEP involves at least two antiviral drugs. Third, if the investigator provided more prolonged dosing of tenofovir, a standard steady state would be achieved and strict timing of intercourse would not be necessary so long as ovulation is occurring.
Anyhow, I think this study provides for a tantalizing solution for discordant couples in this situation who wish to conceive. Further larger studies can confirm the safety and prevention of HIV transmission, since this natural method would be infinitely less expensive, easier and more practical to perform than current assisted-reproduction techniques.
Trends in Nonoccupational Post-Exposure Prophylaxis Use
Some interesting data was reported today out of the Danish post-exposure prophylaxis registry of their 10 years of experience using PEP as it's called.
Yes, in this presentation, the researchers reported on more than 350 patients who were given PEP following a variety of homosexual and heterosexual exposures, most, however, were from homosexual encounters and many for receptive anal intercourse.18
The researchers also reported on the incidence of PEP administration following occupational exposure, most being for percutaneous exposure in patients belonging to high-risk groups. The mean time for initiation of PEP in this retrospective study was quite rapid, about 10 hours after sexual exposure and two hours following occupational exposure.
Over the 10-year period covered in this presentation, it appears that administration of PEP has been increasing, although repeated PEP was rare. This I hope may relate to the fact that once an individual has experienced taking antiviral drugs for a month, they have thought through their experience and made the right assessment to take precautions for the future. Increasing rates of PEP use are similarly being observed in the U.S. at some sites.
So how tolerable is PEP? A British study presented by David Hawkins discussed tolerability issues.19 In this study, AZT [generic name: zidovudine; brand name: Retrovir] was replaced by d4T [generic name: stavudine; brand name: Zerit] in a tenofovir-based regimen because of tolerability issues, such as increased anxiety and nausea.
The issues brought up in these two studies pose as good reminders that, if you're going to administer PEP, it should be done as quickly as possible after the possible exposure and that the possible exposure itself should be evaluated carefully. Clearly only people at high risk for HIV should be given PEP because of the potential side effects and, if PEP is prescribed, it should be done by a knowledgeable professional.
"Patch" Test for Abacavir Hypersensitivity
I know that testing for abacavir hypersensitivity reaction will be discussed in detail on Wednesday, but today there were a few posters about issues surrounding this. Can you summarize?
One of the inhibitions for clinicians in prescribing abacavir [brand name: Ziagen; also known as ABC] is the hypersensitivity reaction (HSR) in some patients. But this may become a fear of the past since the development of a new genetic blood test that can be used to screen patients prior to treatment. We'll be hearing a lot more about this in Wednesday's session during which two major studies called SHAPE20 and PREDICT21 will be presented. Today, however, there were some interesting posters of small studies looking at issues surrounding abacavir hypersensitivity and the new HLA-B*5701 testing. In addition to the new HLA test, a research tool being used, an abacavir patch test, confirms the tendency for an abacavir hypersensitivity reaction. But this patch test is only a research tool. But what is interesting about this test was shown in an abstract today by Elizabeth Phillips.22 She examined genetic characteristics of patients who were either abacavir-patch-test positive or patch-test negative. What was interesting, clinically, about this small study was that there were seven patch-test-negative patients who had suspected HSR in whom the investigators said had a clinical need to be on abacavir. So, because the patch test was negative in these individuals, the patients were successfully rechallenged and reestablished on the drug.
The patch test should never be used as a tool and rechallenge should never be performed with suspected abacavir HSR. The question in my mind was why the authors rechallenged these seven patients. The reason I mention this is because there may be other mechanisms where a person can have a severe allergic reaction and with the current availability of multiple new agents there should not be a need to be dependent on abacavir if someone has suspected HSR. But as I mentioned, we'll be discussing HLA testing on Wednesday in detail.
Orally Bioavailable Fusion Inhibitors in Development
I know today there weren't a lot of presentations about new drugs, but were there any agents in pre-clinical trials that looked interesting?
One interesting new agent involved the possible development of an oral bioavailable fusion inhibitor. This is especially important because enfuvirtide [brand name: Fuzeon; also known as T-20], which has been instrumental in salvage regimens for patients with triple-class resistance, requires twice-daily self injections, and injection site reactions are a common side effect. CCR5 inhibitors were thought to perhaps replace fusion inhibitors, however, they are still being discussed regarding what role they will play and none have been currently approved yet.
Today, one of the afternoon poster discussion sessions dealt with new drug targets and data presented by Catherine Finnegan looked at a new class of orally bioavailable fusion inhibitors.23 Various studies (RESIST, POWER and data from the BENCHMRK studies24-27) showed that when enfuvirtide was included as part of an optimized regimen, there was a significant improvement leading to more patients achieving viral load suppression. However, as I mentioned before, enfuvirtide has to be administered twice daily by subcutaneous injection and patients must deal with pesky injection site reactions.
During fusion, the HIV glycoprotein envelope undergoes conformational changes after interacting with CD4 and coreceptors forming what's called a 6-helix bundle structure. This drives fusion of HIV on to the target membrane or CD4+ T cell. These conformational changes occurring on the envelope provide for researching of another target and drugs that work via this mechanism to inhibit fusion. Unlike enfuvirtide, these compounds affect gp120 conformational changes and bind to the envelope prior to receptor engagement. Because of this new mechanism, these compounds should be active against most enfuvirtide-resistant viruses. They also have the potential for oral bioavailability so that patients can hope to eventually forgo the injections of enfuvirtide.
Thank you Dr. Berger for a very comprehensive overview of today's session of IAS 2007.
Footnotes