The most important story from the first day of the 14th Conference on Retroviruses and Opportunistic Infections (CROI) in Los Angeles was about an age-old problem which is taking on a new and deadly twist. The emergence of Extensively Drug Resistant Tuberculosis -- or XDR-TB for short -- has researchers, public officials and activists concerned that just as HIV treatment is gaining a foothold in the developing world, this "new" old problem threatens to reverse these important gains.
XDR-TB is not a new story; it has been around for years. At the late-breaker session at the 2006 CROI in Denver, audience members audibly gasped when researchers presented data from South Africa's Kwazulu-Natal province about an outbreak of a highly drug resistant and virulent strain of the bacteria. These cases were found among miners, most of who were also infected with HIV. The strain can not be successfully treated with even the most potent combinations of anti-TB drugs. And unlike HIV, what makes this news particularly disturbing is that TB is airborne and is spread through very casual contact among people in close proximity of those infected.
In addition to being quite difficult to treat, XDR-TB is both fast and furious. On average people lived about a month after being diagnosed with XDR-TB. This contrasts greatly to either normal TB -- where life expectancy is measured in years, and even the difficult to treat Multi Drug Resistant TB (MDR-TB), which is often fatal but typically has a slower disease course. In many parts of the world, XDR-TB is virtually always fatal -- with over 80% of people diagnosed succumbing to the disease.
Advertisement
This year's CROI opened with more bad news on this story. As feared, XDR-TB is spreading throughout the world -- with cases reported in 28 countries -- up from 17 last year. While XDR-TB is most common in Africa -- with over 300 cases reported this past year in South Africa alone -- it is spreading throughout the world, including a handful of cases in the United States.
The combination of HIV and XDR-TB is particularly deadly. Researchers estimate that up to 85% of the deaths from this disease have come in people also infected with HIV. Distressingly this disease is taking hold just as the long awaited and hard fought introduction of anti-HIV therapies into the developing world is beginning in earnest. It is feared that some of the hoped-for gains from wider access to anti-HIV drugs in Africa and elsewhere will be lost to the devastation caused by XDR-TB.
This emerging epidemic is at least in part the result of the overlap of the HIV/AIDS epidemic and the inadequate focus that TB research has received in the past 20 years. TB is first and foremost a disease of poverty. The pharmaceutical industry and other parts of the scientific establishment have fallen short in their efforts to address TB, as well as malaria, dysentery and other illnesses which either exclusively or disproportionably affect resource poor areas of the world. The overlap of these two serious diseases will hopefully serve to spark more and better research on TB. The news from CROI makes it clear that time is of the essence.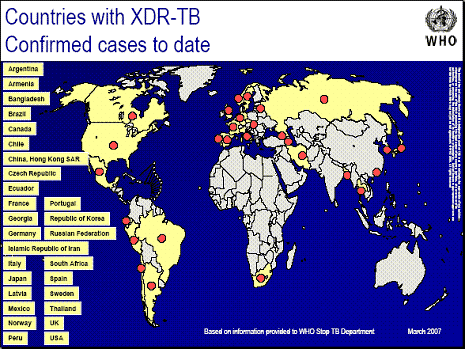 Click image to enlarge.