The 8th International Congress on Drug Therapy in HIV Infection, held in Glasgow, Scotland, offered up considerable new information on antiretroviral chemotherapy. One important study conducted by Josep Mallolas and colleagues in Barcelona, Spain, dealt with the issue of antiretroviral maintenance therapy.1 The notion that patients might be started on a very potent quadruple-drug regimen, followed by simplification and subsequent maintenance on only three drugs, has been discussed for some time. A study called ESS40013 found that maintenance therapy with the triple-nucleoside coformulation of zidovudine/lamivudine/abacavir (AZT/3TC/ABC, Trizivir) following induction treatment with zidovudine/lamivudine/abacavir + efavirenz (EFV, Sustiva, Stocrin) produced comparable viral load suppression, more favorable lipid changes and a trend toward improved patient adherence than remaining on the four-drug regimen.2
The current study, termed TRIZEFAL, also evaluated zidovudine/lamivudine/abacavir as one means of potentially maintaining viral load suppression following potent induction treatment. The investigators randomly initiated 209 treatment-naive patients on a four-drug combination regimen consisting of either zidovudine/lamivudine/abacavir + efavirenz or zidovudine/lamivudine/abacavir + lopinavir/ritonavir (LPV/r, Kaletra) for six months. After this time, patients continued therapy solely with zidovudine/lamivudine/abacavir for an additional 48 weeks (total treatment period of 72 weeks). Only patients who achieved viral loads below the level of detection (< 50 copies/mL) were permitted to enter the 48-week follow-up period in which patients received zidovudine/lamivudine/abacavir alone; otherwise, they had to remain on the four-drug regimen.
Patients were well matched according to their demographic characteristics at baseline. Most of the individuals included in the study were male (80%). Patients had a median age of about 38 years, a median viral load of 144,233 to 160,000 copies/mL and a median CD4+ cell count of 201.5 to 205 cells/mm3.
The study was apparently plagued by a relatively high dropout rate, since only 55% of the patients (54 in the efavirenz arm and 60 in the lopinavir/ritonavir arm) were ultimately switched to the maintenance regimen of zidovudine/lamivudine/abacavir. Treatment discontinuation was particularly common during the induction phase of the trial due to a high incidence of treatment-related toxicity. A total of 28% of the patients discontinued treatment, namely due to hypersensitivity reaction (12%), gastrointestinal disorders (5%), hematologic disorders (5%) and neurologic disorders (4%). An additional 11 patients assigned to maintenance therapy were further lost to follow-up during the maintenance period. The overall high dropout rate is consistent with earlier results from ESS40013.2 Virologic failure also occurred in high numbers of individuals on zidovudine/lamivudine/abacavir maintenance therapy, and this was more pronounced in the efavirenz arm (n = 14) than in the lopinavir/ritonavir arm (n = 7).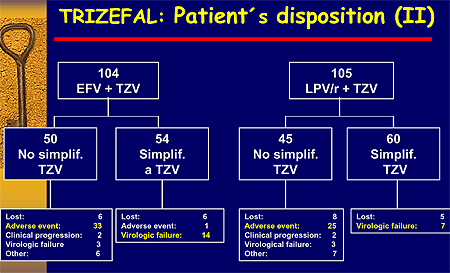 Click to enlarge
Slide by Josep Mallolas, M.D., Ph.D.; reprinted with permission. Click
here
to download the complete slide presentation.

The proportion of individuals with an undetectable viral load at week 72 was rather disappointing. According to intent-to-treat analysis, 31% to 53% of individuals achieved HIV-1 RNA below 50 copies/mL, and the values ranged from 63% to 75% according to on-treatment analysis. No significant differences between the two treatment groups were observed regarding virologic efficacy. In addition, no significant difference in the immunologic response was observed between the two groups after 72 weeks.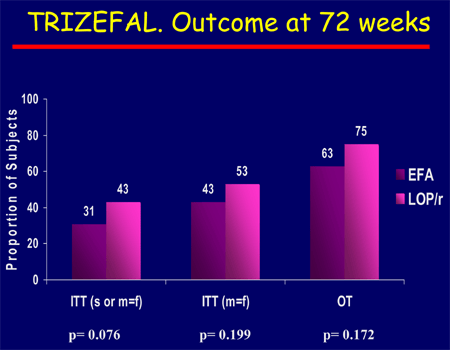 Slide by Josep Mallolas, M.D., Ph.D.; reprinted with permission. Click
here
to download the complete slide presentation.

This study can only be judged as disappointing, both to its designers and to the patients who participated in it. There is little doubt that the patients might have fared better had they been treated with a more standard regimen consisting of either abacavir/lamivudine (ABC/3TC, Epzicom, Kivexa) + efavirenz or efavirenz/tenofovir/FTC (EFV/TDF/FTC, Atripla). The high dropout rate is disturbing. Aside from treatment-related toxicity, this may have been due, in part, to patient awareness that other options regarding treatment had become available since their enrollment into the study. Among those patients who completed 72 weeks of follow-up, rates of virologic failure were higher than might have been anticipated. The trend toward a higher number of failures in the efavirenz arm is perhaps not surprising, given that efavirenz has a lower genetic barrier to resistance than does lopinavir/ritonavir.
In general, it appears that the four-drug induction regimens assessed in this trial carry a significant burden of drug-related toxicities, leading to a high rate of treatment discontinuation. Moreover, viral failure was relatively common during the zidovudine/lamivudine/abacavir maintenance phase, indicating that this induction-maintenance approach to HIV therapy is not a safe strategy.
Footnotes
Mallolas J, Penaranda M, Domingo P, et al. Induction-maintenance antiretroviral therapy with Trizivir plus either efavirenz or lopinavir/r: Results of a multicentre randomized clinical trial at 72 weeks. In: Program and abstracts of the 8th International Congress on Drug Therapy in HIV Infection; November 12-16, 2006; Glasgow, United Kingdom. Abstract PL2.3.
View slides: Download PowerPoint
Markowitz M, Hill-Zabala C, Lang J, et al, for the ESS40013 Study Team. Induction with abacavir/lamivudine/zidovudine plus efavirenz for 48 weeks followed by 48-week maintenance with abacavir/lamivudine/zidovudine alone in antiretroviral-naive HIV-1-infected patients. J Acquir Immune Defic Syndr. July 1, 2005;39(3):257-264.