Tipranavir (TPV, Aptivus) is a non-peptidic, new-generation protease inhibitor (PI) that has proven to be potent against HIV-1 isolates resistant to all other available PIs. Combined results from the phase III tipranavir trials RESIST-1, conducted in North America and Australia, and RESIST-2, conducted in Europe and Latin America, were recently published in The Lancet.1 The RESIST trials showed that ritonavir (RTV, Norvir)-boosted tipranavir produces superior virologic outcomes to those of ritonavir-boosted comparator protease inhibitors (CPIs), yet questions regarding the clinical tolerability and toxicity of this drug still loomed large.2-4 These questions stemmed from the drug's unique structure and the fact that it requires additional ritonavir for boosting -- 200 mg versus the standard 100 mg.
This current study was led by three of the most famous researchers in antiretroviral hepatotoxicity: Mark Sulkowski from Johns Hopkins School of Medicine in Baltimore, Maryland, Jürgen Rockstroh from Bonn University in Germany, and Vincent Soriano from the Instituto de Salud Carlos III in Madrid, Spain.5 These investigators reviewed the RESIST data for any hepatic events related to tipranavir throughout the 48-week studies and sought to identify factors related to tipranavir hepatotoxicity.
In the way of background, 1,486 patients were enrolled in RESIST 1 and 2 to compare the efficacy of tipranavir/ritonavir versus a standard-of-care, ritonavir-boosted CPI. All patients were triple-class experienced and had a viral load above 1,000 copies/mL. Any CD4+ count was acceptable for entry. Patients with hepatitis B and/or C coinfection were eligible to enter the studies, but all had to have baseline alanine aminotransferase (ALT) and aspartate aminotransferase (AST) levels below grade 2 (grade 2 ALT/AST elevations are defined as 2.5-5 times the upper limit of normal [ULN]). Patients also had to HIV-1 with at least one primary PI mutation (at codons 30, 33, 46, 48, 50, 82, 84 and 90) and two or fewer mutations at codons 33, 82, 84 and 90.
Prior to randomization, the investigators selected the optimized background regimen (OBR) and the ritonavir-boosted CPI for each patient. It could consist of lopinavir/ritonavir (LPV/r, Kaletra), indinavir (IDV, Crixivan)/ritonavir, saquinavir (SQV, Fortovase, Invirase)/ritonavir, or amprenavir (APV, Agenerase)/ritonavir. Enfuvirtide (T-20; Fuzeon) was allowed as a background component.
Patients were stratified by whether enfuvirtide was included in their OBR and by the CPI they were assigned. Patients were then randomized to receive tipranavir/ritonavir 500/200 mg or the CPI/ritonavir at standard doses, in addition to standard doses of the OBR components. All baseline characteristics were comparable between the two arms.
At the 48-week analysis, the median exposure to study drugs differed considerably between patients who received tipranavir/ritonavir (384 days) and the CPI/ritonavir (173 days), since so many individuals in the CPI/ritonavir arm discontinued treatment early for virologic failure. Patients in this arm with virologic failure at eight weeks were permitted to switch to the tipranavir/ritonavir arm at this time.
The rates of grade 3/4 ALT/AST elevations throughout the 48 weeks of treatment were two- to three-fold higher for patients who received tipranavir/ritonavir than for those who received the CPI/ritonavir. The Kaplan-Meier probability of developing grade 3/4 ALT elevations at 48 weeks was 9.9% and 2.8% for the tipranavir/ritonavir and CPI/ritonavir arms, respectively; for grade 3/4 AST elevations, the probabilities were 6.1% and 2.1%, respectively.

Image by Mark Sulkowski, M.D.; reprinted with permission. Click
here
to download the complete poster.

Cox multivariate regression analysis found that tipranavir/ritonavir treatment, hepatitis coinfection, and a baseline CD4+ cell count above 200 cells/mm3 were significant independent risk factors for the development of grade 3/4 ALT/AST elevations. Elevated baseline ALT/AST levels were also risk factors in both treatment arms, but the hazard ratio did not reach statistical significance. Gender and race were not associated with an increased risk of transaminase elevations, nor were the median tipranavir/ritonavir trough levels (6.5-120 mM) attained by more than 95% of patients.
Risk Factors for Grade 3/4 ALT/AST Elevations According to Multivariate Analysis
Risk Factor
HR (95% CI)
P Value
Tipranavir/ritonavir treatment
2.77 (1.65-4.67)
< .05
Hepatitis coinfection
2.01 (1.17-3.46)
< .05
Baseline CD4+ cell count > 200 cells/mm3
1.64 (1.07-2.53)
< .05
Baseline ALT/AST levels
2.03 (0.88-4.70)
.10
Race
1.32 (0.66-2.65)
.431
Gender
1.16 (0.63-2.15)
.636

CI, confidence interval; HR, hazard ratio.

During the studies, 10.1% (76/749) of tipranavir/ritonavir patients developed grade 3/4 hepatotoxicity. Investigators overseeing these patients had the option to continue tipranavir/ritonavir, interrupt and reintroduce tipranavir/ritonavir, or permanently discontinue tipranavir/ritonavir. As shown in the figure, the majority of patients who continued tipranavir/ritonavir or interrupted and then reintroduced tipranavir/ritonavir experienced amelioration of their ALT/AST elevations down to grade 2 or less by the end of the trial.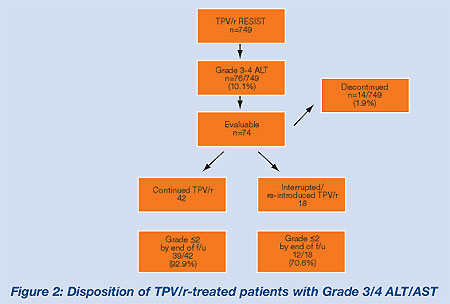 Click to enlarge
Image by Mark Sulkowski, M.D.; reprinted with permission. Click
here
to download the complete poster.

Hepatitis coinfection status did not appear to influence the investigator's course of action, and all coinfected patients who developed grade 3/4 ALT/AST abnormalities experienced improvement to grade 2 or less by the end of 48 weeks.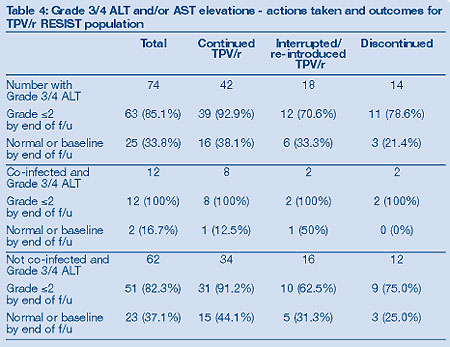 Image by Mark Sulkowski, M.D.; reprinted with permission. Click
here
to download the complete poster.

Seven (0.9%) of the tipranavir/ritonavir-treated patients developed a serious hepatic adverse event related to grade 3/4 ALT/AST elevations, causing four of these patients to permanently discontinue treatment. The serious hepatic adverse events resolved in six, whereas one patient experienced recurrent grade 3/4 ALT/AST elevations. In addition, one patient with a serious hepatic adverse event not included in the aforementioned group experienced a grade 3/4 increase in bilirubin without transaminitis and went on to die from AIDS and HBV coinfection associated with renal and hepatic failure.
Although the study authors noted that 89.9% of tipranavir/ritonavir-treated patients made it through 48 weeks of therapy without developing significant hepatotoxicity, this means that 10.1% did not.
Key questions remain unanswered. Which drug is the culprit here: tipranavir, ritonavir, or both? Is the cause drug hypersensitivity, direct toxicity, or immune-reconstitution syndrome? Does most hepatoxicity occur up front, or do clinicians need to be wary throughout the treatment course?
Sulkowski's seminal article on hepatotoxicity associated with antiretroviral therapy published in the Journal of the American Medical Association found ritonavir to be the most hepatotoxic of all the PIs, although, admittedly, at doses of 400 to 600 mg twice daily.6 It is interesting to note that, similar to studies of nevirapine hepatotoxicity, adequate CD4+ cell count levels (> 200 cells/mm3) do play a role in tipranavir/ritonavir hepatotoxicity. Unlike nevirapine, however, gender is not associated with tipranavir/ritonavir hepatotoxicity.
Although the study authors recommend frequent hepatic monitoring throughout therapy with tipranavir/ritonavir, the timing of monitoring and whether it is most crucial early in therapy or throughout the entire course remains to be answered. For now, tipranavir/ritonavir remains a potent drug for the patient with multi-PI resistant virus, but one that requires frequent monitoring for hepatic events, especially in those coinfected with hepatitis B or C and those with a relatively intact immune system with a CD4+ cell count above 200 cells/mm3.
Footnotes