Metabolic and morphologic manifestations of HIV and antiretroviral therapy are becoming increasingly common. The physical changes associated with fat loss (lipoatrophy) and fat accumulation (lipohypertrophy) are particularly troublesome for patients. Unfortunately, strategies to deal with these problems are somewhat limited. The best data support switching from stavudine (d4T, Zerit) and possibly zidovudine (AZT, Retrovir) to either abacavir (ABC, Ziagen) or tenofovir (TDF, Viread) to stop or reverse lipoatrophy.
Dyslipidemia and glucose dysregulation have also been described in association with HIV and antiretroviral therapy. Since treatment modification is often ineffective or insufficient to reverse some of these manifestations, other interventions have been explored, including the use of insulin-sensitizing agents (e.g., rosiglitazone [Avandia]), recombinant human growth hormone (r-hGH) and HMG-CoA reductase inhibitors (statins; e.g., pravastatin [Pravachol, Pravigard]). The data clearly show that statins can reduce cholesterol while insulin-sensitizing agents often improve glucose levels, but there are conflicting results as to whether these agents influence body composition. In contrast, several case series and randomized controlled trials have shown that r-hGH reduces fat accumulation, particularly in the visceral compartment. However, r-hGH has also been associated with increased insulin resistance and elevated blood glucose levels.
The current study from Derek Macallan,1 from the University of London, and colleagues randomized 60 men with HIV-associated lipodystrophy to receive either pravastatin (40 mg/day orally) alone, rosiglitazone (4 mg/day orally) alone or pravastatin + rosiglitazone together for 48 weeks.
There were two other study arms that included r-hGH (2 mg/day subcutaneously) alone or with rosiglitazone for 12 weeks. Assessments for this study included dual energy X-ray absorptiometry (DEXA) scans every 12 weeks for the measurement of subcutaneous limb fat, abdominal computed tomography (CT) scans for the measurement of visceral fat, and fasting lipid and insulin levels. The primary endpoints included the change from baseline at 24 weeks for each of the assessments. These endpoints were therefore evaluated during ongoing treatment for the pravastatin and rosiglitazone arms and after 12 weeks off therapy for the arms assigned to r-hGH with or without rosiglitazone.
This study showed that visceral adiposity was significantly reduced after 12 weeks of r-hGH. However, as previously described, a substantial amount of the visceral fat lost during the treatment phase reaccumulated upon treatment discontinuation. In contrast, none of the other interventions had a significant impact on visceral fat.
Image by Derek C. Macallan; reprinted with permission. Click
here
to download the complete poster.

Subcutaneous limb fat was not significantly affected by any therapeutic. Although not significant, there was a decrease in limb fat in those who received rosiglitazone -- a treatment that has had mixed effects in other studies.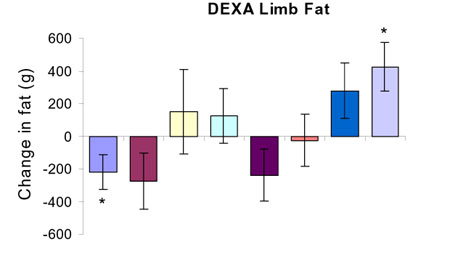 Image by Derek C. Macallan; reprinted with permission. Click
here
to download the complete poster.

As expected, insulin sensitivity improved in those treated with rosiglitazone and declined in r-hGH recipients. However, the degree of insulin resistance in the latter was somewhat attenuated when these drugs were used in combination. Consistent with previous data, pravastatin was associated with significant decreases in total and low-density lipoprotein (LDL) cholesterol.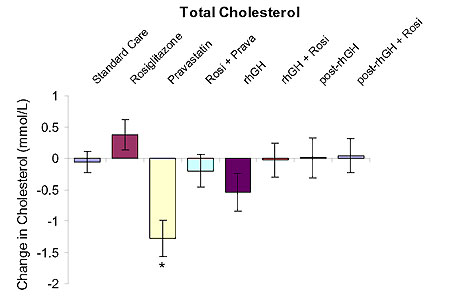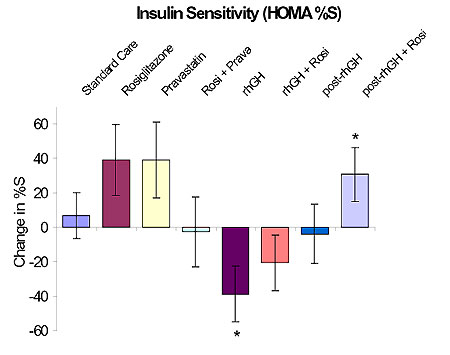 Images by Derek C. Macallan; reprinted with permission. Click
here
to download the complete poster.

The strengths of this study are that it carefully assessed metabolic and morphologic changes associated with select therapeutic strategies both alone and in novel combinations. Weaknesses of the study include the fact that the groups were small, and the populations were not clearly defined for baseline morphologic abnormalities, lipid profiles or the level of insulin resistance. With these caveats in mind, many of the findings were consistent with previous studies, such as the positive effects of pravastatin on total and LDL cholesterol levels and improvements in insulin sensitivity with rosiglitazone.
The outcome with r-hGH was consistent with many other studies showing a potent lipolytic effect that reduces visceral fat, but that is also associated with some degree of insulin resistance. The ability to attenuate the effect of r-hGH on insulin sensitivity with concomitant rosiglitazone therapy is a novel observation that may be of value if this strategy becomes part of routine care for visceral adiposity.
Footnote
Macallan DC, Mandalia S, Panayiotakopoulos G, Baldwin C, Moyle GJ. Comparison of the effects on body composition of rosiglitazone, pravastatin, and growth hormone alone and in combination in the HIV-Associated Lipoatrophy Treatment (HALT) Study. In: Program and abstracts of the 46th Interscience Conference on Antimicrobial Agents and Chemotherapy; September 27-30, 2006; San Francisco, Calif. Abstract H-1897.
View poster: Download PowerPoint