For Part 1 of this report, click here.
Although there remains controversy regarding the degree to which HIV-infected people are at greater risk for cardiovascular disease (CVD) and whether it is HIV or highly active antiretroviral therapy (HAART) that is to blame, it is acknowledged that, like uninfected Americans and Europeans, CVD risk rises as people age. In fact, among uninfected people, CVD is still the leading cause of death in the United States and Europe.1 Thus, there is ample justification for the concern shared by HIV-infected individuals and their clinicians regarding HAART and the risk of CVD. As a result, it has become practically obligatory for comparative trials of antiretrovirals to include lipid evaluations. At the XVI International AIDS Conference (AIDS 2006), the results of several major comparative treatment trials were presented that, in addition to providing data on antiviral efficacy, make plain the effects of several HIV therapies on the lipid profiles of HIV-infected persons. There was also an array of presentations, typically in poster format, aiming to assess the risk of CVD among those treated with HIV medications.
Antiretroviral Effects on Lipoproteins
HIV treatment trials of antiretroviral-naive patients provide an almost ideal circumstance in which to observe the relative effects of antiretroviral combinations on the lipid parameters of HIV-infected individuals. Changes from baseline can be compared across arms and the effects of antiretroviral regimens on the specific lipid subsets measured.
The KLEAN (Kaletra versus Lexiva with Epivir and Abacavir in ART-Naive Patients) Study was a head-to-head trial of ritonavir (RTV, Norvir)-boosted fosamprenavir (FPV, 908, Lexiva, Telzir) and lopinavir/ritonavir (LPV/r, Kaletra) -- each combined with the co-formulated abacavir/lamivudine (ABC/3TC, Epzicom, Kivexa) -- in 800 patients without prior antiretroviral experience.2,3 The remarkable finding of this study, presented as a late breaker by Joe Eron and published in the Lancet during the AIDS 2006 conference, was that the two protease inhibitor (PI)-based regimens yielded eerily identical results in so far as viral load reduction and increasing CD4+ cell counts. Likewise, the changes in lipids were indistinguishable between the two arms. In both study arms, triglyceride, low-density lipoprotein cholesterol (LDL-C) and high-density lipoprotein cholesterol (HDL-C) levels rose to the same extent (Table 1). That HDL-C increased with ritonavir-boosted PIs may come as a surprise to some, but it is a consistent finding across different trials.
Table 1. Lipid Parameters at Baseline and Week 48 During the KLEAN Study
Ritonavir-Boosted Fosamprenavir
Lopinavir/Ritonavir
Baseline
Week 48
Baseline
Week 48
LDL-C (mg/dL)
96
124
97
119
HDL-C (mg/dL)
33
46
34
48
Triglycerides (mg/dL)
112
179
117
195

Note: All patients were also assigned abacavir/lamivudine.

Prior to KLEAN, the relative effects of lopinavir/ritonavir or ritonavir-boosted fosamprenavir were unclear. Some trials suggested that fosamprenavir was relatively lipid-friendly, while others, notably the CONTEXT Study that pitted these same two PIs against one another in treatment-experienced patients, observed a more deleterious effect from fosamprenavir on triglycerides.4 KLEAN is a well-powered study of a more "pristine" population of antiretroviral-naive patients and the findings from this trial may well be the last word on the comparative lipid effects of these PIs -- now both listed as preferred drugs by the latest International AIDS Society-USA guidelines, which were released in the summer of 2006.
Other comparative trials of boosted-PI powerhouses are underway and will further help us understand whether there really is much difference between PIs when combined with low doses of ritonavir.
AIDS Clinical Trials Group (ACTG) 5142 was another large trial of first-line HIV therapy that was presented at AIDS 2006.5 This trial examined initial therapy with efavirenz (EFV, Sustiva, Stocrin) and lopinavir/ritonavir, antiretroviral anchors listed as preferred by the U.S. Department of Health and Human Services HIV treatment guidelines,6 along with two nucleoside/nucleotide reverse transcriptase inhibitors (NRTIs) and when coupled together without NRTIs.
For patients assigned to the NRTI-containing arms, the site investigator was permitted to choose the NRTIs; 42% received zidovudine (AZT, Retrovir), 24% extended release stavudine (d4T, Zerit) and 34% tenofovir (TDF, Viread). Again, the virological and immunological results overshadowed the limited lipid results presented. Yet, the list of toxicities presented included the proportion of patients in each arm with a triglyceride level of grade 3 or greater (>750 mg/dL). Of the patients who were receiving lopinavir/ritonavir and efavirenz together without NRTIs, 14% had a grade 3 or greater fasting triglyceride level at week 48 of the study compared to 6% in the lopinavir/ritonavir arm and 3% in the efavirenz arm. Thus, the combination of the PI and non-nucleoside reverse transcriptase inhibitor (NNRTI) had a significant lipid impact, although data on lipoproteins were not presented during this late breaker session.
Further, looking at triglycerides -- the major lipid parameter aggravated by antiretrovirals -- there was not a tremendous difference in high-grade hypertriglyceridemia between the lopinavir/ritonavir and efavirenz arms. Recent data from studies of efavirenz plus tenofovir and either lamivudine (3TC, Epivir) or emtricitabine (FTC, Emtriva) demonstrate no effect of this combination on median triglyceride levels.7
A substudy looked at brachial reactivity, a surrogate marker for endothelial dysfunction, and by extension CVD risk, in a subset of 82 participants of A5142. This study was presented last year in Dublin.8 This investigation found that endothelial function improved with the initiation of HIV therapy regardless of the regimen used, which suggests that the control of HIV viremia may reduce CVD risk.
Another study, this one by Community Programs for Clinical Research on AIDS (CPCRA), a network of community-based health centers and clinics that support clinical research in community settings, looked at three different approaches for the initial treatment of HIV infection: two NRTIs plus an NNRTI versus two NRTIs plus a PI versus an NRTI(s) plus an NNRTI plus a PI.9 Specific antiretrovirals were not dictated by the study, which was designed to identify the best strategy for first-line HIV therapy. Almost 1,400 participants were enrolled, with 30% of the participants in each arm co-enrolled in a metabolic substudy.10 In the patients receiving a PI, nelfinavir (NFV, Viracept) was the most popular and was used initially by 58% of those in the two NRTIs + PI arm and by 64% in the NRTI(s) + NNRTI + PI arm. As far as the NRTIs used, half the patients were on zidovudine + lamivudine. Now, beware, looking at specific metabolic variables over time can get messy in this study because patients were able to swap antiretrovirals as clinically indicated and cross over from one strategy to another.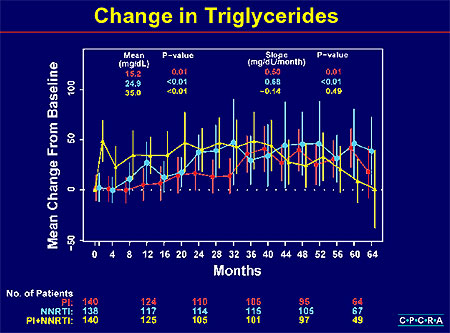 Click to enlarge
Slide by Judith C. Shlay, M.D.; reprinted with permission.

Concentrating on the early changes in lipids, an increase in LDL-C was seen with each strategy, with greater increases in the triple-class arm relative to the others. HDL-C also generally increased, but less of a rise was seen in the two NRTIs + PI arm (most patients were on unboosted PIs). Triglycerides, like LDL-C, tended to rise with antiretroviral therapy, but again, the NRTI(s) + NNRTI + PI arm experienced greater increases; however, unlike LDL-C, which tended to decline over time, triglycerides remained elevated during the 64 months of the study.
Assessing Risk of CVD in HIV-Infected Patients
Several studies have found an association between treatment with HIV therapy and CVD. The largest and best known of these is the D:A:D (The Data Collection on Adverse Events of Anti-HIV Drugs) Study, during which an incremental increase in the rate of CVD has been seen among those receiving combination antiretroviral regimens.11 Because D:A:D enrolls only HIV-infected patients, a comparison of rates of CVD among the participants and those without HIV infection is difficult.
So we look to investigators from Boston who examined the rates of myocardial infarction (MI) among a cohort of 4,001 HIV-infected persons and 1.3 million HIV-uninfected patients, all of whom were receiving care at either the Brigham and Women's Hospital or the Massachusetts General Hospital from late 1996 to mid-2004. During the study period, rates of MI were observed to be increasing in both groups.12 The rate of acute MI (using ICD code) was 5.37/100 persons (95% CI 4.67-6.07) for those with HIV infection and 3.05/100 persons (95% CI 3.02-3.08) for the uninfected.
Slide by Virginia Triant, M.D., M.P.H.; reprinted with permission.

Similar rates were seen using cardiac enzyme criteria. In a multivariable regression model, which included age, gender, race, hypertension, diabetes and dyslipidemia, HIV was found to be an independent risk factor for MI with an odds ratio of 1.77 (95% CI 1.52-2.05). The increased odds of MI with HIV infection was seen in all age groups and was more pronounced among women than men (odds ratio 3.70 versus 1.43).
The inclusion of HIV-uninfected patients is a strength of this analysis; however, there are other risks for MI that may be differentially distributed across HIV-infected and HIV-uninfected patients and that were not included -- most notably, smoking.
Another study comparing HIV-infected and uninfected persons is the Women's Interagency HIV Study (WIHS).13 This is a prospective, multicenter cohort study of U.S. women with HIV infection or at high-risk for infection. To compare rates of metabolic syndrome (Table 2) between HIV-infected and HIV-uninfected women, the investigators examined clinical and laboratory data collected from 668 HIV-infected and 1,726 HIV-uninfected participants.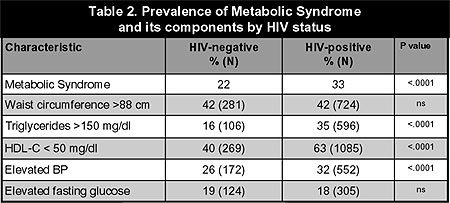 Slide by Magdalena E. Sobieszczyk, M.D.; reprinted with permission.

Metabolic syndrome was detected in 33% of HIV-infected women compared to 22% of the controls (P < .0001). Looking at the individual syndrome criteria, HIV-infected women had higher mean fasting triglycerides (154 mg/dL versus 102 mg/dL) and lower mean HDL-C (47 mg/dL versus 55 mg/dL) -- both highly statistically significantly different. There were no differences by infection with regard to glucose or blood pressure. Of note, 32% of the HIV-infected women were on a PI. In a multivariable analysis performed among the HIV-infected women, the factors associated with metabolic syndrome included older age, non-black race, higher body mass index (BMI), current smoking and stavudine use. In the uninfected women, age, BMI, smoking and parity were linked to metabolic syndrome.
Criteria for Metabolic Syndrome: Three or More Criteria Are Considered Diagnostic
14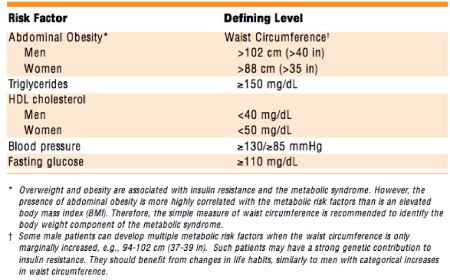 Interestingly, only one third of HIV-infected women had never smoked (similar to the 28% of high-risk women without HIV) and almost half in each group were current smokers -- reflecting the high prevalence of the major CVD risk factor in these populations.
These data demonstrate that metabolic syndrome is more common in HIV-infected women and was driven by lipids (triglycerides). Smoking was epidemic in both cohorts and should be the primary target of any CVD risk reduction efforts.
Conclusions
Clinical trial data demonstrate the relative effects of different antiretroviral combinations on lipid parameters. These studies indicate that:
Lopinavir/ritonavir and ritonavir-boosted fosamprenavir have identical effects on lipid levels.
The combination of efavirenz and lopinavir/ritonavir is more likely to produce severe hypertriglyceridemia than when either is used alone with two NRTIs.
Ritonavir-boosted PIs increase HDL-C.
In addition, accumulating data suggest that HIV-infected patients have higher rates of CVD risk factors, if not CVD itself. And, while CVD has been linked with HIV therapy, traditional risk factors for CVD are also operative; therefore, interventions to achieve lipid goals and smoking cessation should be paramount.
Footnotes