An enlightening talk1 by Myron Cohen, from the University of North Carolina-Chapel Hill, provided an overview of the use of antiretroviral medications as HIV prevention tools. Dr. Cohen's talk was part of a symposium at the 46th Interscience Conference on Antimicrobial Agents and Chemotherapy entitled "HIV Prevention and Immune Therapeutic Approaches," which mainly focused on vaccination strategies for the prevention and treatment of HIV infection.
Dr. Cohen outlined three major ways in which HIV infection could be prevented through the strategic employment of antiretroviral medications:
non-occupational post-exposure prophylaxis (nPEP) for an individual following exposure to HIV from sex or needle use;
pre-exposure prophylaxis (PrEP) for an individual who anticipates being exposed to HIV through high-risk activities; and
treatment of an infected person to reduce transmission of the virus to a sexual or injection-drug partner.
Of note, throughout the talk, Dr. Cohen stressed that the risks of using antiretrovirals as strategies to prevent transmission to uninfected individuals are considerable and include exposing HIV-uninfected persons to potentially toxic agents and increasing the selection of drug-resistant viruses, as well as creating situations in which people may feel unduly protected from HIV and exhibit "sexual disinhibition" or riskier sexual behaviors.
nPEP
Studies have shown that giving macaques antiretrovirals such as tenofovir (TDF, Viread) following rectal exposure to simian immunodeficiency virus, or SIV (the macaques' equivalent to HIV), can prevent the development of infection. However, Dr. Cohen stressed during his talk that animal models are not directly translatable into humans.
To illustrate his point, Dr. Cohen referred to a retrospective analysis of a cohort of patients that had been provided antiretrovirals within 72 hours of a possible exposure to HIV through sex or injection drug use.2 The study found that, within 12 weeks of their exposure, seven seroconversions occurred among 702 patients receiving nPEP.
Therefore, failures of PEP do occur -- although, as the authors of this study note, the reasons for these failures are uncertain: "It is often impossible to determine whether seroconversion resulted from failure of PEP or from other exposures, posing difficulties for future comparative studies seeking to evaluate the effectiveness of PEP," they write. Dr. Cohen also stressed that, although PEP may be used routinely for nonoccupational exposures, the evidence for this intervention in preventing HIV infection can never be conclusive.
(For reference, the current U.S. guidelines for managing nonoccupational exposure to HIV infection were summarized in 2005.3 Following is the algorithm for PEP in this setting, as provided in the guidelines.)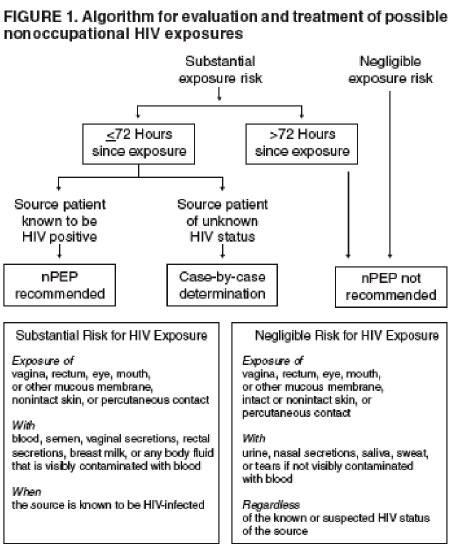 Chart by U.S. Department of Health and Human Services. Click
here
to access complete recommendations.

PrEP
Just as with nPEP, animal models provided the initial evidence that we may be able to prevent HIV transmission by providing treatment to a person before he/she engages in a high-risk activity. Earlier studies showed that daily administration of tenofovir prevented SIV seroconversion in macaques that had rectal exposure to SIV.4 However, a more recent study with a longer follow-up period, which was conducted among macaques that were regularly exposed to SIV intrarectally, found that tenofovir did not reduce the rate of SIV transmission.5 Nonetheless, many remain hopeful that combining tenofovir with emtricitabine (FTC, Emtriva) may improve the success of PrEP. A study presented by Garcia-Lerma and colleagues at the 13th Conference on Retroviruses and Opportunistic Infections showed some promise for this strategy.6
Clearly, a great deal more research is necessary before we can conclusively say whether PrEP is effective in humans. However, studies to date have been wracked with controversy due to a number of objections by advocates and target populations, including the assertion that it was unfair to use antiretrovirals for HIV prevention in a region where HIV-infected people who needed antiretrovirals often could not receive them. This would mean that people who became HIV infected during the trial would have no access to HIV treatment when they needed it.7,8
However, one safety trial for tenofovir PrEP did manage to get off the ground; it involved 731 African women at high risk for heterosexual exposure. The results of this trial were recently reported at the XVI International AIDS Conference in Toronto.9,10 No major safety concerns were discovered from the widespread use of tenofovir as a prophylactic agent. This study was not powered to detect differences in seroconversion rates between the group given tenofovir as PrEP versus the placebo arm, but the study did show two seroconverters in the tenofovir arm versus six seroconverters in the control group.
Large, randomized, controlled clinical trials using tenofovir (both with and without emtricitabine) as PrEP are currently underway in Botswana, Peru, Thailand and the United States; each trial is enrolling HIV-uninfected patients with frequent exposure to HIV. These studies are expected to more conclusively address whether this strategy is effective in preventing HIV seroconversion.
Treating HIV-Infected Patients as a Preventive Measure
Unlike the nPEP and PrEP strategies, it is observational human studies, not animal studies, from which we have obtained evidence for the use of antiretroviral therapy in HIV-infected individuals to prevent or reduce transmission to others.11,12 Some "ecologic" studies showing general reductions in HIV transmission rates in treated populations have also been reported,13-15 and multiple mathematical models have been developed that show the utility of antiretrovirals as a prevention tool in HIV-infected individuals.16-19
Unfortunately, even these studies have their limitations. After all, it can be difficult to tease out whether HIV transmission rates were reduced by antiretroviral use or by behavioral changes (e.g., safer sex) in HIV-infected patients following their diagnosis.
A large, randomized, controlled clinical trial called HPTN 052, which has sites in Brazil, India, Malawi, Thailand, the United States (Boston, Mass.) and Zimbabwe, hopes to more definitively answer the question regarding the effectiveness of HIV treatment in infected individuals in preventing transmission to HIV-uninfected sexual partners. In the case of HPTN 052, the patients being studied are serodiscordant couples.
Take-Home Points
Four primary themes emerged from Dr. Cohen's talk:
nPEP may be used routinely, but we will never be able to "prove" its benefit as a prevention strategy for HIV infection.
Ongoing PrEP trials will determine the benefits of this approach for HIV prevention.
There is accumulating evidence that providing antiretrovirals to HIV-infected individuals reduces the rate of transmission to their HIV-uninfected partners, but ongoing randomized trials will provide further data on the effectiveness of this prevention strategy.
The downsides of employing antiretrovirals as prevention tools can be serious. They include: unwanted exposure to toxic and expensive agents in HIV-uninfected individuals; delivering the wrong messages about unsafe sex leading to "sexual disinhibition"; and the potential for the selection of drug-resistant viral isolates.
Footnotes
Cohen MS. Antiretroviral drugs as prevention tools. In: Program and abstracts of the 46th Interscience Conference on Antimicrobial Agents and Chemotherapy; September 27-30, 2006; San Francisco, Calif. Symposium 315d.
Roland ME, Neilands TB, Krone MR, et al. Seroconversion following nonoccupational postexposure prophylaxis against HIV. Clin Infect Dis. November 15, 2005;41(10):1507-1513.
Smith DK, Grohskopf LA, Black RJ, et al. Antiretroviral postexposure prophylaxis after sexual, injection-drug use, or other nonoccupational exposure to HIV in the United States: recommendations from the U.S. Department of Health and Human Services. MMWR. January 21, 2005;54(RR02):1-20.
Tsai C-C, Follis KE, Sabo A, et al. Prevention of SIV infection in macaques by (R)-9-(2-phosphonylmethoxypropyl)adenine. Science. November 17, 1995;270(5239):1197-1199.
Subbarao S, Otten RA, Ramos A, et al. Chemoprophylaxis with tenofovir disoproxil fumarate provided partial protection against infection with simian human immunodeficiency virus in macaques given multiple virus challenges. J Infect Dis. October 1, 2006;194(7):904-911.
Garcia-Lerma J, Otten R, Qari S, et al. Prevention of rectal SHIV transmission in macaques by tenofovir/FTC combination. In: Program and abstracts of the 13th Conference on Retroviruses and Opportunistic Infections; February 5-8, 2006; Denver, Colo. Abstract 32LB.
Grant RM, Buchbinder S, Cates W, et al. Promote HIV chemoprophylaxis research, don't prevent it. Science. September 30, 2005;309(5744):2170-2171.
Page-Shafer K, Saphonn V, Sun LP, Vun MC, Cooper DA, Kaldor JM. HIV prevention research in a resource-limited setting: the experience of planning a trial in Cambodia. Lancet. October 22, 2005;366(9495):1499-1503.
Peterson L, Taylor D, Clarke EEK, et al. Findings from a double-blind, randomized, placebo-controlled trial of tenofovir disoproxil fumarate (TDF) for prevention of HIV infection in women. In: Program and abstracts of the XVI International AIDS Conference; August 13-18, 2006; Toronto, Canada. Abstract THLB0103.
Hirschhorn L. Tenofovir for HIV prevention: early results from PrEP study promising, but inconclusive. The Body/The Body Pro. August 17, 2006.
Kayitenkore K, Bekan B, Rufagari J, Marion-Landais S, Karita E, Allen S, and the Rwanda Zambia HIV Research Group. The impact of ART on HIV transmission among HIV serodiscordant couples. In: Program and abstracts of the XVI International AIDS Conference; August 13-18, 2006; Toronto, Canada. Abstract MOKC101.
Bunnell R, Wamai N, Ekwaru JP, et al. Changes in sexual behavior and risk of HIV transmission after two years of antiretroviral therapy and prevention interventions in rural Uganda. In: Program and abstracts of the XVI International AIDS Conference; August 13-18, 2006; Toronto, Canada. Abstract MOAC0204.
Porco TC, Martin JN, Page-Shafer KA, et al. Decline in HIV infectivity following the introduction of highly active antiretroviral therapy. AIDS. January 2, 2004;18(1):81-88.
Katz MH, Schwarcz SK, Kellogg TA, et al. Impact of highly active antiretroviral treatment on HIV seroincidence among men who have sex with men: San Francisco. Am J Public Health. March 2002;92(3):388-394.
Fang C-T, Hsu H-M, Twu S-J, et al, and the Division of AIDS and STD, Center for Disease Control, Department of Health, Executive Yuan. Decreased HIV transmission after a policy of providing free access to highly active antiretroviral therapy in Taiwan. J Infect Dis. September 1, 2004;190(5):879-885.
Velasco-Hernandez JX, Gershengorn HB, Blower SM. Could widespread use of combination antiretroviral therapy eradicate HIV epidemics? Lancet. August 2002;2(8):487-493.
Blower SM, Gershengorn HB, Grant RM. A tale of two futures: HIV and antiretroviral therapy in San Francisco. Science. January 28, 2000;287(5453):650-654.
Law MG, Prestage G, Grulich A, Van de Ven P, Kippax S. Modelling HIV incidence in gay men: increased treatment, unsafe sex and sexually transmissible infections. AIDS. February 15, 2002;16(3):499-501.
Law MG, Prestage G, Grulich A, Van de Ven P, Kippax S. Modelling the effect of combination antiretroviral treatments on HIV incidence. AIDS. July 6, 2001;15(10):1287-1294.