Although transient, low-level increases in viral load, also known as "blips," have been commonly observed in patients receiving antiretroviral therapy, studies have been inconsistent in their ascertainment of the significance of this phenomenon. Some studies seem to indicate it is merely a laboratory artifact that has no clinical significance; other studies have found blips to be associated with a long-term risk of virologic failure. In this study1 by T.J. Podsadecki, from Abbott Laboratories, et al, the relationship between adherence in the occurrence of blips was explored.
Study samples were obtained from two clinical trials comparing lopinavir/ritonavir (LPV/r, Kaletra) dosed once or twice daily. Medication adherence was assessed through the use of electronic MEMS (Medication Event Monitoring Systems) monitors, which record when bottles are opened for dosing. For this analysis, adherence was defined as correct if the patient took at least the prescribed number of lopinavir/ritonavir doses. A detectable viral load measurement was considered a blip if there was one plasma HIV-RNA value between 50 to 1,000 copies/mL immediately preceded and followed by an undetectable measurement at less than 50 copies/mL.
Two hundred twenty-three study patients had adherence data available, with 92 receiving twice-daily lopinavir/ritonavir and 131 receiving once-daily drug. Thirty percent of the once-daily group and 23% of the twice-daily group experienced transient viremia (a non-significant difference); the median magnitude of the viral load blip was 82 copies/mL.
When medication adherence was reviewed in the time prior to the occurrence of a blip, it was found that the mean number of days a patient took the prescribed doses was lower in the week prior to the blip than during a matched period when a blip did not occur. It was also noted that correct adherence increased shortly following the detection of the blip. The occurrence of blips was not associated with virologic failure. In addition, development of resistance was not more common in patients with transient viremia versus those without.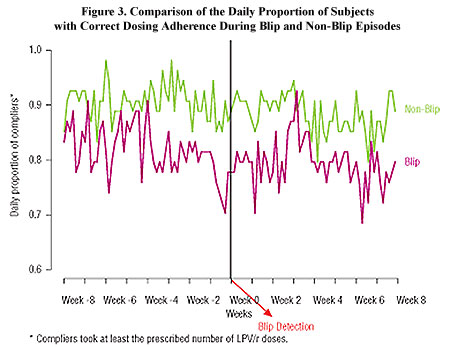 Graph by Thomas Podsadecki, M.D.; reprinted with permission of Abbott Laboratories. Click
here
to download complete poster.

The results of the study provide further data that the occurrence of transient viremia is more than simply a laboratory phenomenon. Given the improvement in adherence after the detection of a blip, it is likely that the detection of HIV RNA was a motivating factor for patients to improve their compliance, with the lack of resistance to the regimen allowing for a return to virologic suppression. This behavioral explanation for both the occurrence of blips and the absence of an association between blips and virologic failure is more plausible than some prior theories, most notably one postulating that a transient exposure to autologous virus augments the immune response, leading to resumed virologic control. It would be interesting to see a similar analysis of the relationship between adherence and blips applied to a non-nucleoside reverse transcriptase inhibitor (NNRTI)-containing regimen, where the threshold for developing resistance is significantly lower than with boosted protease inhibitors.
Footnote
Podsadecki TJ, Vrijens B, Tousset E, Rode R, Hanna GJ. Lower adherence to HAART observed prior to transient HIV-1 viremia ("blip"). In: Program and abstracts of the 46th Annual Interscience Conference on Antimicrobial Agents and Chemotherapy; September 27-30, 2006; San Francisco, Calif. Abstract H-992.
View poster: Download PDF