Therapeutic drug monitoring can be used in many ways in the management of HIV-infected patients. One potential use is to reduce the standard dose of a drug in order to minimize toxicity. Alternatively, it can be used to increase a dose of a drug in order to augment efficacy. In this study, French researchers tested the strategy of reducing the dose of lopinavir/ritonavir (LPV/r, Kaletra) in patients who have plasma concentrations above the recommended target level of 3,000 ng/ml.
Patients were eligible if they were receiving a lopinavir/ritonavir, first-line antiretroviral regimen, had an HIV RNA less than 50 copies/mL, and had a measured trough concentration of lopinavir of greater than 5,000 ng/ml. Thirty-five patients were identified, 28 of whom had evaluable data. The mean baseline plasma concentration of lopinavir was 7,363 ng/ml (range 5,118 to 12,415). After reducing the dose of lopinavir/ritonavir from three soft-gel capsules twice daily to two twice daily, mean concentrations were reduced to 4,319 ng/ml (range 1,427 to 8,683).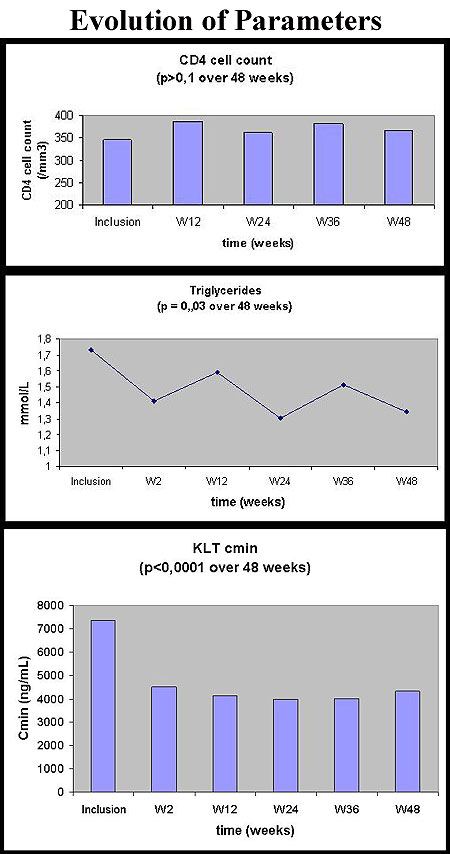 A statistically significant decline in triglycerides was observed, with smaller changes in low-density lipoprotein (LDL) cholesterol. Eight of the 28 patients experienced low-level viremia (a "blip"), and three of the 28 had a viral load greater than 50 copies/mL at week 48. No resistance data were presented.
While the authors conclude that a reduced dosing of lopinavir/ritonavir is associated with a sustained virologic response, there are several important limitations to the study. First, the researchers utilized the older, soft-gel formulation of lopinavir/ritonavir, which is known to have a wider range of inter-patient variability in terms of lopinavir concentrations. Second, the occurrence of low-level viremia may be a harbinger of a greater risk of virologic breakthrough in the long run, a result that cannot be excluded in the absence of a control group and longer follow-up. Third, many HIV centers do not routinely use therapeutic drug monitoring -- it is notably uncommon in clinical practice in the United States -- and hence candidates for this strategy would be hard for many practitioners to identify. In summary, the usual dosing of lopinavir/ritonavir with the newer tablet formulation -- two tablets twice daily -- should still be the standard of care.
Footnote
Meynard J, Lacombe K, Poirier J, et al. Virological efficacy and impact on lipids profile of a reduced dosing (2 tablets BID) of lopinavir/ritonavir (LPV/r) in HIV infected patients. (Kaledose Trial). In: Program and abstracts of the 46th Interscience Conference on Antimicrobial Agents and Chemotherapy; September 27-30, 2006; San Francisco, Calif. Abstract H-1384.