Poor zidovudine/lamivudine/abacavir (AZT/3TC/ABC, Trizivir). This was the first fixed-dose combination for HIV-infected patients and its convenient, one-pill, twice-daily dosing raised the flag for low-pill burden and triple-drug coformulation treatments. However, one of its earlier problems was the potentially serious abacavir hypersensitivity reaction known to occur in up to 9% of patients. Use of the drug for the initial treatment of HIV plummeted in 2004 with the results from an AIDS Clinical Trials Group (ACTG) study called 50951 that convincingly showed the inferiority of zidovudine/lamivudine/abacavir compared to the standard fixed-dose of zidovudine/lamivudine (AZT/3TC, Combivir) with efavirenz (EFV, Sustiva, Stocrin), particularly among persons with high viral loads.
Though extensive data supporting the use of efavirenz-based treatments form the evidence-based rationale for the non-nucleoside reverse transcriptase inhibitor (NNRTI)'s central place in multiple HIV treatment guidelines, there are select patient groups for whom the drug is less desirable, or an outright poor choice. Some patients, for example, are intolerant of efavirenz's neuropsychiatric side effects or develop an allergic reaction. For another minority, drug-drug interactions or increases in lipids may be undesirable characteristics. Efavirenz also must be used with caution among women of childbearing age and should not be used during pregnancy. Lastly, a significant number of treatment-naive patients are infected with NNRTI-resistant virus, rendering the entire class of drugs ineffective. Hence, understanding the relative safety and effectiveness of alternative antiretroviral treatment regimens provides important information in today's environment where matching treatments to the individual patient's background health risks is a goal.
One such alternative to efavirenz is atazanavir (ATV, Reyataz). Atazanavir, a relatively new HIV protease inhibitor (PI), is viewed by U.S. Department of Health and Human Services (DHHS) guidelines2 as an alternative to efavirenz for patients initiating first-line therapy, because of its very good tolerability and minimal lipid effect. In the BMS-034 pivotal study,3 atazanavir was shown to perform comparably to efavirenz (with two nucleotide/nucleoside reverse transcriptase inhibitors) in therapy-naive persons.
Slide by Princy N. Kumar, M.D. Copyright GlaxoSmithKline. Used with permission, 2006. Click
here
to download the complete poster.

In this slide session presentation, Princy N. Kumar from Georgetown University4 presented the 48-week results of a GlaxoSmithKline-supported study that compared zidovudine/lamivudine/abacavir to zidovudine/lamivudine + atazanavir in 279 treatment-naive persons from the United States. Over 50% of the study participants were non-white; the median, baseline CD4+ cell count and viral load were 270 cells/mm3 and 4.55 log copies/mL, respectively. A relatively small minority of patients (15%) had symptomatic HIV disease. Overall, zidovudine/lamivudine/abacavir was shown to have similar results to zidovudine/lamivudine + atazanavir among persons who had initial HIV viral loads of less than 100,000 copies/mL. Virologic failures were infrequent: 6% in both groups. CD4+ cell count increases were similar in both groups: about 95 cells/mm3 after 24 weeks. As expected, the tolerability of both regimens was very good; 5% of patients developed abacavir hypersensitivity reaction and 6% of atazanavir patients switched because of jaundice or scleral icterus (yellowing of the eyes). Lipid changes were modest.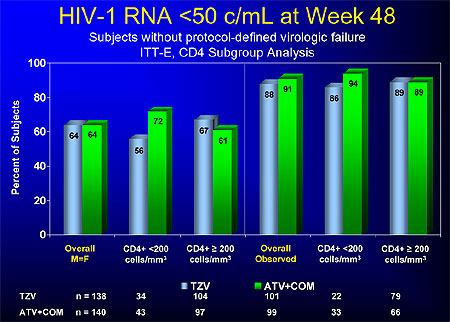 Slide by Princy N. Kumar, M.D. Copyright GlaxoSmithKline. Used with permission, 2006. Click
here
to download the complete poster.

The current study reconfirms previous conclusions that zidovudine/lamivudine/abacavir shouldn't be used in persons with high viral loads. Among patients with baseline viral loads greater than 100,000 copies/mL, fewer persons receiving the triple-nucleoside regimen attained undetectable levels; indeed, suggesting decreased virologic effectiveness in such patients.
These provocative data, particularly if validated through additional studies, suggest that in a subset of patients needing to initiate antiretroviral therapy, zidovudine/lamivudine/abacavir may be a useful alternative to "preferred" treatment combinations. For example, the ongoing Africa DART study5 has shown that zidovudine/lamivudine/abacavir has similar low rates of toxicity discontinuations compared to a commonly prescribed (and World Health Organization-recommended) regimen of zidovudine/lamivudine with nevirapine (NVP, Viramune). These later data are consistent with data demonstrating genetic (or racial) links to abacavir hypersensitivity reaction, in which people of black African decent (often lacking the genetic marker HLA B7501) have lower rates of hypersensitivity reaction.
Taken together, these data are not sufficient to change national or international treatment guidelines, but they do enrich our understanding regarding treatment options for a minority of patients who shouldn't receive one of the "preferred" combinations. For example, the use of zidovudine/lamivudine/abacavir may be the appropriate regimen for an African-American, treatment-naive person with initial drug resistance and a low-baseline viral load. Another area of utility might be among patients receiving rifampin (Rifadin, Rimactane) as part of tuberculosis treatment, in which case significant drug-drug interactions preclude the use of most PIs and complicate the use of NNRTIs.
Footnotes