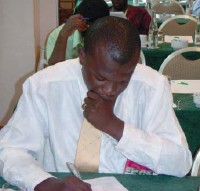 Frank Ekow Baiden of the Navrongo Health Research Centre in Navrongo, Ghana, field tests the GALEN Certification Examination. Additional field-testing will take place within the next several months in Brazil, South Africa, Thailand, and Zimbabwe.
I am pleased to report that the Global AIDS Learning & Evaluation Network (GALEN), an ambitious program launched by the International Association of Physicians in AIDS Care (IAPAC) in response to a growing need for HIV medicine capacity building, recently took a major step toward full implementation. Physicians from nine countries in the developing world field-tested the GALEN Certification Examination during the 2nd IAS Conference on HIV Pathogenesis and Treatment, held last month in Paris. Additional field-testing is scheduled for Brazil, South Africa, Thailand, and Uganda over the next several months.
Designed to assess the core knowledge of physicians at the front lines of the battle against HIV/AIDS, the proctored, 200-plus-question examination complements GALEN's primary component -- a 15-module curriculum covering the gamut of HIV treatment and care issues. The curriculum and certification together constitute a comprehensive system of continuing medical education mechanisms for HIV-treating physicians in resource-limited settings. Physicians who work through the GALEN curriculum, either by participating in IAPAC-facilitated or -accredited training sessions or via self-study, will be designated "HIV Care Specialists" upon achieving a 70 percent or higher score on the GALEN Certification Examination. GALEN materials will be updated to incorporate changes to the state of the art, with those modules covering antiretroviral therapy re-evaluated biannually.
Advertisement
It is clear that there is a lot of work before us as IAPAC members and staff. I want to emphasize now, however, that the progress embodied in the July 2003 field test of the GALEN Certification Examination bespeaks years of work -- and the commitment of men and women from around the world who are dedicated to innovative ways of strengthening local capacities to deliver optimal HIV/AIDS care. In developing GALEN, IAPAC convened two separate international committees to determine how best to enhance the capacity of countries to expand access to HIV/AIDS care, including antiretroviral therapy. Since these meetings, IAPAC staff and smaller committees of HIV-treatment experts have worked tirelessly on the GALEN curriculum and certification components.
Many of these individuals will work with the data collected from the July 2003 field test and finalize the GALEN Certification Examination. Co-chaired by John G. Bartlett (Johns Hopkins University, Baltimore) and Peter Mugyenyi (Joint Clinical Research Centre, Kampala, Uganda), the GALEN Certification Committee is composed of an international panel of 32 clinicians who are leaders in the field of HIV medicine, balanced between those working in developed- and developing-world settings.
The GALEN Curriculum Committee -- co-chaired by D. William Cameron (University of Ottawa, Canada) and Elly Katabira (Makerere University, Kampala, Uganda) -- is equally dedicated in its mission and appropriately composed to represent a global cross-section. Thanks to their efforts, IAPAC has advanced in the development of materials to support the 15-module GALEN curriculum -- including training modules and slide sets. Two antiretroviral-specific modules are now being used in multiple countries in Africa, the Caribbean, and Central America. And, they have also recently been translated into Spanish through an arrangement with the Pan-American Health Organization (PAHO).
GALEN is already being recognized for its innovative approach to one of the most pressing challenges to the expansion of access to antiretroviral therapy in the developing world. A US-based organization of non-profit associations -- the American Society of Association Executives (ASAE) -- has bestowed upon IAPAC its highest award for the utilization of our membership to create and implement an initiative of such worldwide import. The ASAE Summit Award will be presented to IAPAC during an awards ceremony September 30, 2003, in Washington, DC.
More important than laurels, however, is the fact that physicians from developing world countries who are at the front lines of the battle against HIV/AIDS believe in GALEN -- which was made abundantly clear during the Paris field test of the GALEN Certification Examination. Those physicians who sat the examination were eager participants, expressing their sense that formalizing HIV medicine would improve their practices and lead to better care for their patients. I was delighted to hear these reactions, but not entirely surprised. They speak to IAPAC's ongoing commitment to initiatives that are member-driven and address the needs of men and women charged with the day-to-day care of people living with HIV/AIDS.
José M. Zuniga is President of the International Association of Physicians in AIDS Care (IAPAC), and Editor-in-Chief of the IAPAC Monthly.