As people live longer with HIV/AIDS, some are experiencing avascular necrosis (AVN), or bone death resulting from absence of blood supply.
Whether this complication is the result of long-term antiretroviral therapy or HIV itself is yet to be determined. There are many speculations as to what contributes to the development of avascular necrosis in HIV-infected individuals, however, its exact cause remains an enigma.
Affects Men and Women
Approximately 15,000 new cases of avascular necrosis occur in the United States each year. It affects both men and women, usually in their 20s, 30s and 40s.
Avascular necrosis occurs in both hips of more than 50 percent of affected adults. It is also found in the shoulder, knee and small bones of the hands and feet in approximately 15 percent of affected individuals.
Advertisement
Among people living with HIV/AIDS, the most common area affected by avascular necrosis is the hip. Although epidemiological data determining the prevalence of AVN among HIV/AIDS patients is not yet available, more and more physicians are beginning to see this problem among their patients.
In general, trauma is known to be a common cause of avascular necrosis of the hip. If a person is involved in a car accident or sports-related incident, and the femoral head of the bone breaks and the blood vessel tears, it could result in avascular necrosis.
Alcoholism and long-term use of steroids such as prednisone and cortisone are also known to predispose an individual to AVN. Guerra et al. report that both alcohol intake and long-term steroid use have shown to cause alterations in circulating lipids, with the formation of small lipid droplets that act as microemboli (small particles of fat causing a blockage in the vessel). It is thought that these microemboli may in turn cause local clotting within the blood vessel, which supplies nutrients to the bone. The development of a blood clot in such an important vessel can decrease delivery of blood and nutrients, and eventually causes the bone to deteriorate.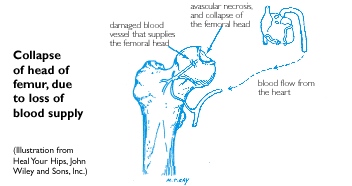 Little Direct AVN Research
Published research on the development of avascular necrosis among the HIV/AIDS population is scarce. For this reason, researchers have leaned toward gathering as much information as possible from studies investigating this problem among Systemic Lupus Erythematosus (SLE) patients because AVN is known to be prevalent among people with SLE.
SLE is an autoimmune disease that causes inflammation of the connective tissue. It manifests with frequent fevers, weakness, joint pains or arthritis resembling rheumatoid arthritis, erythematous skin lesions on the face, neck or upper extremities and anemia.
In their study, Molina et al. state that only five cases of simultaneous SLE and HIV infection have been reported in adults, and two of lupus nephritis in children with AIDS. Striking clinical and laboratory similarities were seen between SLE and HIV infection. Among others were malar rash (rash on the cheeks), alopecia (hair loss), oral ulcers, arthritis, fever, weight loss, hemolytic anemia (anemia due to destruction of red blood cells), antiphospholipid antibodies (aPL), leukopenia (decrease in certain white blood cells called leukocytes) and lymphadenopathy (any disease process affecting the lymph nodes). Among these patients, two were diagnosed with SLE, and both developed HIV infection several years after the diagnosis of SLE had been documented.
Interestingly, clinical and serologic improvements were observed in both patients following HIV infection. The investigators believe that this clinical discovery, in addition to several other animal studies, lends support to an important role for the CD4 cells in the pathogenesis of SLE.
The presence of avascular necrosis in these two patients was another finding. The investigators stated that although avascular necrosis is a well-known complication in patients with SLE treated with or without steroids, these two cases highlight the possibility that HIV infection may also be a risk factor for the development of this complication.
No clinical evidence of lupus activity was seen in these two patients. Patients were on low doses of prednisone, and it was clearly established that HIV infection preceded the onset of their avascular necrosis. Hence, the investigators suggested a causal relationship among HIV infection, antiphospholipid antibodies (aPL) and the onset of avascular necrosis.
Furthermore, although both of these patients experienced clinical remission of their lupus activity, their course was complicated by aseptic necrosis of the bone. The investigators reported that it is possible that depletion of CD4 lymphocytes may lead to an improved clinical picture of SLE, and concluded that HIV infection might improve lupus activity by its direct effect on CD4 T-helper cells but also induce bone complication.
Similarities with SLE
On the same note, a different group of researchers (Maria Angeles Belmonte et al.) reported that overall, the immunological alterations in patients with HIV infection are similar to those of SLE, with hyperactivity of B cells and loss of cellular immunity. They investigated three cases of HIV-infected patients with antiphospholipid antibodies (aPL) in serum that developed AVN. They reported that presence of aPL is associated with both arterial and venous thrombosis and thrombocytopenia. This suggests the occurrence of increased platelet aggregation and fibrin platelet thrombosis inside the bone, which may produce clotting inside the vessel carrying blood to the bone. Blood clots inhibit or decrease the necessary amount of nutrients being delivered to the bone resulting in ischemia (lack of oxygen) and eventually bone necrosis (death).
Multiple studies have reported that corticosteroid use is the chief risk factor for the development of AVN in SLE. The clear dose-time relationship between the development of AVN and corticosteroids in people with SLE has also been demonstrated.
However, despite this fact, there has been considerable debate as to whether the primary pathophysiological cause was corticosteroid therapy or an underlying susceptibility latent in SLE. The same debate applies to the development of AVN in people infected with HIV. Whether it is the dose-time relationship of steroid utilization or the long-term effects of the virus itself is yet to be determined.
Awareness Is the Key
Since there is no definite answer as to what actually causes avascular necrosis, those who believe they are at risk should be aware and in tune with certain preclinical signs and symptoms. Typically, patients with AVN present with pain that can often be quite disabling. The diagnosis is made radiologically, usually with plain X-rays.
Clinically diagnosed avascular necrosis is progressive in 70 to 80 percent of patients who are managed non-operatively and usually results in collapse of the femoral head. Surgery is usually needed and recommended for disabling symptoms. Although there does not appear to be any benefit in changing antiretroviral therapy, underlying medical conditions such as hypertriglyceridemia, steroid use, alcohol use and possibly the use of anabolic steroids should be addressed.
Tony Mills, M.D., reviewed this article.
This article is partially funded by Los Angeles County, Department of Health Services, Office of AIDS Programs and Policy.
Artist Bonnie Hofkin is represented by the J. Palulian Group, LLC, (203) 866-3734. http://www.jpillustrators.com.
| | |
| --- | --- |
| | Nairy Ghazourian is a treatment advocate in AIDS Project Los Angeles' Health Education Core. She can be reached by calling (213) 201-1483 or by e-mail at nairyg@apla.org. |