Specifically, PHI is the period after infection with HIV but before the development of detectable antibodies. It is a period of active HIV replication and transient immune suppression. Viremia rises rapidly in the plasma, often reaching levels in excess of 1 million copies per milliliter, with widespread dissemination into lymphoid organs throughout the body. While some patients have no clinical symptoms during PHI, it has been estimated that 50% to 90% of patients are symptomatic with an illness resembling infectious mononucleosis or influenza and that a large percentage of these patients present for care at health care facilities.2 This symptomatic manifestation of infection is generally referred to as "acute retroviral syndrome" (ARS). Some of the most prevalent symptoms associated with ARS are listed in Table 1.




During the short course of PHI, the occurrence of ARS coincides with the increase in plasma viremia, which as noted earlier can reach high levels. Symptoms of ARS are estimated to begin 2 to 6 weeks after infection and resolve in approximately 14 days in most cases.2,3 The resolution of symptoms coincides with the decrease in plasma viremia that is associated with the emergence of HIV-specific CD8 T cells and the later emergence of HIV-specific antibodies.4,5 Plasma viremia can drop approximately 2 to 3 logs as the immune system begins to respond to the infection. After fluctuating for some time, viremia then appears to stabilize at a "set point." (See Figure 1 above.)
The exact determinants of the viral set point are not known, but factors such as the immune response of the host, the number of available target CD4 T cells, the host's degree of immune activation, the extent of trapping and sequestration of HIV and infected CD4 T cells in the germinal centers of lymphoid tissue, as well as the replicative capacity of the viral strain, may contribute to the set point.6,7 The set point generally predicts the rate of disease progression, suggesting that this initial viral-host interaction during PHI is critical in HIV immunopathogenesis.
Who Is Suspect for PHI?
The problem with identifying PHI patients is two-fold. First, the symptoms associated with ARS are nonspecific and can mimic other common illnesses. Second, there is no single diagnostic test that is cost-effective and sufficiently specific and sensitive enough to conduct broad-based testing of the suspected patient population.

Studies have been conducted to determine the usefulness of symptoms and virologic tests for diagnosing PHI. Daar et al. recently published a prospective cohort study of 436 patients with potential exposure to HIV who reported symptoms compatible with PHI.8 In this study patients were referred from clinics, testing centers, emergency departments, and community physicians to 2 research hospitals in Los Angeles and San Diego. The patients were divided up by institution and time into 3 cohorts as outlined in Table 2. The demographics of the 3 cohorts were similar. Overall, 89% of the study patients were male; also 74% were white, 13% Hispanic, and 9% African American. Seventy-seven percent of the patients were gay men, 18% heterosexual women, and 4% intravenous drug users.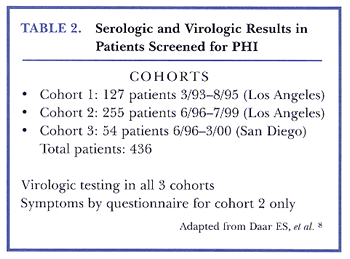 All 3 cohorts had virologic testing but only the 255 patients in Cohort 2 were questioned about specific symptoms. The patients in Cohort 2 were divided into those with PHI versus those who were uninfected or who had chronic HIV infection. PHI was defined as a positive HIV RNA (viral load) and a negative antibody test, or an indeterminate Western blot and negative antibody test in the preceding 12 weeks. Of the total, 40 patients were confirmed to be experiencing PHI and 164 were either uninfected or chronically infected.
PHI patients were more likely to be gay and exposed to an HIV-infected person. A comparison of symptoms showed that PHI patients were more likely to experience fever, myalgia, arthralgia, rash, or night sweats. Only these symptoms and the lack of nasal congestion turned out to be statistically significant predictors of PHI. (See Table 3.) Combining fever, myalgia, and rash increased the predictive value of these symptoms. However, no combination of symptoms identified more than 75% of PHI patients.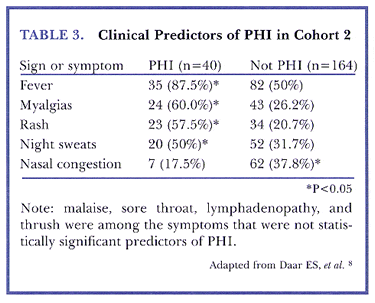 Despite the increased incidence of certain clinical symptoms in PHI patients, the authors conclude that no symptoms have sufficient sensitivity or specificity for PHI to allow for targeted screening of at-risk patients. Thus, it may be necessary to establish a low threshold of symptoms and test many seronegative patients in order to maximize the number of PHI patients who are properly identified.
In contrast, Frederick M. Hecht, M.D., co-director of the Options Project at the University of California, San Francisco has reported some slightly different results.9 The Options Project, which has been in existence since 1996, has screened 444 patients for PHI and early HIV infection. (Early infection is defined as infection and subsequent seroconversion within 12 months of entering the study.) Hecht has been quoted as stating that "[T]he key symptoms [are] rash and fevers, followed by loss of appetite, arthralgias, and pharyngitis." Using logistic-regression models, this group has determined that the odds of rash predicting PHI are 3.7 (p=0.002) and the odds of fever predicting PHI are 3.4 (p=0.009). According to Hecht, "In other viral infections, we don't often see fevers and we rarely see rash. These two symptoms, especially if accompanied by some of the other symptoms frequently seen in PHI, should heighten the level of suspicion."9
Diagnosis of PHI
During PHI there is a "window period" of approximately 2 to 3 months after initial infection before HIV-specific antibodies in the blood can be detected by the standard antibody test (ELISA). During this window period other tests must be used to diagnose PHI. The most common tests used to diagnose PHI are the quantitative HIV RNA (viral load), which uses polymerase chain reaction to detect the presence of HIV, and the p24 antigen test, which detects a viral protein and indicates ongoing viral replication.

In an ideal world a screening test for PHI would have 100% sensitivity. A test with that level of sensitivity would detect everyone who has been infected with the virus (i.e., no one who was positive would go undetected). The perfect confirmation test would also be one that has 100% specificity (i.e., there would be no false-positive results). It is important to note that, in the context of PHI, testing for HIV antibodies is irrelevant since by definition PHI patients have not been infected long enough to develop HIV-specific antibodies.

Unfortunately, current tests used in PHI are neither 100% sensitive nor specific. In the study cited above, Daar et al.8 tested patients in the 3 cohorts for p24 antigen and HIV RNA. Because there is no current gold standard test for HIV infection, the authors assumed that the HIV RNA test was 100% sensitive. The results showed that while the p24 antigen test has a specificity of 100% (there were no false positives), it only has a sensitivity of 88.7% (5 of the 40 PHI patients were not detected by the test). Also, while the researchers assumed that the HIV RNA test had a sensitivity of 100%, the study results demonstrated that the test had a specificity of 97.4% (8 of the 303 patients tested had false-positive results as confirmed by repeat testing). A more detailed summary of the results is listed in Table 4. Because the specificity of the HIV RNA test is not 100%, most experts recommend that results with low viral titer (less than 10,000 copies/mL) be approached with caution since they may be false positives.