Background
Untreated HIV infection confers a huge increase in the incidence of non-Hodgkin's lymphoma (NHL). Understanding the extent to which HAART mitigates this risk is of vital importance to HIV-infected persons.
Details of This Study
Waterson et al report on a 9,621-person cohort assembled at London's Chelsea & Westminister Hospital. Over the entire span of the cohort's observation, 280 patients were diagnosed with lymphoma (206 with systemic NHL, 55 with primary cerebral lymphoma, and 19 with Hodgkin's lymphoma). During the 1996-2003 interval, 102 of 5,832 persons were diagnosed with lymphoma. Multivariate analysis found decreased age, higher nadir CD4+ and CD8+ counts and exposure to HAART to be associated with lower NHL incidence rates.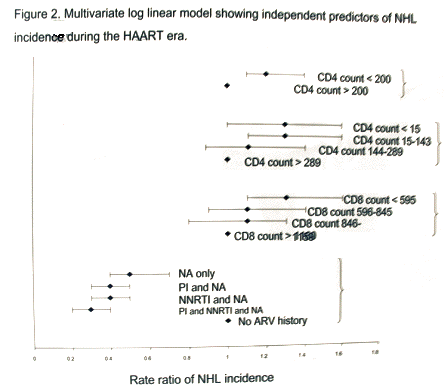 Significance for Patients/Clinicians
This study provides a good basis for the very encouraging belief that today's HAART regimens will be protective against NHL.
A Waterston, J Stebbing, C Thirlwell, T Newson-Davis, S Mandalia, M Nelson, B G Gazzard, M Bower