For Part 2 of this report, click here.
The International AIDS Conference, formerly known as the World AIDS Conference, was at one time the premier venue for the presentation of new data related to the pathogenesis, epidemiology, prevention and treatment of HIV. It was at the XI International AIDS Conference in 1996 in Vancouver, Canada, after all, that the dramatic impact of potent antiretroviral combinations on survival was initially reported, ushering in the highly active antiretroviral therapy (HAART) era. Four years later, when the conference was held for the first time in Africa, attendees issued a challenge to resource rich nations to set their sights on the tragic plight of the millions of people living with HIV in regions where HIV therapies were non-existent and marked 2000 as a watershed year in the global fight against HIV/AIDS.
However, with the emergence of the Conference on Retroviruses and Opportunistic Infections and the original International AIDS Society Conference on HIV Pathogenesis and Treatment -- both of which are more focused on basic science and therapeutics -- as well as specialty conferences, such as the HIV drug resistance meetings and the International Workshop on Adverse Drug Reactions and Lipodystrophy in HIV annual meeting, the International AIDS Conference has become increasingly dominated by behavioral and epidemiological themes.
This year the overshadowing of therapeutics was complete, with the majority of substantive data in treatment concentrated into just a handful of sessions and a late breaker session held on the last full day of the conference. Findings related to metabolic complications were to be found in a few oral papers and many posters. Many of these presentations detailed the growing problem of metabolic changes accompanying the expansion of HIV therapy into the resource-limited regions of Africa and Asia. Other research added to the chain of metabolic complications data that have been generated in the United States, Europe and Australia.
While there were few data presented at the conference that are likely to change current clinical practice -- except to once again make it clear that alternatives to stavudine (d4T, Zerit) are needed in the developing world (as the World Health Organization has acknowledged in its most recent guidelines,1 which were released a few days before the conference) -- interesting findings regarding therapeutics could be found scattered in the crowded poster hall and the few oral presentations that did not have to do with microbicides, circumcision, health policy and coalition-building. These are highlighted below.
Body Shape
The Effect of Antiretrovirals on Fat
It is the replication of research findings that is the ultimate test of validity within the scientific method and is the driving force behind improvement of clinical practice. Studies of body shape changes experienced by people living with HIV infection have produced conflicting conclusions regarding the prevalence, etiology and associated factors of these changes. Particularly controversial has been the role of antiretrovirals, as well as possible treatments for these changes. More recently, however, a few droplets of data have combined to form a pool of study results that appear to tell a similar story. At the XVI International AIDS Conference (AIDS 2006), several presentations focusing on body shape among HIV-infected individuals added to this collection of data and may be now causing researchers to accept findings from earlier studies that were once considered controversial.
Arguably, the most impressive longitudinal investigation of body shape in persons initiating HIV therapy is U.S. AIDS Clinical Trials Group (ACTG) Study 5005s. It is actually a substudy of a large, six-arm initial antiretroviral clinical trial; initial results from the study have been published previously.2 At this conference, lead investigator Michael Dubé from Indiana University presented 144-week, follow-up data on limb fat as measured by dual energy X-ray absorptiometry (DEXA) scan.3
Importantly, this poster examined the effects of the assignment of nucleoside/nucleotide reverse transcriptase inhibitors (NRTIs) (zidovudine [AZT, Retrovir] + lamivudine [3TC, Epivir] versus stavudine + didanosine [ddI, Videx]) plus a regimen anchor (nelfinavir [NFV, Viracept] versus efavirenz [EFV, Sustiva, Stocrin]) in an "as-treated" analysis, wherein patients who switched assignments were censored from inclusion in subsequent analyses. Previously, the authors had presented data using an intent-to-treat approach, which was less than ideal given the rate of regimen modifications that took place during the study, especially in the stavudine + didanosine arms.
When looking at the effect of NRTIs on limb fat, an increase was seen in patients treated with both NRTI pairs, which peaked at week 32. After week 32, however, there was a decline in limb fat in both the zidovudine + lamivudine and the stavudine + didanosine groups, although the drop in fat from week 32 to week 144 was significantly greater in the double "d" group versus the zidovudine + lamivudine group (19% compared to 1.7% annual decline, P < .001).
At week 144, there were relatively few patients still continuing to contribute to the data analysis, but, not surprisingly, the zidovudine + lamivudine patients had an average limb fat that was slightly above baseline, while the stavudine + didanosine patients experienced a mean 32% drop in limb fat relative to study entry (P = .04).
The finding that the combination of stavudine + didanosine led to greater fat wasting than zidovudine + lamivudine should elicit little more than a yawn in most readers. The meat of this presentation is actually found in the protease inhibitor (PI) versus non-nucleoside reverse transcriptase inhibitor (NNRTI) comparison. Participants receiving nelfinavir had greater fat loss than those receiving efavirenz. Specifically, just looking at those taking zidovudine + lamivudine, there was a 7.9% annual decline in limb fat in the patients who were also taking the PI compared to a 2.7% per year gain in the NNRTI group (P = .03). In fact, patients taking zidovudine + lamivudine + efavirenz did not experience limb fat loss, while all other groups in this trial did. This is an interesting finding given the concern regarding the ability of zidovudine to cause lipoatrophy.
A similar finding of the differential effect of PI exposure on limb fat was reported from the stavudine + didanosine-treated patients. These data suggest that PI therapy contributed to the fat loss that accompanied NNRTI therapy -- a conclusion reached by Australian investigators several years ago.4 Since then, data from a number of studies and from clinical experience have implicated NRTI therapy, particularly with stavudine, as the cause of fat wasting. Here, a contribution by nelfinavir is demonstrated. Whether this effect will prove to be the case with other PIs remains to be seen and there will be several opportunities to examine the impact of newer PIs and efavirenz on limb fat, including large ACTG trials and industry-sponsored studies. That zidovudine + lamivudine + efavirenz was not associated with limb fat loss adds yet another check mark in the NNRTI-as-first-line-therapy column.
Another trial providing an opportunity to look at the relative influence of PIs and NNRTIs on body shape was Community Programs for Clinical Research on AIDS (CPCRA) study 061.5 It was a three-armed strategy study launched in 1999 during which treatment-naive participants were randomly assigned to start on a PI- versus NNRTI- versus dual PI + NNRTI-based regimen along with NRTIs chosen by the provider. A metabolic substudy examined body shape as measured by anthropometry (tape measures and calipers) and bioelectric impedance analysis (BIA) as well as lipids and insulin (described below). Thirty percent of the overall study population was enrolled in the substudy, with about 140 patients from each of the three strategy arms included. Of those in the PI arms, about a quarter of the patients were receiving a ritonavir (RTV, Norvir)-boosted PI. In the PI and NNRTI arms, 53% of the participants were co-administered zidovudine + lamivudine, while in the PI + NNRTI only arm 38% of the patients were prescribed these NRTIs. The remainder were largely taking stavudine.
Although anthropometrics rather than DEXA scans were used to assess fat changes, the graphs of change in fat over a median of five years look remarkably like those found in ACTG 5005s. In each of the treatment strategies, limb fat was seen to increase during the first weeks of treatment and then decline. Here, there was no significant difference seen in the mean change from baseline in arm or leg fat between initial treatment strategies. Likewise, visceral fat estimates were seen to rise in all study arms and remain elevated relative to baseline as has previously been shown in the ACTG substudy. Subcutaneous waist fat did rise and then fall, mirroring the changes in limb fat.
This study is limited in several ways. Foremost is that there were certainly switches in treatment during the study and, although this was an investigation of strategies and not regimens, the lasting contribution of the initial therapy, given differences in duration of exposure to the starting antiretrovirals, makes it difficult to ascertain whether the lack of significant differences in fat between study groups was due to similar effects of the strategies or blending of the treatments over time. Subgroup analyses may help tease out interesting findings that can help us better appreciate the effects of individual regimens on body shape.
While HIV treatment trials provide an important opportunity to assess the body shape changes that occur during therapy, as well as the relative effects of specific therapies on fat, these studies are not able to tell us just how abnormal the changes we detect are. As mentioned above, there is some evidence that many HIV-infected patients initiating therapy have a relatively low body mass index (BMI) and reduced body fat and that gains in visceral fat during therapy move patients closer to the "normal" amounts of abdominal fat seen in the HIV uninfected.
The Fat Redistribution and Metabolic Change in HIV Infection (FRAM) study provided the first inkling that HIV-infected patients (mostly on HAART) and HIV-uninfected controls have similar waist sizes and amount of belly fat.6
The Multicenter AIDS Cohort Study (MACS) is another study of HIV-infected and HIV-uninfected individuals that can be used to better understand the effects of HIV itself and HIV therapy on metabolic complications, albeit in men since this cohort only follows men who have sex with men. Todd Brown and other MACS investigators examined anthropometric data collected from 1999 to 2004 to see whether HIV infection, nadir CD4+ cell count, HIV-treatment-related variables, BMI and/or age were associated with the changes observed.7 At baseline, HIV-infected men were found to be significantly smaller with a lower BMI, thinner waist and slimmer hips. Arms and legs were also thinner among the HIV-infected men.
Effects of Time and HIV Status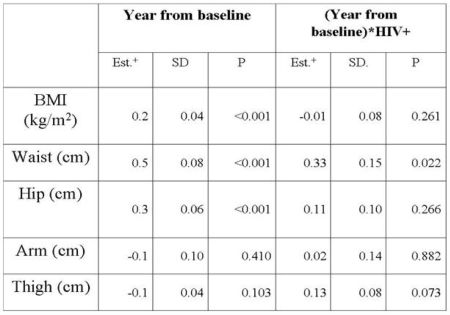 Looking at antiretroviral classes, exposure to NRTIs was associated with a decline in BMI and waist, hip and thigh circumferences over time while there was no independent effect of PIs or NNRTIs on these parameters. However, overall, both HIV-infected and HIV-uninfected men tended to experience increases in BMI and waist and hip size as they aged, although the increase in waist size appeared to be more steep in the HIV-infected men. These data suggest that over time HIV-infected men are gaining waist size, but that they still have smaller waists than HIV-uninfected men, which adds a touch of relativism to data generated from cohorts of solely HIV-infected individuals.
Growth Hormone for Visceral Fat
Increased visceral adipose tissue (VAT) has been found to grow following initiation of potent HIV therapies. Whether this increase represents an abnormal accumulation of fat in this region due to HIV therapy or is associated with weight gain during a return to health following HIV-mediated generalized loss of body fat is not clear. However, in many individuals, increased abdominal girth is distressing and uncomfortable. Increased waist size is also linked to heightened risk of cardiovascular disease and is a criterion for metabolic syndrome.
Growth hormone has been found to decrease VAT in HIV-infected patients, but it has been studied mostly in small trials. A larger trial of growth hormone, presented at this conference by Carl Grunfeld of the University of California, San Francisco, looked at induction therapy with 4 mg daily of growth hormone versus placebo for 12 weeks followed by maintenance therapy with either 2 mg of growth hormone every other day or placebo for 24 weeks.8
The study endpoints were a reduction in VAT at the end of the induction period and, for the maintenance phase, a return of at least 50% of the fat that was lost during induction in half of the patients on active drug. A total of 325 patients with an elevated waist circumference (more than 88.2 cm for men and more than 75.3 cm for women) and high waist-to-hip ratio (0.95 or more for men and 0.90 or more for women), without glucose intolerance, were enrolled and randomized 2:1 to growth hormone or placebo induction. Most of the patients were male (85%) and half were on a PI and the rest on an NNRTI.
At the end of the 12-week induction period, there was a decrease in VAT as assessed by computed tomography (CT) scanning of approximately 20% in the growth hormone group compared to a slight increase in the controls. Limb fat by DEXA also dropped with growth hormone by about 5%. During maintenance therapy, fewer patients assigned to the alternating day growth hormone met the criteria for failure (regain of 50% or more of the fat lost during induction with 53.7% in the placebo failing compared to 40.3% of those on active drug).
In an intent-to-treat analysis, comparing the change in VAT from baseline to week 36 among those who received induction with growth hormone, there was a 7.9 cm2 decrease in VAT in the patients who received placebo during maintenance versus a 15.7 cm2 drop in the every other day growth hormone group during maintenance. While these were significant declines from baseline within each group, these changes were not significantly different when comparing the groups to one another (P = .3).
During induction, growth hormone yielded significant increases in high-density lipoprotein (HDL) cholesterol and decreases in non-HDL cholesterol. Side effects to 4 mg of growth hormone daily were common, with almost half of the participants who were receiving active drug developing peripheral edema. Arthralgias, painful extremities, headache, hypoesthesia, myalgias and increased blood glucose were also found to be significantly more frequent in those receiving induction dose growth hormone. However, during therapy with the lower-dose growth hormone, there was no difference in adverse events in the subset receiving induction with growth hormone.
These results indicate that growth hormone can indeed reduce VAT and that lower-dose growth hormone was much better tolerated than higher doses used during induction. However, it was somewhat disappointing that 40% of patients regained at least half the fat lost during induction while on the lower dose maintenance therapy. Higher doses of the agent may be needed to prevent loss of the VAT benefits accrued during induction, but this comes with the risk of greater toxicity, including glucose intolerance. As one sharp-witted observer of the presentation quipped, "Let me get this straight, this is a treatment for a condition that is not ART related, but causes a condition that is ART related -- glucose intolerance!" Funny. In practice, clinicians with access to growth hormone will likely have to titrate the dose and schedule the use of growth hormone, monitoring response and toxicity, rather than rely on some fixed schedule of administration.
Summary
There are some consistent take-home messages from AIDS 2006:
HIV therapy is associated with changes in body shape, but not exactly in the way many providers and patients believe. People starting HIV treatment gain weight and VAT. For most patients it appears this increase may be making up for fat lost during advancing HIV infection.
Patients exposed to stavudine lose limb fat (and abdominal subcutaneous fat). Data from ACTG 5005s also suggest that when zidovudine + lamivudine was administered with the PI nelfinavir, limb fat also was lost.
When compared to HIV-uninfected individuals -- who admittedly tend to be larger -- HIV-infected patients do not have excess VAT.
For HIV-infected people who do have an undesirable increase in VAT, growth hormone can reduce the volume of fat within the abdomen, although there is a balance between effectiveness and toxicity that has to be considered when using this agent.
Footnotes