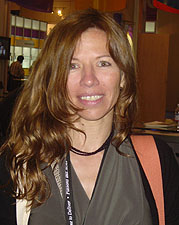 Eva Wolf, M.P.H., in the exhibit hall at AIDS 2006. She presented a poster on lopinavir/ritonavir monotherapy.
Ever since Joe Gathe presented his case series on patients treated successfully with lopinavir/ritonavir (LPV/r, Kaletra) monotherapy,1 there have been several studies evaluating this strategy in a variety of different settings. The four studies reviewed here, and presented at the XVI International AIDS Conference (AIDS 2006), offer observations on relatively small study populations and complement the larger, controlled trials presented elsewhere at AIDS 2006.
In the OK2004 study,2 Jose Arribas from the Hospital La Paz, in Madrid, Spain, presented 48-week data on a planned 96-week study. Two-hundred HIV-infected patients with undetectable HIV RNA for more than six months and no history of virologic failure on a protease inhibitor (PI) were eligible; they also had to be receiving lopinavir/ritonavir plus two nucleoside/nucleotide reverse transcriptase inhibitors (NRTIs) for at least one month. They were randomized to drop the NRTIs (this is the "OK" arm, which stands for "only Kaletra") or to continue the standard triple regimen. Importantly, patients who experienced low-level virologic rebound on the OK arm and who then were re-suppressed by resuming the NRTIs, were not considered virologic failures.
At 48 weeks, 94% of the patients in the OK arm and 89.8% of the patients in the triple arm were without virologic failure (defined as a confirmed HIV RNA of more than 500 copies/mL), a non-significant difference. In addition, no differences were seen in using a less than 50-copy cutoff and CD4+ cell count responses were similar. There were four patients who required re-intensification with NRTIs. When genotyping was performed on viral samples from patients who experienced virologic rebound, two of 11 patients in the OK arm and one of four in the triple arm had evidence of primary PI mutations.
The KalMo study,3 presented by Estevao Portela Nunes of Brazil, evaluated 60 patients with undetectable HIV RNA (less than 80 copies/mL) who were on triple-antiretroviral therapy for at least six months time, and randomized them to receive standard lopinavir/ritonavir plus two NRTIs or lopinavir/ritonavir monotherapy. No prior history of virologic failure was permitted among enrollees, and their nadir CD4+ cell count had to be more than 100 cells/mm3. At baseline, the mean CD4+ cell count was over 500 in both study arms. At 48 weeks, 25/30 (83.3%) patients in the control group had an HIV-RNA level less than 80 copies/mL versus 26/30 (86.7%) patients who were in the monotherapy arm, a non-significant difference.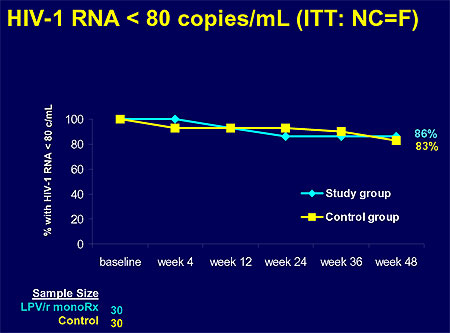 Slide by Estevao Portela Nunes; reprinted with permission. Click here to download the complete slide presentation.
One patient in the monotherapy arm who experienced virologic rebound showed no PI-resistance mutations, and was resuppressed with the addition of tenofovir/emtricitabine (TDF/FTC, Truvada). The rate of treatment discontinuation was similar in both arms.
In another study,4 Laura Waters and colleagues described their experience with lopinavir/ritonavir monotherapy at the Chelsea-Westminster Hospital in London. Using their clinical database, they identified 35 patients who received this treatment as part of routine clinical practice. Nineteen of the patients switched to lopinavir/ritonavir for reasons of adherence difficulties, four patients switched because of drug-related toxicity, one patient switched due to a drug interaction, and one patient requested this regimen. Reasons were not documented for 10 trial participants.
No follow-up information was available on seven of the patients, but, of the remaining 28, 14 achieved an undetectable HIV RNA. Out of the 15 individuals with detectable HIV RNA at baseline, 11 experienced at least a 1-log viral load decline, and most had significant CD4+ cell count increases at one year. The authors concluded that lopinavir/ritonavir monotherapy was an effective treatment option for this group of poorly adherent patients.
In yet another study5 looking at lopinavir/ritonavir monotherapy, J. Goelz et al reported on their clinical experience with lopinavir/ritonavir monotherapy at two sites in Germany.
Patients were considered eligible for this strategy if they had no lopinavir resistance and desired a change to the monotherapy regimen due to one of the following reasons: fear of lipoatrophy, a failing non-nucleoside reverse transcriptase inhibitor (NNRTI)-based regimen, a wish to reduce side effects, or a desire for treatment simplification.
The researchers accrued 63 patients between 2002 and 2005. Eight of the patients were treatment naive. The mean duration of follow-up thus far has been 14 months. Using the last observation time point, 73% of the patients had an HIV RNA of below 400 copies, 66% had an HIV RNA of below 50. One PI-naive patient developed primary-PI resistance at virologic failure, with six PI-resistance mutations.
Unlike the Waters study or the Goelz study, the KalMo study was a controlled clinical trial. It has a similar design -- and results -- to the larger OK2004 summary mentioned above, following the induction-maintenance model of treatment. The other two studies covered here are case series of clinical observations. The aggregate message from these and the other lopinavir/ritonavir monotherapy studies presented at AIDS 2006 is that many patients with virologic suppression can be maintained on lopinavir/ritonavir alone; furthermore, if they develop virologic rebound, resuppression frequently occurs with the resumption of the NRTIs.
However, reading "between the lines" of these studies, and incorporating results from studies of lopinavir/ritonavir used as initial therapy,6,7 one can intuit a trend towards lopinavir/ritonavir monotherapy being slightly less active virologically than when used as part of triple therapy. Furthermore, there is the suggestion that the likelihood of developing PI resistance is higher upon viral rebound -- it is famously low when boosted PIs are given with two NRTIs. Given the remaining uncertainties about this strategy, and pending the results of other studies and long-term follow-up, lopinavir/ritonavir monotherapy should be reserved only for select patients who have intolerance to standard NRTI therapy and limited treatment options.
Footnotes