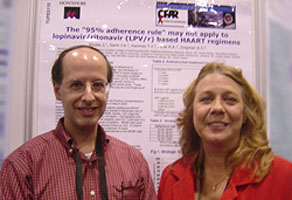 Jonathan Shuter, M.D., and Julie Sarlo, P.A., in front of their poster.
In a widely cited study published in 2000, Paterson et al established that virologic response rates dropped dramatically when adherence levels were less than 95%.1 However, Paterson's analysis was conducted in an era when antiretroviral therapy consisted predominantly of unboosted protease inhibitors (PIs). Indeed, data on non-nucleoside reverse transcriptase inhibitor (NNRTI)-based therapy already suggest that the 95% threshold may not apply across the drug classes. In this study, researchers evaluated the adherence and response rates of patients on lopinavir/ritonavir (LPV/r, Kaletra)-containing regimens from a Bronx HIV clinic.2
Patients receiving lopinavir/ritonavir twice daily as part of their antiretroviral regimen were enrolled into a 24-week study that used medication event monitoring system (MEMS) caps to monitor adherence. Adherence rates were defined as the number of bottle openings per number of doses prescribed. At the time of this presentation, 53 out of 85 patients completed the study. The study population was comprised largely of racial and ethnic minorities, reflecting the inner-city location of the clinic, with 53% of the trial participants being Hispanic and 40% African American. In addition, most had advanced HIV disease, with 83% having a prior diagnosis of AIDS. Only one of the 53 participants was antiviral naive at the beginning of the study.
The mean overall adherence rate was 73%. Unlike in the Paterson study, there were relatively high rates of virologic suppression at all levels of adherence:
| | |
| --- | --- |
| Adherence | Percentage With a Viral Load Less Than 400 Copies/mL at 24 Weeks (n) |
| Greater than 95% | 70% (10) |
| 90%-94.9% | 88% (8) |
| 80%-89.9% | 100% (9) |
| 70%-79.9% | 100% (4) |
| 50%-69.9% | 55% (11) |
| Less than 50% | 73% (11) |

Remarkably, no association was found between the 24-week viral load result and medication adherence.
The results of this study with lopinavir/ritonavir support similar findings showing relatively high rates of virologic suppression despite "suboptimal" medication adherence with NNRTI-containing regimens. An obvious limitation is the relatively small sample size -- certainly one would expect that a larger patient population would eventually demonstrate a relationship between the lowest level of adherence and virologic failure. To overstate the obvious, patients should, of course, still be instructed to take as many of their prescribed doses of medication as possible. Nonetheless, these data do confirm a higher degree of medication "forgiveness" when using boosted PIs (lopinavir/ritonavir in particular) over unboosted PIs.
Footnotes
Paterson DL, Swindells S, Mohr J, et al. Adherence to protease inhibitor therapy and outcomes in patients with HIV infection. Ann Intern Med. July 4, 2000;133(1):21-30.
Shuter J, Sarlo JA, Kanmaz TJ, Rode RA, Zingman BS. The "95% adherence rule" may not apply to lopinavir/ritonavir (LPV/r) based HAART regimens. In: Program and abstracts of the XVI International AIDS Conference; August 13-18, 2006; Toronto, Canada. Abstract TUPE0110.