TMC114 (darunavir, Prezista) was recently approved in both the United States and Canada for use in combination with other antiretroviral agents for the treatment of HIV infection in adults. Approval was based on studies of antiretroviral-treatment-experienced adults infected with HIV-1 strains that are resistant to more than one protease inhibitor (PI). TMC114 is currently under review in Europe; meanwhile, it is available in Europe via an Expanded Access Program. TMC114 boosted with low-dose ritonavir (RTV, Norvir) is currently in ongoing phase 3 clinical trials in both treatment-experienced and treatment-naive individuals.
Three major clinical trials have been conducted using TMC114: two phase 2b studies known as POWER (Performance Of TMC114/r When Evaluated in triple-class-experienced patients with PI Resistance) 1 and POWER 2 and a large, non-comparative phase 3 efficacy and safety study known as POWER 3. In addition to these three trials, TMC114 is also being used as a component of the optimized background therapy in the DUET 1 and DUET 2 studies, a pair of phase 3 trials underway for the "second-generation" non-nucleoside reverse transcriptase inhibitor TMC125 (etravirine).
As the POWER 1 and POWER 2 studies had similar entry criteria, the results of these studies may be analyzed together. The 48-week results of these studies were presented at the XVI International AIDS Conference1 by Lazzarin. The 48-week data indicate a similar advantage to twice-daily TMC114 600 mg + ritonavir over the boosted control PI (CPI) as was previously observed at week 24. Notably, viral suppression below 50 copies/mL is maintained from week 24 through week 48. The results of the key efficacy parameters at week 24 and week 48 are shown in the table below.
24- and 48-Week Efficacy Outcomes in the POWER 1 and 2 Studies
Pooled POWER 1 and 2 Virologic Response Rates
Week 24
Week 48
Efficacy Parameter
TMC114/r 600/100 mg BID (n=131)
CPI (n=124)
P Value
TMC114/r 600/100 mg BID (n=110)
CPI (n=120)
P Value
Patients with HIV RNA >1.0 log10 reduction (%)
70
21
<.001
61
15
<.001
Patients with HIV RNA <50 copies/mL (%)
45
12
<.001
46
10
<.003
Mean HIV RNA log10 reduction (copies/mL)
-1.89
-0.48
<.001
-1.63
-0.35
<.001
Mean CD4 increase (cells/mm3)
92
17
<.001
102
19
<.005

The efficacy and safety of twice-daily TMC114 600 mg + ritonavir 100 mg was further investigated in the non-randomized, open-label POWER 3 study. Twenty-four-week results from this study were presented at this conference by Jean-Michel Molina and colleagues.2
The entry criteria used for POWER 3 were the same as those for POWER 1 and 2. POWER 3 recruited 327 patients, with efficacy analysis including 246 patients who reached week 24. POWER 3 data for the <50 copies/mL virological response are shown in the slide below, together with 24-week data from POWER 1 and POWER 2. The safety analysis included all patients.
Virologic Response Defined as HIV RNA <50 Copies/mL at Week 24 (ITT-TLOVR)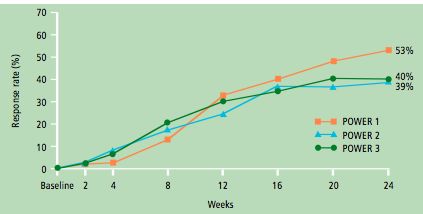 Baseline characteristics in POWER 3 were similar to those of POWER 1 and 2: mean viral load was 4.6 log10 copies/mL and median CD4+ cell count was 115 cells/mm3. No common treatment-limiting adverse events were observed in the POWER studies. The most common adverse events included nausea, diarrhea and headache, all of which occurred less frequently in the TMC114 arms than in the control PI arms. Shifts in lipid parameters on TMC114 were modest and did not differ from the control PI group.
Overall, the data indicate that TMC114 is a well-tolerated PI with retained activity against a wide range of viruses resistant to other PIs. When used in combination with other active agents, a high proportion of individuals commencing TMC114-containing regimens achieve and sustain complete viral suppression through 48 weeks. The efficacy levels demonstrated in the POWER studies set a new standard in the management of HIV-infected individuals who have experienced triple-class failure.
Footnotes
Lazzarin A, Queiroz-Telles F, Frank I, et al. TMC114 provides durable viral load suppression in treatment-experienced patients: POWER 1 and 2 combined week 48 analysis. In: Program and abstracts of the XVI International AIDS Conference; August 13-18, 2006; Toronto, Canada. Abstract TUAB0104.
View poster: Download PDF
Molina JM, Cohen C, Katlama C, et al. TMC114/r in treatment-experienced HIV patients in POWER 3: 24-week efficacy and safety analysis. In: Program and abstracts of the XVI International AIDS Conference; August 13-18, 2006; Toronto, Canada. Abstract TUPE0060.
View poster: Download PDF