The K65R mutation is known to develop in those who have taken certain nucleoside/nucleotide reverse transcriptase inhibitors (NRTIs), namely tenofovir (TDF, Viread), abacavir (ABC, Ziagen) and didanosine (ddI, Videx). In a German study presented at the XVI International AIDS Conference, Hoffmann and colleagues1 reported on the frequency and development of the K65R HIV-1 reverse transcriptase (RT) gene mutation in patients who were prescribed antiretroviral regimens that have been described in the RADATA (Resistance, Adherence, Drug Monitoring, Analysis of Treatment with Antiviral Drugs) program, a German, Web-based system for practitioners to get expert advice on HIV treatment decisions based on patient treatment history and resistance analysis. Patient outcome is monitored every three months. Viral load suppression is defined as having an HIV-RNA level below 50 copies/mL.
The RADATA database contains 669 patients, 20 (3%) of whom had a K65R mutation. These patients had had a median of 4.5 antiretroviral regimens and received a median of 55 months of antiretroviral treatment. All had received NRTIs and non-nucleoside reverse transcriptase inhibitors (NNRTIs), and 85% of these patients had received at least one protease inhibitor (PI). The most frequent additional RT mutations were K103N (75%) and M184V (60%). At least one thymidine analog mutation (TAM) was found in 35% of the patients.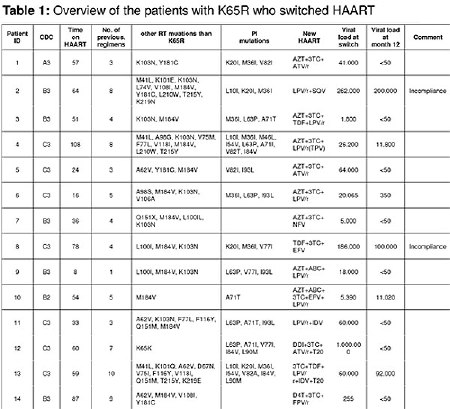 Click to enlarge
Table by C. Hoffman; reprinted with permission. For full PDF of poster, click
here
.

Of the 20 patients with the K65R mutation, three did not change their regimen. Of the 17 patients who did change antiretroviral regimens, two patients were lost to follow-up and one patient died. This left 14 patients who changed a regimen and were followed sufficiently enough to assess virologic outcome. Nine of the 14 (65%) patients had received tenofovir. Eight of the 14 (57%) patients demonstrated virologic suppression at 12 months, and 10 of the 14 (70%) did if they did not have TAMs. A sustained virologic response was seen in six out of eight (75%) of the patients who had no TAMs, but had K65R and were changed to an antiretroviral regimen that contained a thymidine analog.
The study concluded that the occurrence of a K65R mutation was rare in this cohort. The percentage of K65R found in this study is consistent with other studies that have recently been published. Further, a negative association has been previously described between the presence of K65R and the lack of TAMs. K65R, in the presence of multiple TAMs in the same viral strain, can result in increased susceptibility to zidovudine (AZT, Retrovir) (decreased fold-change), partially restoring zidovudine activity. Practitioners should be aware of the interrelationship between these mutations and which NRTIs may still have activity. The successful virologic outcome in patients from the current study can be explained in part by the change to zidovudine and to PIs that still had antiretroviral activity.
Footnote
Hoffmann C, Lorenzen T, Mutz A, et al, for the Radata Study Group. Sustained virological response despite K65R along with other resistance mutations in heavily pre-treated patients -- a Radata subanalysis. In: Program and abstracts of the XVI International AIDS Conference; August 13-18, 2006; Toronto, Canada. Abstract THPE0042.
View poster: Download PDF