Despite their generally experimental nature, structured treatment interruptions (STIs) are fairly common, and there may be a trend for even more STIs in HIV clinical care in the future. For example, the important Swiss HIV observational cohort tracks, among other things, HIV treatment status. In this cohort, 7.6% of patients were on HIV treatment interruption in January 1999. However, as of January 2003, 14.8% were in this category.1
Some STIs are, in fact, patient initiated, and the clinician learns about the situation after the fact. In other cases, the determination to initiate an STI is a shared decision that is often based on an attempt to mitigate medication-related toxicity. The following four case studies represent a variety of STI scenarios that might be encountered in practice. These case presentations should not be construed as an endorsement of STI, but rather as a reflection of some of the reasons for STI and its potential outcomes.
Case Study 1
A 38-year-old, gay male was diagnosed with HIV infection in April 1996. He presented with AIDS dementia complex and was found to have a CD4 count of 61 cells/mm3 and a viral load of 78,000 copies/mL. He was begun on a combination of stavudine (d4T, Zerit), lamivudine (3TC, Epivir) and indinavir (IDV, Crixivan) and demonstrated an excellent virologic and immunologic response. Two months into therapy, his CD4 count increased to 284 and his plasma HIV-RNA was less than 250 copies/mL. The findings of neurocognitive dysfunction gradually improved, eventually resolving completely after several months.
He remained on the same regimen of stavudine, lamivudine and indinavir until January 2000; his CD4 count was 826 cells/mm3 and his plasma HIV-RNA was less than 50 copies/mL. At that time, progressive obesity and abdominal visceral fat hypertrophy were noted and nevirapine (NVP, Viramune) was successfully substituted for indinavir. In 2001, a diagnosis of hypogonadism was made and testosterone replacement therapy was begun. He was also diagnosed with hypertension, which was treated with atenolol (Tenoretic, Tenormin) and enalapril (Vasotec).
In August 2001, his viral load was less than 50 copies/mL, his CD4 count was 725 cells/mm3 and his serum testosterone level was normal. Because of complaints of fatigue and malaise, and after discussion with his clinician, he elected to interrupt antiretroviral therapy. Two weeks after he stopped treatment, he developed a sore throat and headaches. Sinusitis was suspected and he was begun on azithromycin (Zithromax). There appeared to be transient improvement, but four weeks after he stopped treatment, he developed fevers accompanied by cervical lymphadenopathy and worsened fatigue. Despite empiric therapy with levafloxacin (Levaquin) for suspected sinusitis, within several days the headaches worsened and he developed encephalopathy along with a high fever and he was admitted to the hospital.
A brain computed tomography (CT) scan was negative for mass lesion. A lumbar puncture was performed and there were 250 white blood cells, 86% of which were lymphocytes. Cerebrospinal fluid protein was 85 mg/dL and glucose 56 mg/dL. He was treated empirically with ceftriaxone (Rocephin) and corticosteroids. The fluid rapid plasma reagin (RPR) was negative as were the bacterial cultures. A diagnosis of aseptic meningitis was made; ceftriaxone treatment was stopped and corticosteroid treatments were tapered off. His CD4 count was 301 cells/mm3 (21%) and his plasma HIV-RNA was 24,800 copies/mL.
After he was discharged from the hospital, he was started on zidovudine (ZDV, Retrovir) + lamivudine (ZDV+3TC, COM, Combivir) and efavirenz (EFV, Sustiva, Stocrin). He developed a rash from the efavirenz and the regimen was changed to zidovudine + lamivudine + abacavir (ABC, Ziagen) (ZDV+3TC+ABC, Trizivir). He tolerated the therapy well and there was a gradual resolution of the headaches and fatigue. In October 2001, his viral load was again undetectable and his CD4 count had increased to 514 cells/mm3. Subsequently, he experienced viral breakthrough with the development of resistance to zidovudine + lamivudine + abacavir. Currently he is on zidovudine + lamivudine + abacavir and tenofovir (TDF, Viread) and is clinically stable.
Discussion
This patient had acute retroviral syndrome or retroviral rebound syndrome, a potential complication of a STI.2 Some patients who discontinue therapy will develop a viral-type syndrome that, on occasion, may be quite severe. In this case, the aseptic meningitis was likely related to recrudescent HIV infection following years of quiescence created by effective HAART. Studies of primary HIV infection have shown that approximately one third of patients present with aseptic meningitis as a component of their illness.3
However, the risk of acute retroviral syndrome during an STI appears to be low, generally less than 5%, depending on which study is referenced. In the BASTA study,4 acute retroviral syndrome occurred in two of the 76 subjects in the STI group with the first STI, but not on subsequent interruptions. In the SSITT study, there were two cases of acute retroviral syndrome among the 133 subjects,5 although the short treatment interruption of only two weeks may have reduced the likelihood of this event. Thus, the overall risk of a retroviral rebound is low, but when it occurs, symptoms may be quite severe.
Case Study 2
A 58-year-old, male hemophiliac was diagnosed with HIV infection in 1993. His CD4 count was 350 cells/mm3 and therapy was commenced with zidovudine monotherapy. The course was complicated by anemia and treatment was placed on hold.
In 1996, he was given stavudine, lamivudine and indinavir. Subsequent viral load determinations were below the level of detection and his CD4 count improved and ranged around 500 cells/mm3 over the next several years. The course was complicated by the development of painful sensory neuropathy and he was treated with amitriptyline (Elavil, Endep).
Despite the use of amitriptyline, his neuropathy worsened and eventually stavudine was stopped and delavirdine (DLV, Rescriptor) was substituted. The neuropathy continued to be poorly controlled and he was begun on controlled release morphine (Kadian, MS Contin, MSIR, Oramorph SR, RMS, Roxanol, Roxanol 100). Because of this chronic pain and the sedation caused by the pain management narcotics, he retired from work.
He developed progressive abdominal protuberance, post-prandial bloating and weight gain in 2001, which responded to neither diet nor exercise. His viral load was undetectable and his CD4 count was 488 cells/mm3. The decision was made to discontinue his antiretroviral medications. Within several weeks his bloating improved and over the next several months his abdominal protuberance began to recede. His plasma HIV-RNA has remained below the level of detection from 2001 to January 2004 and his CD4 count has fluctuated between 300 and 400 cells/mm3. EIA for HIV and Western Blot testing have been repeatedly positive.
Figure 1: Plasma Levels of HIV-RNA in Case Study #2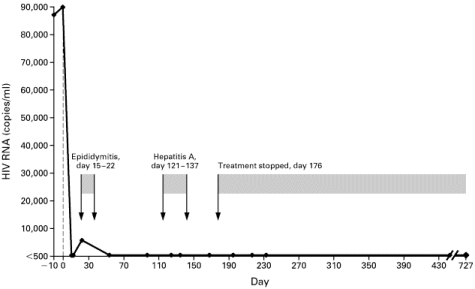 Plasma levels of HIV-RNA were measured using a branched-chain DNA assay with a limit of sensitivity of 500 copies per milliliter. Day 0 was the first day of treatment. Shaded areas indicate periods of no treatment.
Discussion
This unusual case demonstrates that rare patients treated with HAART are able to maintain virologic control even after antiretroviral therapy is withdrawn. This phenomenon was first described in 1999 with the example of the "Berlin" patient,6 a patient who had been started on antiretrovirals during acute infection and had therapy temporarily stopped on two occasions. When his therapy was stopped altogether, he maintained long-term viral suppression.
In this present case, our hemophiliac patient was probably not treated during acute HIV infection. In addition, we did not have a baseline viral load prior to initiating antiretroviral therapy since he had been started on HAART in 1993 -- before HIV-RNA testing had become commercially available. It is possible that he may have had a favorable prognosis with low viral load prior to starting antiretroviral therapy, although he did have a fairly low CD4 count and percentage reflecting enough viral activity to lead to immune damage.
As mentioned, the impetus for this patient's treatment interruption was directly related to antiretroviral toxicity, including the severe painful peripheral neuropathy from stavudine that had led to his subsequent early retirement. Gastrointestinal side effects and progressive abdominal protuberance also were responsible for his treatment interruption. Once therapy was stopped, all these symptoms significantly improved. An added and unexpected bonus of this STI has been this patient's prolonged time off therapy with an undetectable viral load and stable immunologic function.
It is unclear why the rare patient with HIV infection is able to maintain long-term virologic control after treatment interruption. This case, also atypical, was presented to highlight the fact that unexpected observations may stimulate investigation into new areas and sometimes lead to a better understanding of disease states. Just as the "Berlin" patient led to research interest into STI for acute HIV infection, study of cases like this may clarify the mechanisms of virologic control with STI after long-term treatment in chronically infected patients. Ongoing STI studies such as "SMART" will provide some answers as to the frequency of virologic control after STI in chronic infection. However, at this point, there is no way of predicting which patient will be able to maintain virologic control after stopping. In the meanwhile, anecdotal cases like this one continue to tantalize clinicians and sustain interest in STI.
Case Study 3
In March 2001, a 25-year-old male was diagnosed with AIDS when he was found to have pneumocystis carinii pneumonia. At that time, his CD4 count was 43 and his viral load was 280,000. He commenced a regimen of lopinavir/ritonavir (LPV/r, Kaletra), zidovudine and lamivudine. Over the next two years of therapy, his viral load became undetectable and his CD4 count gradually rose to greater than 500 cells/mm3.
In October 2003, he complained of worsening nausea, anorexia, diarrhea and profound fatigue. As a result of these symptoms, he was taken off antiretroviral medications. Within two weeks, his gastrointestinal symptoms largely subsided, but the fatigue continued. A repeat viral load test eight weeks after therapy interruption showed that his viral load had risen to 75,000 copies/mL and, simultaneously, his CD4 count had dropped to 220 cells/mm3.
He was put back on treatment, with a regimen of once-daily ritonavir (RTV, Norvir), atazanavir (ATV, Reyataz), lamivudine and tenofovir. Eight weeks after resuming therapy, he was tolerating the medications well and a repeat viral load test showed <75 copies/mL and his CD4 count had increased to 350 cells/mm3.
Discussion
This case illustrates the point, now observed in multiple cohort studies,5 that individuals with a low nadir CD4 count and high viral set point are generally not able to stop therapy for long periods.
This patient had a crescendo pattern of worsening gastrointestinal side effects that quickly resolved after treatment interruption. However, virologic and immunologic parameters also quickly deteriorated and led to early resumption of treatment.
This STI provided an opportunity for this patient to change to a new regimen with the hope of better tolerability and continued virologic control. One of the more common errors in the management of HIV is the continuation of an antiretroviral regimen in the presence of ongoing toxicity. Because of the aversive effect of medication-related toxicity, continuation of such treatment increases the likelihood of poor adherence. Clinicians should keep in mind that a patient's quality of life is compromised by forging ahead with a regimen in spite of progressive toxicity, which will certainly affect treatment compliance. There are now more than 17 approved antiretroviral agents, and except for patients who have multidrug-resistant virus, it will almost always be possible to individualize therapy somewhat and construct a well-tolerated regimen.
Case Study 4
A 51-year-old male was diagnosed with HIV in 1989. He started antiretroviral therapy in 1992 and received, in sequence, zidovudine monotherapy, dual nucleosides and ultimately a triple combination of zidovudine, lamivudine and indinavir.
In 1998, his regimen was modified to zidovudine + lamivudine, ritonavir and indinavir and this was continued to January 2003. In 1997, his CD4 count was 197 cells/mm3 and by January 2003 had increased to 538 cells/mm3. His plasma HIV-RNA had been consistently below the level of detection for years.
However, this patient was obese, hypertensive and smoked two packs of cigarettes daily. On antiretroviral therapy, his lipid levels had progressively increased:
September 1998: cholesterol 146 mg/dl, triglyceride 372 mg/dl
December 2001: cholesterol 290 mg/dl, triglyceride 1049 mg/dl
In June 2002, he had an acute myocardial infarction that led to an angiogram and the placement of a left anterior descending stent. He was begun on clopidogrel (Plavix), aspirin (Alka-Seltzer, ASA, Ascriptin A/D, Aspergum, Bayer, Bufferin, Easprin, Ecotrin, Empirin), atorvastatin (Lipitor), atenolol and ramipril (Altace), and reduced his smoking to five cigarettes per day. Despite these measures, in January 2003 his cholesterol was 530 mg/dl and his triglycerides 3,180 mg/dl. He was also diagnosed with diabetes mellitus in January 2003, with a fasting blood glucose of 164 mg/dl and a hemoglobin A1C of 7.3 mg/dl. He developed recurrent angina and oral nitrates were added to his regimen.
In February 2003, he moved from Boston to Florida in the hopes a warmer climate would improve his health.
On Feb. 27, 2003, his cholesterol was 368 mg/dl and his triglycerides were 2,375 mg/dl. Antiretroviral therapy was discontinued and, with no other changes in the regimen, on March 27, 2003 his cholesterol was 82 mg/dl and his triglycerides were 368 mg/dl. The daily episodes of angina resolved within one week of stopping antiretroviral therapy.
In June 2003, he experienced a cerebellar ischemic stroke related to basilar artery atherosclerosis. The resultant ataxia precluded him from riding his motorcycle for several months. He improved with physical therapy, has quit smoking and is clinically stable. He is currently on an STI with a plasma HIV-RNA in the 100,000 copies/mL range and has a CD4 count in the 250 cells/mm3 range.
Discussion
This case provides a rather dramatic example of the potential adverse metabolic effects of antiretroviral therapy in a patient with multiple risk factors.
Protease inhibitors (PIs) in particular have a substantial impact on metabolic parameters.7 Lipid elevations and insulin resistance are commonly seen, especially with indinavir and lopinavir/ritonavir-based therapy. One of the advantages of the newly released PI, atazanavir, is its neutral effects on lipids.8
However, NRTIs also influence lipids. Recent studies have shown that stavudine increases cholesterol and triglycerides much more than tenofovir.9 Nonnucleosides also demonstrate differences in lipid effects; nevirapine increases high-density lipoprotein (HDL) cholesterol more than efavirenz and produces a more favorable total cholesterol:HDL cholesterol ratio.10
We now know that the metabolic impact of therapy should always be considered when making treatment decisions for an individual patient. In this case, despite multiple risk factors and demonstrated severe hyperlipidemia, this patient had never been treated with an NNRTI-based regimen. Several recent studies demonstrate the safety and effectiveness of switching from PI-based regimens to either NRTIs or NNRTIs in order to improve lipids.11 A PI to NNRTI switch strategy may also lead to improvements in insulin resistance and diabetes control.12 When patients develop significant hyperlipidemia or diabetes on PI-based therapy, it is appropriate to switch to a different regimen with less potential for metabolic side effects.
We are still learning about the adverse metabolic effects associated with antiretroviral therapy, which appear to be associated with higher rates of atherosclerosis and adverse cardiovascular outcomes. The D:A:D study, a large, prospective cohort of over 23,000 HIV-infected patients, demonstrated a 26% increased risk of myocardial infarction per year of exposure to antiretroviral therapy.13 And since many patients with HIV also have risk factors for heart disease, like obesity, smoking, family history of heart disease, this will be a continuing problem.
Case Study 5
A 25-year-old, gay male with multiple previous negative HIV tests went on vacation and, during a weekend of heavy cocaine use, had unprotected intercourse with multiple partners. Two weeks later, he developed a severe viral type illness characterized by headache, conjunctivitis, fever, anorexia and diarrhea. He promptly sought medical attention. An HIV antibody test was negative, but a quantitative plasma HIV-RNA came back positive at >500,000 copies/mL and he had a CD4 count of 489 cells/mm3.
Several weeks later he visited an HIV specialist and the decision was made to initiate antiretroviral therapy. Immediately prior to starting treatment, his plasma HIV-RNA was 57,000 copies/mL, his CD4 count was 460 cells/mm3, and an HIV genotype showed wild-type virus. A regimen of tenofovir, lamivudine and efavirenz, with all medications taken together at bedtime, was commenced. He tolerated the medications well except for morning dizziness and a "hung over" feeling that gradually improved and, after two weeks, resolved completely.
Follow-up testing at week 4 showed that his viral load had dropped to 640 copies/mL and his CD4 count was 610 cells/mm3. By week 8 his plasma HIV-RNA level was undetectable and his CD4 count was 723 cells/mm3. A repeat HIV EIA and a Western Blot confirmatory test were positive. At this time, he had unprotected intercourse with an HIV-positive individual who was on antiretroviral therapy, but with incomplete viral suppression. The new sexual contact had a plasma HIV-RNA that had recently been measured at 1,000 copies/mL, but no resistance testing was available. Because of this second exposure, the original plan to stop HAART was postponed, and therapy was continued for an additional month before it was discontinued.
He had received a total of 12 weeks of continuous antiretroviral therapy before the discontinuation. Four weeks after stopping treatment, his plasma HIV-RNA remained undetectable, although eight weeks later it rebounded to 1,200 copies/mL. From a clinical perspective, he was asymptomatic. After an additional eight weeks, his viral load was 800 copies/mL and, during this time off medications, his CD4 count ranged from 600 to 750 copies/mL. The patient and his clinician planned to monitor his course off antiretroviral therapy and consider restarting if his viral load showed a consistent increase above 5,000 copies/mL.
Discussion
In this case, prompt diagnosis of HIV infection in a patient at high risk led to early treatment with HAART. Notably, even before initiation of antiretroviral therapy, there was a reduction in viral load from >500,000 copies/mL to 57,000 copies/mL. This aspect of the case highlights the ability of HIV-specific immune responses to gain some measure of control over viral replication. For this patient, commencement of combination antiretroviral therapy led to rapid virologic control and improvement in his CD4 count.
After three months of HAART, treatment was suspended as part of a planned STI strategy. In the short term, this patient has done well with plasma HIV-RNA levels remaining relatively low off therapy. Of course, it is impossible to know whether this patient would have ended up with a similarly low viral load had he not initiated HAART early.
Much of the interest in STI was generated from early positive results found in observational case studies in patients with primary HIV infection. Although it is estimated that about 40,000 new cases of HIV infection occur in the United States each year, the great majority are not diagnosed during the early acute phase. Some patients are not diagnosed early because the infection is silent, but the non-specific nature of findings in those with symptomatic infection and a low index of suspicion among front-line clinicians also contribute to misdiagnosis.
Also, the shift in the epidemic towards the heterosexual and minority populations accounts for some of the challenges in establishing an early diagnosis. Many of those currently at risk for HIV infection do not perceive themselves to be at risk, and present to emergency departments or urgent care centers that are not equipped for HIV counseling and testing. Moreover, sometimes when HIV is considered in the differential diagnosis and testing is ordered, only an antibody test is performed and not a test to measure viral replication and thus the diagnosis may be missed. As this case illustrates, the early diagnosis of primary HIV infection before seroconversion depends on measuring HIV-RNA.
For the rare few who are diagnosed with primary HIV infection there are no clear answers on the most appropriate management. Based on positive reports from early STI studies in primary HIV infection,14 some clinicians will recommend a similar approach. The hope is that prompt treatment may curtail widespread dissemination of HIV and that STI may lead to some degree of autoimmunization. However, recent reports have shown that despite positive initial results with this approach, the majority of patients have loss of virologic control due to viral escape mutants.15 It is time for randomized, controlled trials of a variety of early treatment strategies in patients with primary HIV infection to help guide clinical management.
For Structured Treatment Interruptions Part I: Overview, click here.
References