Part I: Research Update
Part II:
Introduction
There is no doubt that antiretroviral treatment today is simpler to take and has fewer toxicities than ever before. However, many of the people who began treatment years ago are still taking older regimens, many of which may have significant toxicities. Although clinicians have been wary of switching active drugs, an increasing number of studies have shown that this can be accomplished without adverse consequences and can improve a regimen's side effect profile, dosing frequency and pill burden. This year at the 12th Conference on Retroviruses and Opportunistic Infections (CROI) in Boston, there were several presentations addressing the topic of switching antiretroviral agents.
Switches in antiretroviral therapy have become quite common and are primarily considered in 3 circumstances:
As a treatment strategy to optimize a patient's treatment response. This may include changes in therapy for patients who have suboptimal clinical, virologic or immunologic responses. In this category, we can include patients who are failing their antiretroviral treatment and patients who are undergoing intensification of their regimen.
As a simplification strategy to make an already effective regimen easier to take. Patients switching for this reason include those who are changing their therapy -- despite having had good virologic responses -- in order to decrease the amount of pills they take, decrease dosing frequency or to avoid other specific drug requirements. Patients changing to one of the new fixed-dose combinations (FDCs) are included in this group.
To manage or prevent an adverse event or toxicity. Patients wishing to prevent or to manage lipoatrophy, dyslipidemia, anemia, or other metabolic complications, may switch for this reason.
This article will focus exclusively on treatment switches made for reasons of simplification or the management/prevention of antiretroviral-related toxicities.
Simplification Switches
With the development of additional antiretroviral agents that have favorable pharmacokinetic profiles for once-daily administration, it is not surprising that we continue to see studies designed to quantify the benefit of combining such agents in a once-daily regimen. Several of these regimens have become quite popular for the treatment of naive patients and are becoming increasingly more in demand by patients who have already begun therapy.
Another treatment approach that has grown more common involves the simplification of an antiretroviral treatment by switching to a FDC. Some studies have suggested that the convenience provided by these combined drugs will result in better adherence, without compromising long-term efficacy and safety.1 In addition, at the XV International AIDS Conference in Bangkok, Thailand, data were presented suggesting that the simplicity of once-daily therapy may translate into much improved clinical outcomes.2 More studies are needed to confirm this concept.
At this year's CROI, 2 studies presented data on switching in order to simplify treatment. The first one was a follow-up by Jean-Michel Molina et al of his previously presented French study: the ALIZE-ANRS 099 Trial.
The original study was a prospective, open-label, multicenter study in which 355 patients who were virologically controlled on a protease inhibitor (PI)-based regimen, were randomized to either continue their regimen (n=177) or to switch to a once-daily combination (n=178) of emtricitabine (FTC, Emtriva) + didanosine (ddI, Videx) + efavirenz (EFV, Sustiva, Stocrin). The previously presented data showed at 12 months that the once-daily arm was not inferior to the PI arm according to the virologic efficacy end-point.3
After the initial 12 months of this study, only the patients who had been in the once-daily arm were followed for an additional 2 years. Molina presented the results of the additional 2 years of follow-up for this once-daily arm.4
At the end of the additional 2 years of follow-up, of the initial 178 participants, 56 (32%) had discontinued the study for various reasons. The proportion of patients who had a plasma HIV RNA under 400 copies was 95% in an intent-to-treat analysis (ITT) and 96% in the as-treated population. The mean change in CD4+ cell count was modest (128 cells/mm3). In addition, 39% of the patients had at least one sign of lipodystrophy.
The investigators concluded that the substitution of a PI-based regimen with a simplified once-daily regimen of emtricitabine + didanosine + efavirenz was well tolerated and associated with long-term virologic suppression.
Another simplification study presented, known as the SEAL study (ESS30008), was sponsored by GlaxoSmithKline. It compared the combination pill known as Epzicom (Kivexa in Europe), which contains abacavir (ABC, Ziagen) and lamivudine (3TC, Epivir), to individual drugs in a treatment-experienced population that had controlled infection.5
The efficacy and safety of abacavir + lamivudine given either once or twice daily, or in a single pill as a FDC, have been extensively studied in antiretroviral-naive patients as part of non-nucleoside reverse transcriptase inhibitor (NNRTI) regimens.1,6
The SEAL study was a 48-week, phase III, randomized, open-label study that enrolled HIV-1- infected patients who had initiated treatment with twice-daily abacavir and twice-daily lamivudine, plus either a PI or an NNRTI. At the time of study entry, all trial participants had to have been on therapy for a minimum of 3 months, and had to have an HIV RNA of less than 400 copies/mL with a CD4+ cell count of more than 50 cells/mm3.
The 260 patients were randomized to either continue their abacavir + lamivudine regimen (twice-daily group), or switch to the abacavir/lamivudine FDC (once-daily group). They all continued their third drug, which, in two thirds of the patients, was an NNRTI. Because these patients were already on therapy, the rate of discontinuation after switching or continuing with their regimen was quite low (8% versus 10%, respectively).
In the once-daily FDC group, the proportion of patients who continued to respond (non-virologic failures) was 95% and 93% for the twice-daily group. These results did not change if the patients were stratified by the third drug (the PI or NNRTI) in their regimen.
The proportion of patients whose HIV-1 RNA fell to below 50 copies was 81% in the once-daily group and 82% for the twice-daily group in an ITT analysis. Participants' CD4+ cell counts, which were fairly high at baseline (median 554 cells), remained stable in both groups.
Overall, the combination of abacavir + lamivudine, either given as individual components or as a fixed-dose combination tablet, was extremely well tolerated. Only 2 subjects discontinued the study due to adverse events, which the researchers felt were not related to the study medications. As expected, no hypersensitivity to abacavir was reported in this abacavir treatment-experienced population.
During the 48 weeks of the study, 6 patients developed virologic failure: 4 of these patients were in the NNRTI group and 2 were in the PI group. For each of the 6 patients, the virologic failure was felt to be because of non-adherence. For this study, optimal adherence was considered to be above 95%, based on previous data. The proportion of patients achieving such a high level of adherence was 39% in the once-daily FDC group versus 31% in the twice-daily group.
The authors concluded that the fixed-dose combination of abacavir/lamivudine is associated with a potent and durable antiviral response, which was non-inferior to the response seen with abacavir + lamivudine when given as separate components twice daily.
Overall, these 2 simple studies provide more data corroborating what we have been learning over the past few years regarding the benefits of treatment simplifications, by either offering our patients once-daily antiretroviral treatment and/or by offering a treatment simplification with the use of a fixed-dose combination drug.
It is important to keep in mind though that the patients who were selected for participation in these studies had already had an excellent response to their first antiretroviral therapy regimen. It is highly unlikely that they had previously developed any underlying resistance while on therapy. So this bias in patient selection needs to be considered when extrapolating these study results to clinical practice. These treatment simplifications may not be an option for many patients who may have already developed partial resistance to some antiretroviral agents on prior regimens. In order to avoid adverse outcomes, it's vital to know what prior antiretrovirals your patients have been on and what their responses were before any such simplifications are made.
Switches for the Management of Antiretroviral Toxicity
Determining the causative factors for metabolic complications is complex. These complications can be caused by different drug classes or by HIV itself.7 There are currently a multitude of ongoing trials attempting to address this issue.
There were several elegant presentations at this year's CROI addressing the management and the prevention of metabolic complications by changing therapy in patients who are already virologically controlled. Some studies focused on switches made from nucleoside/nucleotide reverse transcriptase inhibitors (NRTIs) to PIs for the improvement of lipoatrophy. In other studies, patients were switched off their PIs and onto a reverse transcriptase inhibitor in order to manage or prevent dyslipidemia and insulin resistance. A few other studies addressed specific complications such as anemia.
Switches to Improve Lipoatrophy
One of the most troubling side effects of long-term antiretroviral regimens is appendicular fat loss. Many studies have already documented the effects of nucleosides on the development of lipoatrophic changes (fat loss) in the trunk and extremities.8
It is important that these lipodystrophic side effects are addressed because they have been found to have a negative impact on both the physical and psychological well being of a patient. The weight loss in a patient's face, as well as in his or her arms and legs, often leads to stigmatization, decreased self-esteem and depression.
Several studies in the past, including the MITOX9 and the TARHEEL10 studies, have demonstrated that switching from a thymidine analog partially reversed lipoatrophy.
So, NRTI-sparing regimens are attractive potential alternatives to avoid the toxicities associated with NRTI therapy. In addition, mitochondrial dysfunction has been suggested as at least one potential underlying mechanism in the pathogenesis of peripheral lipoatrophy and dyslipidemia, which are associated with some thymidine analogs.
Robert Murphy, from Northwestern University Medical School, presented the results of the AIDS Clinical Trials Group (ACTG) study 5110, which was designed to assess lipoatrophy in patients switching to a thymidine analog-sparing or a nucleoside-sparing regimen.11
Patients who were receiving the thymidine analog of either stavudine (d4T, Zerit) or zidovudine (AZT, Retrovir), who had an HIV RNA equal to or less than 500 copies/mL and had clinical evidence of peripheral lipoatrophy, were randomized to:
switch their thymidine analog to abacavir (the abacavir group, n=40);
discontinue their antiretroviral therapy and start lopinavir/ritonavir (LPV/r, Kaletra) + nevirapine (NVP, Viramune) (the NRTI-sparing group, n=37); or
continue their therapy and delay a switch for 24 weeks (the delayed switch group, n=24).
To better evaluate changes in tissue fat, patients underwent centrally analyzed single-slide computerized tomography (CT) of their mid-thigh and abdominal fat. In addition, dual energy X-ray absorptiometry (DEXA) scans were obtained at baseline and week 24, along with other metabolic and immunologic parameters.
The group that had their switch delayed, began their intervention at week 24. Eleven patients were switched to abacavir and 13 patients were switched to lopinavir/ritonavir + nevirapine. All patients were followed for 48 weeks after their change in therapy.
The following slides summarize the median percentage changes at 24 weeks in abdominal SAT (subcutaneous adipose tissue) and VAT (visceral adipose tissue).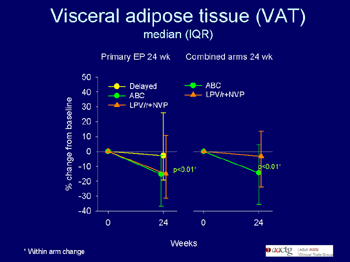 Visceral adipose tissue (VAT)
Click here to enlarge.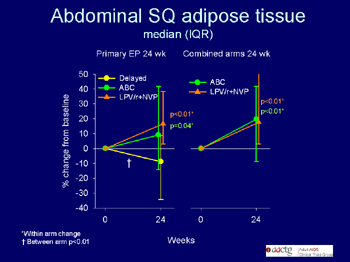 Abdominal SQ adipose tissue
Click here to enlarge.
(Slides courtesy Robert Murphy; reprinted with permission. To download the full PowerPoint slide presentation, click here.)
At 24 weeks, subcutaneous thigh fat increased in the lopinavir/ritonavir + nevirapine group. There were significant SAT increases and significant VAT decreases for both interventions, and a decrease in VAT for the abacavir group. There were no significant changes seen in either glucose or insulin levels.
The lopinavir/ritonavir + nevirapine group had higher total cholesterol and triglyceride levels, but no changes in the high-density lipoprotein cholesterol (HDL-C). There were also no changes in bone mineral density (BMD). There was also a significant increase in CD4+ cell count for the lopinavir/ritonavir + nevirapine group.
This study clearly adds further evidence that switching patients off a thymidine analog is associated with significant improvements in some of the lipoatrophic manifestations clinically observed in some patients. The question, however, remains whether regimens omitting NRTIs altogether (not just a thymidine analog sparing regimen) will increase appendicular fat. It was Pablo Tebas, from the University of Pennsylvania, who endeavored to answer this question in his presentation of the ACTG 5125s study results.12
In this study, investigators wanted to demonstrate that a switch to a PI-containing/NRTI-sparing regimen would increase appendicular fat content and serum lipid levels without affecting glucose metabolism or BMD. ACTG 5125s is a metabolic sub-study of the larger trial A5116, which was conducted to determine the effects of a PI-containing, NRTI-sparing regimen on fat distribution and BMD by using whole body and regional DEXA, as well as other metabolic parameters.
Sixty-two subjects who initially had advanced HIV disease (nadir CD4+ cell counts of less than 200 cells/mm3), but were well controlled on their regimen at the time of study entry (HIV RNA equal to or less than 200 copies), were randomized to switch their initial successful antiretroviral regimen to open-label lopinavir/ritonavir + efavirenz (n=31) or switch to efavirenz + 2 NRTIs (n=31).
Patients were not allowed to enter the study if they were taking growth hormone, megestrol (Megace), anticytokine agents, ketoconazole (Nizoral), systemic glucocorticoids or treatment for osteoporosis.
There were no significant differences with regards to glucose metabolism, lipids, fat distribution and BMD between the 2 groups at baseline. The percentage of patients who had been taking stavudine at study entry was 19% for the lopinavir/ritonavir + efavirenz arm versus 25% for the NRTI arm.
At week 48, the median change in appendicular fat in the lopinavir/ritonavir + efavirenz arm was +562 grams (g) (-218 g to 1,186 g) versus a loss of -246 g (-631 g to 459 g) in the NRTI-containing arm (P = .097).
At the time of the last observation (n=46, median 104 weeks), a median gain of 782 g (an increase of 10%) of appendicular fat was noted in the non-NRTI arm versus a loss of -900 g (a decrease of 15%) in the NRTI-containing arm (P = .002).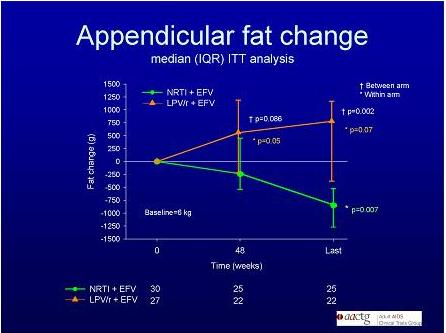 Appendicular fat change
Click here to enlarge.
(Slide courtesy Pablo Tebas; reprinted with permission. To download the full PDF slide presentation, click here.)
Patients had been taking different NRTIs at the time of study entry. These results provide additional evidence that the difference observed in the loss of appendicular fat was the result of the use of NRTIs in those patients. Unfortunately, the study was not large enough to determine differences between specific NRTIs, nor was it designed to determine the relative contribution of different NRTIs to lipoatrophy. Tebas pointed out that it was unlikely that stavudine might have driven the cumulative fat loss in the NRTI arm since less than 25% of the patients were taking stavudine in that arm.
At week 48, the lopinavir/ritonavir + efavirenz arm had greater increases in triglycerides (85 versus 11 mg/mL; P = .01) and in total cholesterol (+19 versus -7 mg/mL; P = .0008) compared with the NRTI arm. HDL-C were similar (+6 mg/mL for the lopinavir/ritonavir versus +2 for the NRTI arm). Trunk fat and BMD remained stable.
The findings in this study support previous observations noting that lopinavir/ritonavir has minimal effect on glucose metabolism, but that it is associated with greater increases in triglycerides and total cholesterol than the NRTI-containing regimen. These results also provide additional evidence that NRTIs are an important factor in the progressive appendicular fat that characterizes HIV lipoatrophy.
In another presentation, Graeme Moyle, from the Chelsea and Westminster Hospital in London, discussed the results of the RAVE Study.13
This study was conducted with the following assumptions:
thymidine analog therapy is associated with peripheral fat loss and lipoatrophy,8
a switch from a thymidine analog to abacavir has been associated with a gradual recovery of peripheral fat,14 and
neither abacavir nor tenofovir (TDF, Viread) have been convincingly associated with peripheral fat loss in prospective studies in treatment-naive patients.15
Thus, with those things in mind, in this study, 105 mostly white, male, virologically-controlled patients (with HIV RNA of less than 50 copies) taking zidovudine or stavudine were equally randomized to change their thymidine analog to either abacavir or tenofovir, plus continue their other nucleoside and PI or NNRTI.
At study entry, all patients had moderate to severe lipoatrophy. The investigators then looked at the change in total limb fat mass by DEXA, the changes in lipids, VAT by CT-scan, BMD, body fat, CD4+ cell count and HIV RNA for a period of 48 weeks.
At baseline, there was a significant difference in the number of patients who had been taking stavudine. In the tenofovir group, 77% of the patients had originally been on stavudine while 23% had been on zidovudine. In the abacavir group, 59% of the patients had been taking stavudine while 41% had been taking zidovudine. Unfortunately, the investigators were unable to stratify the study results based on the prior use of stavudine versus zidovudine.
The most important findings of this study are summarized in the following 2 slides: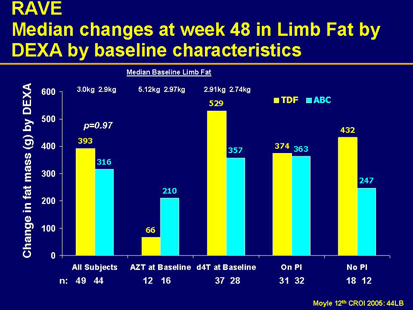 Median changes at week 48 in limb fat by DEXA by baseline characteristics
Click here to enlarge.
Median change in metabolic outcomes to week 48
Click here to enlarge.
(Slides courtesy Graeme Moyle; reprinted with permission. To download the full PowerPoint slide presentation, click here.)
When switching from thymidine analogs, both tenofovir and abacavir allowed similar restoration of limb fat over 48 weeks. There was a trend toward more fat restoration on the tenofovir arm that was not statistically significant. Virologic suppression was similarly maintained in both groups and there were similar CD4+ cell count changes. The lipid changes did favor the tenofovir arm. There was also no significant BMD changes observed.
So the overwhelming weight of the data presented during this presentation indicates that switching from a thymidine analog to abacavir or tenofovir can lead to significant increases in limb fat, and that the use of thymidine NRTI-sparing regimens as initial treatment may help to prevent the development of this complication altogether.
Ana Milinkovic, from Barcelona, Spain, presented another interesting study aimed at answering the question of whether a reduction in the dose of stavudine could prevent and/or reduce the development of stavudine-associated metabolic complications.16
In her study, 58 virologically-controlled patients (HIV RNA of less than 200 copies) on stavudine 40 mg twice daily were randomized to:
continue stavudine 40 mg twice daily,
decrease stavudine to 30 mg twice daily, or
switch to tenofovir.
More than two thirds of the patients in the study were taking an NNRTI-based regimen. Peripheral blood mononuclear cells (PBMCs) for mitochondrial analysis, DEXA scans and multiple other metabolic parameters were followed during the course of the study.
At 6 months, all patients but 1 in the stavudine 40-mg twice-daily group had plasma HIV RNA below 200 copies/mL. Significant changes in laboratory parameters, including mitochondrial function, were only detected in triglyceride and total cholesterol changes. In addition, mean changes in total peripheral fat and total lean mass were significantly different among the groups. (See slides below.)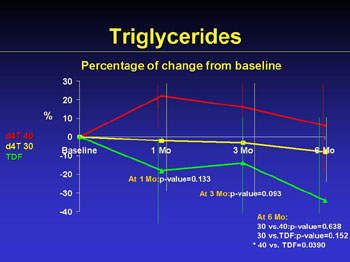 Triglycerides
Click here to enlarge.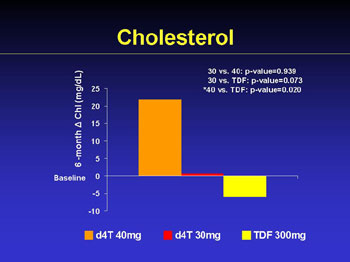 Cholesterol
Click here to enlarge.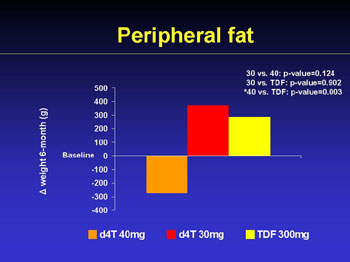 Peripheral fat
Click here to enlarge.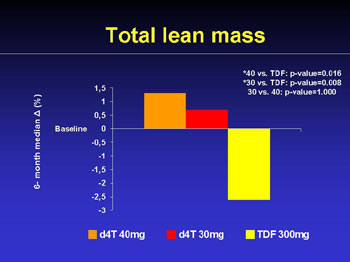 Total lean mass
Click here to enlarge.
(Slides courtesy Ana Milinkovic; reprinted with permission. To download the full PowerPoint slide presentation, click here.)
The investigator found that switching from stavudine 40 mg twice daily to tenofovir was associated with significant improvement in triglycerides, total cholesterol and body fat at 6 months.
Interestingly, the reduction in the stavudine dose from 40 mg twice daily to 30 mg twice daily was associated with an improvement in triglycerides, total cholesterol and body fat at 6 months, although the differences did not reach statistical significance.
Another switch study that showed improvement of subcutaneous fat after patients were switched from stavudine to tenofovir was the LIPOTEST Study, which was presented by Esteban Ribera from Barcelona, Spain.17 The investigators attempted to prove that a switch from stavudine to tenofovir would result in an increase in mitochondrial DNA (mtDNA) in PBMCs that would then result in an improvement in a patient's lipid profile as well as his or her peripheral lipoatrophy.
Fifty-three patients with HIV RNA below 50 copies and objective evidence of lipoatrophy, on a stavudine-containing regimen, were enrolled in the study and switched to tenofovir. The rest of their regimen remained unchanged. The investigators measured the ratio between the mitochondrial DNA and nuclear DNA in PBMCs by real-time PCR assay. Fat mass and subcutaneous malar fat thickness were determined by bioelectrical impedance analysis and sonography, respectively.
Although not statistically significant, the authors were able to demonstrate that the mtDNA content in the participants' PBMCs increased from a baseline of 42 (32-63) to 66 (45-112) at 18 months. This increase was associated with statistically significant decreases in both lactate and triglyceride levels, as well as statistically significant increases in malar fat and thickness.
Overall, these presentations add to the extensive research implicating the use of thymidine analogs as a direct culprit in the pathophysiology of lipoatrophy. It also appears very clear that switching from a thymidine analog to a non-thymidine analog (specifically abacavir or tenofovir) can lead to significant increases in limb fat. Furthermore the use of thymidine NRTI-sparing regimens as initial therapy in naive patients may help to prevent the development of these complications in the first place.
Switches to Manage Dyslipidemia
Dyslipidemia, which simply refers to abnormal levels of fats in the blood, has become a common problem affecting HIV-infected patients, and it has been associated with a higher incidence of cardiovascular disease in HIV-infected patients.18 Several studies have established a relationship between the use of some PIs and NRTIs with alterations in total cholesterol and triglycerides.
In patients treated with PIs, researchers have observed a pattern of dyslipidemia that includes an elevation in total cholesterol levels, a high level of low-density lipoprotein cholesterol (LDL-C), a reduced level of HDL-C and elevated triglycerides.
The association of dyslipidemia with certain antiretroviral agents has led to the development of switching strategies that are designed to exchange the potentially offending component for a drug not known to cause dyslipidemia. Although most PIs have been associated with significant dyslipidemia, an exception to this is the more recently approved PI, atazanavir (ATV, Reyataz), which has not been associated with increases in total cholesterol, LDL-C and/or triglycerides.
But, for the most part, replacing a PI component with a drug from another class has usually resulted in an improvement in lipid parameters. Similarly, stavudine has been implicated in the development of hypertriglyceridemia -- a condition that improves once stavudine is replaced with a non-thymidine reverse transcriptase.
Several studies addressed the benefit of switching some antiretroviral drugs in order to manage dyslipidemia. This article has already discussed the results of 3 studies in which the change from a thymidine analog to tenofovir resulted in significant lipid improvements in the tenofovir arm.13,16,17
Michael Sension presented the preliminary 12-week results of the study AI424067.19 This study was designed to examine the effect on lipid parameters of a switch to atazanavir 400 mg once daily from another PI (boosted or not) in virologically-controlled patients. Patients (n=246) were randomized to either switch to atazanavir and continue their nucleosides, or continue with their current PI therapy. They then compared the percentage change from baseline in fasting total cholesterol, LDL-C, HDL-C, triglycerides, Apolipoprotein B and lipoprotein A.
The following graph shows the results of the mean fasting LDL-C and triglycerides from baseline through week 12 in this group.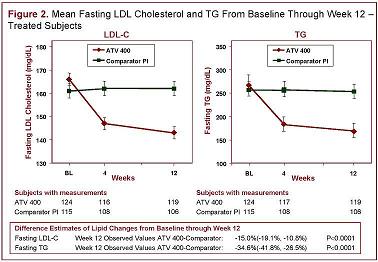 Mean fasting LDL cholesterol and TG from baseline through week 12 -- treated subjects
Click here to enlarge.
(Slide courtesy Emelio F. Ledesma; reprinted with permission. To download the complete PDF poster, click here.)
In the preliminary 12-week results of this 48-week study, the researchers were able to show significant reductions in participants' LDL-C after switching another PI to atazanavir, with no changes in efficacy between the arms. A statistically significant difference was observed in Grade 3-4 hyperbilirubinemia between the atazanavir and the continuation arms (22% versus less than 1%, respectively).
Another study, presented by Martinez from Barcelona, Spain, examined the effects of switching to ritonavir (RTV, Norvir)-boosted atazanavir on HIV-infected patients who were receiving antiretroviral therapy and experiencing hyperlipidemia.20 In this study, they analyzed data collected from 162 patients who received boosted atazanavir and who had evidence of hyperlipidemia at baseline (i.e., triglycerides greater than 500 mg/dL, and/or total cholesterol greater than 200 mg/dL, and/or LDL-C greater than 130 mg/dL).
The study showed that the median lipid changes from baseline to month 6 were: -18% in triglycerides (P<.0001), -12% in total cholesterol (P<.0001), -10% in LDL-C (P<.0001) and -3% in HDL-C (P>.05).
The proportion of patients with triglycerides greater than 500 mg/dL decreased from 33% to 10% (P<.0001), total cholesterol greater than 200 mg/dL from 90% to 51% (P<.0001), and LDL-C greater than 130 mg/dL from 65% to 36% (P<.0001).
In conclusion, this study found that in this patient population, switching to a ritonavir-boosted atazanavir was well tolerated, and was associated with significant improvements in plasma lipids, without an increased risk of virologic failure. There was also a significant reduction in the proportion of patients using concomitant lipid-lowering agents.
Calza et al, from the University of Bologna, Italy, presented the results of an interesting study in which patients with highly active antiretroviral therapy (HAART)-related dyslipidemia were either switched from a PI to an NNRTI or a lipid-lowering agent was added to their PI regimen.21
This study contained 142 randomized patients (130 patients were eligible for evaluation). Its purpose was to assess the efficacy on hyperlipidemia of a switch from a PI to nevirapine (n=29) or a switch to efavirenz (n=34), or the addition of pravastatin (Pravachol) (n=36) or bezafibrate (n=31) to their otherwise unchanged antiretroviral combination.
At baseline, all patients had a viral load below 50 copies, were taking a PI-containing regimen, were naive to NNRTIs and had for at least 6 months documented mixed hyperlipidemia (that had not responded previously with a diet intervention).
At the end of the 12-month follow-up, the reductions in mean triglycerides were 25.2%, 9.4%, 41.2% and 46.6%, and the reductions in total cholesterol were 27.1%, 10.2%, 45.8% and 37.6% for the nevirapine, efavirenz, pravastatin and bezafibrate groups, respectively.
So, as you can see, giving patients pravastatin and bezafibrate proved to be significantly more effective in the management of HAART-related hyperlipidemia than switching therapy from a PI to an NNRTI. Of note, however, is that pravastatin was found to be statistically more effective than bezafibrate, and nevirapine was found to be statistically more effective than efavirenz in reducing both plasma triglycerides and total cholesterol levels.
Switches to Manage Antiretroviral-Related Anemia
HIV-related anemia has been found in multiple studies to be multifactorial; however, one of the major culprits is the concomitant use of zidovudine, which is well known to be myelosuppressive. The importance of addressing anemia in HIV is clear, since a low hemoglobin level has been found to be an independent risk factor for progression to AIDS and death.22
In 2 recent trials that compared the use of zidovudine versus either abacavir6 or tenofovir1 (in combination with lamivudine or emtricitabine + efavirenz) in treatment-naive patients, the incidence of anemia leading to study discontinuation was found to be 4%-6% in the zidovudine arm. Therefore switching patients who had anemia and had been receiving zidovudine to either abacavir or tenofovir might be expected to result in hematologic improvements.
In another study, researchers assessed the hematologic benefits of switching from regimens containing a PI + zidovudine + lamivudine to efavirenz + didanosine + emtricitabine. This was a substudy of the French ALIZE ANRS 099 study.23
This open-label study was conducted for 48 weeks. Three hundred fifty-five patients were randomized to continue their PI regimen, or switch to an entire once-daily regimen. Of those patients, only 150 were taking zidovudine + lamivudine + a PI at baseline: 76 continued their baseline therapy and 74 were switched to emtricitabine + didanosine + efavirenz.
The mean change in hemoglobin from baseline to week 48, after switching to the once-daily regimen (and thus switching off of zidovudine), was +0.7 grams/dL versus -0.4 grams/dL (PI + zidovudine) (P<.01). There was also a statistically significant increase in the mean change of neutrophils (32% versus 6%). All of these patients were able to maintain virologic and immunologic control on their new regimen.
Conclusion
So, in conclusion, for HIV-infected patients who are just starting antiretroviral therapy, there are plenty of promising new options with a reduced potential for long-term metabolic complications.
For patients already on therapy with older drugs, there is compelling evidence that a switch off some of those older drugs may be appropriate in order to manage the emergence of an adverse event, such as dyslipidemia and lipoatrophy. In many instances, the switch is to a simpler regimen with easier once-daily scheduling and a low pill burden.
The results of these studies support the now common practice among many HIV providers: When patients experience toxicities and there are other options, providers switch medications. So, although switching to a less toxic antiretroviral therapy regimen is not new, having the clinical data to support that change and corroborate what we long suspected is extremely valuable.
Edwin DeJesus, M.D., is the medical director of Infectious Diseases Consultants Research Initiatives in Florida. In addition to treating HIV and hepatitis patients, he serves as the firm's principal investigator for several clinical trials. He is also a consultant for the Florida Department of Corrections, where he participated in the prototype HIV Prison Unit currently operating in central Florida.
Please read both the Research Update and the Case Studies sections of this article.
References