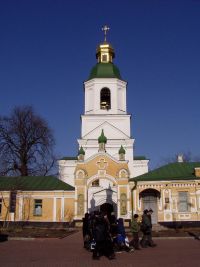 Photo by Ben Young, M.D.
Kiev, the capital of Ukraine, is a beautiful, hilly city of golden-domed churches that straddles the Dnieper River. Since the fall of the Soviet Union, Kiev has experienced a renewed surge of economic and political energy. It is a popular tourist attraction and is highly regarded in Eastern Europe as one of the region's cultural and industrial hubs. However, despite the appearance of development, vigor and wealth, Kiev is also a troubled place. In my work as part of an international effort to train HIV health care providers in Kiev, I often see first-hand many of the difficulties that roil beneath the surface of this fabled city.
Several times in the past year, I've taken the 14-hour flight from Denver, Colo., to Kiev to assist in training doctors, nurses, psychologists and social workers in the care of people with HIV. Our efforts are facilitated by a non-governmental organization (NGO) program called the AIDS Knowledge Hub. Several international donor organizations fund the Knowledge Hub, which brings health care teams from throughout Eastern Europe and Central Asia to Kiev for training.
Kiev, as well as the rest of Ukraine, is a place with a growing HIV population -- perhaps some of the most rapid epidemic growth in the world occurs here. It's estimated that Ukraine has between 70,000 and 200,000 HIV-infected persons, most of whom face incredible stigma and alienation. That stigma, combined with the low pay for health care professionals (the average physician in Ukraine earns only about US$150 to US$200 monthly; nurses earn only US$20 to US$50 a month), can make it a daunting task to find doctors, especially medical specialists, who are willing to treat people with HIV.
The Ukrainian epidemic stands in stark contradiction to the stereotype that Americans hold about HIV in non-developed countries: that the epidemic is fueled by people of color -- mostly Africans and Asians, particularly men. In Ukraine, nearly all patients are white, almost half are women, and most are younger than 25. Antiretroviral medications have only recently become available in Kiev; the prognosis for the many HIV-infected Ukrainians is as bleak as it was for American patients in the pre-HAART era.
Advertisement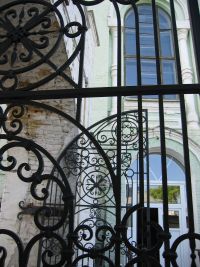 The gates to Lavra clinic and monastery; photo by Ben Young, M.D.
In Kiev, most HIV-infected patients receive their care at a place called Kiev-Pechersk Lavra, or "monastery of the caves." The picturesque grounds are believed to date back to the 11th century, and have a long and storied
history
. Lavra's HIV clinic is situated in an old building on the sacred grounds of the monastery. The metal gates of the monastery stand as silent witness to the pilgrimages of those seeking salvation and aid, whether they come because of their faith or because of their HIV status.
Every three months, I return to Lavra to help develop its HIV care program. My quarterly return is punctuated by heartrending developments: Too often, I find that patients I had met only two or three months earlier have died since my last visit. This is particularly tragic, because all of the patients I see are young adults -- an equal mix of men and women. It's like walking onto a college campus where everyone is dying. The epidemic here is heterosexually driven, so besides all the young couples diagnosed, there are lots of children with HIV. The Lavra clinic, however, doesn't see a lot of pediatric AIDS cases; pediatricians or obstetricians provide this care elsewhere in the city.
Many patients arrive at Lavra too sick to be helped -- or, even worse, they need treatment that is not yet available in Kiev. Access to antiretrovirals is a given throughout much of the developed world, but in Ukraine, the scale-up of antiretroviral medications has been painfully slow. There are only 2,000 patients on HIV treatment in the country, even though as many as 200,000 citizens are living with HIV.
This access gap extends far beyond antiretrovirals: For instance, cytomegalovirus retinitis, an opportunistic infection that has become relatively rare among HIV-infected patients in Western countries, occurs frequently here. Most patients at Lavra who are unlucky enough to get it end up going blind, for the most unfair of reasons: Doctors here can't diagnose the disease, because they don't even have access to an ophthalmoscope -- a tool used by virtually every doctor in the United States during a routine physical exam. As for coinfections, the clinical situation is even worse; diagnostic tests for hepatitis B or hepatitis C are not available at all.
A greater tragedy is unfolding on the tuberculosis (TB) front. TB is a preventable, easily treatable illness in the developed world, but many of the HIV-infected patients who make it to Lavra are already actively dying from TB, and have a CD4+ cell count under 20. In many parts of Eastern Europe, the number-one opportunistic infection for HIV-infected patients is TB. It's extremely difficult to treat TB and HIV simultaneously, because TB meds interact with protease inhibitors, severely limiting a patient's HIV treatment options. Thus health care providers are forced to treat the TB first, and hope patients live long enough to begin HIV treatment later.
Of course, this is assuming that doctors even know they're treating a patient with both TB and HIV. Lack of communication between specialists is a serious logistical problem: In Ukraine each medical specialty has its own hospital, so HIV and TB specialists often don't have the opportunity to talk to each other. Even worse, it can sometimes be more dangerous for a patient if their TB specialist knows they have HIV. The stigma of HIV is so pervasive that it has even infested the health care profession, where one would hope that clinical objectivity would prevail. Tragically, it's not unknown for TB specialists to turn away patients who are coinfected with HIV.
In fact, one patient I met at Lavra was a bright young woman whose HIV diagnosis came while she was in a hospital to remove what neurosurgeons thought was a brain tumor. It turned out to be a tuberculosis brain abscess. Once the neurosurgeons discovered she was HIV positive, they told her that there was nothing else they could do for her. She was immediately discharged and forced out onto the streets while still recuperating from the operation -- effectively a death sentence for someone in her condition. Fortunately, she found her way to Lavra, and after months of TB and HIV treatment, her health has improved. She's now in training to be a HIV health advocate.
We were able to help this one woman, but how many more people, after being turned away by their hospital, were unable to find the help they needed? And how many don't even seek out help in the first place? In many parts of Eastern Europe, an HIV diagnosis is equated with injection drug use or prostitution -- practices that are pegged with monumental stigma. As a result, most patients wait until they have debilitating symptoms to enter care. Often, their CD4+ cell counts are so low that they don't make it.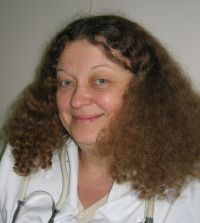 Dr. Svetlana Antoniak; photo by Ben Young, M.D.
Yet, despite these challenges and despite delays in scale-up that threaten funding for HIV care from the World Bank and Global Fund, the Lavra clinic and the work of the Knowledge Hub provide a glimmer of hope that things can get better in Ukraine. The Lavra facility owes much of its existence to Dr. Svetlana Antoniak, a long-time HIV doctor, advocate and national icon. Dr. Antoniak has been leading the struggle in the care of HIV-infected patients and for medical education in Kiev since 1987; her presence reminds me of the impact that Paul Volberding, Vice Chair of Medicine at the University of California, has had on HIV care in the United States. Dr. Antoniak has a gentle presence that belies the importance she plays in the lives of thousands of HIV-infected persons in Ukraine.
Through the tireless work of Dr. Antoniak and many others, Ukrainian patients who gain access to care and medications do have their lives and health restored. In turn, many of those survivors go on to become advocates for patient education and greater access to HIV medications. Up until the last few years, Lavra was the only place in Ukraine (and probably much of the former Soviet Republics) where patients could get a CD4+ cell count and viral load test. Thanks to the heroic efforts of health care providers and advocates in this region, that dire situation is slowly beginning to improve.
On my last visit to Lavra, I sat down with staff physician Tatiana Suprunenko, M.D., and head nurse Tatiana Savina to discuss the Lavra clinic, as well as the medical and personal experiences both women have had since the scale-up of antiretroviral therapy access began.
Tell me about HIV-infected patients in Ukraine.
Suprunenko: Officially, there are over 70,000 HIV patients in Ukraine. Most have been infected through injection drug use, but recently, an increasing number of new patients are heterosexual. Now, about 30% are women.
Tell me about the Lavra clinic.
Suprunenko: Lavra clinic has been providing care to HIV patients since 1987. The clinic receives funding through the Academy of Medical Sciences and the department of AIDS research institute. Medications are provided from funding from the Academy and the Global Fund.
Savina: At Lavra there are about 300 patients on antiretroviral therapy; since 2000, there have been over 2,000 patients under care. Most of these patients were diagnosed and receive care at the clinic.
When did antiretroviral therapy (ART) arrive in Ukraine?
Suprunenko and Savina: Antiretrovirals arrived in Ukraine in 2000; at that time, Lavra was the only provider of medications in the country. In the initial period of time, only a limited number of patients, 48, received antiretroviral therapy. Since August 2004, due to Global Fund monies and scale-up of antiretroviral therapy, of course, the number increased.
What changes have you seen since the arrival of ART?
Suprunenko: A lot of things have changed. Before the era of ART, all the patients were doomed; now they see hope. We see good results; [ART] works.
Savina: We see more patients now, since more people are learning about ART. Trainings have been initiated and this has been good for the patients and the people are more and more positive in attitude.
What is your preferred first-line treatment?
Suprunenko: AZT [zidovudine, Retrovir], 3TC [lamivudine, Epivir] and efavirenz [Sustiva, Stocrin].
[Lavra also provides d4T (stavudine, Zerit), ddI (didanosine, Videx), nevirapine (Viramune), nelfinavir (Viracept) and lopinavir/ritonavir (Kaletra) to their patients. BY]
What kinds of AIDS complications do you see?
Suprunenko: Tuberculosis is number one, toxoplasmosis, esophageal candidiasis, CMV retinitis and pneumocystis. With regard to antiretroviral therapy, we see peripheral neuropathy and lactic acidosis are on the rise. I believe that we don't see as much drug allergy since we use efavirenz more than nevirapine.
[In the few weeks I spent in Kiev, I saw more TB (including multiple cases of TB meningitis), cerebral toxoplasmosis and lactic acidosis than in all my years of medicine in the United States. BY]
Personal Perspectives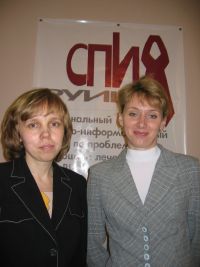 Dr. Tatiana Suprunenko (left) and head nurse Tatiana Savina (right); photo by Ben Young, M.D.
The experiences of doctors and nurses can give an intimate insider's view of HIV heath care. I asked Dr. Tatiana Suprunenko and head nurse Tatiana Savina to share their personal stories.
How long have you been involved with HIV care?
Suprunenko: Ten years.
Savina: I've been working here as head nurse for three years.
Ten years ago in Kiev, it couldn't have been very desirable to be an HIV doctor -- why did you choose to do HIV medicine?
Suprunenko: Actually, the situation hasn't changed in 10 years; HIV still isn't a "desirable" area. First of all, it was very interesting. This is a promising area of medicine; I can learn a lot of new things. Everything changes very quickly. Personally, a very important factor was that I got to know Dr. Antoniak. I decided to stay [at Lavra] to work with her.
Savina: Ever since I was a student of psychology at the Medicine Institute, I wanted to learn the psychological approaches of working with HIV patients. These approaches haven't been well explored. I've known Dr. Antoniak and Dr. Suprunenko for a long period of time through their work with the AIDS foundation. We discussed these opportunities and I decided to work here.
How has HIV medicine changed since the arrival of antiretroviral therapies?
Suprunenko: New therapies give hope. It's easier now because of hope. The biggest success is the good outcomes in some patients. Very helpful here is a very good team of nurses and social workers.
What sort of challenges do you face?
Suprunenko: We're very fearful for the lack of continuity to ART -- the possibility that we'll lose access. Also, the clinic is very big. We sometimes don't have physical time -- so sometimes we have to stay past 8 in the evening. It's a burn-out effect.
Savina: Seeing the first HIV-infected child die was the hardest. And the record keeping. The national requirement is to have paper format and the Global Fund requires electronic format. We're doing the same work twice. So it takes a lot of time. Other than the paperwork, the challenge is to spend enough time with family. They're not happy about it, but we're used to it.
I think in this way we are very similar. What is your five-year forecast for HIV patients in Ukraine?
Suprunenko: We are hopeful that we'll have ART for more years. Otherwise, it will be too horrible to even try to image; we would have only compassion [with which] to treat our patients.
Savina: I hope that we will see less tuberculosis. We are very lucky that Dr. Antoniak is here. If ART is still here and the Global Fund is here, maybe the country will do something; I'm hopeful that the condition of our patients will improve.
Tatiana Suprunenko and Tatiana Savina, spasiba bolshoi (thank you very much).
For more on the HIV/AIDS epidemic in Ukraine, read this report recently released by the World Bank.