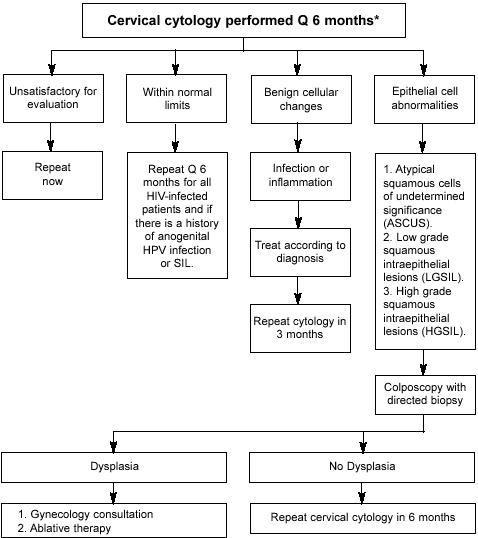 Infection with human papillomavirus (HPV) has been causally linked with the development of cervical cancer and over 90% of invasive cervical tumors harbor HPV DNA.(1, 2) Over 65 different HPV types have been identified and grouped into low-risk or high-risk categories on the basis of each type's association with a benign or malignant disease process.(3) The high-risk types 16 and 18 can be detected in roughly 70% of all invasive cervical tumors. PCR technology (polymerase chain reaction) has been the preferred methodology for virus identification and typing on isolated DNA, and will become an adjunct means of diagnosing HPV.
Persistent HPV infection is more prevalent among HIV-infected women, thus clinicians should be vigilant about Pap smears and close gynecologic follow-up.
* Cervical cytology is recommended every 6 months because the correctional population of women is at high risk for complications.
Advertisement
References
Bosch, F. X., Manos, M. M., Munoz, N., Sherman, M., Jansen, A. M., et al. Prevalence of human papillomavirus in cervical cancer: a worldwide perspective. International biological study on cervical cancer (IBSCC) Study Group [see comments]. J Natl Cancer Inst, 87: 796-802, 1995.
Liaw, K.L., Glass, A.G., Manos, M.M., Greer, C.E., Scott, D.R., Sherman, M., Bruk, et al. Detection of human papilllomavirus DNA in cytologiacally normal women and subsequent cervical squamous intraeptithelial lesions. J Natl Cancer Inst. 91 (11) 954-60 1999.

Back to the HEPP News May 2001 contents page.