Introduction
Discriminating diners who frequent The Thai Spoon, on Wabash between Harrison and Balbo in Chicago, will notice a stately if worn building almost directly across the street. Although empty during September 2003's 43rd ICAAC, a legend above expansive ground-floor windows names the former occupant:
Advertisement
"Universal Bowling & Golf Corporation"
A neon banner once generously advised prospective clients:
"Customer One-Hour Free Parking Across the Street"
But across the street, on a locked gate, a sign now directs drivers elsewhere:
"LOT CLOSED: Use Lot Across the Street"
Would-be parkers, thus ping-ponged, can be excused if they drive off miffed. But HIV docs and the people they care for, always a strong contingent at busy ICAACs, have learned to duck disappointment's ricochets. And this year's sessions offered a fistful:
Exhibit A. What for all the world promised to be a neat, simple, and rarely toxic regimen -- once-daily tenofovir disoproxil fumarate (TDF) taken with a fixed-dose formula of once-daily lamivudine (3TC) and abacavir (ABC) -- flopped fast in a big randomized study [abstract 1722a].
Exhibit B. An attention-getting salvage combo, lopinavir/ritonavir (LPV/RTV) with the streamlined amprenavir (APV) prodrug -- fosamprenavir (fos-APV) -- misfired pharmacokinetically, in a big way [abstract 855a].
Exhibit C. The metric many touted as a key to salvage planning, the inhibitory quotient or IQ, did not do what it was supposed to do -- predict outcome -- in 11 clinical trials featuring various combos of seven protease inhibitors [abstract 1779].
Exhibit D. Troublesome infections with opportunistic bacteria may be much rarer in the Golden Age of highly active antiretroviral therapy (HAART), but a closer look shows spiraling rates of antibiotic resistance to some of those pathogens [abstract 1923].
Exhibit E. World Health Organization advice that HIV-infected Africans with CD4 counts under 500 cells/mm3 take prophylactic trimethoprim/sulfamethoxazole (TMP/SMX) to ward off bacterial disease left lots more people with TMP/SMX-resistant E coli [abstract 1721].
Despite these jarring reversals, one witnessed no keens of despair, no skyward fist shaking, no garment rending. The bad news -- duly scrawled on lined pads or digitized on silicon chips -- fattened physicians' "Don't Do" fact-books alongside taboos like avoiding zidovudine/stavudine (AZT/d4T) and keeping women who want babies off efavirenz (EFV). Elasticity is all.
And of course the meeting had a modicum of good news: Once-daily ABC/3TC does work, as long as you give it with the right third drug (EFV in two studies). Recycling some antique antiretrovirals -- didanosine (ddI) in a large French trial -- can pay off. Two studies got good results from CD4-guided drug breaks, though time off treatment lasted longest in people whose CD4s didn't sink too low before they started therapy. So welcome to Chicago and the 43rd ICAAC. Just don't try parking around Universal Bowling & Golf.
Choosing Sides, Charting Tides
News on nucleosides and the sovereign nucleotide TDF, in a small surprise, dominated antiretroviral reports at the 2003 ICAAC. This renascent focus on the first antiretroviral class -- and indeed on some of the first antiretrovirals -- owes itself partly to chance and partly to the ceaseless quest for simplicity in prescriptive planning. As chance would have it, the next round of PI, nonnucleoside (NNRTI), and entry inhibitor trials were maturing toward 2004 debuts as the autumnal equinox crept toward Chicago. At the same time, nuke news happened to hit high noon. But unlike the midday sun, what many hoped would be the brightest nucleostar cast some long shadows.
Failure With Tenofovir, Abacavir, and 3TC
The fourth year of the fresh millennium has not brought glad tidings on triple-nucleoside regimens, and the tidings got worse at ICAAC. The AIDS Clinical Trials Group (ACTG) shut down the AZT/3TC/ABC (Trizivir) arm of protocol A5095 when the 32-week response to the three nukes fell significantly short of responses to EFV plus Trizivir or AZT/3TC in people starting their first antiretrovirals.
1
Following details of that study at the 2nd IAS Conference came the flash that once-daily 3TC, ABC, and TDF failed to control HIV in 11 of 19 first-time antiretroviral takers.
2
On the same day that news broke, Glaxo revamped the protocol of a two-arm study to stop treatment with a once-a-day dose of the same three drugs but to continue treatment with 3TC, ABC, and EFV. Joel Gallant (Johns Hopkins University, Baltimore) spelled out results of the Glaxo trial at ICAAC [abstract 1722a].
Gallant and colleagues hoped to enroll 360 treatment-naive people for a 48-week study comparing standard doses of EFV and TDF, each taken with a fixed-dose, only-daily combination of ABC and 3TC (600/300 mg daily). The nucleoside/nucleotide medley looked good on paper, with TDF and 3TC already licensed as once-daily drugs and research by Peter Piliero (Albany Medical College) charting a 20.6-hour intracellular half-life for ABC's active form, carbovir triphosphate, with a 95 percent confidence interval from 16.4 to 25.9 hours [abstract 1797]. Once-daily ABC did as well as twice-daily doses in a randomized double-blind study of people also taking once-daily 3TC and EFV [see abstract 1722b below]. On top of that, earlier research measured 1.5-log drops in viral load with TDF monotherapy, and no work suggested virologic antagonism between TDF and the other drugs or risky pharmacologic interactions.
But pretrial evidence is one thing, and on-trial efficacy is another, as this study powerfully demonstrated. When Glaxo started getting investigator reports of more than a few early virologic breakthroughs, the researchers swiftly launched an interim analysis involving 194 people with at least eight weeks of virologic response data. They defined nonresponse by three criteria:
Less than a 2-log viral load drop by week 8
At least a 1-log rebound from the lowest viral load reached
A confirmed reading of 400 copies/mL after consecutive loads below 50 copies/mL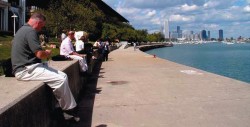 As the autumn solstice crept toward Chicago, ICAAC attendees stole a few minutes of sunshine outside McCormick Place. Inside, HIV docs learned which once-daily regimens work, and which don't, why the highest IQ doesn't always signal the smartest regimen, and how bacterial resistance has changed. Photo: Mark Mascolini.
Fifty of 102 people (49 percent) in the TDF arm met criteria 1 (n=32) or 2 (n=8) or both 1 and 2 (n=10), while the EFV regimen failed in only five of 92 (5.4 percent) (P<0.001). Among people treated for 16 weeks, 29 percent taking TDF and 95 percent taking EFV had a viral load under 50 copies/mL. Trial planners closed the TDF arm. People taking TDF, 3TC, and ABC could remain in the study after their clinicians picked a new regimen.
Glaxo sent clinicians a letter warning them to avoid triple therapy with the three drugs, to consider changing that regimen in people already taking it, and to monitor people closely if they are taking TDF, 3TC, and ABC along with another drug.3 At ICAAC Gallant said he is not rushing to revise four-drug regimens including TDF, 3TC, and ABC because "the fourth drug may make all the difference." But he's keeping his eyes open.
What went wrong? Discussing the trial in an ICAAC lecture, Joseph Eron (University of North Carolina, Chapel Hill) preferred to strop Ockham's razor -- favoring the simplest answer as the most likely correct answer. And that answer is resistance. Both 3TC and ABC can select the M184V or I mutation, and both ABC and TDF can select K65R. "To me," Eron said, "it seems the resistance story here is very, very compelling."
To be sure. Gallant reported resistance results for 36 people in whom the nucleoside/tide regimen failed. Twenty-three of them (64 percent) had M184V plus K65R, and 13 (36 percent) had M184V or I without K65R. But he cautioned that those numbers don't prove Eron's point, because resistance may be either the cause or the effect of failure.
Gallant listed four hypotheses that may explain the triple-drug failure, but he swiftly dispatched two of them. Inadequate efficacy of once-daily ABC/3TC seems unlikely because that combination is doing well as a partner with EFV in the same trial. Another possibility -- a drug interaction between TDF and ABC -- did not turn up in a Gilead single-dose study of ABC and TDF in five men and three women [abstract 1615]. Giving 300 mg of TDF with 300 mg of ABC, the Gilead team found that neither affected plasma levels of the other drug.
The Gilead study did not disprove a third hypothesis -- an intracellular interaction between TDF and ABC or 3TC. The fourth hypothesis is Eron's theorem -- a low barrier to resistance with these three drugs. These latter two theories are being investigated. The study makes one point that needs no further investigation: Combining any three or four drugs does not automatically yield HAART. At least in first-line therapy, clinicians should stick to combinations backed by clinical trial results unless there are compelling reasons to do otherwise.
Abacavir Once Daily With Efavirenz
Two trials sized up various regimens combining ABC and EFV, one of them showing equivalence between once- and twice-daily ABC with 3TC as the third drug. The other charted good responses to Trizivir plus EFV as a starting regimen in people diagnosed with perilously low CD4 counts.
The placebo-controlled ZODIAC study randomized 770 treatment-naive people to take ABC once or twice a day along with once-daily 3TC and EFV [abstract 1722b]. The median pretreatment CD4 count measured 262 cells/mm3, and the median viral load stood at 4.9 logs; 44 percent of study participants began treatment with more than 100,000 copies/mL.
Brian Gazzard (Chelsea and Westminster Hospital, London) reported a 66 percent response rate in the once-daily arm and a 68 percent response rate in the twice-daily arm after 48 weeks. The protocol defined responders as those with a viral load below 50 copies/mL and still taking their assigned regimen. Ten people taking once-a-day ABC suffered a virologic failure, as did eight taking ABC twice daily. Dropouts were also equivalent between arms. Virologic response rates did not vary with baseline viral load. In a 48-week on-treatment analysis, 87 percent in the once-daily group and 86 percent in the twice-daily group had sub-50 responses. The once-daily regimen boosted the median CD4 count by 188 cells/mm3 after 48 weeks, and the twice-daily regimen by 200 cells/mm3.
Among people who had a virologic failure, mutation rates were similar in the two groups. The most common mutations were M184V/I (48 percent), K103N (45 percent), and the ABC-linked L74V (26 percent). The K65R mutation, which ABC may also evoke, arose once. All resistant viral isolates remained susceptible to AZT, d4T, and TDF.
Hypersensitivity to ABC affected 9 percent taking once-daily ABC and 7 percent on twice-daily dosing. The higher rates in this study than in earlier ABC trials, Gazzard proposed, probably reflect stricter protocol guidelines for stopping ABC to quell suspected hypersensitivity.
TETRA, an open-label, single-arm trial, tested twice-daily Trizivir plus EFV in 55 people diagnosed with a CD4 count under 200 cells/mm3 [abstract 839]. And most of them had T-cell tallies well short of that, reported Philippa Easterbrook (King's College Hospital, London). The median count stood at a scant 54 cells/mm3, and 47 people (85 percent) had fewer than 100 cells/mm3. The median viral load measured 5.45 logs (interquartile range 5.13 to 5.80 logs). Thirty-one enrollees (56 percent) were black Africans, and 17 (31 percent) were women.
Easterbrook and colleagues gauged responses in an as-treated analysis and a switch-included analysis that counted people who swapped EFV for nevirapine (NVP) but excluded those with missing data. Because of 18 withdrawals before week 48 -- eight possibly attributed to side effects -- the switch-included sub-50 response rate lagged the as-treated rate by 30 percent (Table 1). Three people dropped out because of ABC hypersensitivity and three because of central nervous system reactions. The median CD4 count climbed to 256 cells/mm3 (interquartile range 180 to 358 cells/mm3) during the trial. Ninety percent of study participants reported adherence of 95 percent or higher.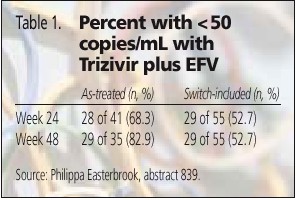 Total cholesterol rose significantly over 48 weeks (from a median of 3.87 to 5.04 mmol/L, P<0.001) but remained below the National Cholesterol Education Program threshold for intervention (6.22 mmol/L) in everyone. Triglycerides inched up, nonsignificantly, from a median 1.28 to 1.36 mmol/L.
Analysis of Seven Triple-Nuke Studies
A cross-study comparison of seven triple-nucleoside trials involving treatment-naive people aimed to compare emtricitabine (FTC), d4T, and ABC with 3TC, AZT, and ABC [abstract 868]. But perhaps the more important lesson is the modest 48-week intent-to-treat response rate in nearly all of these trials. The analysis did not include ACTG 5095, the trial in which Trizivir failed to match AZT/3TC/EFV or Trizivir/EFV in treatment-naive people.
1
Yet in that trial the 48-week Kaplan-Meier estimate of a sub-50-copy response to Trizivir -- 61 percent -- exceeded response rates in five of the six AZT/3TC/ABC studies analyzed at ICAAC by Ian Sanne (Parktown, South Africa).
Sanne sized up 48-week missing-data-equal-failure rates in trials of treatment-naive adults. The six AZT/3TC/ABC studies (see note 4) included 795 people, while the one FTC/d4T/ABC trial had 188. The FTC study differed from most of the 3TC studies in having fewer men (43 percent versus 87, 85, 69, and 32 percent). Perhaps more important, the median baseline viral load was lower in the FTC study (4.2 logs) than in all but one of the 3TC studies (5.0, 4.9, 4.8, 4.8, 4.8, and 4.2 logs). But median starting CD4 counts were similar across studies -- measuring 388 cells/mm3 with FTC and ranging from 331 to 450 cells/mm3 with 3TC.
The intent-to-treat analyses also showed similar virologic and immunologic responses across the seven trials (Table 2). But the overall virologic failure rate at week 48 proved significantly lower with FTC/d4T/ABC (9 percent) than with AZT/3TC/ABC (15 percent, P<0.01). Among people who had virologic failures, 52 percent in the FTC group and 74 percent in the 3TC groups had the M184V or I mutation (P<0.02).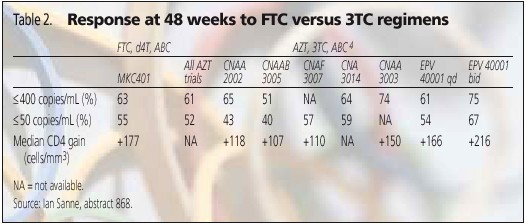 The larger question this analysis raises is whether one wants a 55 percent sub-50 response rate with FTC and two other nucleosides in people starting therapy, or whether one prefers the 76 percent 48-week response that FTC, ddI, and EFV can attain.5 Significantly fewer position 184 mutations arose in two trials combining FTC with a nonnucleoside (27 percent of virologic failures) than in the FTC/d4T/ABC study (52 percent of failures, P=0.035), as one would expect since both FTC and ABC can select for M184V/I mutations [abstract 908]. But the overall mutation rate was nonsignificantly higher in the NNRTI trials (63 percent of failures) than in the ABC trial (52 percent of failures) because NNRTI-associated mutations arose in trials using those drugs.
First-Line NNRTIs Versus Abacavir or Nelfinavir
A prospective cohort study confirmed a more potent antiviral punch with first-line EFV or NVP than with an ABC regimen [abstract 839]. A multivariate analysis controlling for baseline AIDS, CD4 count, and viral load found a four times greater chance of reaching a viral load below 50 copies/mL with an NNRTI than with ABC (95 percent confidence interval 1.49 to 10, P=0.02).
María Pérez-Elías (Hospital Ramón y Cajal, Madrid) tracked 49 people who started AZT/3TC/ABC and 51 who started AZT/3TC plus EFV or NVP between January 1999 and December 2002. The groups matched closely in baseline CD4 count (311 cells/mm3 overall) and viral load (4.8 logs overall), though 18 percent in the NNRTI group had an AIDS diagnosis versus 4 percent in the ABC group. The median time to changing the regimen measured 409 days (range 54 to 764 days) with ABC and 814 days (range 575 to 1,053 days) with a nonnucleoside (P=0.061). One year after beginning treatment, 68 percent who started a nonnucleoside and 51 percent who started ABC had stayed with their original regimen.
Most of the infectious disease specialists who come to ICAAC probably didn't need this extra evidence that triple-nucleoside regimens lag NNRTI and PI combinations in front-line horsepower. In an interactive session including about 700 physicians and other prescribers, Roy Gulick (Cornell University, New York) sketched the case of a newly diagnosed 29-year-old woman whose CD4 count falls from 372 to 265 cells/mm3 between her first and second visits. The audience voted overwhelmingly to start treatment, 71 percent with two nucleosides and one NNRTI, 22 percent with two nucleosides and a boosted or unboosted PI, and 5 percent with three nucleosides or three nucleosides and TDF.
Nonnucleosides also came up smelling like roses in a 1,119-person analysis of first-time antiretroviral takers [abstract 849]. Nevirapine and EFV, as well as indinavir (IDV)/RTV, proved more puissant than nelfinavir (NFV) in this study by Azra Ghani from London's Imperial College and collaborators from the Netherlands' ATHENA cohort. They logged responses of U.S. and Dutch patients starting a first regimen hinged on NFV (n=339), NVP (n=400), EFV (n=271), IDV/RTV (n=48), or LPV/RTV (n=61). Perhaps because of the small number starting LPV/RTV, Ghani could not confirm a better response to that mainstay of contemporary therapy, although LPV easily outdid NFV in a randomized trial.6
People starting a PI generally had lower CD4 counts and higher viral loads than those starting NVP or EFV. After statistical adjustment for these and other baseline variables, Ghani found significantly faster RNA ebbs to below 500 copies/mL with EFV, NVP, and IDV/RTV than with NFV (Table 3). Time to a confirmed viral rebound above 500 copies/mL proved significantly longer with EFV or NVP than with NFV (Table 3).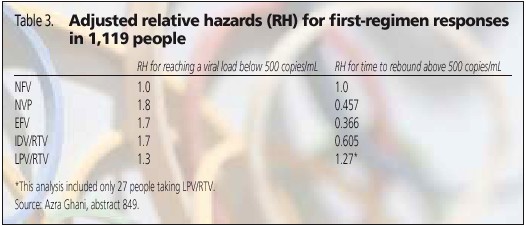 Abacavir "Noninferior" to AZT
The language of statistics -- with its null hypotheses, confidence intervals, and adjusted relative hazard ratios -- can sometimes leave the statistically uninitiated groping for a trial's take-home message. But in the case of a big trial comparing ABC with AZT as initial therapy, the language seemed to question the study's very rationale. After 48 weeks of treating 654 adults with ABC or AZT (plus 3TC and EFV), researchers proved that ABC is "noninferior" to AZT [abstract 446].
That outcome, presented by Edwin DeJesus (IDC Research Initiative, Altamonte Springs, Florida), seems to say that -- all things being equal -- one may as well stick with trusty old AZT/3TC, which probably was not Glaxo's aim in funding the study. But that appears to be the bias of 700 or so prescribers attending ICAAC's interactive session on HIV. When Roy Gulick asked what nucleosides (or -tide) they would pick to go with a first-line nonnucleoside or PI for a woman with moderately advanced infection, 58 percent favored AZT/3TC and only 8 percent ABC/3TC. (Tenofovir/3TC came in second with 20 percent. No one picked ddI/d4T.)
This double-blind, placebo-controlled study compared twice-daily ABC with twice-daily AZT, coupled with twice-daily 3TC and once-daily EFV in treatment-naive residents of the United States, Europe, and Latin America. An intent-to-treat analysis of people who started their assigned regimen found nearly identical responses in the two arms. The overall response rate at week 48 measured 70 percent with ABC and 69 percent with AZT. Among nonresponders, 6 percent taking ABC and 4 percent taking AZT had a virologic failure, 13 percent taking ABC and 15 percent taking AZT quit because of side effects, and 11 percent taking ABC and 12 percent taking AZT quit for other reasons. All of the responders had a week-48 viral load below 50 copies/mL. A pretreatment viral load above 100,000 copies/mL did not diminish the response to either regimen.
The only apparent difference between study arms was a significantly greater CD4 gain with ABC (209 cells/mm3) than with AZT (155 cells/mm3, P=0.0039). That struck some attendees as odd because it's usually easier to find RNA differences than it is to smoke out CD4 disparities. Joseph Eron noted that an early study of d4T versus AZT also found an edge (for d4T) in absolute CD4 cells gained, but not in CD4 percent.
More perplexing, at least at first blush, was ABC's virologic equivalence with AZT in this study, despite ABC's greater suppression of viremia in monotherapy trials. Perhaps the antiviral vigor of the other drugs in the regimen washed out any virologic edge ABC may have over AZT. Demonstrating any difference between ABC and AZT becomes difficult, Roy Gulick observed, when so many people in both groups get below 50 copies/mL.
Treatment-limiting side effects met expectations -- more hypersensitivity reactions with ABC (8 percent versus less than 1 percent with AZT) and more anemia with AZT (4 percent versus 0 percent). As in the ZODIAC study [abstract 1722b], the higher hypersensitivity rate in this study than in earlier trials may reflect a more exacting definition of that problem. People taking AZT suffered more from antiretroviral-associated blahs than people taking ABC, including nausea (37 versus 23 percent), fatigue (26 versus 16 percent), and vomiting (21 versus 12 percent). Abacavir caused more coughing (13 versus 8 percent).
Giving ddI Another Try
The past two years saw something of a turnabout in the fortunes of ddI. The second antiretroviral ever, ddI seemed destined for dowager status with its penchant for causing pancreatitis and peripheral neuropathy. But its swanky enteric coat and once-daily dosing gave clinicians reason to look twice at this vintage nucleoside. And three recent studies confirming its activity against virus resistant to the ever-popular 3TC only enhanced its comeback chances.
7-9
Now research from a coalition of French hospitals suggests ddI can slow the renegade retrovirus in people with a clutch of nucleoside mutations.
Jean-Michel Molina (Saint-Louis Hospital, Paris) and colleagues studied 168 people taking a stable but not fully suppressive regimen, randomizing 110 to add once-daily ddI and 58 to add placebo [abstract 447]. Everyone had a viral load between 1,000 and 100,000 copies/mL (median about 6,300 copies/mL) and a CD4 count above 100 cells/mm3 (median 382 cells/mm3 with ddI and 361 cells/mm3 with placebo). No one was taking TDF. Both groups had a median of four nucleoside-linked mutations, including M184V in about 80 percent and thymidine analog mutations at codons 215 and 41 in 60 to 70 percent.
After two weeks of treatment in the double-blind study, the average viral load dropped 0.59 log with ddI and 0.11 log with placebo. At four weeks the mean change stood fast at 0.59 log with ddI but had budged 0.05 log above baseline in the placebo group (P<0.0001). People with up to four baseline NRTI mutations had a significantly better response to ddI than to placebo. Those with five baseline mutations still got more kick from ddI, but the difference from placebo stopped shy of significance (P=0.059). People with up to three thymidine analog mutations (at positions 41, 67, 70, 210, 215, and 219) also had a significantly better response to ddI than to placebo.
Earlier experience with ddI did not explain its added antiviral oomph in this study: 68 percent who added ddI and 74 percent who got the dummy pill had tried ddI before. But one particular baseline mutation did matter: Although people with an M184V mutation benefited from ddI (median 0.6-log drop in viral load), those with an L74V change did not (median 0.1-log drop). Care must be taken in adding ddI to salvage combos containing TDF, which can hoist ddI levels into the toxic zone.
Lipid Trends After Trading d4T for TDF
At the 2002 ICAAC, a randomized trial comparing TDF with d4T (plus 3TC and EFV) in treatment-naive people found a significantly higher 48-week jump in triglycerides (74 versus 0 mg/dL, P <0.001) and cholesterol (53 versus 25 mg/dL, P<0.001) with d4T.
10
Research from a multicenter Spanish study now shows that people taking suppressive regimens can reverse unhappy lipid trends when they trade d4T for TDF.
Santiago Moreno (Hospital Ramón y Cajal, Madrid) and coworkers are monitoring 1,350 heavily pretreated people who switched a single nucleoside for TDF because of side effects [abstract 855b]. Most people in the study, 886 (66 percent), have retired d4T, because of high triglycerides in 271 and because of high cholesterol in 193. In those subgroups, one third have taken TDF for at least 12 weeks. And in that sub-subgroup, average triglycerides tumbled from 458 to 278 mg/dL at week 12 (P<0.001) and average cholesterol eased from 266 to 231 mg/dL (P<0.001). Among those who started the study with high triglycerides, 20 percent have returned to normal levels. No one who switched to TDF lost control of viral replication.
News on New Drugs
Those who came to ICAAC hungry for hot news on new antiretrovirals left somewhere short of satiety. But researchers did serve up important results on several would-be new ingredients -- the easier-to-swallow APV prodrug fos-APV (GW433908), a new course of nonnucleosides (GW8248 and capravirine), the T-20-chasing fusion inhibitor T-1249, and the CCR5 antagonist UK-427,857.
Lopinavir and 908 Don't Mix
A problem with APV is that it takes a lot -- eight capsules twice a day -- to slow HIV. Boosting APV with RTV is one way to simplify the regimen, but even a dose of 1,200/200 mg once daily means 10 pills. Amprenavir's prodrug fos-APV (GW433908, or 908 for short), gets metabolized to APV once swallowed. And at a dose of 2,800 mg daily, people need swallow only four 700-mg pills. But an interim pharmacokinetic study of ACTG protocol A5143 found that APV still has one big advantage over 908 -- you can give it with LPV/RTV. Even though mixing APV and LPV lowers levels of both, the PIs can be combined in non-standard doses that trip up resistant HIV. Angela Kashuba (University of North Carolina, Chapel Hill) and ACTG confreres don't think the same can be done with 908.
The trial aimed to compare three PI meldings, each given with TDF and one or two nucleosides [abstract 855a]:
Arm A (n=8): LPV/RTV (400/100 mg twice daily)
Arm B (n=8): 908/RTV (700/100 mg twice daily)
Arm C (n=17): 908/LPV/RTV (700/400/100 mg twice daily)
People in the pharmacology substudy began treatment with a median viral load of 4.51 logs and a median CD4 count of 209 cells/mm3. Everyone had a virologic failure with a regimen that could have included LPV or APV, but not both. To measure PI levels, Kashuba collected blood samples before and one, two, four, six, eight, 10, and 12 hours after an observed morning dose. People had been taking their PIs for 14 to 28 days. Levels of both 908 and LPV plunged when people took them together rather than just with RTV (Table 4).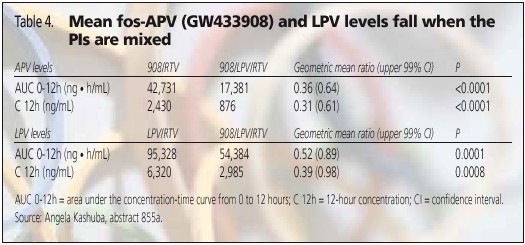 Tenofovir apparently did not blunt PI concentrations, since levels of APV and RTV in the 908/RTV arm and of LPV and RTV in the LPV/RTV arm matched published concentrations. Glaxo offered the ACTG data suggesting that pumping up the doses of 908, RTV, or LPV would not easily solve the problem. And work by Kashuba suggested separating the doses of 908 and LPV/RTV while raising the LPV/RTV dose could not overcome the low PI exposure. So the ACTG closed the books on A5143, concluding that 908/LPV/RTV "does not appear to be a viable regimen for ... treatment-experienced patients."
Like other protease inhibitors, 908 hiked levels of atorvastatin whether given at a dose of 1,400 mg twice daily or with RTV at 700/100 mg twice daily [abstract 1622]. Mary Wire and Glaxo colleagues recommended a top atorvastatin dose of 20 mg daily -- or a different statin -- in people taking 908.
Another LPV study did yield possibly good news. Using a more sensitive assay of PI levels, Edmund Capparelli (University of California, San Diego) contradicted earlier studies by finding inhibitory concentrations of LPV in cerebrospinal fluid (CSF) of people who adhere to standard-dose LPV/RTV [abstract 1798].
Checking 31 matched CSF-plasma samples from 26 people, Capparelli found low plasma concentrations in seven, suggesting poor adherence. In the other 24 sample pairs, all CSF samples had measurable LPV levels (median 17.0 ng/mL), and all those levels more than doubled the typical PhenoSense 50 percent inhibitory concentration of 3.2 ng/mL. "Despite being more than 98 percent bound to plasma protein," Capparelli concluded, LPV "penetrates into the [central nervous system] and may contribute to the control of HIV in this potential reservoir."
Entry Forbidden (or at Least Discouraged)
What do you do if you're lucky enough to get enfuvirtide (T-20) for someone, if their insurance pays for it, if they tolerate the injection site sores, and if they respond, but then the response wanes? Try getting that person into a trial of T-1249, the first second-generation drug to be in human trials before the first-generation forebear made it to market. Unlike T-20, T-1249 need be injected only once a day, and research presented by Jay Lalezari (Quest, San Francisco) confirmed cell studies and preliminary results in humans that T-1249 can rein in T-20-resistant virus.
Lalezari studied 51 people with genotypic or phenotypic evidence of resistance to T-20 while taking that fusion inhibitor [abstract 444]. Study participants had a median viral load of 4.9 logs (about 79,400 copies/mL) and a median CD4 count of 86 cells/mm3 (range 1 to 522 cells/mm3). But the most telling baseline statistic was their median time on T-20 with a detectable viral load: 65 weeks (range 13 to 165 weeks). Most of them had less than 4-fold resistance to T-1249 when they added the drug at a dose of 192 mg daily without changing other drugs in the regimen.
After 11 days of T-1249, the median viral load dropped by 1.26 logs (95 percent confidence interval -1.09 to -1.40 logs). The proportion of people with more than a 1-log fall in viral load was 31 percent at day five, 65 percent at day eight, and 73 percent at day 11. Lalezari found no link between response and baseline 50 percent inhibitory concentration of T-1249 or time on T-20 before starting T-1249. About two thirds of the test cohort had injection site reactions, but none stopped T-1249 in this brief trial.
Blocking the CCR5 coreceptor -- the preferred port of most transmitted HIV-1 -- is another way to frustrate viral entry. ICAAC offered the first look at UK-427,857, a Pfizer CCR5 antagonist, in a report by Gerd Fätkenheuer (Köln University) [abstract 443]. The trial enrolled 24 people with no or no recent antiretroviral experience, a viral load above 5,000 copies/mL, and a CD4 count above 250 cells/mm3. All had virus that homed to the CCR5 receptor. Eight took placebo, eight took 25 mg of UK-427,857 daily, and eight took 100 mg twice daily with no other antiretrovirals.
The median viral load barely changed in the placebo group, dropped by a median 0.434 log in the 25-mg group, and by 1.49 logs in the 100-mg group. Researchers had to withdraw one person from the 100-mg arm after they belatedly spotted some CXCR4-favoring virus. Of the remaining seven, all had more than a 1-log dip in viral load by day 10, and all attained UK-427,857 levels exceeding the mean 90 percent inhibitory concentration of 4.7 ng/mL. No one in the study had QT interval prolongation, a problem uncovered in earlier studies of CCR5 antagonists. Pfizer plans to test other once- and twice-daily doses of the drug.
Meanwhile, Bristol-Myers Squibb published early data on the small-molecule CD4-binding blocker, BMS-378806.11 The drug is active against virus that snags CCR5, CXCR4, or both. By plugging the CD4-binding cleft in the HIV envelope protein gp120, BMS-378806 thwarts viral docking to the receptor that gives CD4 cells their name.
The same issue in which this article appears boasts two reviews of entry inhibitors by luminaries in the field.12, 13 At ICAAC, Joseph Eron cautioned that development of CCR5 inhibitors will be tricky. But he added that the successful launch of such agents will pose more than one intriguing question:
Before treatment with a CCR5 antagonist, will HIV-infected people have to be screened to see if they carry only R5 virus?
Will they have to be treated with both R5 and X4 inhibitors to make sure that blocking R5 virus doesn't force HIV to don its more dangerous X4-binding guise?
Could CCR5 antagonists replace current agents in people with early HIV infection and so hamper HIV's spread?
Can CCR5 antagonists be turned into pills that prevent HIV infection, as suggested by David Cooper?
Nurturing Second-Generation Nonnucleosides
The development of LPV and other RTV-boosted protease drugs turned PI therapy into a two-tiered strategy. Virus with a handful of protease mutations, research showed, may still knuckle under to a PI-boosted drug or perhaps to LPV/RTV plus a third PI. So far HIV has not faced a similar double-barreled threat from nonnucleosides because just one or two mutations can undermine the whole class. Finding the LPV-equivalent for the nonnuke arsenal has been a priority for years, but the slog has been slow.
Capravirine, being developed by Agouron/Pfizer, is perhaps the best-known gen-2 NNRTI, though it's had a rocky road toward Rockville (home of the FDA). Researchers pulled the plug on two phase 2/3 trials when a dog study showed that high doses of capravirine caused vasculitis. That problem hasn't turned up in humans. Thirty-six people in these suspended trials who reached a viral load below 400 copies/mL while taking capravirine, NFV, and two NRTIs decided to stick with their regimen [abstract 871]. Agouron's Jennifer Hammond reported that six of them (17 percent) had viral rebounds, five (14 percent) quit because of side effects, and nine (25 percent) stopped for other reasons. But 16 people (44 percent) maintained viral control with capravirine/NFV for 28 to 34 months.
The original trials recruited PI-naive people with a viral load above 2,000 copies/mL while taking a nonnucleoside. The group that continued treatment included 31 men and five women, 53 percent of them white. They had a median baseline viral load of 13,843 copies/mL (range 620 to 715,624 copies/mL) and a median starting CD4 count of 344 cells/mm3 (range 24 to 854 cells/mm3).
One resistance-related factor appeared to predict a continuing response to capravirine, and two did not. Viral isolates from the 16 responders had a median baseline 3-fold change in susceptibility to capravirine, whereas isolates from nonresponders had a median baseline fold change of 10.7-fold.
But the number of baseline nonnucleoside mutations did not predict a durable response. The 16 responders averaged two baseline mutations (including K101E, K103N, V108I, Y181C, Y188H/L, G190A). The nonresponders averaged only one baseline mutation (including K101E, K103N, G190A, and P236L). Capravirine's inhibitory quotient (IQ, trough concentration divided by protein binding-adjusted IC50) registered a median 23 in people with a durable response and 27 in people who had a virologic failure. (A higher IQ is supposed to be better.)
Agouron and Pfizer continue to study capravirine in regimens including NFV or LPV/RTV.
At an earlier elbow in the pipeline, GlaxoSmithKline's gen-2 NNRTI, GW8248, rated an ICAAC slide show presented by Richard Hazen [abstract 445]. Testing the drug against 22 NNRTI-resistant variants, Glaxo found that it inhibited replication of 20 at a concentration below 5 nM. The two variants that resisted GW8248 at 5 nM carried a Y188L mutation (which by itself can scuttle NVP and EFV) or V106I/Y181C (Y181C plus one of four other mutations can sink all three current NNRTIs).
Two other multimutant viruses emerged in serial passage studies of GW8248 -- V106I/P236L and V106I/E138K/P236L. These two variants remained susceptible to NVP and EFV. P236L is a key delavirdine (DLV)-linked mutation, but the other substitutions are not common NNRTI-induced changes. Glaxo proposed that "multiple mutations may be required to confer resistance" to GW8248, but these studies suggest cross-resistance with NVP and EFV if Y188L pops up.
In his ICAAC survey of new antiretrovirals, Joseph Eron claimed to be "hopeful" that a second wave of nonnukes can swamp resistant virus, but he remains to be convinced that the strategy will work in the clinic. Other research suggests Eron has reason to stay skeptical: The number of NNRTI-resistant mutants new drugs may have to subdue grew by two, thanks to a study of more than 18,000 viral isolates by Christos Petropoulos and ViroLogic coworkers [abstract 451].
Petropoulous auditioned 18,034 isolates, looking for virus with reduced susceptibility to current NNRTIs but lacking standard resistance mutations. He found 146 with more than a 5-fold change in susceptibility to at least one current nonnucleoside, and 48 with more than a 10-fold change. Of these 48, 10 (21 percent) bore a K101P substitution and 11 (23 percent) carried K103R plus V179D. Drops in susceptibility to these variants ranged from 12- to 355-fold compared with wild-type virus (Table 5).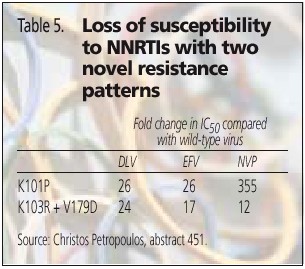 Are these novel substitutions true mutations prodded forth by drug pressure, or are they natural polymorphisms -- genetic shifts resulting from HIV's hyperevolutionary propensities? Petropoulos thinks they're drug-induced changes because all of the K101P variants and nine of the 11 K103R/V179D variants came coupled with common nucleoside mutations. As a result, he proposed, these two patterns "should be considered new NNRTI resistance mutations since they are associated with a high fold change [in susceptibility] to NNRTIs and likely emerge in response to drug pressure."
And what about the 27 viral isolates with more than 10-fold drops in susceptibility to NNRTIs that didn't feature K101P or K103R/V179D? The ViroLogic team couldn't spot consistent mutation patterns in them, but they believe such mutations merely await closer scrutiny.
Should You Know a Patient's IQ?
One little surprise in the capravirine study [abstract 871 above] is that a higher IQ didn't predict a better response to a rescue regimen including this pipeline NNRTI. The IQ, or inhibitory quotient, has won some adherents because it combines two variables often considered separately -- a drug's concentration, usually reckoned as the trough concentration, and that drug's ability to stay on top of drug-resistant virus, usually figured as the protein binding-adjusted 50 percent inhibitory concentration (IC50). The quotient derived from dividing the trough by the IC50, adherents hold, should be a better way to gauge how a drug will work in someone with resistant virus:
IQ = trough concentration/protein binding-adjusted IC50
And, indeed, a cluster of small studies tied IQ to better control of resistant virus,14-17 though that didn't happen in the capravirine study. The growing interest in IQ -- and the sometimes discordant results -- raise a critical question: Can you rate competing antiretrovirals by IQ? No, according to results of an 11-trial analysis by Thomas Kakuda and Roche colleagues, at least not with (mostly first-line) PI regimens [abstract 1799].
These researchers determined IC50s from two or more sets of triplicate measurements in MT4 cells cultured in 10 percent fetal calf serum and 50 percent human serum (meant to represent 100 percent human serum). Minimum concentrations came from reported pharmacokinetic studies in people with and without HIV infection. Kakuda and coworkers calculated IQs by dividing the mean or median steady-state minimum concentration by the mean protein binding-adjusted IC50 for wild-type virus. Finally, they compared IQs for various PI regimens with published intention-to-treat analyses of 24- and 48-week virologic and CD4 results from 11 randomized, head-to-head trials involving at least two PIs (Table 6). Eight of the trials enrolled treatment-naive people. The two MaxCmin studies had about a 50/50 mix of naive and experienced people. CONTEXT recruited people with PI experience.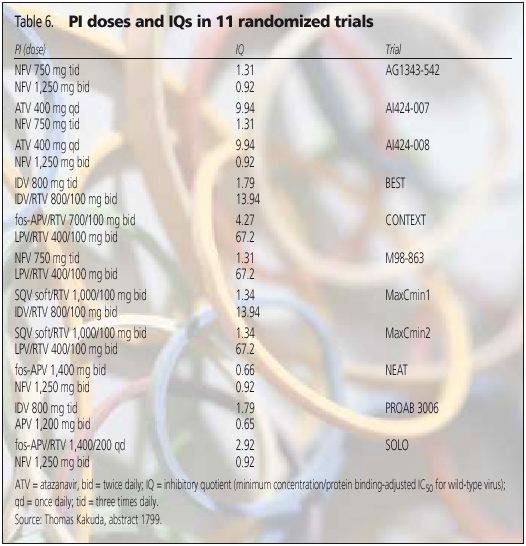 IQs of the competing PIs didn't correlate with the percent of study participants who had fewer than 400 or 500 HIV RNA copies/mL at 48 weeks (r2=0.07) or with CD4 changes (r2=0.03). Nor did IQs predict 24-week virologic responses.
"Within comparative trials," Kakuda concluded, "higher [and thus purportedly better] IQ did not correlate with improved response suggesting limited utility for this metric to assess relative potency." Extreme variability in population-based IQs, documented by Craig Rayner (Monash University, Melbourne) in people taking three PI regimens [abstract 1997], could be one reason for this lack of correlation. Individual differences in drug levels and resistance "may be clinically relevant for individual drugs," Kakuda allowed. But population-average IQs can't be used for overall PI comparisons.
The studies in which IQ did predict response all focused on a single regimen given to people with treatment experience and some resistance. The studies Kakuda analyzed all compared two PI regimens, usually in people starting their first antiretrovirals. The next step may be to compare competing rescue regimen IQs and responses in people with resistant HIV.
Contraindicate C and SJW With PIs?
Linus Pauling's favorite neutriceutical, vitamin C, may not prevent colds or cancer, but it seems innocuous enough. Perhaps not in people taking PIs, though, according to Douglas Slain and colleagues at West Virginia University [abstract 1610]. Meanwhile, just-published work on St. John's wort underscores its threat to people taking PIs or other drugs processed by the CYP3A4 liver enzyme.

Slain measured IDV levels in seven healthy volunteers after they took four 800-mg doses of the PI. Later, after they eliminated the drug, the volunteers took 1 g of vitamin C daily for a week, then four more IDV doses during the week's last 32 hours. Slain put the volunteers on a diet that controlled the amount of vitamin C they got from food.

When people took IDV with vitamin C, the PI's maximum concentration and total eight-hour concentration significantly lagged levels of the PI taken alone. Indinavir's minimum concentration was lower and its clearance faster with vitamin C, though not significantly so:
Maximum concentration: 20 percent lower with vitamin C (P=0.04)
Total eight-hour concentration: 14 percent lower with vitamin C (P=0.009)
Minimum concentration: 32 percent lower with vitamin C (P=0.09)
Clearance: 20 percent faster with vitamin C (P=0.06)
Whether vitamin C has the same effect on other PIs remains to be seen, but it may. Slain cited two animal studies suggesting that vitamin C turns on CYP3A liver enzymes, some of which govern PI metabolism.
One of those enzymes, CYP3A4, plays an especially crucial role in the metabolism of PIs and many other drugs. Ritonavir owes its PI-boosting prowess to its inhibition of CYP3A4. But St. John's wort, a new study shows, makes CYP3A4 work harder.18 Earlier work established that St. John's wort, popular as a purported antidepressant, slashes levels of IDV.19 The new study confirms the mechanism -- stepped-up induction of CYP3A4 as measured by changes in alprazolam pharmacokinetics in healthy volunteers.
Researchers at the Medical University of South Carolina recruited six men and six women without HIV and had them take 2 mg of alprazolam to establish baseline CYP3A4 activity. (Alprazolam is an antianxiety drug metabolized via CYP3A4, so its levels jump when taken with a CYP3A4 inhibitor and fall with a CYP3A4 inducer.) A week or more later, after the alprazolam had cleared their systems, they took 300 mg of St. John's wort three times daily for 14 days. On the last day, they took alprazolam with St. John's wort.
Compared with baseline alprazolam levels, the concentration after two weeks of St. John's wort dropped 2-fold while its clearance rose two-fold (P<0.001 for both). Alprazolam's elimination half-life fell from an average 12.4 hours before St. John's wort to 6.0 hours with St. John's wort (P<0.001). These findings confirm that St. John's wort induces heightened CYP3A4 activity. The researchers conclude that "long-term administration of St. John's wort may result in diminished clinical effectiveness or increased dosage requirements for all CYP3A4 substrates, which represent at least 50 percent of all marketed medications."
Bollixed Metabolics
The mystery of jackstraw metabolics in people with HIV continued its slow untangling at ICAAC, often in studies of people coinfected with hepatitis C virus (HCV). A cohort study of people with sky-high triglycerides found that one third were taking RTV at a dose of 300 mg or more twice daily. A 96-week comparison of TDF and d4T in treatment-naive people found no more renal wrinkles in the TDF group. And a study of people with avascular necrosis singled out smoking as a primary risk factor.
HIV, HCV, and Diabetes
A massive analysis of a Veterans Administration cohort found that HCV infection boosted the risk of diabetes more in people with HIV infection than in those without HIV [abstract 1715]. HIV also inflated the risk of diabetes in older people, African Americans, and Hispanics.
The study involved 33,280 HIV-infected veterans and 38,232 vets without HIV infection cared for between October 1996 and September 2001. The median age was the same in both groups (44 years), and the HIV group had slightly more African Americans (48 percent with HIV and 46 percent without HIV). Nearly all cohort members (98 percent) were men.
Figuring hazard ratios for diabetes in a multivariate Cox model, Adeel Butt (University of Pittsburgh) calculated that HCV infection raised the risk of diabetes 1.37 times among people without HIV infection and 1.64 times in people with HIV. Although the confidence intervals (CI) around those numbers came close, they did not overlap (1.26 to 1.50 for the non-HIV group and 1.51 to 1.78 for the HIV group).
Every extra 10 years of age upped the risk of diabetes 1.64 times (CI 1.59 to 1.68) in the HIV group but did not independently raise the risk in the non-HIV group. Compared with white HIV-infected veterans, African Americans with HIV had a 1.28 times higher risk of diabetes (CI 1.18 to 1.37) and HIV-infected Hispanics had a 1.35 times higher risk (CI 1.20 to 1.52). Being African American or Hispanic did not lift the risk of diabetes in vets without HIV.
In the non-HIV group, alcohol abuse and drug abuse independently lowered the risk of diabetes at respective hazard ratios of 0.80 (CI 0.75 to 0.86) and 0.68 (CI 0.64 to 0.74). Drinking or smoking did not lower the risk in the HIV group.
Butt speculated that the lowered risk of diabetes with drinking and smoking may be illusory. Alcoholic or drug-abusing veterans may seek care for diabetes and other problems less often than others. On the other hand, drinking and smoking could lower their weight, "protecting" them from diabetes but not from other problems.
The stronger link between HCV and diabetes in the HIV group, Butt surmised, could reflect a mix of two or more factors, including the slightly higher proportion of minorities in the HIV group, the effect of antiretrovirals or of HIV itself, or still-undetermined factors. Because the study did not try to pinpoint the effect of antiretrovirals, their impact on diabetes in HIV-infected vets cannot be divined from this analysis. PIs have proved inimical to insulin sensitivity in more than one study.
Antiretrovirals also play havoc with hepatocytes, and a liver biopsy study by Leonardo Calza (S. Orsola Hospital, Bologna) charted such damage in people coinfected with HIV and HCV [abstract 1719]. The study involved 21 men and 13 women with at least five years of antiretroviral experience (median 8.7 years) but naive to anti-HCV drugs. A single specialist sized up the shape of biopsied liver cells with electron transmission microscopy. The liver cells had marked evidence of mitochondrial abnormalities:
Polymorphism in 88.2 percent of cases
Intramitochondrial inclusions in 35.3 percent
Reduction or loss of cristae in 17.6 percent
Reduction of matrix density in 8.8 percent
Hyperplasia in 5.8 percent
Calza traced no correlations between specific defects and individual antiretrovirals. He suggested that clinicians consider liver biopsy and electron microscopy whenever they suspect mitochondrial dysfunction in coinfected people taking antiretrovirals.
A retrospective study of 1,094 people coinfected with HCV and HIV suggested that NFV may be safer than IDV, saquinavir (SQV), or RTV in such individuals [abstract 831]. The analysis included only eight people taking APV and none taking LPV or atazanavir (ATV), so the relative safety and efficacy of those agents could not be assessed. Douglas Dieterich (Mount Sinai Medical Center, New York) and colleagues at two other sites tracked viral load, CD4 count, and liver markers in 448 people taking NFV, 377 taking IDV, 185 taking SQV, and 151 taking RTV. The cohort included 110 taking dual PIs, but Dieterich did not define those combinations or offer a separate analysis of their effects.
Viral load and CD4 changes in the NFV group were similar to those of people taking other PIs, but they had fewer signals of liver dysfunction (Table 7). Grade 3 (five times the upper limit of normal) and grade 4 (10 times the upper limit of normal) elevations of aspartate aminotransferase (AST) and alanine aminotransferase (ALT), as well as abnormal bilirubin readings, were less common among people taking NFV.

Lofty Trigs, Kidney Kindness, Bone Death
A retrospective review of 23 antiretroviral-treated people with triglycerides topping 1,000 mg/dL afforded some interesting insights into risky lipid leaps [abstract 1948]. Although the group's mean triglyceride level perched at a lofty 1,782 mg/dL (range 1,050 to 4,505 mg/dL), pancreatitis developed in no one. Peter Piliero (Albany Medical College) dissected the records of these 23 people, who represented about 2 percent of an HIV clinic population.
Eleven of the 23 (48 percent) were taking a RTV-boosted PI, and seven of those 11 (30 percent overall) took 300 mg of RTV or more twice daily. After RTV-boosted regimens, the PI that turned up in most regimens was IDV. Four regimens (17 percent) did not include a PI: AZT/3TC with ABC, EFV, or NVP, and d4T/3TC. The group included seven people taking d4T (30 percent); their average triglycerides (1,643 mg/dL, range 1,050 to 2,350 mg/dL) were lower than those of people not taking d4T (1,843 mg/dL, range 1,050 to 4,505 mg/dL), probably because only one person taking d4T also took more than one PI.
Clinicians treated almost everyone with fenofibrate or gemfibrozil, sometimes with a statin. After 41 months of follow-up, average triglycerides sank to 660 mg/dL, but four people still had levels above 1,000 mg/dL. Three of the four had taken a RTV-boosted PI, but two of them switched to a single PI regimen. The fourth person had started with d4T/3TC and switched to AZT, 3TC, and ABC.
Because TDF takes a renal route to elimination -- and because antiretroviral-strength doses of a similar drug, adefovir, caused kidney problems -- worries over the renal safety of TDF have lingered. A few case reports document serious renal disrepair in people taking this nucleotide.20-23 But 96 weeks of follow-up in a 592-person placebo-controlled comparison of TDF and d4T (plus 3TC and EFV) in treatment-naive people showed equivalent renal safety in the two study arms [abstract 840]. Joel Gallant (Johns Hopkins University, Baltimore) reported no cases of Fanconi syndrome in either group. Tracking changes in creatinine, phosphorus, proteinuria, glucosuria, and calculated creatinine clearance, Gallant saw small and similar changes with TDF and d4T.
A chart review revealed a 2.3 percent incidence of avascular necrosis -- bone death due to meager blood supply -- in an HIV clinic population [abstract 1958]. Christina Seed (Bornemann Internal Medicine, Reading, Pennsylvania) compared eight HIV-infected people with MRI-confirmed necrosis and healthy-boned controls matched for gender, race, age, and duration of HIV infection. The group with necrosis included four men and four women, three blacks, three Hispanics, and two whites. Six of the eight had necrosis in both hips, and three needed twin hip replacements.
The case-control comparison involved seven people with avascular necrosis and 14 controls because Seed did not have earlier data for one person with necrosis. Two features distinguished the necrosis cases from the controls:
All seven with necrosis smoked, compared with seven of 14 controls (P<0.046).
Six of seven with necrosis (86 percent) took the asthma drug albuterol, compared with three controls (21 percent, P<0.0237).
Use of antiretrovirals or corticosteroids, alcohol use, and drug abuse did not correlate with avascular necrosis.
Albuterol therapy may be a marker for smoking, Seed suggested. She proposed that stymied oxygen saturation of blood -- a result of smoking and asthma -- could contribute to avascular necrosis. Besides egging people with HIV infection to quit smoking, Seed urged tighter control of asthma to keep more oxygen in blood.
Another attempt to ward off NVP-induced rashes -- this time with the antihistamine cetirizine -- failed [abstract 1720]. José Miró (Hospital Clinic, Barcelona) and coworkers tried 10 mg of cetirizine daily for four weeks in a placebo-controlled study of 210 people starting NVP. Rash arose in 15 percent taking the antihistamine and 12 percent taking placebo. Nevirapine trough levels didn't differ in people with or without rash. The study confirmed another placebo-controlled trial of cetirizine presented at the International AIDS Society meeting in July.24 Earlier work showed that steroids don't stave off NVP rashes either.
Guiding STIs With CD4s
Two ICAAC studies confirmed earlier reports that some people responding well to antiretrovirals can safely suspend treatment until their CD4 counts sink to a preset restart signal. As in earlier studies of such strategic treatment interruptions (STIs), though, the results pose a discomfiting question. People who can take the longest CD4-guided breaks are those with the highest CD4 nadirs -- usually higher than nadirs now recommended for starting antiretrovirals. So, should people forsake their naive status at CD4 counts higher than now popular -- 350 to 450 cells/mm
3
, one researcher suggested -- to favor a longer drug break later?
Start Sooner to Stop Longer?
Franco Maggiolo (Riuniti Hospital, Bergamo) offered a randomized comparison of continuous treatment versus CD4-guided STIs in people with a sustained CD4 count above 800 cells/mm
3
along with a viral load below 50 copies/mL [abstract 448]. The 76 people in the STI group had to restart treatment if their T-cell tally dipped below 400 cells/mm
3
. If that happened, they had to continue therapy until CD4s climbed back above 800 cells/mm
3
. The STI group matched the 38 people who never stopped therapy in age, gender, HIV exposure group, time on therapy, and time with an undetectable viral load.
After 18 months of follow-up, significantly more people in the control group dropped out of the study (P=0.0007). Whereas two (2.6 percent) in the STI arm quit, eight (21 percent) left the control group (one virologic failure, one tolerability failure, one loss to follow-up, and five withdrawn consents).
Through 22 months, people in the STI group with lower pretreatment CD4 counts had to restart therapy faster than people with higher pretreatment nadirs:
Nadir <200 cells/mm3: average 6.9 months off therapy (P=0.007 versus nadir >500)
Nadir 200 to 350 cells/mm3: average 14.1 months off therapy (P=0.01 versus nadir >500)
Nadir 350 to 500 cells/mm3: average 17.8 months off therapy
Nadir >500 cells/mm3: no therapy resumptions to date
A multiple logistic regression analysis singled out nadir CD4 count as the only independent predictor of the need to resume therapy (P=0.002). Although viral loads rebounded higher in people with nadirs below 350 cells/mm3, everyone regained viral control when they restarted therapy. Two people suffered the acute retroviral syndrome during their first STI, but not during later drug breaks. Maggiolo figured that the drug breaks saved each person US$350 per month, even after factoring in the cost of extra monitoring.
Results of an Italian multicenter study endorsed Maggioli's link between pre-treatment nadir and the need to resume therapy [abstract 857]. But Cristina Mussini (University of Modena) and colleagues found three other predictors of the need to restart treatment: a sharper CD4 drop before antiretroviral therapy, shorter time with an undetectable viral load while on therapy, and a higher viral rebound when suspending treatment.
The analysis involved 140 people who took at least a four-week drug holiday and never had a CD4 count under 250 cells/mm3. Everyone had more than 500 cells/mm3 and fewer than 50 RNA copies/mL when they stopped therapy. Most study participants, 68 percent, had a sub-50 load for less than a year, while 11 percent had been under 50 copies/mL for one to two years, and 21 percent for more than two years. Treatment duration averaged 3.5 years. People had to resume therapy if their CD4 count dropped below 350 cells/mm3, or they could restart any time they felt the urge.
Through April 1, 2003, 75 people (54 percent) stayed off treatment, 34 (24 percent) resumed therapy because their CD4 count dipped under 350 cells/mm3, and 31 (22 percent) resumed before their count hit 350 cells/mm3. In a Kaplan-Meier analysis, the median time to restarting therapy for either reason measured 104 weeks (95 percent confidence interval 76 to 169 weeks). Table 8 lists adjusted relative hazards for independent predictors of the need to restart treatment.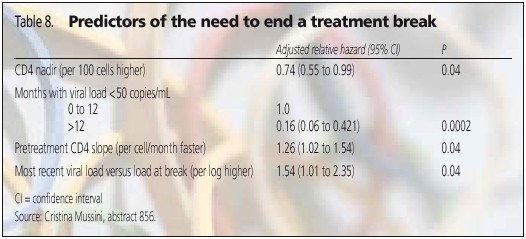 Mussini and colleagues proposed that people can safely suspend therapy if they have a CD4 nadir above 350 cells/mm3, if their CD4 count tended to fall slowly before they began antiretrovirals, if their viral load stayed below 50 copies/mL for more than 12 months during treatment, and if they have a relatively low rebound once they stop treatment.
Franco Maggiolo made a bolder proposal. He thinks people should start antiretrovirals at a CD4 count higher than thresholds favored now so they have the option to take longer drug breaks later. How high? Maggiolo suggested starting between 350 and 450 cells/mm3.
One can't deny the data behind this rationale (other studies also link higher nadirs with longer STIs25, 26), but ICAAC attendees did question the reasoning behind the rationale. Why start at 400 or 450 cells/mm3, they wondered, when you might safely defer therapy for a few years and wind up starting with newer, stronger, and more tolerable drugs? And you might still count on safe drug holidays -- though perhaps shorter holidays -- if you wait longer to start. Even people with a nadir between 200 and 350 cells/mm3 in Maggiolo's study averaged 14.1 months off treatment, and that was with a high restart signal of 400 cells/mm3. If the average CD4 count falls 60 to 75 cells/mm3 yearly in a treatment-naive person,27, 28 an untreated person with 400 cells/mm3 has two or more years of freedom from antiretroviral woes before seeing a CD4 count of 250 cells/mm3. But Maggiolo stressed that CD4s can plummet when people with low nadirs stop therapy. In his study a few people dropped from 800 to 400 cells/mm3 in a month.
If the 700 or so prescribers who attended an ICAAC interactive session represent most HIV clinicians, few are ready to recommend therapy when they see a CD4 count above 350 cells/mm3. For a 29-year-old treatment-naive woman with a count of 372 cells/mm3 and a viral load of 37,000 copies/mL, 45 percent would defer a treatment decision to the next visit and 20 percent would recommend against therapy. But if that same woman comes back three months hence with a CD4 count of 265 cells/mm3, 44 percent would "strongly recommend therapy," another 39 percent would "recommend therapy," and 11 percent would "offer therapy." Only 6 percent would defer the decision or recommend not starting. (If you side with those who would start treatment, would you genotype this woman first? At ICAAC 52 percent said yes and 48 percent said no.)
STI Mortality Risk After Triple-Class Failure
Some advocate STIs at the other end of the HIV progression spectrum, when CD4 counts sink low and multidrug-resistant virus rides high. The goal is to encourage the return of drug-sensitive virus that salvage regimens can more easily squelch, though two
29, 30
of three
31
randomized trials found no merit (and some danger) in this tactic. At ICAAC, results of a 13-cohort collaboration gauged the risk of death among people who endured a triple-class failure and interrupted treatment for at least three months [abstract 450]. Jens Lundgren (Hvidovre University Hospital) explained that the PLATO Collaboration set a three-month minimum break to limit bias from including people who stop therapy in the weeks before death.
The combined cohort numbered 2,488 people who suspended treatment after triple-class failure, which meant having a viral load above 1,000 copies/mL for more than four months after trying regimens including drugs from each of the first three antiretroviral classes. They had taken antiretrovirals for a median of 4.7 years, and 85 percent had started with monotherapy or dual therapy.
During 5,015 person-years of follow-up, 276 people died for an overall mortality of 5.5 per 100 person-years. Lundgren calculated a three-year predicted mortality of 15 percent and a four-year rate of 21 percent. The PLATO team could attribute 138 deaths to HIV, 65 did not involve HIV, and 67 had unknown causes. Four people killed themselves, and two took narcotic overdoses.
The latest CD4 count, but not the latest viral load, correlated with the risk of death. Other independent risk factors were not taking antiretrovirals at the time of death, having an AIDS diagnosis, older age, and infection through injecting drug use:
Latest CD4 count <50 cells/mm3 versus >200 cells/mm3, hazard ratio (HR) 15.8 (95 percent confidence interval 9.3 to 27.0)
Not currently taking antiretrovirals, HR 2.85 (1.98 to 4.10)
AIDS diagnosis, HR 1.53 (1.11 to 2.10)
Age (per 10 years older), HR 1.24 (1.06 to 1.44)
Infection through injecting drug use, HR 1.63 (1.05 to 2.54)
Results from other cohort studies support the value of continuing therapy in the face of multidrug-resistant virus as a stopgap while waiting for new drugs or strategies that may put tighter clamps on HIV.32, 33 In an ICAAC keynote talk, Daniel Kuritzkes (Brigham and Women's Hospital, Boston) explained why a failing regimen may keep replication at least partly in check: A faltering combination pressures the virus to maintain its drug-resistant genotype, and resistant virus replicates more poorly than nonresistant virus. An ICAAC late-breaker offered the first hard evidence to buttress that theory.
Studying 128 HIV-infected hemophiliacs who received little or no antiretroviral therapy from 1990 through 1997, Eric Daar (UCLA Medical Center) found that replication capacity -- as well as coreceptor tropism -- independently predicted disease progression [abstract 1722c]. A statistical model that included baseline CD4 count, antiretroviral use, coreceptor tropism (X4 versus R5 virus), and replication capacity found bigger CD4 drops over time in people with higher viral replication capacity (P=0.0015), a higher viral load (P=0.0006), and X4 virus (P<0.0001).
A Cox proportional hazards model controlling for age and viral load showed that the risk of clinical progression fell with a replication capacity of 90 percent versus 100 percent (relative hazard [RH] 0.92, P=0.04) and fell further with a replication capacity of 50 percent (RH 0.68) or 30 percent (RH 0.58) versus 100 percent. The same analysis found a higher risk of progression with X4 virus than with R5 virus (RH 3.17, P=0.007).
Even modest dips in replication capacity, Daar concluded, can have a big impact on disease progression. He proposed that "the marked decline [in replication capacity] observed with multi-drug resistant virus may have an even more profound effect on the natural history of the disease."
Quiz!
Which people will accept an antiretroviral switch?
Because antiretrovirals fail, and because they're toxic, drug switching has become a high art in HIV medicine. But do you know which people in your clinic are most likely to approve your switch strategy?
Rafael Campo (University of Miami) has the answers [abstract 854]. With colleagues at five other centers, he gauged the willingness of 289 people to follow their doc's advice when a regimen change seemed necessary. Campo rated as most willing the 75 percent who said they definitely would follow their prescriber's lead. The 10 percent who said probably got an intermediate acceptance score. And the 15 percent who said maybe would, probably would not, or definitely would not fell into the lowest bracket. All study participants completed a passel of self-administered questionnaires to rate their understanding of HIV infection, attitudes about antiretroviral therapy, satisfaction with their care, and other views.
Everyone who took part was 18 or older (mean 41.6 years). A third were women, half were African American, and one quarter were Hispanic. One third had less than a high-school education, and two thirds made less than $15,000 yearly and depended on Medicaid or Ryan White assistance to pay their drug bills. Campo used a proportional odds model to figure which factors predicted a greater inclination to take their clinician's switch advice.
So much for formalities. Here's the quiz. Which of the following groups are more likely to take the advice?
People with an annual income above $15,000
More likely [ ] Less likely [ ]
People who missed an appointment more than once in the past year
More likely [ ] Less likely [ ]
People with a history of injecting drug use
More likely [ ] Less likely [ ]
People with greater HIV knowledge
More likely [ ] Less likely [ ]
People with a higher general perception of their health
More likely [ ] Less likely [ ]
People who felt their clinician communicated better with them
More likely [ ] Less likely [ ]
People who rated their care as excellent
More likely [ ] Less likely [ ]
When you finish, see Table 9 below for Campo's findings.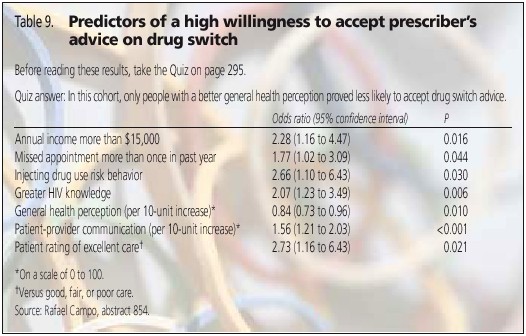 Two Resistance Tales
When it comes to infectious diseases, rich countries and poor share a nagging paradox: More treatment means more resistance. The shameful suggestion that antiretrovirals should be meted out with parsimony in Africa because of looming resistance worries has been dispatched with aplomb by Daniel Kuritzkes and colleagues.
34
North Americans and Europeans have done little to distinguish themselves as exemplars of enlightened prescribing or fastidious adherence. To claim some high ground from which to wag admonitory fingers beggars credulity.
Given the smallest opening, HIV will escape drug pressure, whether that pressure gets applied in Soweto or West Hollywood. Bacteria have a similar knack for circumventing antimicrobials, ICAACers learned, whether in Kisumu, Kenya or Boston, Massachusetts. Both studies told the same tale: More treatment means more resistance.
With coworkers in Kisumu, Tom Chiller and CDC colleagues looked at the impact of the World Health Organization's provisional recommendation of daily trimethoprim-sulfamethoxazole (TMP/SMX) for everyone in sub-Saharan Africa with AIDS [abstract 1721]. The goal is to ward off the depleting morbidity of diarrhea. But the strategy has its risks because TMP/SMX stands as first-line therapy for a range of bacterial diseases in Africa.
Chiller studied 73 people without HIV infection who took a daily multivitamin, 264 with HIV and a CD4 count of 350 cells/mm3 or more who also took a daily multivitamin, and 555 with HIV and a CD4 count under 350 cells/mm3 who took daily TMP/SMX. All study participants were at least 15 years old and were taking no other daily antibiotics.
Measuring resistance to Escherichia coli in stool samples at baseline and after two months of multivitamins or TMP/SMX, Chiller found little change in the multivitamin groups but a significant jump in the TMP/SMX group (Table 10). Among people who had diarrhea while taking TMP/SMX, 31 percent had either Salmonella or Shigella. All of those isolates proved resistant to TMP/SMX. Among people with diarrhea while taking a multivitamin, none had Salmonella or Shigella.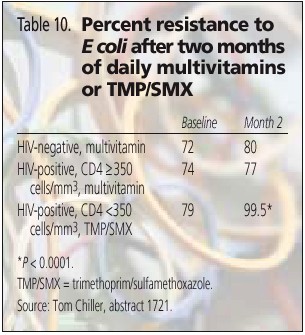 The researchers suggested that the World Health Organization may want to revisit its provisional advice on TMP/SMX. "Empiric therapy for diarrhea with agents other than TMP/SMX," they added, "should be considered for HIV-infected persons receiving daily TMP/SMX prophylaxis."
Like HIV, E coli and colleagues do not respect national borders, international trade agreements, or airport screeners. At Boston's Beth Israel Deaconess Medical Center, Douglas Salvador and Erika D'Agata logged rates of infection with and resistance to E coli, Staphylococcus aureus, Klebsiella, and other bacteria in 4,676 people with HIV and 186,742 without HIV [abstract 1923]. Sifting electronic records of people admitted to the hospital from 1994 to 2002, they found that the prevalence of all bacterial infections dropped significantly from the pre-HAART era (1994-1995) to the most recent period (2000-2002) (P
Enterococci: odds ratio (OR) 0.6, P=0.04
Coagulase-negative Staphylococcus: OR 0.3, P<0.01
E coli: OR 0.4, P<0.01
Klebsiella: OR 0.9, P<0.01

The lower rates among people with HIV may reflect more vigilant care and aggressive antibacterial therapy for that group. But more aggressive therapy may also foster higher resistance rates, another trait of the Boston HIV group. Compared with HIV-seronegative people, those with HIV had E coli with reduced susceptibility to ampicillin (45 percent versus 66 percent of isolates, P=0.04), piperacillin (50 percent versus 73 percent, P<0.01), and TMP/SMX (43 percent versus 86 percent, P<0.01). Klebsiella susceptibility to TMP/SMX also proved lower in the HIV group (58 percent) than in those without HIV (86 percent) (P<0.01).

As the epidemic evolves, in the North and in the South, HIV and its opportunist entourage evolve apace.

Mark Mascolini writes about HIV infection (mailmark@ptd.net).



References and Notes