The relatively low profile of immune-based therapies (IBTs) at this year's Retrovirus Conference reflects the current state of the field. While we have nearly 20 antiretroviral drugs that attack HIV replication, we have no approved therapies directed at the immune system. In theory, IBTs could offset the damage to the immune system done by HIV, improve the quality and strength of the immune response, or help the immune system control HIV without antiretrovirals. The field of IBTs offers hope that researchers can develop strategies allowing people with HIV to delay or interrupt antiretroviral therapy, ideally reducing drug resistance problems and side effects due to HAART (highly active antiretroviral therapy).
Despite the potential for changing HIV treatment, only one IBT -- interleukin-2 (IL-2) -- is currently in phase III trials; the results from the IL-2 trials, SILCAAT and ESPRIT, won't be available for years. Therapeutic vaccines, designed to improve the immune system's ability to control HIV in people who are chronically infected, are still in the early stages of development. The therapeutic vaccines furthest along are being researched in small studies designed to determine safety and measure changes in the immune response to HIV.
An oral abstract session dedicated to IBTs focused primarily on two therapeutic vaccine candidates -- MVA-BN-Nef and ALVAC. MVA-BN-Nef is the Bavarian Nordic version of modified Vaccinia Virus Ankara that expresses HIV's nef gene; MVA-BN (without the nef gene) will soon enter trials as a stand-alone smallpox vaccine for people with HIV. Dr. Harrer from the University of Erlangen, Germany, presented safety and immunogenicity data from a Phase I study of MVA-BN-Nef vaccine. The vaccine was safe in a group of 14 people on HAART with CD4 counts over 400. Subjects received three immunizations, and then interrupted HAART. While measurements of immune response to nef improved after vaccination, all 14 subjects experienced viral rebound within weeks of interrupting treatment. Vaccination did not lead to immune control of HIV in the absence of antiretroviral therapy, although five subjects appeared to maintain viral loads at lower levels than their original viral setpoint -- the viral load at the time when HAART was first initiated.
Advertisement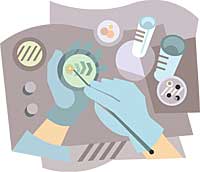 Results from two ALVAC studies -- VACCITER (ANRS 094) and VACCIL-2 (ANRS 093) -- conducted in France similarly failed to generate much enthusiasm. ALVAC is a recombinant form of the canarypox virus that contains several HIV genes; ALVAC vCP1433, the version of ALVAC used in these studies, expresses genes for HIV's env, gag, and sections of pol and nef. Dr. Tubiana reported on ANRS 094, in which a group of 48 people (on stable HAART, with CD4 counts above 400) received a series of four vaccinations. In order to assess whether ALVAC could help the immune system control HIV without medication, all participants discontinued HAART four weeks after their last ALVAC immunization. After 44 weeks of follow-up, only four subjects (8%) maintained a viral load below 10,000 copies and CD4 counts above 250 without restarting HAART -- results no better than in other treatment interruption studies that do not use vaccines. Dr. Tubiana suggested that the series of four ALVAC immunizations may have been too many, exhausting the HIV-specific immune response, but results from other ALVAC trials have generally been underwhelming.
Another French study, ANRS 093, also used a treatment interruption to explore the effects of vaccination on HIV-specific immune control, this time in a controlled trial of ALVAC vCP1433 in combination with Lipo-6T, followed by 3 cycles of IL-2. Lipo-6T is another vaccine construct made up of a set of HIV lipopeptides (sections of HIV proteins attached to a fat molecule, or lipid tail), while IL-2 is an immune modulator that raises CD4 counts. Dr. Levy reported that subjects who received the vaccines and IL-2 had better HIV-specific immune responses and somewhat better viral control off treatment than a control group. Overall, only 10 subjects showed immune control of HIV during the treatment interruption -- 29% of the vaccine/IL-2 group vs. 5% of the control group -- and results were only reported through the 12th week off treatment.
Therapeutic vaccines against HIV face a number of obstacles discussed during the immunology and pathogenesis sessions at the conference. Dr. Bruce Walker from Harvard University and others described the dynamics of immune escape, the development of viral mutations that allow HIV to evade the immune system -- a process similar to the emergence of drug resistance through the accumulation of viral mutants. Walker described a group of patients treated with HAART during acute infection who then interrupted therapy, in the hope that early HAART treatment might preserve an HIV-specific immune response strong enough to control HIV without medication. Despite lengthy periods where subjects maintained low viral loads off treatment, over the first few years a progressively increasing number of subjects experienced viral breakthrough (detectable viral load). In many cases, loss of viral control was associated with the development of escape mutations.
While immune escape may contribute to loss of viral control in early HIV infection, mounting evidence indicates that people with chronic infection have a flawed HIV-specific immune response -- their HIV-specific T cells have functional defects. Dr. Rika Draenert reported that a cohort of untreated people with chronic HIV infection had CD8 responses to HIV that were fairly broad and strong in magnitude, not significantly different than the CD8 responses of long-term non-progressors. These CD8 T cells were ultimately ineffective at controlling viral load, despite little evidence of viral escape mutations in preliminary analyses. However, many of the HIV-specific CD8 cells had not fully matured, and would be ineffective at viral control. Chronic HIV infection is commonly thought of in terms of a quantitative deficiency -- progressively fewer T cells available to fight infections. New research suggests that the qualitative defects in immune response are receiving more attention, and appear to play a key role in determining the failure of immune control of HIV.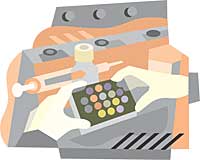 The implications of immune escape and qualitative defects for the development of therapeutic vaccines are unclear, and the current pessimism in some quarters about the prospects of therapeutic vaccines may be premature. Unfortunately, few other approaches to immune-based therapies are in active development at this time. A pilot study of Peg-Intron (pegylated interferon alfa-2b, approved for the treatment of hepatitis C) saw benefits in CD4 gains and viral load decreases in early infection, though the number of subjects was small (five persons were treated). Audience members noted that these findings contrasted with the clinical experience of people co-infected with HIV and hepatitis C, who generally experience a temporary decline in CD4 counts during Peg-Intron treatment.
Several posters from European researchers looked at mycophenolate mofetil in combination with HAART. Mycophenolate mofetil (MMF) is an immunosuppressant used to prevent organ rejection in kidney, liver, and heart transplants. Preliminary studies had suggested that MMF might indirectly prevent HIV replication, and act synergistically with abacavir (Ziagen). MMF could also potentially reduce the viral reservoir of HIV-infected cells by inhibiting the proliferation of CD4 cells, the cells most susceptible to HIV infection. The results from these studies were mixed and inconclusive; the AIDS Clinical Trials Group is currently studying MMF in combination with DAPD (amdoxovir), an experimental nucleoside analog, in treatment-experienced patients.
Immune-based therapy research was largely eclipsed at this year's conference by new antiretroviral compounds (see "A Different Class: New HIV Therapies on the Horizon") and new insights into immunology and virology. Immunologists have identified compounds which can modulate aspects of the immune system, and vaccines which can show increases in various measures of HIV-specific immune response, but to date we have little information about whether these agents will actually help people with HIV stay healthier and live longer. Ironically, the success of HAART may have slowed down IBT research -- SILCAAT and ESPRIT, the large IL-2 studies, will continue for years because the endpoints are incidence of disease and death, relatively rare occurrences in the HAART era. Many IBTs may not directly increase CD4 counts or lower HIV viral loads, making it difficult to assess their impact. Nor is there consensus on which measures of HIV-specific immune response are the best ones to guide further research.
These factors have led to a reluctance among pharmaceutical companies to invest in IBT research for HIV. Similarly, advances in immunology have largely failed as yet to produce effective therapies for autoimmune diseases, cancers, allergies and asthma. However, the promise of IBTs should not be discarded -- early attempts at IBTs suffered from being too crude, too toxic, or too risky before the availability of HAART, while the therapeutic vaccine candidates that have been most thoroughly studied to date may not be the most immunogenic. As scientists expand and refine our knowledge of the course of HIV disease, newer methods and approaches to research may begin to bear fruit. This will require a concerted effort among industry, academia and government, and the HIV community can play a vital role in urging the research process forward.
Daniel Raymond is a HIV/AIDS treatment activist who writes about hepatitis C, tuberculosis, and immunology. He lives in New York City. He can be contacted at daniel.raymond@verizon.net.