Great News Is Always Good to Report
Steady advances reported in HTB in 2017 were broadly categorised as great news. These are important given the political change and uncertainty over the year.
There was good news both within the UK and globally that will affect the majority of HIV positive people -- especially the growing acceptance that undetectable viral load makes HIV untransmittable (U=U) and the impact of better treatment with new drugs and formulations and the wider use of PrEP. Together with earlier use of ART and more regular testing, many countries and regions are meeting some or all of the 90:90:90 goals and HIV incidence has dropped significantly when all these advances were available and easy to access.
We also reported on progress towards a cure and a vaccine, on new treatment strategies, and on complications linked to current treatment and side effects.
But in the interest of balance, we also had to report alternative good news (also known as bad news) -- showing that that none of the advances can be taken for granted. Overcoming AIDS is not inevitable unless we make it so.
Treatment Access
The big news for global HIV treatment was a new pricing agreement that will speed up access to generic, dolutegravir-based fixed dose combinations (FDCs).
This will mean that HIV positive people in generic-accessible low- and middle-income countries (LMICs), can be treated at an annual cost per person of around US $75. The price announcement was made on 21 September 2017.
The FDCs combine tenofovir disoproxil fumarate, lamivudine, and dolutegravir (TLD) and were developed by Mylan and Aurobindo under licensing agreements from ViiV Healthcare. Both generics received tentative approval from the US FDA for TLD in August.
Advertisement
The FDCs will help enable countries to transition to DTG-based regimens. As of the end of the year, almost 60 countries had adopted or are planning to include DTG in national treatment guidelines for first-line ART. Brazil, Botswana, Kenya and Uganda have already started treating people with DTG. PEPFAR has recommended rapid introduction of DTG in their key target countries. It has been estimated that approximately 15 million people will be taking DTG by 2025 and it will replace first-line efavirenz.
This year DTG (as well as PrEP) was added to WHO essential medicines list.
And the country with the highest national prevalence in the world, Swaziland, with 32% among a population of just under 1.5 million in 2011, using currently recommended ART, saw a decrease in HIV incidence by almost half and a doubling of viral load suppression among adults, between 2011 and 2016.
The new DTG-based regimens will help more countries to provide ART to more people and get nearer to 90-90-90 targets.

Related: Top 10 HIV Clinical Developments of 2017
HIV Transmission: UK Response
Closer to home, the year began with remarkable news on the 40% drop in HIV diagnoses at central London clinics, confirmed throughout the year.
The annual UK surveillance reports consolidated this phenomenon, showing similar percentage reductions in all seven regions of the UK.
The growing confidence that undetectable viral load means HIV is untransmittable (U=U) resulted in breakthrough endorsements, most crucially, from the US Centers for Disease Control and Prevention (CDC). A special report from i-Base reviewed the evidence and the 20-year timeline that it took to reach this stage, including new results from the Opposites Attract study.
Antiretrovirals: Approvals and Pipeline
During 2017, there were several approvals of new drugs and formulations, and many other compounds are still in development.
At the end of the year, Symtuza (darunavir/cobicistat/FTC/TAF aka D/C/F/TAF) was approved for adults and adolescents in the EU, the first single pill protease inhibitor-based FDC.
Similarly, Juluca (dolutegravir/rilpivirine) was approved in the US as a dual therapy switch option for adults on stable ART (undetectable viral load for at least six months). The indication includes not having previous treatment failure of drug resistance to the individual components. The EU decision is expected in early 2018.
Bictegravir was also submitted in the US with accelerated review. [13]
CROI 2017 produced results for bictegravir (phase 2), doravirine (phase 3), and GS-9131 (preclinical).
IAS 2017 included results on once-daily raltegravir (96 week phase 3), the bictegravir FDC (phase 3), doravirine (48 week phase 3), long-acting cabotegravir/rilpivirine injections, D/C/F/TAF (phase 3) and MK-8591 (early results).
EACS 2017 included results for fostemsavir (phase 3), D/C/F/TAF (phase 3).
Developments in paediatric ART included the FDA approval of raltegravir for treatment of neonates from birth to four weeks of age -- weighing at least 2 kg. This approval was supported by data from IMPAACT P1110, looking at the safety and pharmacokinetics of raltegravir oral suspension in high-risk HIV exposed newborns. Raltegravir is now one of the few antiretrovirals approved for treating babies from birth.
Data presented at CROI 2017 revealed that tenofovir alafenamide (TAF) exposure is modestly higher in children aged 6-12 years than adults.
Another CROI presentation showed DTG granules-in-suspension achieved satisfactory exposures in children of the same age. This formulation will not be commercially available but these data will form the basis for DTG dosing as dispersible tablets to be studied in this and younger age (and weight-based) cohorts, which are now enrolling.
And a presentation at the 9th International Workshop on HIV Pediatrics 2017 showed chewable raltegravir tablets can be crushed and stirred until dispersed in liquids and given to younger children according to WHO weight bands.
Fit for Purpose, our twice-yearly review of developments in ART optimisation expanded in July to include our review of the adult pipeline (a comprehensive summary of 25 compounds) as well as paediatric developments.
We also produced a more detailed HIV pipeline review.
Figure 1: HIV Pipeline 2017: Targets in the HIV Lifecycle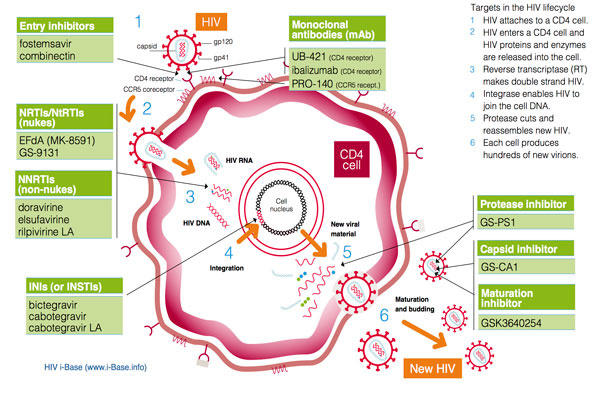 Key: INSTI: Integrase strand transfer inhibitors; NRTI: Nucleoside/tide reverse transcriptase inhibitors; NNRTI Non-nucleoside reverse transcriptase inhibitors.