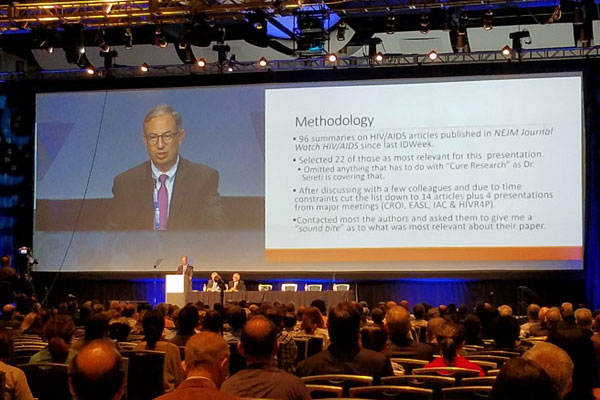 Carlos Del Rio, M.D., addresses attendees at last year's IDWeek conference (Credit Myles Helfand)

With the annual IDWeek conference fast approaching, thousands of leading physicians and researchers will once again gather to learn about cutting-edge research on HIV prevention, treatment and cures -- and to discuss how to apply that research in ways that can directly benefit people living with HIV today.
This year's conference takes place from Oct. 4 through Oct. 8 in San Diego, California. Experts expect to learn a lot more about several important prevention efforts, such as ongoing research into disparities in access to pre-exposure prophylaxis (PrEP), as well as on HIV vaccines.
On the treatment side, participants can expect new data on HIV drug candidates potentially nearing U.S. Food and Drug Administration (FDA) approval, such as injectable cabotegravir for PrEP and cabotegravir/rilpivirine as a long-acting antiretroviral, as well as the antiretroviral combos bictegravir/emtricitabine/tenofovir alafenamide and darunavir/cobicistat/emtricitabine/tenofovir alafenamide. They will also hear about extensive new research on how to best address the twin epidemics of opioid addiction and HIV.
"As a clinician, I find IDWeek to be one of the best infectious disease conferences because it's a nice combination of cutting-edge research and experts in the field putting that research into context," said Rajesh Gandhi, M.D., director of HIV clinical services and education at Massachusetts General Hospital and one of the HIV Medicine Association representatives on the IDWeek program committee.
Advertisement
Although recent news of antibody research in primates has spurred broad interest in cure research, IDWeek presentations will continue to focus on research updates with more immediate implications for clinical practice.
IDWeek is "less futuristic, more practical," said Michael Farzan, Ph.D., co-chair and professor in the Department of Immunology and Microbiology at Scripps Research Institute's Florida campus. As a scientist, Farzan says he appreciates IDWeek because, with ongoing crisis such as the opioid epidemic and racial disparities in HIV infection rates, "I've come to appreciate that the behavioral side has become more important."
Mitchell Warren, executive director of AVAC, agreed. "For me, one of the things that's increasingly critical is this interplay between the exciting science and the headlines, versus [interventions] that will have an impact on the epidemic in the near term," Warren said. With two million new cases of HIV per year, "We've got to do better in bending the curve of the epidemic."
Prevention Efforts and PrEP Disparities
This year, IDWeek is chock full of abstracts focused on PrEP, which after years on the U.S. market has finally begun to show promising uptake in white men who have sex with men (MSM) but remains little utilized within (or prescribed to) other populations.
"Oral PrEP right now does provide us with an incredible opportunity, [but] we need to make sure we're asking the right questions," said Warren. "What does prevention look like in each city, state, country? Are we delivering it to the right people? Are we maximizing our impact?"
"The CDC [Centers for Disease Control and Prevention] estimates there are 1.2 million Americans who have an indication for PrEP," said Gandhi. "As of last year, only 100,000 have accessed PrEP, so clearly there's a long way to go."
Intertwined with PrEP research are the ongoing questions around the possible correlation between increased PrEP use and the rise of sexually transmitted infections (STIs), said Warren. A 2017 study presented at CROI found that although STI rates among MSM who use PrEP are very high, it's unclear whether that's because men who use PrEP are changing their behavior or because they're merely getting tested for STIs at a higher rate. Meanwhile, a CDC study presented at CROI seemed to suggest that MSM who use PrEP may see a reduction in some STIs even when condom use is reduced.
This type of research will become increasingly significant as new innovations coming down the pike, such as HIV vaccines and new PrEP drugs such as injectable cabotegravir, will make it more important than ever to take a hard look at STIs, Warren said.
Opioid Epidemic and Price Gouging
This year, IDWeek will tackle two topics that have become permanent fixtures in the news and mounting problems in American society: the opioid epidemic and skyrocketing drug prices.
"Price gouging and the high cost of drugs will be featured prominently at IDWeek," said Gandhi. On Friday, Oct. 6, a poster abstract session called "HIV: Health Care Utilization and Costs" will feature presentations from Carlos Santos, M.D., M.P.H.S., and Shannon L. Turvey, M.D., M.Sc., FRCPC.
Meanwhile, the conference will also tackle the opioid epidemic head-on, a recognition of the growing burden the epidemic places on HIV treatment and prevention efforts, but also on society at large.
"Several of the sessions at IDWeek are focused on the opioid epidemic," said Gandhi, who pointed to a symposium called "Managing Infections in Opioid Users," which will take place on Wednesday, Oct. 4, and feature talks from Brianna L. Norton, D.O., M.P.H., and Loren Miller, M.D., M.P.H., FIDSA.
During an Oct. 4 symposium, Gregory Lucas, M.D., Ph.D., Johns Hopkins University, Baltimore, Maryland, will present new approaches to managing HIV patients with substance abuse disorders, which is an example of "putting cutting-edge research into context" for providers, said Gandhi.
New Treatments on the Horizon
With new formulations of antiretrovirals (ARVs) on the horizon, Farzan noted, "The most immediate thing of interest to me is the long-acting ARVs, cabotegravir and ripitivine." The idea behind these injectables is that they might provide long-term protection for HIV-positive people who experience challenges with daily medication adherence or who would prefer less frequent dosing.
IDWeek attendees will also get an update on new oral antiretroviral drugs that are on the cusp of approval. At the conference, there will be "data coming out on new drugs that have recently been submitted to the FDA," said Gandhi. For example, an approval decision is pending for bictegravir/F/TAF, according to drugmaker Gilead's website. Just this week, Janssen announced its FDA submission for darunavir/cobicistat/emtricitabine/tenofovir alafenamide.
Earlier this month, Science magazine prominently featured new research that found that antibodies attacked 99% of HIV strains in primates. Although the research is still only in animals, it drummed up considerable attention around the approach of using antibodies to eradicate reactivated, HIV-infected cells.
However, Farzan noted, "Killing the reactivated cells is only half the equation[;] ... the other half is getting more cells to reactivate, and there are still a lot of questions about the nature of the reservoir."
"We've got 20 years before anybody has a robust cure that can be used broadly," said Farzan. New cure research at IDWeek will be summarized in the symposium "What's Hot in HIV Basic Science," by Joel Blankson, M.D., Ph.D., and "HIV on the Horizon," by Daniel Kuritzkes, M.D., FIDSA.
At IDWeek, Farzan said, we're likely to get a nice summary of "futuristic" technologies such as antibody research, but the bulk of the conference will likely focus on research that will provide helpful context and insights for physicians and public health workers working to eradicate HIV with the existing armamentarium.
Sony Salzman is a freelance journalist reporting on health care and medicine, who has won awards in both narrative writing and radio journalism. Follow Salzman on Twitter: @sonysalz.