Alcohol, Hard Drugs and Toxicity Beliefs
Alcohol use and drug use are well-studied predictors of poor antiretroviral adherence. Systematic review of 7 prospective observational cohorts, 11 cross-sectional analyses, and 2 randomized controlled trials found links between alcohol use disorder and poor adherence in most of these studies.16 The researchers site evidence that alcohol abuse and faulty adherence have a synergistic impact on morbidity and mortality, calling the literature on this interface "staggering."
In the United States, alcohol use affects adherence in women as well as men with HIV. Analysis of 1304 HIV-positive women in the Women's Interagency HIV Study (WIHS), 82% of them black or Hispanic, recorded low alcohol drinking in 28%, moderate to heavy drinking in 8%, and binge drinking in 4%.17 More than one third of women (37%) had symptoms of depression. The researchers defined decreasing adherence as 100% self-reported adherence at one visit followed by less adherence at a subsequent visit. Multivariate logistic regression determined that all three drinking levels (compared with no drinking) independently predicted decreasing adherence in women (Figure 3).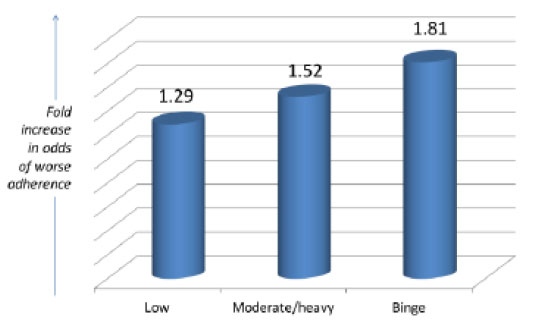 Figure 3. Analysis of 1304 antiretroviral-treated US women in the Women's Interagency HIV Study (WIHS) linked low, moderate-heavy, and binge drinking to decreasing adherence when compared with no drinking.17 (Values are adjusted odds ratios; 95% confidence intervals for low drinking 1.06 to 1.57, for moderate to heavy drinking 1.11 to 2.07, and for binge drinking 1.20 to 2.72).

A prospective study of 559 men and 84 women enrolled in an ACTG trial linked hard drug use (cocaine, amphetamines, or heroin) to poor adherence and AIDS progression or death.23 The researchers defined nonadherence as missed antiretroviral doses in the 48 hours before study visits. The ACTG team collected data from October 1997 through April 2007, and median follow-up measured 6 years. High proportions of participants reported ever using cocaine (39%), amphetamines (24%), or heroin (10%), while 8% called themselves heavy drinkers and 32% binge drinkers. Generalized estimating equation models determined that hard drug use doubled the odds of nonadherence (aOR 2.14, 95% CI 1.36 to 3.38, P < 0.001), while binge drinking upped the odds about 50% (aOR 1.53, 95% CI 1.21 to 1.92, P < 0.01). Time-updated nonadherence almost doubled the odds of a new AIDS condition or death in a Cox proportional hazards model (adjusted hazard ratio 1.84, 95% CI 1.15 to 2.94, P = 0.01).
People who drink alcohol59,60 or use drugs61 may interrupt their antiretrovirals because they incorrectly fear interactive toxicity between the alcohol or drugs and their antiretrovirals. In one study 57 men and women reported alcohol use over 45 days by text messaging, while researchers recorded antiretroviral adherence by the Wisepill device, a wireless pill container.59 Participants who believed alcohol interacts with antiretrovirals missed doses on significantly more days. Multivariate regression determined that interactive toxicity beliefs predicted daily missed doses regardless of depression, general medication concerns, or the amount of alcohol consumed. In an interview in this issue, Seth Kalichman stresses that mixing alcohol and antiretrovirals poses risks only in people with a compromised liver (see "Correcting Mistakes and Misperceptions in Managing Antiretroviral Adherence").
Advertisement
When Good Adherence Goes Up in Smoke
Studies disagree on whether smoking cigarettes independently predicts poor adherence in people with HIV. Sorting out the independent impact of smoking is complicated because so many people with HIV smoke and so many smokers have other addictive habits -- and socioeconomic traits -- that also promote poor adherence. Even robust multivariate analyses cannot hope to adjust for all adherence-related risks, some of which may remain unknown to the investigators.
Two recent studies could not confirm an independent link between cigarette smoking and poor antiretroviral adherence62,63 and four studies could.9,12,25,64 The two studies that could not link smoking to poor adherence have their limits. One study focused only on men who have sex with men who report heavy drinking -- itself a notable adherence risk factor.62 Almost half of the 185 study participants smoked. A significantly higher fraction of current smokers had imperfect adherence (37% versus 22%, P < 0.05). But multivariate regression singled out only lower education as an independent predictor of faulty adherence.
The second inconclusive study focused on 203 HIV-positive people enrolled in a US trial to test adherence interventions, which did not improve adherence.63 So these 87 daily smokers, 48 occasional smokers, and 68 nonsmokers had tough adherence problems. One third had a monthly household income below $500, 43% recently used drugs, and 56% drank alcohol. Proportions of antiretroviral doses taken at five intervals up to 48 weeks (measured by MEMS caps) did not differ significantly between daily smokers, occasional smokers, and nonsmokers. Longitudinal generalized estimating equation analysis found no association between smoking status and adherence over time.
Four recent studies that did pinpoint smoking as an independent predictor of flawed adherence are (1) a 5295-person analysis of the international randomized SMART trial (current smoking aOR 1.54, 95% CI 1.41 to 1.68, P < 0.0001),9 (2) a 326-person US randomized smoking-cessation trial (nicotine dependence aOR 1.13, 95% CI 1.02 to 1.25, P = 0.023),12 (3) a 64-person prospective US study using MEMS monitoring (current smoking P = 0.001),25 and (4) a 218-person Belgian study in which smoking, neurocognitive complaints, and female sex independently predicted nonadherence.64
"Mild" Side Effects Can Thwart Adherence
Clinical trials of new antiretrovirals typically find most side effects are "mild or moderate," but research shows that even side effects managed by pat-on-theback counseling can have a big impact on antiretroviral adherence. Teaming with a British research firm, Merck investigators conducted a meta-analysis of studies weighing the impact of specific and nonspecific treatment-related adverse events on adult adherence to antiretroviral therapy (Figure 4).38 Focusing on 18 antiretroviral side effects in 19 studies, the researchers found significantly lower pooled odds of adherence in people who endured "nonspecific" adverse events than in those with no adverse events (pooled OR 0.62, 95% CI 0.46 to 0.83, P = 0.001). Patients reporting certain specific but seemingly second-tier side effects proved significantly less likely to adhere to ART: cough (pooled OR 0.65, 95% CI 0.53 to 0.79, P < 0.001), fatigue (OR 0.63, 95% CI 0.43 to 0.92, P = 0.016), anxiety (OR 0.63, 95% CI 0.41 to 0.95, P = 0.028), confusion (OR 0.35, 95% CI 0.18 to 0.66, P = 0.001), taste disturbance (OR 0.49, 95% CI 0.30 to 0.77, P = 0.003), nausea (OR 0.57, 95% CI 0.43 to 0.77, P < 0.001), vomiting (OR 0.49, 95% CI 0.24 to 1.02, P = 0.056), and tingling in mouth or tongue (OR 0.67, 95% CI 0.42 to 1.05, P = 0.079).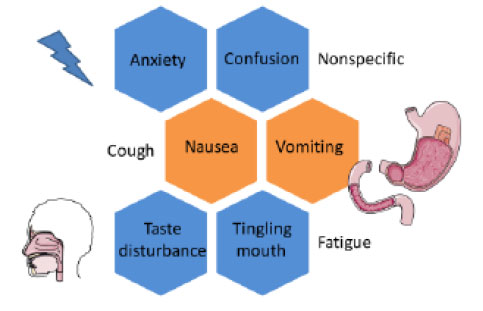 Figure 4. Even antiretroviral side effects typically considered "mild" or "minor" can impair adherence, according to results of a 19-study meta-analysis. (Source: Al-Dakkak I, et al.38 See text for pooled odds ratios. Clinical images from Servier PowerPoint Image Bank.)

Dermatologic side effects and lipodystrophy did not dim adherence in the 19-study meta-analysis.38 But a 39-article systematic review identified 16 studies (41%) that found visually noticeable antiretroviral side effects contributed to poor adherence (weight gain/loss, excess sweating, darkening skin color, body odor, hair loss, rash).37 Seven studies (18%) produced evidence that psychological adverse reactions impaired antiretroviral adherence. Six studies (15%) found that neuropsychological side effects in people taking efavirenz weakened adherence. Overall 33 of 39 articles (85%) reported that adverse antiretroviral drug reactions impair adherence, while 6 did not.
A cross-sectional study of the national Swedish HIV cohort also linked side effects to adherence.4 The analysis involved 2846 HIV-positive people who completed a 9-item health questionnaire from 2012 through 2014. Two thirds of participants were men, and heterosexual HIV transmission was more common than male-to-male transmission (49% versus 40%). Logistic regression modeling determined that chances of adherence (missing no doses in the past week) were almost twice higher in people reporting no side effects (aOR 1.79, 95% CI 1.38 to 2.31).
Low Perception of Side Effects as Adherence Barrier, but High Impact
AIDS Clinical Trials Group (ACTG) investigators studying 1496 people enrolled in 11 clinical trials found that side effects ranked low as a patient-reported barrier to adherence.48 But dominance analysis (a regression-based approach calculating effect size49,50) determined that side effects have a big impact on viral load. Study participants reported adherence barriers after the first 12 weeks of therapy, and researchers measured viral load at week 24. On a list of 14 potential self-reported barriers to resistance, wanting to avoid side effects ranked eighth in patient-reported frequency and feeling an antiretroviral was harmful ranked twelfth (Table 2). But the dominance analysis rated wanting to avoid side effects the fourth most important factor in affecting week-24 viral load, while feeling an antiretroviral was harmful came in third in that analysis (Table 2).
Keys to Counseling on Side Effects
People starting antiretrovirals cope with manageable side effects better if they know what to expect, and as a result they have a better shot at good adherence. That guidance emerged from the systematic review of 39 studies exploring how antiretroviral side effects shape adherence.37 "When people receiving ART had prior knowledge of antiretroviral adverse drug reactions, or had been informed in advance of potential adverse reactions and how to manage them," four studies showed, "they felt these reactions were expected, normal and manageable, and therefore reported less non-adherence."37 Patients had better adherence when armed with coping strategies for antiretroviral side effects -- like drinking fluids and resting to reduce dizziness or taking pills with a snack or meal to avoid nausea.