Simply forgetting to take antiretroviral pills, being away from home, and a change in the daily routine headed the list of reasons for inconsistent antiretroviral pill taking in a 125-study analysis.1 Research shows that certain strategies help HIV-positive people remember to take their pills on time.2 But by showing that different groups forget to take their antiretrovirals for different reasons, the new study1 indicates that no single pill-taking strategy will work for everyone.
Antiretroviral combinations available today help most people achieve the main goal of antiretroviral therapy -- reaching and maintaining an undetectable viral load. Probably the key barrier to achieving this goal is imperfect antiretroviral adherence -- failing to take antiretroviral pills on time every day.
A person with very poor antiretroviral adherence -- missing pills regularly more than a few days -- faces several risks, including development of HIV resistant to antiretrovirals, development of AIDS illnesses, and death. To get a better understanding of barriers to good adherence in HIV-positive people across the world, an international team of researchers conducted this combined analysis of studies addressing adherence.
Advertisement
How the Study Worked
The researchers reviewed online medical databases and major HIV meetings for studies focused on barriers to adherence. The investigators included only studies that had adherence barriers reported for at least 50 adults or 20 children. They analyzed only findings on study participants with nonadherence, according to each study's definition of nonadherence. All studies were presented between January 1997 and March 2016. The research team also collected information on study design, study location, and patient age.
The researchers created a list of barriers to resistance identified in the studies they analyzed. They recorded proportions of adults, adolescents, and children in each study who reported each barrier to adherence. For children, parents or other caregivers often reported adherence. Then the investigators used standard statistical methods to combine data from each study into a single calculation of the proportion of patients facing each barrier to adherence.
What the Study Found
The researchers found 125 studies that met their needs. The studies included 19,016 people with antiretroviral adherence problems: 17,061 adults, 856 adolescents, and 1099 children. Most studies took place in Africa (55 studies) or Europe (14 studies). Most studies defined adherence as missing no antiretroviral doses or taking more than 95% of doses.
The most frequent barriers to adherence were similar in adults, adolescents, and children (Figure 1). The most frequent barriers were (1) simply forgetting to take pills (41.4% of adults, 63.1% of adolescents, 29.2% of children), (2) being away from home (30.4% of adults, 40.7% of adolescents, 18.5% of children), (3) a change in daily routine (28.0% of adults, 32.4% of adolescents, 26.3% of children), (4) depression (15.5% of adults, 25.7% of adolescents, 15.1% of children), and (5) alcohol or substance misuse (12.9% of adults, 28.8% of adolescents).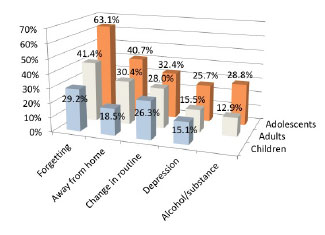 Figure 1. A 125-study analysis of more than 19,000 people with HIV found that the most frequent barriers to resistance were similar in adults, adolescents, and children. But frequency of these barriers was always higher in adolescents than in adults or children. (Alcohol/substance means alcohol or substance misuse.)

Rates of some barriers to adherence differed by age group. Among adults, higher proportions reported feeling sick versus feeling good as a reason for nonadherence (15.9% versus 9.3%) (Figure 2). In contrast, feeling good caused nonadherence more than feeling sick in adolescents (26.5% versus 19.9%) and in children (10.6% versus 7.1%). A need for secrecy was a frequent cause of nonadherence among adolescents (40.1%) and children (22.3%) but was less frequent among adults (13.6%).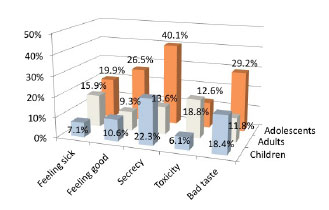 Figure 2. Relative frequency of some barriers to adherence differed by age group. For adults, feeling sick was a more frequent reason for nonadherence than feeling good; but for children and adolescents, feeling good was a more frequent reason than feeling sick. For adults toxicity mattered more than bad taste; but bad taste mattered more than toxicity for children and adolescents.

A desire to avoid antiretroviral side effects was frequent among adults (19.1%) and adolescents (19.6%). A similar concern, antiretroviral toxicity (harmful effects), was also frequent among adults (18.8%) and less frequent among adolescents (12.6%) and children (6.1%) (Figure 2). Palatability (good versus bad taste) was a frequent concern of adolescents (29.2%) but less frequent in children (18.4%) or adults (11.8%).
Statistical analysis indicated that the frequency of some reported barriers to adherence decreased over time, including antiretroviral toxicity, side effects, too many pills, palatability, and feeling sick.
What the Results Mean for You
Once you start antiretroviral therapy, the most important thing to do is take all your antiretroviral pills on time, exactly as your HIV provider instructs. Taking all your pills on time should make your viral load undetectable and raise your CD4 count. As a result your chance of getting an AIDS disease will fall sharply and your health will improve in other ways.
The most-used antiretroviral combinations today require only a few pills -- often just one -- and most combinations are taken just once a day. These combinations are easy to take, and many people quickly get into the habit of taking their antiretrovirals every day. But this study shows that several problems can upset daily pill taking -- from simply forgetting to take the pills to worrying about antiretroviral side effects. You have probably faced one or more of these problems from time to time. It is important to know that strategies exist to overcome or control many of these problems. Careful studies in people with HIV show that these strategies work, as noted by the authors of this study1 (Table 1).
Table 1. Strategies That Eased Adherence Problems in Randomized Trials
Adherence Barrier
Strategy
Forgetting to take pills
Text messaging; reminder devices
Travel
Pillbox organizers
Antiretroviral toxicity (harmful effects)
Different antiretrovirals with less toxicity
Depression
Mental health support
Alcohol or substance misuse
Counseling
Antiretroviral medicine palatability (taste)
Improved medication types for children
Too many antiretroviral pills
2-in-1 or 3-in-1 antiretroviral pills

This activity has been planned and implemented in accordance with the Essential Areas and Policies.

If you face any difficulty in taking your antiretroviral pills on time, tell your HIV provider. There is a very good chance that your provider can help you find a solution to the problem. The solution may be one of those listed in Table 1. Or your provider may have a different idea. If your antiretroviral combination requires several pills -- or if you think your antiretrovirals are causing side effects -- your provider may be able to switch you to a different equally effective combination.
Some adherence problems are harder to fix. If you suffer from depression, let your HIV provider know. There are effective treatments for depression, including medications and short-term counseling. Substance abuse problems -- whether alcohol, party drugs, or injected drugs -- can upset good adherence and threaten your health in other ways. Team up with your provider to tackle these problems by finding a program that helps you overcome them.
Don't let adherence problems linger. After you take the first step to solving adherence problems, the later steps may be easier than you imagined.
References
Shubber Z, Mills EJ, Nachega JB, et al. Patient-reported barriers to adherence to antiretroviral therapy: a systematic review and meta-analysis. PLoS Med. 2016;13:e1002183.
Kanters S, Park JH, Chan K, et al. Interventions to improve adherence to antiretroviral therapy: a systematic review and meta-analysis. Lancet HIV. 2016. Published online November 15.