We Still Alive
ANAC held the conference in Georgia, the location of the second-largest HIV epidemic in the country (behind Florida) precisely because the epidemic has changed. It's largely rural, African American and, often, poor -- impacting people who don't have a lot of access to care and places where public health programs are operated without much state or federal funding.
In a weird way, it was the perfect setting in light of potential cuts to HIV and public health funding. After Diallo's session on HIV in African-American women, she ran into an ANAC member. Between fielding congratulations for her session and greetings from nurses, she chatted with a white woman and non-Southerner, who told Diallo she'd been in a dark hole since the election but also buoyed by moments of light provided by Dieffenbach and others during the conference.
"It was like, OK, we have some work to do," the woman said. "And I'm glad that some people are looking forward because I'm not there."
"I ain't got a choice," Diallo responded. "Because, I keep reminding people, I live in Georgia. This has been our existence with these kinds of people."
Then Diallo paused and smiled and said, "Don't be scurred. We still alive. We ain't dead."
Advertisement
The other woman agreed and started speaking faster, saying, "I realize how incredibly privileged I am because I've never had this feeling before. And that's what I thought about: If I lived in Georgia ..."
"... Georgia, Alabama, Mississippi," Diallo provided.
"And if I had a different skin color and different life ..."
Diallo nodded. "Pick one."
"I would be. ... This wouldn't be as. ... This wouldn't have been the first time in my life that I've felt this," the woman said to Diallo.
Someone else piped up, saying that it was a welcome-to-the-world moment.
"Yep," Diallo said, "welcome to the world. But hey -- now we're in the same boat."
Still, even with all her experience, Diallo said she's worn out. She'd just returned from South Africa and was still jet lagged. Then the election results came in. The day after the election would have been her late husband's 50th birthday.
"I'm tired," she said. "I'm tired."
But she doesn't stay down long.
"I ain't gonna front," Diallo told me. "Every time I see them put up a new face of who might be in the cabinet, I get this grip, like, 'Oh, we're fucked.' And then I go, 'Oh, but I got all these people in my state right now.' Oh, OK. We know how to fight this."
We also know, del Rio reminded the audience during his plenary, how to provide prevention services and care for people living with HIV in climates of criminalization and stigma and with little funding. Just look, he said, to Africa.
Global health doesn't exclude the U.S., he said. We're part of it.
"We need to bring [those lessons] home," he said. "And we need to implement it here. Because increasingly we are becoming a developing country in many areas."
Quiet Words Between Sessions, Plus Fairy Dust
The conference was subdued. Had this been a conference with a lot more activists or advocates present, it would have had a different cadence, Diallo said -- moments of deep despair, followed by moments when rage swept the room. As it was, the so-called bubble manifested as quiet words between sessions, a hand on a shoulder and a shared moment where the common words were, "I'm so glad I'm here."
For Erik Mortensen, a nurse practitioner in private practice in New York City, the conference was a respite and a relief. On the morning of the election, he was telling patients, "I'll see you when we have our female president!" The election results, he said, have been like one gut punch after another.
Still, Mortensen showed up and showed out -- in this case, in a delicate tutu, tights and sneakers. For the 12th year in a row, he did a little ballet to the Tinkerbell song during the conference's opening-night gala. He was hesitant -- he was a professional dancer 25 years ago, but he's rusty now. And, he gets tired more easily. But, he pushed through.
"I just said, 'There's no room not to connect,'" he said. "These people need love. I need love. It just kind of washed over me, and it was profound."
All the more so for him, he said, because almost everyone in his family voted for Trump.
"I needed this so bad," he said of the conference. "The rest of the conference has been so important to open me up. It always does; I always get re-inspired. But this week, with my whole family voting for Trump -- almost my whole family -- you know, me feeling like I'm from another planet from my relatives, being here in the army of amazing people who build mountains all over the world here ... I just wish other people had a network like I do."
"It Fills You Inside for Pressing Forward"
Treston made a point even before the conference started -- even before the election -- that ANAC has a long history of activism on behalf of patients.
"Back in the ACT UP days, ANAC nurses were on the front lines of protests," she said.
Now, she said after the conference's closing plenary, they may be again.
In a video displayed during the last plenary, photos of ANAC members scrolled across the screen: nurses at ACT UP protests; nurses hugging their patients who were dying from AIDS-defining illnesses in the 1980s; current-day photos of nurses grouped in threes or fours, wearing name badges, rosy-cheeked nurses who are themselves living with HIV. The video's theme song was Sara Bareilles's "Brave."
On the closing afternoon of the conference, four days had passed since the election, and there was still no certainty about funding or direction. The horror stories of abuses and discrimination kept pouring it. But Mortensen said he was leaving prepared to fight. So was Roberson.
"It fills you inside for pressing forward," he said.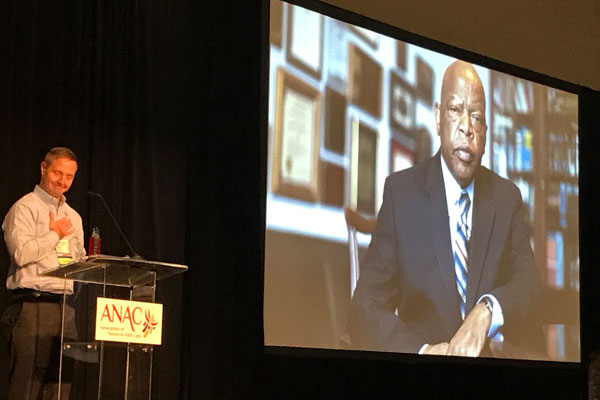 Jason Farley, Ph.D., ANAC president, reacts to remarks by Rep. John Lewis (Credit: Heather Boerner)

And that's exactly what Rep. John Lewis, the Democratic congressman who entered politics as a civil rights activist in the '60s, urged the nurses to do. Lewis was meant to be the conference's closing speaker. But, because of the election, he remained in Washington, D.C., to strategize about the administration to come.
It was a disappointment to the audience, many of whom had lingered on the last day just to see him. He did record a video for the assembled nurses, though. As researcher Dennis Flores introduced the video, images of Lewis's life flashed on the screen: images of him walking on the Edmond Pettis Bridge in Selma, Alabama, as a grown man; images of him doing the same during the Montgomery bus boycott; images of sit-ins in the 1960s and a sit-in on the House floor this summer on gun control; images of protests and of marches.
"You are on the frontline to help those that need help," Lewis said in the recording. "I say to you, as you continue to do your great and good work, never give up. Never give in. Never lose hope. Continue to work, and you're doing the good work, the necessary work. And sometimes you may be feeling down and lonely and isolated. But hang in there. Keep the faith, and keep your eyes on the prize."
ANAC president Farley reminded the group that nurses can be part of that collective push.
"We are an organization that lives our values. Our values include diversity in all forms: Our values include diversity of political affiliation. They include non-discrimination against any and all people," he said. "It's up to us as a community, as nurses, as people who really embody diversity in all of its forms, to make sure that we keep the fires burning on that diversity."
Heather Boerner is a health care journalist based in San Francisco and author of Positively Negative: Love, Pregnancy and Science's Surprising Victory Over HIV.

Copyright © 2016 Remedy Health Media, LLC. All rights reserved.