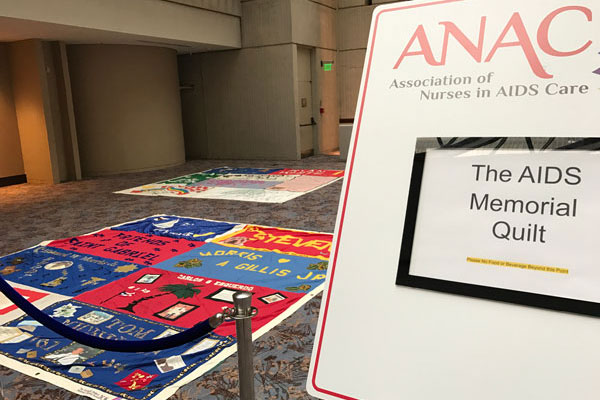 Credit: Heather Boerner

Dana Hines, Ph.D. M.S.N., didn't want to come to Atlanta on Wednesday, Nov. 9, despite the importance of the annual conference of the Association of Nurses in AIDS Care (ANAC).
"The day after the election, I felt paralyzed," said Hines, an assistant professor at George Washington University in Washington, DC. "I felt depressed -- like I was grieving, like someone had died -- because as a nurse and an HIV researcher who's working on issues that impact trans populations, I am deeply troubled and bothered and scared by what's going to happen with funding to support HIV research with the current administration."
With all of those emotions soaking her system, she wasn't sure she wanted to deal with what often happens at airport security: the "random selection" to the 3D scanner, and the pat downs of even her spiraling, natural hair.
She wasn't sure she wanted to fly into Georgia -- even the blue dot of Atlanta -- because Georgia "had voted for this," this change in administration, this Republican-led House and Senate that has made its distain for health access, LGBT rights and black lives evident. As an Indiana native, she knows what Mike Pence, the vice president-elect, has wrought in that state.
Advertisement
Yet, somehow, she did walk through the security gates in D.C. And she did land in Atlanta. And what she found on the other side, at the annual ANAC event, was an oasis. It wasn't an alternate reality in which the Electoral College matched up with the popular vote, ushering in a president with a plan for HIV care and prevention. But it was a safe space, she said, to talk and mourn and prepare to fight -- all with people who are also dedicated to the care of those affected by HIV.
"It feels good to know that there are other people who don't look necessarily like me, a black woman, who can empathize and understand what we are feeling in this moment," she said. "There's been this common theme throughout people's keynotes and the plenary sessions acknowledging that we are all here and that many of us came here in a place of feeling hopeless and wounded, but that we can't give up that fight. We have to continue to use this energy and transform it into something that is more constructive."
Registered nurses, nurse practitioners, allied health professionals and researchers who attended the conference discussed ways to get people enrolled in care and tackled the conference's theme of "no one left behind" in care or cure. But the specter of funding cuts and worsened stigma hung over everything, interspersed with points of light and connection.
The People I Advocate For Can't Just Take Off Their Identities
Before the opening plenary, Jonah Pierce, an HIV/AIDS certified registered nurse at a Ryan White clinic in North Carolina, was putting his phone away and looking a little stunned. Among other things, he'd gotten a call from his sister. She told him that she'd been run off the road by a white guy who screamed, as he went, past that Hillary Clinton was a traitor and should be arrested. It made him think, he said, of her safety and of his own.
"Should I take the stickers off my car?" he said, his voice tight. Then he straightened and said, "No, I won't hide."
There were other stories, like Hines' friend in Indiana, who posted on Facebook that she'd been followed for several blocks because she had a license plate emblazoned with a rainbow and the name of a local LGBT youth group.
"Here's this cisgender woman who is in a heterosexual relationship," Hines said. "She thought, 'Should I take this license plate off? Should I change it?' And she was like, 'No -- because the people I advocate for, they can't just take off their identities.'"
Then the opening plenary started. Jason Farley, Ph.D., M.P.H., ANP-BC, co-director of clinical core for the John Hopkins Center for AIDS Research and current ANAC president, took the stage only to inform the group that a member had just received a call. Someone had walked out of his house that morning to a sign on his car saying, "Your gay marriage doesn't matter and neither do your votes."
"I haven't stopped shaking since he told me that," Farley told the crowd. "I'm not telling you this to open this conference on a downer. I'm sharing that with you because we have work before us, people."
Rewriting the Letter to the New Adminstration
On Tuesday, Election Day, plans for the transition to a Clinton Administration had just about been completed. Carlos del Rio, M.D., a professor of medicine at Emory University and a physician at the Ponce De Leon HIV clinic at Grady Medical Center in Atlanta, had worked with a team at the HIV Medical Association to put the finishing touches on a letter to the incoming administration.
At the time, he told the plenary audience, "We were thinking about a Plan B" -- that is, a Trump Administration -- "but we said, you know, let's not even think about a Plan B."
Likewise, Dazon Dixon Diallo, founder and president of the sexual and reproductive justice group SisterLove, had been working with the people who'd be involved in a potential Clinton Administration to complete transition documents around HIV.
Then she added, "Everything was falling in line with what everyone was telling us, and then at 9 o'clock, shit changed. And now we're in a whole new, different spin."
Indeed, the election results had the policy people at the conference sharing how they are adapting to the new reality. Diallo said the organizations she's involved with aren't going back to the drawing board, but they will be going "way back and we have to come at it very differently."
Del Rio told the audience that, once the election results were clear on Wednesday, he did have to go back, and they did have to attempt a Plan B letter to the new administration on the importance of HIV funding and support.
This was the message he had for the nurses in the audience: We're going to have to work with the new administration. And we're going to have to speak to them in a language they might hear. So, del Rio rewrote the letter, highlighting that Ronald Reagan signed the Ryan White Care Act into law, and George W. Bush started PEPFAR.
"For our patients, for our country, we cannot just say everything's going to go to hell," he said. "This is not a matter of putting our heads down and saying, OK, let's do something in four years. Half of the country voted for something different, and I think we need to push for those things."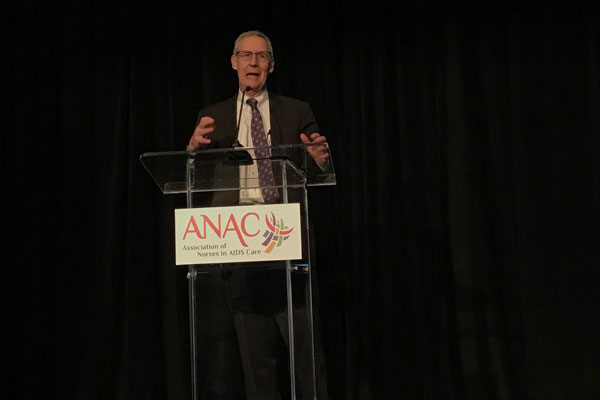 Carl Dieffenbach, Ph.D., director of the Division of AIDS at the National Institutes of Health (NIH) said the next few years are going to require an organized, concerted effort (Credit: Heather Boerner)

Indeed, Carl Dieffenbach, Ph.D., director of the Division of AIDS at the National Institutes of Health (NIH), who addressed the opening plenary on cure research, said he's been at the NIH through several administrations. The next few years, he said, are going to require an organized, concerted effort. The U.S. is the primary funder of HIV research around the world.
"We have to take the big-picture view of research as part of a continuum of what we do in terms of the basic epidemiology that the [Centers for Disease Control and Prevention] does," he said. "At NIH, you have HRSA [the Health Resources and Services Administration], and you have SAMHSA [the Substance Abuse and Mental Health Services Administration], and you have CMS [the Centers for Medicare & Medicaid Services] and everybody. We have to look at this as a continuum. And all the agencies need to come up, not just the NIH."
But this still left some, such as Christopher Roberson, a nurse practitioner in Baltimore, concerned. His job doing outreach to people most affected by HIV is funded by an HRSA grant. He doesn't know, he said, what will happen to his position or to the people he serves. Any cuts, he said, "will certainly affect the care continuum."
That foggy future was on many people's minds at the conference, including Dieffenbach's.
"I was telling Carole [Treston, ANAC's chief nursing officer] beforehand, I have a crystal ball," Dieffenbach said to laughter from the room. "It is so cloudy right now. It's like the smoke over Atlanta. Actually, it's not as clear as that."