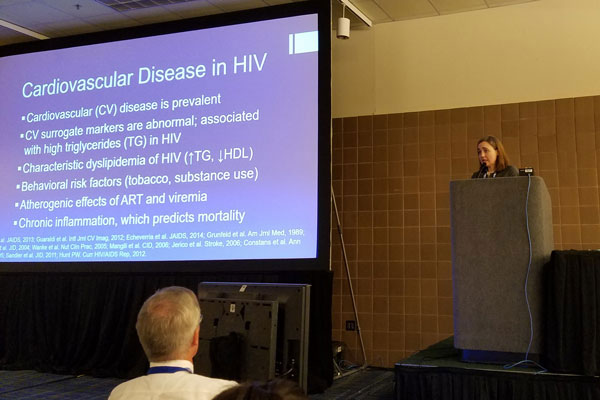 Gretchen Volpe, M.D., M.P.H., speaking at IDWeek 2016 in New Orleans, Louisiana (Credit: Myles Helfand/TheBodyPRO.com)

High-dose, long-term omega-3 supplementation appears to yield improved triglycerides and C-reactive protein levels among HIV-positive people with elevated triglycerides on stable antiretroviral therapy, a new study has found. In the study, the most significant benefits seemed to occur after the first year of supplementation, the results of which were presented at IDWeek 2016 on Oct. 28 by Gretchen Volpe, M.D., M.P.H.
Omega-3 fatty acids (often referred to as fish oils) have been an active part of the nutritional conversation in American culture for several years. A wide array of studies have suggested a range of potential health benefits associated with moderate consumption of these fats, which are commonly found in many fish, some nuts and several plant oils.
Volpe, an attending physician and assistant professor at the Tufts University School of Medicine, and colleagues honed in on the purported anti-inflammatory and lipid-lowering effects of omega-3 fatty acids in forming their study. Cardiovascular risk is a common comorbidity concern among people with HIV, in part due to a high prevalence of other risk factors (cigarette smoking and substance abuse, most notably), but also in part because HIV itself is associated with dyslipidemia, chronic inflammation and vascular dysfunction, Volpe said.
Advertisement
Thus Volpe et al designed what she described as the longest randomized, controlled trial of high-dose omega-3 fatty acid supplementation in people with HIV. A total of 117 HIV-positive adults on stable antiretroviral therapy for at least eight weeks who had elevated triglycerides (defined as having either fasting levels between 150 mg/dL and 2,500 mg/dL or as having a random triglycerides level over 200 mg/dL within a month of study screening) were randomized to receive a 4-gram daily dose of omega-3 fatty acids or a placebo. The high dose was selected, Volpe said, because earlier studies suggested a dose-dependent response to omega-3 supplementations.
Volpe et al selected a purified product -- Lovaza, a U.S. Food and Drug Administration-approved prescription medication consisting of approximately 465 mg eicosapentaenoic acid and 375 mg docosahexaenoic acid per 1-gram capsule -- instead of a cheaper over-the-counter supplement, so the researchers could feel confident that they would "know what we were giving," she said.
This was a relatively healthy group of volunteers, elevated triglycerides notwithstanding. Mean CD4 count at study entry was 648 cells/mm3, and nearly all volunteers were virologically suppressed. To participate, volunteers needed to have no inflammatory, liver or kidney disease, and no opportunistic infections or malignancies. This was also an HIV-experienced group: Average age was 51 and mean duration of HIV infection was 16 years. People were excluded if they were already taking fish oil and if they were pregnant (21% of the study population was female). Roughly 30% of study volunteers were taking a statin.
All volunteers in both study arms received dietary counseling, but otherwise received no other health interventions in the course of the study. Follow-up data was obtained for 24 months; primary outcomes were measured in changes to triglycerides, high-density lipoprotein (HDL) cholesterol and C-reactive protein. Volpe noted that previous omega-3 studies in an HIV setting did not extend beyond 24 weeks. That difference may have been the key to the positive results of the study findings.
At 24 months, Volpe et al found that median triglyceride levels dropped by 68 mg/dL in the omega-3 group compared with a 22 mg/dL drop in the placebo group (in an intent-to-treat analysis), a finding that was statistically significant (P = .041). That difference was similar to triglyceride changes seen among omega-3 recipients in studies of HIV-negative people, Volpe said.
C-reactive protein levels fell by 0.3 mg/L in the omega-3 group, a statistically significant finding (P = .008); by contrast, levels rose 0.6 mg/L in the placebo group, although that increase was not statistically significant. No significant difference in HDL cholesterol was seen between the groups.
The major differences between the study groups' triglycerides and C-reactive protein levels appeared to emerge only after the study's 12-month point. Up to month 12, the trend lines for each study arm were roughly parallel, with only minor differences that did not reach statistical significance. By month 24, however, more significant benefits had emerged among the omega-3 group and greater separation had taken place between the study arms.
Volpe's team performed additional analyses on several related outcomes. An assessment of carotid-femoral arterial stiffness using pulse wave velocity revealed a 46 meter-per-second reduction in the omega-3 arm compared with an 18 meter-per-second increase in the placebo arm. Though this difference was a trend, it did not reach statistical significance (P = .1). An examination of brachial artery reactivity, a measure of endothelial function, revealed no differences between the study arms.
In addition, a complete look at cholesterol levels furnished a similar outcome to the non-significance of the HDL findings: Neither low-density lipoprotein (LDL) nor total cholesterol was different between the two groups at any time in the study, Volpe said -- although there was a trend toward greater reduction in total cholesterol among the omega-3 group at both 12 months (12.2 mg/dL reduction; P = .07) and 24 months (9.2 mg/dL reduction; P = .095).
Volpe did not present detailed information regarding adverse events, but stated that no difference was seen between the study arms with respect to serious adverse events and that the omega-3 treatment used in this study was "well tolerated, with limited side effects."
Myles Helfand is the editorial director of TheBody.com and TheBodyPRO.com.
Follow Myles on Twitter: @MylesatTheBody.

Copyright © 2016 Remedy Health Media, LLC. All rights reserved.