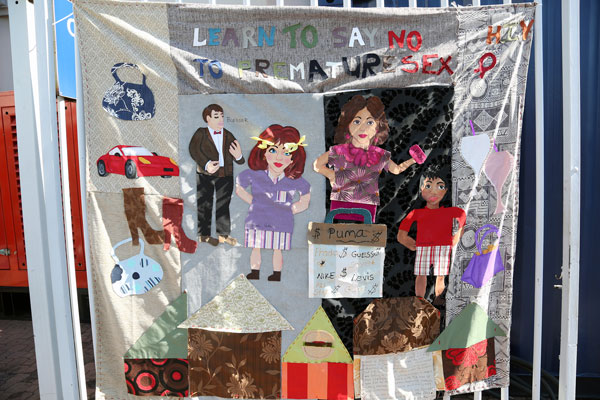 Quilt on display outside the Global Village (Credit: International AIDS Society/Abhi Indrarajan)

Quilts of various sizes, colours and shapes ripple like waves by the various entrances to the Durban International Conference Centre, hosting the 21st International AIDS Conference. Laid out or hung up, inscriptions vary from "Empower together we shall win" to "Positive link." The AIDS Quilt Project is back in South Africa telling the story of the journey from Durban 2000 -- the last time the AIDS conference took place in the city -- to Durban 2016.
In 2000, fewer than one million people had access to life-saving treatment and South Africa had the greatest number of people living with HIV.
"In 2016, we wanted to tell this journey and how we came from a time of loss and death and stigma and discrimination to where we are now, where we can talk about treatment and HIV, and we are much more open," explained Kanya Ndaki, from the South African National AIDS Council. She added, "The quilts visually tell the story."
Communities, schools, nongovernmental organizations, the health department and civil society partners submitted their decorated cloth panels from across the country. More than 450 in total were collected. Many grace the grounds of the conference, with a few quilts dating back to 2000.
Advertisement
"Blesser"
One quilt told the story of the sugar daddy phenomenon, known in South Africa as "blessers," depicted schoolgirls in pigtails with an iPhone in hand and big purses next to a grey-haired man in a fancy car.
Young women and adolescent girls make more than 70% of new HIV infections in Sub-saharan Africa. A rate two and a half times greater than boys of the same age. Many point the finger at the fact that young women are having sex with much older partners unlike their male peers.
Prison Story Full of Optimism
Ms Ndaki proudly showed off a quilt hanging prominently outside the entrance to the Global Village -- a space open to the general public. "This quilt came from the Department of Correctional Services, a prison in Pretoria," she said pointing to the long orange-hued panel. "Care for me, I care for you," "Take courage," "Love life" and "Condomize" grace the panel. Initially, prisoners were to sew different panels together, but in the end they designed their very own creation.
"It is a very powerful quilt and it was one of the ones displayed when government officials handed over the quilts to the South African National AIDS Council for the Durban AIDS Conference," she said as two women posed for selfies with the quilt in the background.