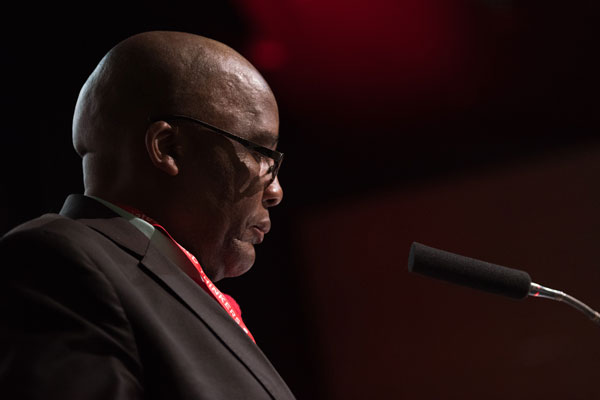 Aaron Motsoaledi, Minister of Health, South Africa (Credit: International AIDS Society/Marcus Rose)

While advances in HIV treatment science must be pursued with vigour, now is the time to urgently scale up quality HIV prevention programmes for people left behind by the AIDS response. This was one of the main messages of the 21st International AIDS Conference, which closed in Durban, South Africa, on 22 July 2016.
Throughout the conference, the prevailing sentiment was that much progress had been made since the AIDS 2000 conference, which was held for the first time on Africa soil in Durban fifteen years ago. "From Durban to Durban and beyond" resonated throughout the conference programme as a call to reject complacency and ensure that action is taken to pursue the Fast-Track targets in order to make Ending AIDS as a public health threat by 2030 a reality.
Nkosi Johnson, the 11-year-old boy who spoke powerfully during the opening ceremony of AIDS 2000 conference for the dignity and acceptance of all people living with HIV was at the forefront of delegates' minds, who remembered his quiet bravery in the face of stigma and discrimination against people living with HIV, which still persists.
One of the main themes of the conference was the urgent action that is needed to reduce new HIV infections and AIDS deaths among adolescents, especially adolescent girls and young women in Africa, who remain disproportionately affected by HIV. Young people were encouraged to take a leading role in ensuring they are no longer left behind in policy or programmes. Key populations, especially sex workers, men who have sex with men and people who inject drugs, were also high on the agenda of both the scientific and community tracks of the conference, coupled with civil society activism on the sidelines of the conference to demand the recognition of their human rights.
The closing ceremony saw addresses being made by advocates in the global HIV response and outgoing and incoming Presidents of the International AIDS Society (IAS), Chris Beyer, and Linda-Gail Bekker respectively. Ms Bekker, a prominent South African HIV scientist, is the first women from African to lead the IAS.
At the end of the closing session, the conference was handed over to officials representing the organizing committee of the 22nd International AIDS Conference, which will be held in Amsterdam, the Netherlands, in 2018.
Quotes
We must say no to complacency at this moment. There is no space for it. AIDS 2016 will help us as individuals and politicians to fast-track the ending of the AIDS epidemic as a public health threat by 2030.

-- Aaron Motsoaledi, Minister of Health, South Africa


In the name of humanity, I ask each one of us to recommit to advocate, act and commit to make the biggest difference we can in our daily work.

-- Linda-Gail Bekker, incoming president of yhe International AIDS Society


I challenge all of us to fight for the rights of people pushed to the margins of society to ensure that all people living with hiv are able to live healthy, dignified and fulfilled lives.

-- Svitlana Moroz, Eurasian Women's Network on AIDS, Ukraine