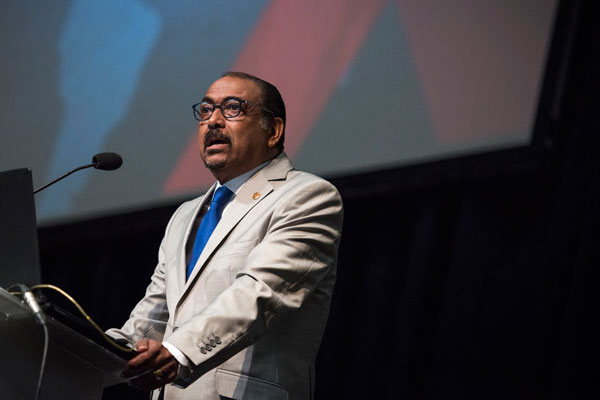 Michel Sidibé, UNAIDS Executive Director (Credit: International AIDS Society/Steve Forrest/Workers' Photos)

Fast-Track cities are making tangible progress towards the 90-90-90 targets of 90% of people living with HIV knowing their HIV status, 90% of people who know their HIV-positive status accessing treatment and 90% of people on treatment having suppressed viral loads.
Four signatories to the Paris Declaration on Fast-Track Cities released data today demonstrating significant progress towards achieving the 90-90-90 targets and confirming their commitment to ending AIDS in their cities. The announcement was made at a satellite meeting cohosted by the International Association of Providers of AIDS Care (IAPAC) and UNAIDS at the 21st International AIDS Conference, taking place in Durban, South Africa.
Amsterdam, Denver, Paris and Kyiv announced their 90-90-90 data as part of the Fast-Track approach by cities around the world to reach ambitious goals by 2020 in order to end the AIDS epidemic by 2030. Achieving these goals requires accelerated and focused action, innovation in service delivery and working in partnership with key stakeholders and affected populations.
IAPAC has launched a Fast-Track cities web portal with dashboards for five cities: Amsterdam, Netherlands; Denver, United States of America; Kyiv, Ukraine; Paris, France; and San Francisco, United States. The dashboards include data on cities' progress in reaching the 90-90-90 targets for 2020 and their broader response to HIV. The dashboards can be seen at www.Fast-TrackCities.org.
Quotes
People must be at the centre of the response to HIV in urban settings to reach the 90-90-90 targets. City health systems that are inclusive and accessible have the best chance of engaging people who might otherwise be left behind, including young women and adolescent girls and key populations -- gay men and other men who have sex with men, transgender people, sex workers and their clients, people who inject drugs and prisoners.

-- Michel Sidibé, UNAIDS Executive Director


Attaining the 90-90-90 and zero discrimination and stigma targets in high HIV burden cities is grounded in data-driven HIV care continuum optimization that aims to leave no one behind and holds stakeholders accountable.

-- José M. Zuniga, President and Chief Executive Officer, International Association of Providers of AIDS Care