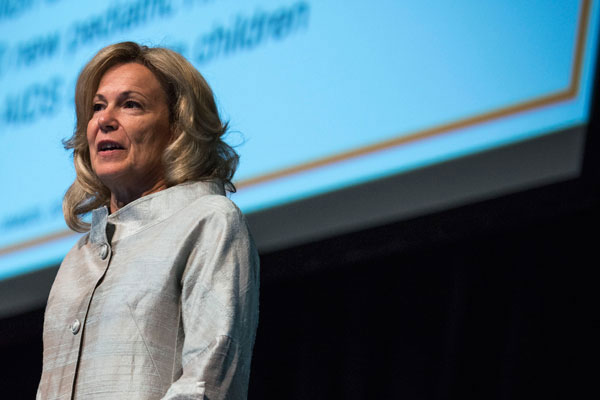 Deborah Birx, United States Global AIDS Coordinator and Special Representative for Global Health Diplomacy (Credit: International AIDS Society/Steve Forrest/Workers' Photos)

People living with HIV have been at the forefront of the AIDS response from the beginning, as equal partners providing solutions on how to provide services and demanding the respect and rights of everyone affected by HIV.
"LIVING 2016: positive leadership summit" saw 300 people living with HIV from all around the world gather together on 16 and 17 July in Durban, South Africa, ahead of the 21st International AIDS Conference.
The participants discussed the needs of people living with HIV and the community-led response to access to quality and rights-based services, stigma and discrimination, criminalization and violence, access to treatment and sexual and reproductive health and rights.
The meeting reviewed the successes since AIDS 2000, held in Durban, but highlighted the remaining challenges: only half of people living with HIV have access to treatment, more than 1 million people living with HIV die every year, resources for the AIDS response are declining, stigma and discrimination remain barriers to access to services and inequities in access are costing lives.
The greater and meaningful involvement of people living with HIV was a cross-cutting theme throughout the two-day meeting.
The participants reaffirmed the diversity of people living with HIV and asserted the need to work together with networks of key populations as advocates to mobilize the resources for an effective AIDS response, to demand and support legal and policy reform that respect everyone's rights and to hold governments, donors, the United Nations and networks of people living with HIV accountable.
Quotes
We need people living with HIV back in the centre. That energy they brought at the beginning of the response got us the successes we had -- we need you to bring it back to us now. Be proud of it, and count on us to back you up.

-- Luiz Loures, Deputy Executive Director, UNAIDS


We not only need you, but we need you with us to make sure discrimination is not acceptable.

-- Deborah Birx, United States Global AIDS Coordinator and Special Representative for Global Health Diplomacy


The injustices that were prevalent in 2000 are as equally prevalent now. People living with HIV need a positive revolution, one that makes sense and one that makes impact.

-- Shaun Mellors, International HIV/AIDS Alliance


It's critical that people living with HIV are there, that you raise your voice. We still have a long way to go: 17 million people on treatment is impressive, but we have 20 million more people to reach.

-- Gottfried Hirnschall, Director of the HIV/AIDS Department and the Global Hepatitis Programme, World Health Organization


We are the experts. You need to get us involved. We are the people who effectively have the body of experience to help people access antiretroviral medicines and get through the stigma.

-- Julian Hows, Global Network of People Living with HIV


The reality is that we can't get our governments to be accountable unless we stand in front of them and demand that accountability.

-- Marama Pala, Executive Director, Maori, Indigenous & South Pacific HIV & AIDS Foundation