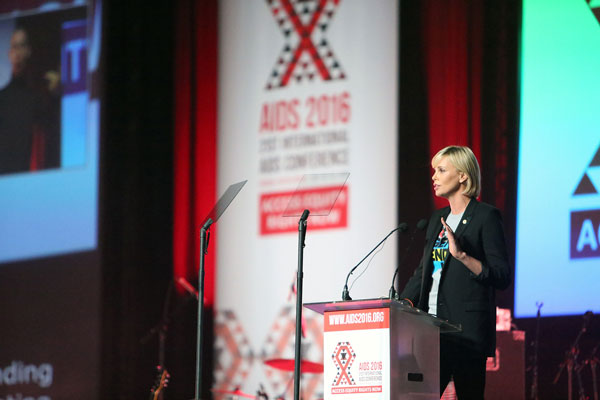 Charlize Theron speaks at the AIDS 2016 opening ceremony (Credit: International AIDS Society/Abhi Indrarajan)

Actress and activist Charlize Theron delivered the welcome address at the opening session of AIDS 2016, in Durban, South Africa. After being introduced by Kweku Mandela, grandson of the late Nelson Mandela (fittingly on July 18, Nelson Mandela Day), Theron spoke passionately to a packed auditorium about ending AIDS.
Theron, a native of South Africa, created the Charlize Theron Africa Outreach Project (CTAOP) in 2007, whose mission is to keep African youth safe from HIV. During her address, she emphasized the role of youth in the fight against HIV. She spared the jokes and pulled no punches about why the epidemic continues, challenging everyone to keep the UNAIDS goal of ending AIDS by 2030.
Here, transcribed, are eight of Theron's most quotable moments from her speech.
Opening comment:
It is typical, when invited to speak at a conference, to begin by saying, "I am honored and grateful to be here." And I am grateful to be given a chance to speak and to be here with such an esteemed group. But if I am being honest with myself, and with you, I'm also sad to be here at the 21st International AIDS Conference. This is the second time my home country of South Africa has hosted. That's not an honor. That's not something we should be proud of. We shouldn't have had to host this conference again.
On the truth:
I think it's time we face the truth about the unjust world we live in. The truth is we have every tool we need to prevent the spread of HIV. Every tool we need: condoms, PrEP [pre-exposure prophylaxis], PEP [post-exposure prophylaxis], ART [antiretroviral therapy] awareness, education. And yet 2.1 million people, 150,000 of them children, were infected with HIV last year.

In South Africa alone, 180,000 people died of AIDS last year. Two point one million children and counting have been orphaned by this disease. I could go on for an hour with the horrifying statistics we all know so well. But instead, let's ask ourselves, "Why haven't we beaten this epidemic?" Could it be because we don't want to? And by "we," I don't mean just the people in this room, I mean humanity -- all of us. Because when you ask why, you get the same answers again and again and again. Ending AIDS is too expensive, too daunting, too complicated, too stigmatized, too politicized. And I'm going to stop there because those aren't real answers. They're excuses.
Advertisement
On discrimination:
The real reason we haven't beaten this epidemic boils down to one simple fact: We value some lives more than others. We value men more than women, straight love more than gay love, white skin more than black skin, the rich more than the poor, adults more than adolescents. I know this because AIDS does not discriminate on its own. It has no biological preference for black bodies, women's bodies, for gay bodies, for youths or the poor. It doesn't single out the vulnerable, the oppressed or the abused. We single out the vulnerable, the oppressed and the abused. We ignore them. We let them suffer and then, we let them die.
On the campaign #GenEndIt:
My foundation CTAOP, and a number of our colleagues, are calling on today's youth, to the young people, to be the generation that ends this epidemic, to be "Gen End It." I just want to be clear about what the "it" in that sentence is. It is not just AIDS. It is the culture that condones rape and shames victims into silence. It is the cycle of poverty and violence that traps girls into teen marriages and forces them sell their bodies to provide for their families. It is the racism that allows the white and the wealthy to exploit the black and the poor and then blame them for their own suffering. It is the homophobia that shames and isolates LGBT youth and keeps them from lifesaving health care and education.
On the drivers of HIV transmission:
HIV is not just transmitted by sex. It's transmitted by sexism, racism, poverty and homophobia. If we're going to end AIDS, we must cure the disease within our own hearts and within our own minds, first.
On young people:
And I believe that the young people are the ones to do it. Young people have always been the drivers of social change. And this generation holds unique promise. After all, this is the generation of Malala Yousafzai and Anoyara Khatun. This is the generation that is shattering taboos, redefining old notions of gender, sexuality and racial justice. [...]

Yes, we all have to play our parts. We have to work harder, and faster, and smarter than ever before, but it will not be our generation that will end AIDS. It will be the next generation.

I believe the single most important thing each of us can do after we leave here is to connect with a young person. Listen, truly listen, to what she has to say. Give her a seat at the table. Let her be part of the conversation. And let's make sure our work reflects her input and her voice.
On what Nelson Mandela said:
Nelson Mandela said, "Young people are capable, when aroused, of bringing down the towers of oppression and raising the banners of freedom." If we support our young people, if we give them the confidence and the space to speak out against bigotry and injustice. If we take the time to listen and empower them, they will end this epidemic.
On counting down to the end of AIDS:
I am incredibly grateful to be here, but with all due respect, I hope we don't keep meeting like this. Since the first international AIDS conference in 1985, we have been counting up, all the way to 21. Now it's time for us to start counting down. We have set a goal to end AIDS by 2030. And there are four more international AIDS conferences between now and them. They must be our last.
Warren Tong is the senior science editor for TheBody.com and TheBodyPRO.com.
Follow Warren on Twitter: @WarrenAtTheBody.

Copyright © 2016 Remedy Health Media, LLC. All rights reserved.