Abstract: A simple symptom checklist can guide clinicians in deciding when and how to start treating depressive symptoms in people with HIV and when to refer a patient to a specialist. Among nondrug therapies, cognitive behavioral therapy has proved particularly effective in people with HIV, especially young adults. Systematic reviews establish the value of multiple antidepressant classes in people with HIV, but selective serotonin reuptake inhibitors (SSRIs) have become the mainstay of treatment. Besides relieving depression, SSRIs promote better antiretroviral adherence, better viral control, and higher CD4 counts. Three strategies tested in randomized trials show that measurement-guided care can help prescribing clinicians reach the optimal tolerable antidepressant dose with the aim of attaining remission of depressive symptoms in people with HIV. With appropriate therapy, HIV-positive people achieve remission of depression as often as or more often than people without HIV.

"Standard psychotherapeutic and pharmacological treatments work as well or better in achieving full remission from depression in HIV patients compared to the general population," according to Duke University depression expert Brian Pence and colleagues.1 Yet, they add, plentiful research confirms that depression remains undiagnosed and untreated or poorly treated in people with HIV infection.
Analyzing recent data, Pence and coauthors estimate that only 45% of major depressive disorder cases get recognized clinically in people with HIV, only 18% receive any treatment, only 7% receive adequate treatment, and only 5% achieve remission.1 But systematic reviews of clinical trials show that both psychotherapy2 and antidepressants2,3 can be effective in treating depression in people with HIV.
A decade ago the National Comorbidity Study Replication (NCS-R) figured that only 64% of the general US population in care with mental health specialists received adequate depression treatment, while only 41% of those treated in general practice got adequate treatment for depression.4 In a US national probability sample of people with HIV, more than one third had test-determined major depressive disorder.5 But 45% of those with depression did not have that diagnosis listed in their medical record.
Core Principles of Treating Depression
European AIDS Clinical Society (EACS) guidelines map out a straightforward approach to treating depression in people with HIV.6 The first step in planning treatment, EACS says, is determining the number of depressive symptoms a person has from a simple list of 10 (see Figure 1 of the preceding article):
Depressed mood for at least 2 weeks
Loss of interest
Diminished sense of pleasure 4. 5% or greater weight gain in 1 month or persistent change in appetite 5. Insomnia or hypersomnia most days 6. Change in speed of thought and movements 7. Fatigue 8. Feelings of guilt and worthlessness 9. Diminished concentration and decisiveness 10. Suicidal ideation or suicide attempt From that point, it's a numbers game (Figure 1). A person with fewer than four of these 10 symptoms probably does not have depression and needs no treatment, the EACS advises. A person with four of the 10 symptoms may benefit from problem-focused consultation, physical activity, and possibly antidepressant therapy. A person with five or six symptoms should start antidepressant therapy. And a person with more than six symptoms must be referred to a specialist (Table 1).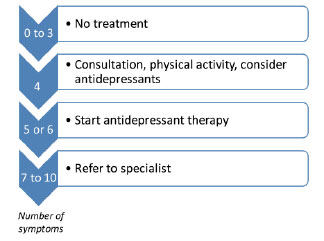 Figure 1. European AIDS Clinical Society (EACS) guidelines suggest a symptom-based approach to deciding whether and how to treat depression in people with HIV.6Figure 1 describes the 10 symptoms.
Credit: Teresa B. Southwell/The Center for AIDS Information & Advocacy
Table 1. EACS Advice on When to Refer a Depressed Patient to a Specialist6
If treating clinician is unfamiliar with using antidepressants
If depression is not responding to treatment
If patient has suicidal ideation
If patient has more than six of 10 symptoms in this list
In complex situations including drug addiction, anxiety disorder, personality disorder, dementia, or acute severe life events

HIV depression mavens Brian Pence1 and Glenn Treisman7 stress a fundamental principle of treating people with antidepressants: "The first step in antidepressant treatment is to get the patient to consistently take the medicine," Treisman writes, "and to use an adequate therapeutic dose."7 Start with a low dose, Treisman and Pence advise, then evaluate patients regularly for response and side effects, escalating the dose slowly until a response becomes apparent. The final section of this article (see "Three Tested Measurement-Based Antidepressant Strategies") describes three models of treatment monitoring by a professional other than the prescribing clinician.)
EACS HIV care guidelines include an outline of doses, safety, and side effects of four selective serotonin reuptake inhibitors (SSRIs), the dual-action reuptake inhibitor venlafaxine, and the mixed-action agent mirtazapine (available online at reference 6). Finally, EACS offers a clear yet comprehensive list of interactions between major antidepressants and antiretrovirals.6
Psychological Treatment of Depression in HIV Populations
One systematic review analyzed diverse psychotherapies and related interventions for depression in people with HIV,2 while two other reviews focused on group psychotherapies for HIV-positive people.8,9
The diverse psychotherapy analysis examined 90 studies (81 from North America or Western Europe) published through September 2009 that assessed an intervention and a comparison group.2 Two thirds of the studies involved men, mostly men who have sex with men. Psychological interventions -- especially cognitive-behavioral stress management -- proved most effective in relieving depression, with 15 of 22 strategies (68%) having a significantly greater impact than control conditions. Three of four studies combining psychological and pharmacological therapy had a significantly greater impact than control conditions. Five of nine HIV-specific therapies proved effective; these approaches included adherence support, selfcare symptom management, enhanced risk prevention, and modified directly observed therapy. Studies of physical therapies (like exercise, acupuncture, and massage) yielded less clear-cut evidence of success, while psychosocial therapies (like art psychotherapy, life review, and mantra repetition) generally proved ineffective. This analysis also covered antidepressant interventions, summarized in the next section of this article.
A 2007 meta-analysis examined eight double-blind randomized controlled trials of group psychotherapy involving 665 people with HIV, including five studies of cognitive behavioral therapy, two studies of supportive therapy, and one study of coping effectiveness training.8 Supportive therapy and coping effectiveness training did not relieve depressive symptoms more than control strategies. Pooled analysis of the five group cognitive behavioral therapies found significant relief of depressive symptoms, but that impact did not reach significance in studies that excluded people with major depression. Almost all study participants were men, so these findings may not apply to women with HIV.
A 2013 analysis9 homed in on four randomized controlled trials10-13 of group cognitive behavioral therapy for HIV-positive adults -- always men -- with depressive symptoms. All trials were small, single-center studies, with the largest randomizing 95 people.12 One trial took place in Hong Kong10 and three in the United States. All four studies used waiting-list controls, and two also used active controls.11,12 Pooled analysis of the four trials determined that cognitive behavioral therapy reduced depressive symptoms. But an analysis limited to the two comparisons with active control arms found the impact of group therapy "less impressive."
Together these three analyses2,8,9 single out cognitive behavioral therapy as an effective way to ease depressive symptoms in adults (at least men) with HIV infection. Cognitive behavioral therapy also proved effective in a small trial of young adults with HIV (31% of them women). Experts define cognitive behavioral therapy as short-term, goal-oriented psychotherapy "that takes a hands-on, practical approach to problem-solving" and aims "to change patterns of thinking or behavior that are behind people's difficulties, and so change the way they feel."14
In their HIV-depression review article, Pence and colleagues advise that psychotherapy for depression "generally requires at least eight sessions."1 A US study of 399 adults who screened positive for depression on the 9-item Patient Health Questionnaire (PHQ-9) showed the value of each visit for psychiatric or psychological treatment.15 Most study participants (79%) were men taking antiretroviral therapy (81%); their age averaged 43.9 years, and 52% were nonwhite. Statistical analysis adjusted for demographics, antiretroviral adherence, and CD4 count calculated a 0.63 drop (improvement) in PHQ-9 with each additional depression treatment visit.
Insights on Antidepressant Therapy for People With HIV
A 2005 meta-analysis of randomized controlled trials in people with HIV found that antidepressant therapy has at least a moderate impact in relieving depression, but this analysis is dated.16 The 7 trials involving 494 adults with depression appeared from 1994 through 1999 and only 1 took place in the combination antiretroviral therapy era. Two studies tested the tricyclic antidepressant imipramine, 1 tested imipramine and the SSRI paroxetine, and 4 tested the SSRI fluoxetine. Three studies documented a significant benefit with antidepressant therapy, 2 testing fluoxetine or paroxetine and 1 testing imipramine. The 7-trial pooled effect size of 0.57 (95% confidence interval [CI] 0.28 to 0.85) indicated that these antidepressants have a moderate impact in relieving depression in people with HIV. Because the trials enrolled almost no women and few minorities, the findings cannot be applied to those groups.
A 2011 systematic review of depression therapy for people with HIV included a subanalysis of trials involving 10 psychotropic medications: the SSRIs fluoxetine, fluvoxamine, paroxetine, and sertraline, the tricyclics desipramine and imipramine, the central nervous system stimulants dextroamphetamine and methylphenidate, the serotonin modulator trazodone, and the benzodiazepine clorazepate.2 Treatment proved effective in 6 of 11 placebo-controlled trials (55%). Effective antidepressants in these studies were fluoxetine, fluvoxamine, sertraline, desipramine, imipramine, dextroamphetamine, methylphenidate, and testosterone replacement (the last two of which were not effective in certain trials). In two trials (18%) antidepressant therapy had no impact, and in 3 trials (27%) the impact was unclear. Treatment also relieved depressive symptoms in 2 of 3 trials with a placebo or control group but without random allocation.
SSRIs have become the mainstay of antidepressant therapy for people with and without HIV. Four of the six antidepressants listed in EACS guidelines are SSRIs (citalopram, escitalopram, paroxetine, and sertraline).6 An open-label study of three SSRIs and three randomized trials comparing an SSRI with placebo or a tricyclic antidepressant establish the efficacy of SSRIs in men and women with HIV.17-20
Retrospective analysis of 3359 US patients with HIV linked SSRI therapy to better antiretroviral adherence, better viral control, and higher CD4 counts.21 Ample research links depression to faulty antiretroviral adherence (see page 10 of this issue). This US study in 8 states and Washington, DC is the largest to explore the impact of depression and SSRI therapy on antiretroviral adherence in people starting antiretrovirals.
The study involved 1961 people never diagnosed with depression and 1398 with depression, 508 of whom (36% of 1398) took at SSRI for more than 2 months. Most study participants (83%) were men, and median age stood at 40 years when antiretroviral therapy began. Depression without SSRI therapy lowered odds of antiretroviral adherence almost 20% (adjusted odds ratio [aOR] 0.81, 95% CI 0.70 to 0.98) and sliced the odds of reaching an undetectable viral load almost 25% in the first 12 months of treatment (aOR 0.77, 95% CI 0.62 to 0.95). In the same adjusted analysis, people taking an SSRI for depression did not differ from people without depression in antiretroviral adherence and viral control. Among study participants with depression, those taking an SSRI gained significantly more CD4 cells with antiretroviral therapy (adjusted CD4 change at 12 months -19 cells/mm3 without SSRI, +9 cells/mm3 with SSRI, +19 cells/mm3 with greater than 80% SSRI adherence, P = 0.01 comparing first and third groups).
Because depression remains highly prevalent in people with HIV (42% in this study group) these clinical investigators urge colleagues to screen HIV patients for depression and to offer SSRI therapy to those with depression.21 Although this study did not directly measure the impact of SSRIs on depressive symptoms, the HIV-related benefits linked to SSRIs suggest these antidepressants did relieve depression.
The MacArthur Foundation's Depression Management Tool Kit reviews most current SSRI and non-SSRI antidepressants in a concise table below.