Frequent Depression Underdiagnosis and Undertreatment
Research in the United States and Western Europe shows that clinicians routinely fail to diagnose or treat HIV patients who meet standard criteria for depression. The largest US study addressing this issue focused on a national probability sample of HIV-positive adults in the HIV Cost and Services Utilization Study (HCSUS) who completed the Composite International Diagnostic Interview (CIDI) in the first years of the combination antiretroviral era.15 Of the 1140 study participants, 76% were men, 59% white, 22% black, and 14% Hispanic. Two thirds were between 26 and 40 years old and 5% were younger.
Among 448 people (39% of 1140) with CIDI-defined depression, only 203 (45%) had a depression diagnosis on their chart.15 Compared with people who had a college education, those who did not complete high school had 2.5 times higher odds of a missed depression diagnosis. Older patients -- those with Medicare -- had a two thirds lower chance of a missed diagnosis than privately insured people. People with more clinic visits during the study period also had lower odds of a missed diagnosis.
A more recent US analysis looked at 803 HIV-positive adults with a baseline visit in 2000-2002 in the HIV/AIDS Treatment Adherence, Health Outcomes, and Cost Study.16 One third of participants were women and two thirds black. According to the Structured Clinical Interview for DSM IV Axis I Disorders (SCID), 69% of participants had a mood disorder, 57% a personality disorder, and 27% anxiety disorder. The SF-36 mental health composite score lay in the lowest (worst) quartile in 194 people (24%). Among people with both mental illness and substance use, only 59% received any mental health care in the past 3 months; among those with a mood disorder, only 40% were taking a psychotropic drug.
Advertisement
Analyzing these data15,16 and other findings, Duke University depression expert Brian Pence and colleagues estimate that only 45% of major depressive disorders in people with HIV get recognized clinically, only 40% of those recognized get treated, and only 40% of those treated get treated adequately.17
A single-center Danish study used the Beck Depression Inventory II (BDI-II) to determine how many HIV patients had symptoms of depression (BDI-II >14) or major depression (BDI-II >20).5 The 2005 study involved 205 people with HIV who reflected the general HIV population in Denmark (76% male, 83% 30 to 59 years old, 80% white). Seventy-seven people (38%) had symptoms of depression and 53 (26%) had major depression. Of these 53 people, 36 agreed to see a psychiatrist, and 18 of those 36 had untreated depression. Among the 17 people who declined a visit to a psychiatrist, 12 had not seen a mental health specialist before. Thus 30 of 53 people with major depression (57%) received no care for their illness.
A cross-sectional survey reported in 2015 involved HIV-positive adults seen at one of 24 centers across Italy.12 Of these 690 people, 155 (22%) had severe depression, defined as a Center for Epidemiologic Studies Depression (CES-D) score of 26 to 60. In contrast, physicians identified severe depression in only 6 patients (4%). Physician evaluations rated 135 of 155 severely depressed people (87%) as having no, mild, or moderate depression.
Screening and Diagnosis Simplified
Guidelines for primary care of people with HIV from the US HIV Medicine Association and the Infectious Diseases Society of America18 echo European guidelines3 in recommending depression screening for everyone with HIV. "All patients should be evaluated for depression and substance abuse, and if present, a management plan that addresses these problems should be developed and implemented in collaboration with appropriate providers," the US guidelines state. European AIDS Clinical Society (EACS) Guidelines call for a depression questionnaire at HIV diagnosis, before starting antiretroviral therapy, then "as indicated" for "at-risk persons."3
What depression screening options do HIV clinicians have? A multicenter study of 190 HIV-positive people in Ontario rated three short screening instruments -- and two of three ultrashort forms -- highly reliable in detecting depression identified by the Mini International Neuropsychiatric Interview.19 The six screening tools were the Center for Epidemiologic Depression Scale (CES-D-20), the Kessler Psychological Distress Scale (K-10), and the Patient Health Questionnaire depression scale (PHQ-9) and their ultrashort forms (CES-D-10, K-6, and PHQ-2). The three primary screening instruments had excellent accuracy and validity (defined at area under the curve >0.9) and good reliability (Kappa statistic 0.71 to 0.79 and Cronbach's alpha 0.87 to 0.93). Except for PHQ-2, all tools had good to excellent sensitivity (0.86 to 1.0) and specificity (0.81 to 0.87), excellent negative predictive value (>0.90), and moderate positive predictive value (0.49 to 0.58).
EACS guideline writers suggest two questions that can help clinicians identify depressed HIV patients:3
Have you often felt depressed, sad, or without hope in the last few months?
Have you lost interest in activities that you usually enjoy?
These guidelines then advise clinicians to rule out organic causes, which may include hypothyroidism, hypogonadism, Addison's disease, non-HIV drugs, and vitamin B12 deficiency.3
The MacArthur Foundation's Depression Management Tool Kit also suggests a simple two-question screen:20
During the past month, have you been bothered by:
Little interest or pleasure in doing things?
Feeling down, depressed, or hopeless?
A positive response to either question calls for further evaluation, perhaps with the PHQ-9 (see page 17 of reference 20).
The EACS also offers a straightforward scheme to diagnose depression and advises clinicians to evaluate symptoms regularly (Figure 1).3 (For a similar approach, see DSV-IV criteria for diagnosing depression on page 14 of reference 20.)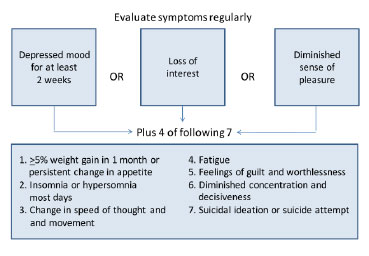 Figure 1. HIV care guidelines from the European AIDS Clinical Society (EACS) offer a simple diagnostic algorithm for depression in people with HIV infection.3
Credit: Teresa B. Southwell/The Center for AIDS Information & Advocacy

Johns Hopkins University depression expert Glenn Treisman advises clinicians to distinguish between major depressive disorder and demoralization (sadness or grief).1,21 Major depression is marked by persistent sadness and anhedonia (utter lack of pleasure). In contrast, demoralization is "a psychological reaction to life stresses" usually "related to a specific event or circumstance."1 People with demoralization say they feel fairly normal when distracted from the event that caused their sadness. But when they are reminded of that event, their sadness returns.1Table 3 outlines the main features distinguishing major depressive disorder from demoralization.
Table 3. Features Distinguishing Major Depressive Disorder From Demoralization Proposed by Glenn Treisman
Major Depressive Disorder
Demoralization (Sadness or Grief)
Anhedonia (pervasive loss of rewards from activity)
Can be distracted from loss (maintains rewards from activity)
Family history
No family history
History of similar episodes
Unique episode
Disrupted life course
Stable life course
Unresponsive to positive events
Responsive to positive events

From Glenn Treisman, Johns Hopkins University.1,21