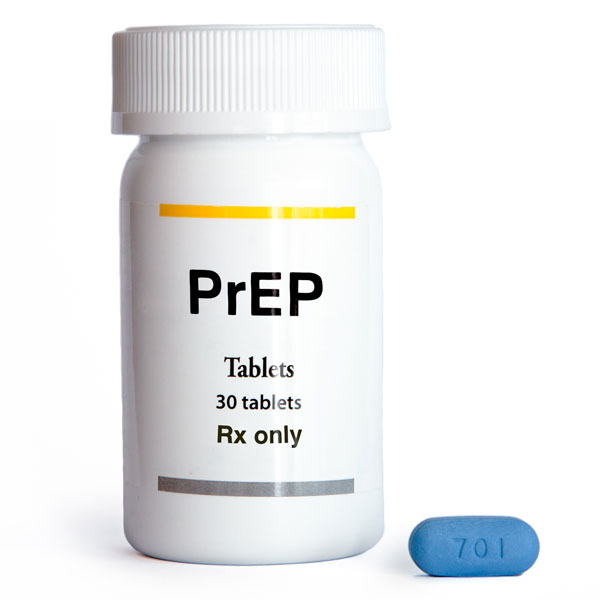 Credit: ueligiezendanner for iStock via Thinkstock
emtricitabine / tenofovir, or FTC / TDF
NRTI: Nucleoside/nucleotide reverse transcriptase inhibitor (nucleoside/nucleotide, nrti, or nuke) -- fixed-dose combination
Manufacturer:
Gilead Sciences, Inc.
gilead.com
(800) GILEAD-5 (445-3235)
AWP: $1,761.36 / month
Standard Dose
For HIV-negative adults, one tablet (200 mg emtricitabine / 300 mg tenofovir disoproxil fumarate) once daily, with or without food, with no dietary restrictions.
Take a missed dose as soon as possible, unless it is closer to the time of your next dose. Do not double up on your next dose. Truvada should not be used for prevention if kidney function is less than 60 mL/min.
Potential Side Effects and Toxicity
See the pages for the individual drugs contained in Truvada -- Viread and Emtriva. No new serious side effects were seen when Truvada was studied for HIV prevention in clinical trials. Some patients may experience nausea, headache, stomach pain, or weight loss. Risk compensation -- when people put themselves at greater risk for infection (such as anonymous, more, or multiple sex partners) because they think PrEP will protect them -- was not seen in clinical trials. The tenofovir (Viread) in Truvada is associated with decreases in bone mineral density (BMD). BMD monitoring should be considered in people who have a history of bone fracture due to a disease or are at risk for osteopenia or osteoporosis. Truvada can cause kidney toxicities. In prevention studies, decreases in BMD and creatinine clearance (a marker of kidney function) were rare, mild, and reversible upon stopping Truvada. Tell your provider about pain in extremities, persistent or worsening bone pain and fractures, with or without muscular pain or weakness, as these could be signs of kidney problems. If Truvada is discontinued abruptly in people with hepatitis B virus (HBV), flare-up of hepatitis may occur -- talk to your provider before discontinuing Truvada for PrEP. See Emtriva page for hepatitis B information. In studies, there were cases of people who had unidentified HIV infection when starting Truvada for PrEP and they were more likely to develop drug resistance than those who acquired HIV while on the medication.
Advertisement
Potential Drug Interactions
See the individual sheets for the drugs contained in Truvada -- Viread and Emtriva. Do not take with any other HIV drugs when used for pre-exposure prophylaxis (PrEP). Do not take with Epivir-HBV or Hepsera since these medications are either already in or is equivalent to a component of Truvada. Avoid taking Truvada with drugs that negatively affect the kidneys, including chronic use or high doses of anti-inflammatory drugs like Advil, Aleve, and Motrin. Truvada, when taken by itself for PrEP, can be used with hepatitis C drugs such as Daklinza,Harvoni, Sovaldi, Olysio, Viekira Pak, or Zepatier.
More Information
Truvada, a widely-used medication for the treatment of HIV, was approved in July 2012 by the Food and Drug Administration (FDA) to reduce the risk of infection in HIV-negative individuals. This approach to HIV prevention is called pre-exposure prophylaxis, or PrEP ("prophylaxis" means something that prevents disease, such as a condom or a vaccine). The U.S. Public Health Service (USPHS) of the Centers for Disease Control and Prevention (CDC) issued guidelines for the use of Truvada for PrEP in May of 2014. Guidance from the USPHS makes it easier to get insurance coverage for PrEP. See cdc.gov/hiv/pdf/guidelines/PrEPguidelines2014.pdf.
There are many considerations regarding Truvada for PrEP. Proper use is crucial.
It is vital that people test HIV-negative before being given a prescription. This requirement received a black box warning on the drug label, the highest level of stringency accorded by the FDA. Patients should also be re-tested for HIV infection every three months while taking PrEP. People who are already unknowingly infected when starting PrEP, or who become infected while taking it, risk developing drug-resistant virus because Truvada alone is not adequate for the treatment of HIV. Therefore, the virus can overpower the medication, making it ineffective. This may complicate future HIV therapy by reducing treatment options. There are, however, many HIV drugs on the market that can still make therapy successful. Prescriptions should not be given to people with symptoms of recent (acute) infection, such as fever, fatigue, sweating a lot (especially at night), rash, vomiting, diarrhea, joint or muscle aches, headache, sore throat, or enlarged lymph nodes (especially in the neck or groin). PrEP should not be started (or re-started) if any of these symptoms appear after a potential exposure to HIV unless a negative infection status is confirmed. People on PrEP who have these symptoms after a potential exposure to HIV should stop taking Truvada. A specific algorithm for assessing HIV status can be found in the CDC PrEP guidelines (see above). Patients are not to be given more than three months' worth of Truvada without seeing their provider again for HIV testing and other monitoring. Remember, drug resistance cannot occur in HIV-negative people. Drug resistance develops in the virus itself, so you need to be HIV-positive before resistance can develop. Using PrEP correctly can avoid infection and thus eliminate the risk of drug resistance.
Truvada for PrEP is not a morning-after pill or a weekend medication. It must be taken every day. In studies, greater protection was seen with greater adherence, giving rise to the warning "it doesn't work if you don't take it."
While some people may use PrEP as their only prevention method, it was studied and approved as part of a more comprehensive package that includes the use of condoms and safer sex counseling. That said, the CDC has changed the definition of protected sex to include sex without condoms, given new modalities such as PrEP. Although consistent condom use is an important part of a prevention plan for all people prescribed PrEP, lack of use of a barrier protection is not a reason to withhold PrEP. On the contrary, the PrEP label lists people who are unwilling or unable to use condoms as at-risk candidates for whom the drug is indicated. PrEP does not protect against other sexually transmitted infections (STIs) including hepatitis C or against pregnancy.
Other screening and monitoring requirements include measuring kidney function and checking for STIs and hepatitis B and C, treatment for STIs, and vaccination for HBV if warranted.
Although a PrEP prescription can be given to a wide range of people, the FDA approved Truvada for those considered most vulnerable to infection, such as men who have sex with men (MSM) who engage in anal intercourse without a condom with an HIV-positive partner or a partner of unknown HIV status, and anyone who has an HIV-positive partner or partners. Many people, however, do not consider themselves to be at risk even when they are. The Truvada PrEP label notes that people at risk include those who engage in sexual activity in a high-prevalence area or social network and have one or more of the following: (a) inconsistent or no condom use, (b) diagnosis of sexually transmitted infections (STIs), (c) exchange of sex for commodities (money, food, shelter, or drugs), (d) use of illicit drugs or alcohol dependence, (e) history of incarceration, or (f) sexual partners of unknown HIV status with any of the above risk factors.
Individuals who have used post-exposure prophylaxis (PEP) multiple times are also good candidates for PrEP because of their continuing risk for HIV. PEP is a course of HIV medications taken for 28 days after exposure to HIV to prevent infection; it must be started as soon as possible but no longer than 72 hours after exposure.
Although pregnant women were not enrolled in PrEP studies, there is hope for PrEP to help serodiscordant couples (where one partner is positive and one is negative) conceive without transmitting the virus. Last year, the DHHS perinatal HIV guidelines added a section on the use of PrEP and HIV therapy to prevent transmission in sero-different couples trying to conceive; visit aidsinfo.nih.gov. The Bay Area Perinatal AIDS Center (BAPAC) is leading the charge for safer conception options, including MSM; go to http://hiv.ucsf.edu/care/perinatal.html.
Unlike HIV therapy, which is long-term, PrEP may be used just for periods of time when HIV-negative individuals are vulnerable to infection. It takes about 7 days to reach protective drug levels in the rectal tract, and about 21 days to reach protective levels in vaginal tissue.
The two studies that led to Truvada's approval for PrEP, iPrEx (in high-risk MSM and transgender women) and Partners PrEP (in serodiscordant couples, most of them heterosexual), showed efficacy rates between 90%-92% when participants take their meds. PrEP with Truvada has also been studied in other patient populations, including younger single men and women, injection drug users, and women. In all the studies, the common theme is that PrEP is effective if you take it every day. Other drugs are being studied for use as HIV PrEP, including long-acting injection formulations requiring only one injection every 3 months.
Providers, as well as potential patients, are still learning about PrEP, and some continue to be reluctant to prescribe PrEP. See the PDF of the CDC brochure "How to Talk to Your Doctor About PrEP." The brochure includes resources for providers. HIV specialists may be best for a PEP or PrEP prescription, as they are familiar with the medications; find providers at hivma.org and aahivm.org. HIV specialists are generally in high demand, however, and advocates are looking to make Truvada for PrEP much more accessible. There is also a complex set of standards to use in prescribing PrEP that may cause many providers to turn away, including a call for safer sex counseling. Requirements for a PrEP prescription can be burdensome. The FDA required a Risk Evaluation and Mitigation Strategy (REMS) for Truvada for PrEP, the central component of which is a training and education program to help prescribers in counseling PrEP patients.
Insurance coverage of PrEP has become less of a concern. Providers are reporting widespread acceptance of PrEP prescriptions by insurers. Gilead Sciences also helps patients work with their insurance, including pre-authorizations, as well as provides free PrEP to uninsured patients who are eligible; contact the patient assistance hotline at (855) 330-5479 or go to Gilead.com/truvada_assistance_program. Patients may also have to advocate on their own behalf; keeping good notes of conversations and other communication is a good idea.
Myprepexperience.blogspot.com invites people to write about the issues they've had with insurers and also tracks Medicaid eligibility for PrEP. Demonstration projects providing free PrEP to study its use in the real world can be found at PrEPWatch.org from AVAC and projectinform.org/prep. Providers can use V107 as a medical billing code for PrEP (exposure to infectious disease, including HIV).
Robert Grant, M.D., principal investigator for the iPrEx study, wrote in an article for Positively Aware, "The combination of highly active antiretroviral interventions for both HIV prevention and treatment has led to unprecedented optimism about the prospect of ending AIDS." See PA's special issues on PrEP at www.positivelyaware.com/node/247 and http://www.positivelyaware.com/archives/2013/13-05/index.shtml. Also go to tpan.com/prep, which features an engaging video by blogger Ken Like Barbie. See Dr. Joel Gallant's comments at http://hivforum.tumblr.com/post/73913063141/what-is-your-opinion-on-prep-in-reducing-hiv. Whatisprep.org offers a video showing how PrEP protects against HIV infection. People taking PrEP and their allies provide information and support through Facebook at PrEP Facts: Rethinking HIV Prevention and Sex. See drug package insert for more complete information on potential side effects and interactions.
Activist's Comments
Three years ago Truvada was approved for HIV-negative people to prevent the transmission of HIV through sexual contact. Many large clinical trials have proven that Truvada is 96% effective as PrEP. The science on PrEP is overwhelmingly clear. Now that we know it works, the challenge is to make sure every group vulnerable to HIV infection has knowledge of PrEP and access to it. Adherence is critical when Truvada is used as PrEP. Before taking PrEP, individuals must be seen by a physician and get tested for HIV infection. Monitoring of kidney functions and bone density loss is required while taking PrEP.
-- Moisés Agosto-Rosario